Good music plus good food at 12 Monkeys Music Hall & Pub
What do you get when you put together 12 people with similar tastes in music and food? You get 12 Monkeys Music Hall & Pub.
12 Monkeys gets its name from the 12 people who own the place, which include Radio DJ Tony Toni, CNN Philippines SportsDesk anchor Jinno Rufino, and Parokya ni Edgar front man Chito Miranda. Since its inception, it's been one of Makati's most talked about bars, getting a lot of support from the country's music community.
You can't ask for a better location as far as 12 Monkeys is concerned. Century City Mall's 5th Floor gives you the perfect spot for your Makati cityscape photos or selfies. Listen to the music of the hottest local bands with a different genre every night.

WHAT THE MINDS OF 12 CAN ACCOMPLISH. 12 Monkeys is already a hit, thanks to good food and great music.
12 Monkeys aims to bring back quality bars: a place where up-and-coming artists can showcase talents and play alongside established bands. It's also a great place to enjoy great tasting food. The bar's quirky food idea is a delight to bar goers who are always on the lookout for something different.
One look at their menu and you'll definitely be a fan of 12 Monkeys. They serve the classics: Picha Pie (pizza), pica-pica (snacks), and your favourite pub food (burgers, grilled meat, seafood, chicken, etc.).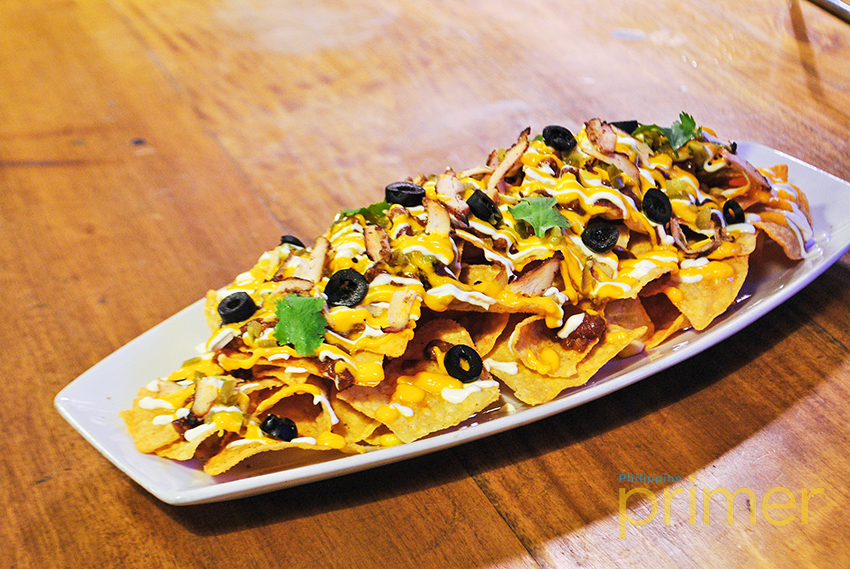 DEFINITELY NOT ORDINARY. The combination speaks for itself: where can you find nachos topped with these things?
One of their most sought-after grub is the aptly-named Nacho Ordinary Nacho. For only P340, you can get your nacho fix thanks to a bed of Doritos topped with refried beans, Tequila lime grilled chicken, guacamole, sour cream, corn salsa, and Jalapeno melted cheese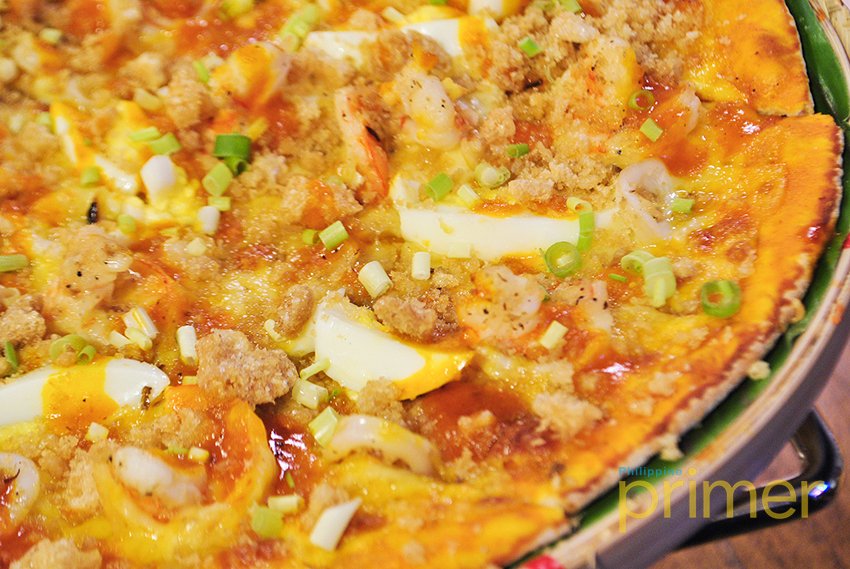 PALABOK ON PIZZA? Yes, it is possible! Get it only at 12 Monkeys.
Another dish unique to 12 Monkeys is Ivan's Palabok Pizza. Yes, that is the legitimate name of the dish. It's the bar's own take on pizza: shrimp sauce with calamari, boiled egg, crispy pork rind, grilled shrimp, and white goat cheese. It's the Filipino classic palabok – except it's on top of pizza dough.
12 Monkeys Music Hall & Pub is located at the fifth floor of Century City Mall, Makati Avenue corner Kalayaan Avenue, Makati City. They are open daily from 4 p.m. to 3 a.m. Reservations are a must at 12 Monkeys, unless you're okay standing, so call 0917-570-3222 to reserve your table.
For more information about 12 Monkeys, follow them on social media: 12 Monkeys Music Hall & Pub on Facebook, and @12monkeysph on Instagram.

5/F, Century City Mall, Makati Ave. cor. Kalayaan Ave., Makati City