Alegria Cozinha Moderna: A Perfect Spot to Wine and Dine in BGC
More than the fact that Alegria Cozinha Moderna is the first sangria bar in Bonifacio Global City, it's well-loved by young professionals because of their very, very flavorful Latin dishes. We're not even kidding when we say they're one of the value-for-money, intimate yet cozy restaurants just along High Street.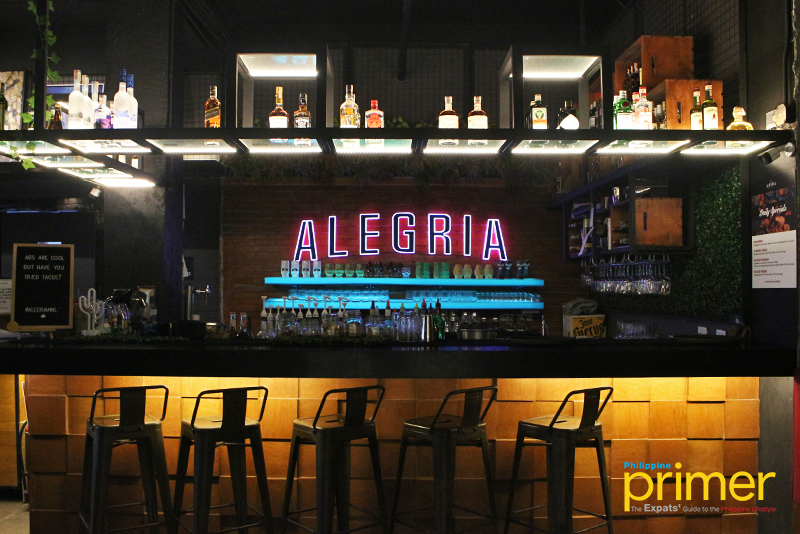 Officially opened last March 2018, Alegria is owned by five friends who came from different fields. They're operating the restaurant based on their expertise.
Luckily, we were able to interview one of the owners, who is also the head of the kitchen, Chef Charles Montañez. "Alegria is made out of my passion for my craft. I wanted to open a restaurant before I turn 30, and I'm 27 now," he explained.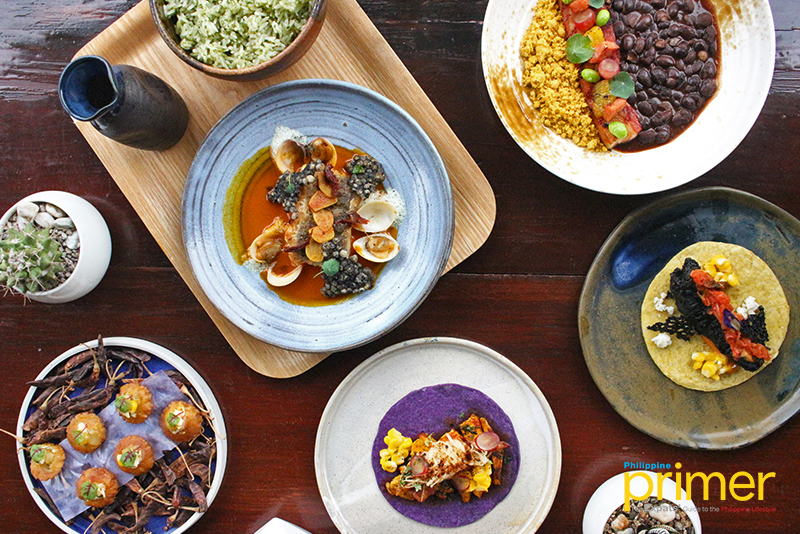 Albeit being famous now for their luscious Latin meals, Chef Charles was actually hesitant at first as he already enjoyed eating it. For him, Latin cuisine was too delicate to experiment on.
"But then I realized it defines me as a person," he said. "Latin is in the middle of Asian and Western—you're utilizing Asian while appreciating the subtlety of French flavors."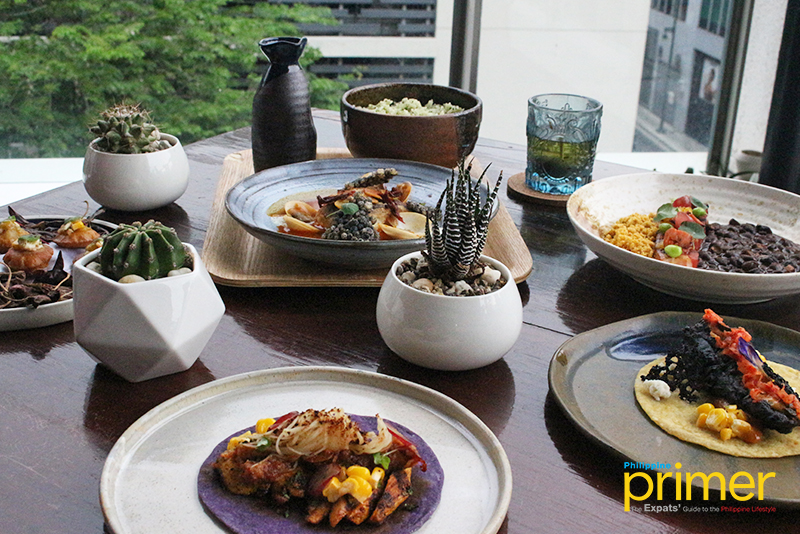 The name itself means "happiness" in Portuguese, and as mushy as it sounds, it's exactly how you'd feel after dining here.
To start off your gastronomic treat, try their Agua Chile (Php 290), which is comprised of shrimp, lime, chile water, grilled corn and pineapple, topped with cilantro chops. It can be a bit intimidating at first glance, but this snack really packs a punch.
There's not much of a seafood hint as it's more on the fusion of seafood and citrus flavors. This finger food will seriously melt in your mouth.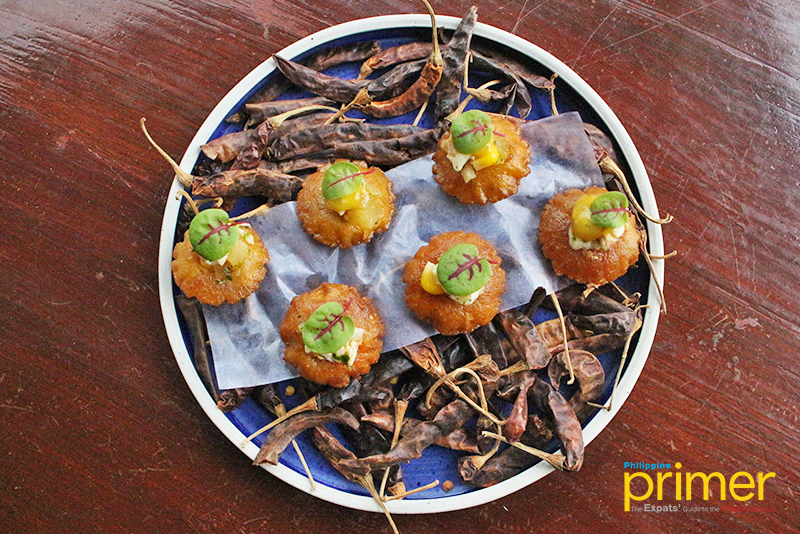 Agua Chile (Php 290)
Alegria's tacos are a different story, though, as they make it from scratch. "We're using raw corn, extract the juices, and then turn it into a tortilla," Chef Charles said.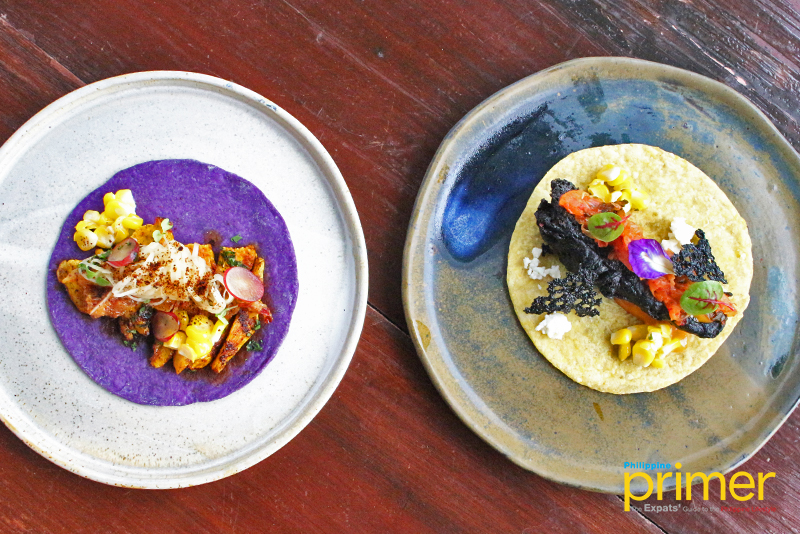 Their signature dish Alma Koreana (Php 165) is exploding with goodness that it's highly addicting. It's composed of prawn, squid ink batter, napcha kimchi, ssamjang aioli, kesong puti, and smoked esquites.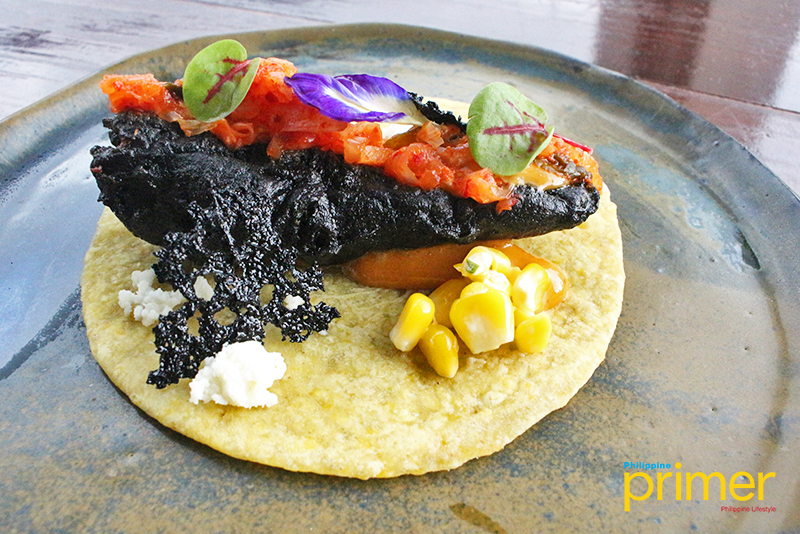 Alma Koreana (Php 165)
Their Barbacoa (Php 180), meanwhile, consists of grilled chicken, som tam, salsa macha, cilantro, smoked grapes, and ancho powder. This one uses purple yam tortilla so you'd know it's unlike any other.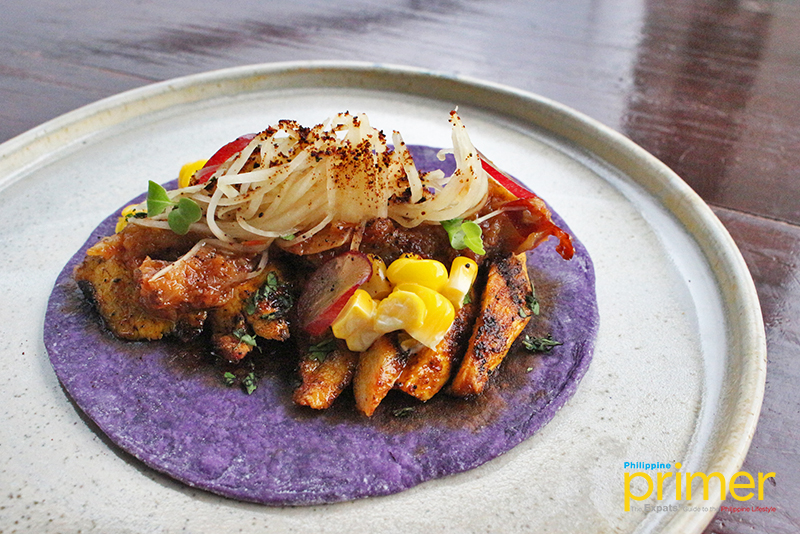 Barbacoa (Php 180)
For seafood lovers, you wouldn't want to miss out on their savory Moqueca (Php 415), which is a mix of sous vide bacalao fish, squid cracker, and clams, flavored with coconut camaron bouillabaisse, tapioca, sundried tomato, and turmeric. The bacalao fish is so soft, complementing well with the sauce and the bowl of arroz andino (cilantro rice).
Moqueca (Php 415)
We also got to try their new and unreleased Feijoada, which is known as Brazil's national dish. This stew consists of black beans, thick-cut bacon, farofa, burnt oranges, and smoked grapes, delicately garnished with edamame.
It's actually considered peasant food but Chef Charles was able to deconstruct it into something very scrumptious. It's yet to be added to their long list of menu.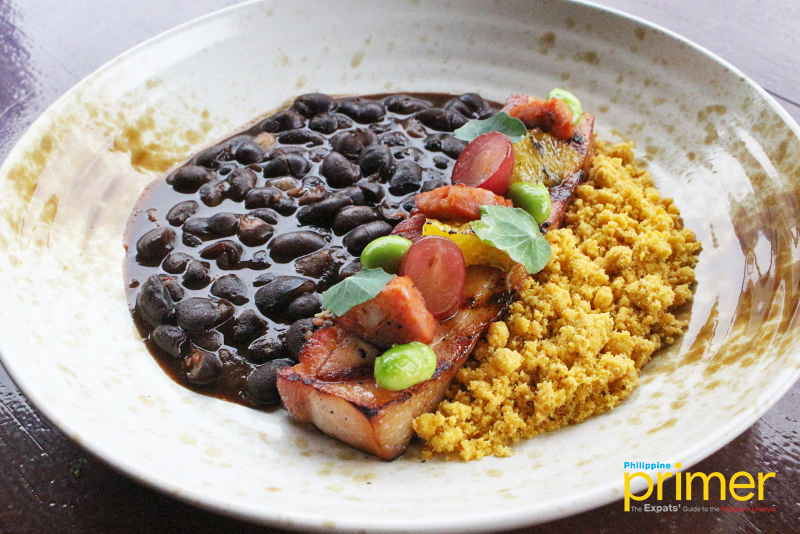 Feijoada
Chef Charles personally recommended to pair it with the Caipirinha (Php 250), which is known as the national cocktail of Brazil. Its taste is similar to mojito although it has a sweeter hint to it.
This one is only made of three ingredients—lime, sugar, and cachaça, which is the most popular spirit in Brazil.
Feijoada and Caipirinha (Php 250)
You may also try their Daiquiri (Php 250), composed of the usual rum, lime, and simple syrup.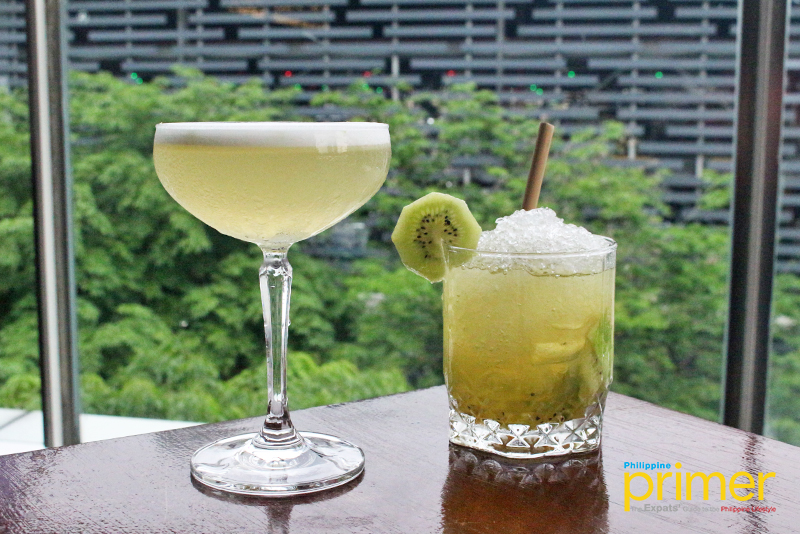 (left) Daiquiri (Php 250)
Apart from the delectable food, Alegria also boasts a very comfortable vibe, all thanks to the hip interior. They hired a designer for it, but Chef Charles created his mood board prior to give an idea of how he wants it to look like.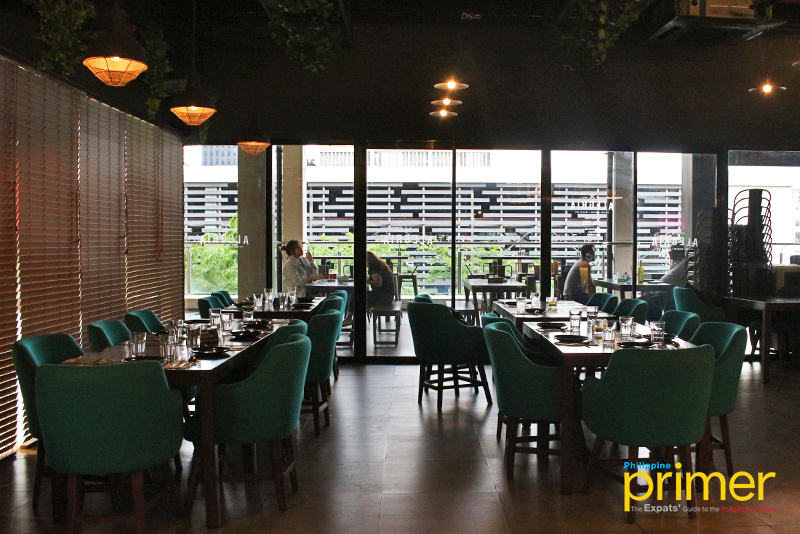 The mural was painted by famous local artist Kuku Ramos, while some paintings on the wall were made by co-owner and local celebrity, Ryza Cenon.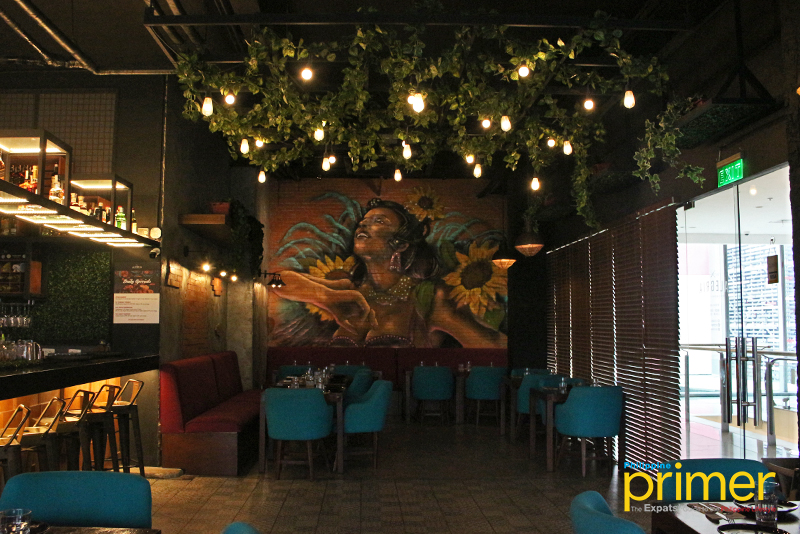 The place gets packed especially during lunchtime on weekdays, with a mixture of both locals and expats dining in. On Saturdays, however, Alegria turns into a full-blown bar as majority of the customers are really splurging on alcohol.
As for future plans, Chef Charles said, "I want to open a mini Alegria, and I'd name it Alegrita. But for now, I'm thinking of doing weekend pop-ups in La Union for tacos."
How to get here
By car: From EDSA, exit onto Kalayaan going to Bonifacio Global City. Go straight until you reach 32nd Street. Turn right onto 7th Ave. Alegria is located on the 4F of Uniqlo Bldg.
---
Written by Yana Bautista

4F Uniqlo Bldg., Ave. corner 30th St., BGC, 7th Ave, Taguig

11 a.m. to 3 a.m. (Monday to Saturday)
Restaurant Menu
You can scroll the image left and right.