7 Places to Get Premium Mooncakes for the Mid-Autumn Festival 2022
The Mid-Autumn Festival 2022 falls on September 10, and this auspicious event won't be complete without those yummy, yummy mooncakes. We know finding the best ones can be a pain in the butt so we did the homework for you. From traditional ones with egg yolk centers to modern takes with surprising fillings, here are the tastiest of these seasonal treats to get this holiday. Have fun shopping!
New World Makati
IMAGE from New World Makati
This year, Jasmine at New World Makati Hotel celebrates the auspicious occasion with a delectable assortment of mooncakes perfect for gifts to loved ones and friends. These mooncakes come in Red Bean with Double Yolk, Red Lotus with Double Yolk, White Lotus with Double Yolk, and Five Kernel (watermelon seeds, sesame seeds, pumpkin seeds, walnuts and peanuts). These come in a box of two at Php 1,488 and a box of four at Php 2,488 nett.
For more information or to place an order, tap on the online order form link, call (+63) 2 811 6888 ext. 3679 or message 0917-8884-194 (Viber).
Solaire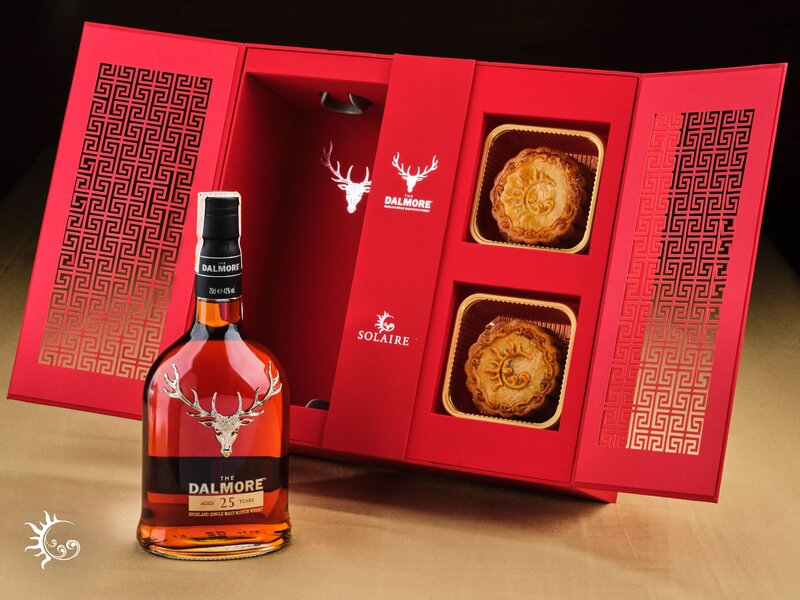 IMAGE from Solaire Resort Facebook page
This year's lineup of sweet treats from Solaire includes a tempting range of traditional versions with fillings such as Lotus Paste and Almond Nut and Double Egg Yolk (starts at Php 3,688 for a box of two). Starting at Php 2,888, you may also indulge in its Teochew-style Mooncakes (Php 2,888) or Snow Skin Mooncakes (Php 6,888 with mini chiller). If you're feeling ultra fancy, get the Dalmore Mooncake Set (Php 28,888 for two pieces with a 700-ml bottle of Dalmore 25 Years or Dalmore King Alexander III).
To place an order, visit Solaire's website, email mooncakefestival@solaireresort.com, or call (+632) 8888 8888.
The Peninsula Manila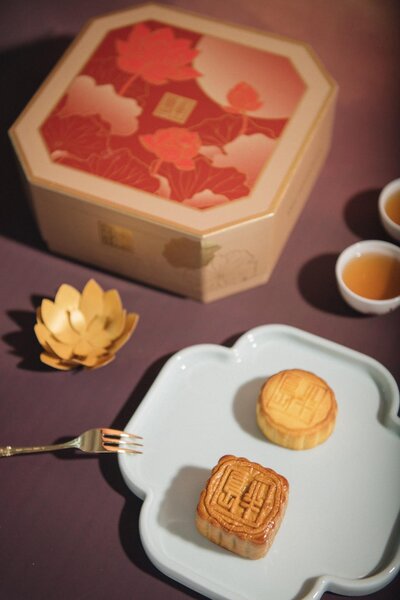 IMAGE from The Peninsula Manila Facebook page
For a limited time, The Peninsula Hong Kong's highly coveted mooncakes will be available only at The Peninsula Boutique. Place your orders now for a box of Mini Egg Custard Mooncakes (four pieces) at Php 3,888, Mini Egg Custard Mooncake Set at Php 5,388 for eight pieces, and Assorted Mini Mooncakes with Yolks at Php 5,888.
Call (+63) 2 8887-2888 or email PenBoutiquePMN@peninsula.com to order.
Conrad Manila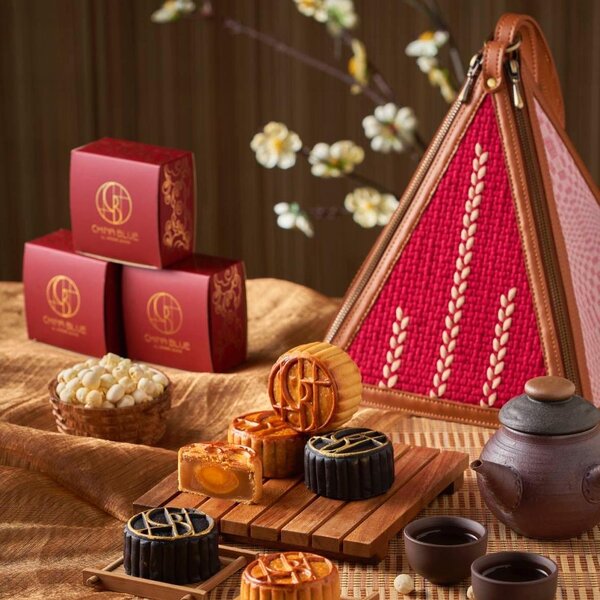 IMAGE from Conrad Manila Facebook page
China Blue by Jereme Leung at Conrad Manila celebrates the Mid-Autumn Festival 2022 with traditional (Red bean single salted yolk and White lotus single egg yolk) and modern takes (Fragrant pandan with taro black gold charcoal and Chocolate orange) on the seasonal treats that come in limited-edition Rags2Riches designer bags. Get the Lunar Prosperity (Periwinkle or Coral) for Php 5,888 nett.
To order, click on this link, call (+632) 8833-9999 or email conradmanila@conradhotels.com.
Hilton Manila
IMAGE from Hiton Manila Facebook page
Celebrate this year's Mid-Autumn Festival with loved ones by treating them to Hilton Manila's Lunar Reunion Package that comes in box of two (Php 1,888 nett) or four pieces (Php 2,888 nett). Mooncakes come in Red Bean with Single Yolk, Lotus with Single Yolk, Mixed Nuts and White Lotus with Double Yolk, and Red Lotus with Black Sesame and Double Yolk. You may also avail its Lunar Reunion Premium Hamper (Php 32,888 nett) that comes with Dalmore 15 Years Whisky with two (2) Dalmore Glasses, White Truffle Sunflower Oil, and Black Truffle Flavored Extra Virgin Olive Oil, and a mooncake box of four pieces.
To place an order, contact (+63) 2 72397 788 /0917 8266 442 or email mnlph_f&binquiries@hilton.com.
Grand Hyatt Manila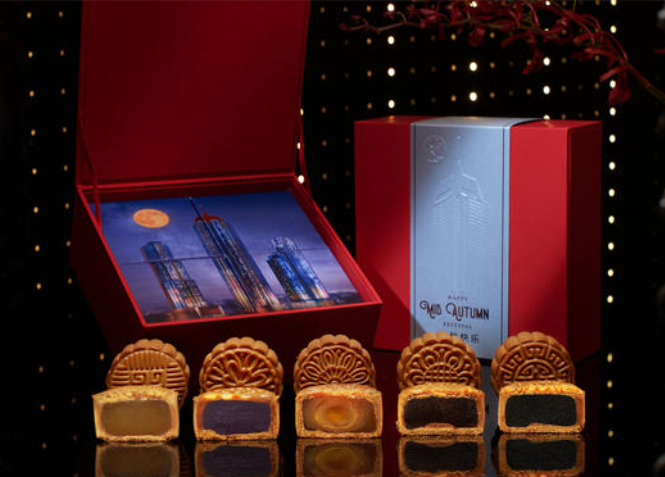 IMAGE from Grand Hyatt Manila
Grand Hyatt Manila is offering premium mooncakes (White Lotus with Salted Egg Yolk, White Lotus, Red Bean, Ube, and Black Sesame) at (Php 2,388 nett for a box of four or Php 2,988 nett for box of four with wine), perfect for joyous family reunions.
To preorder, call (+63) 2 883 81234 or email manila.grand@hyatt.com.
Edsa Shangri-La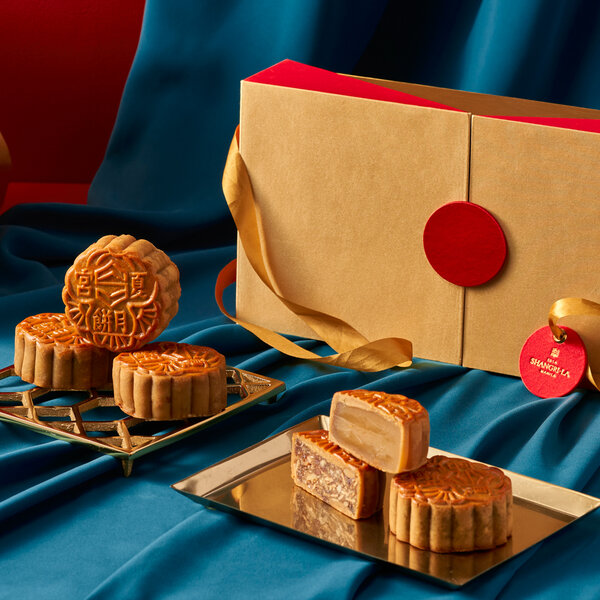 IMAGE from Edsa Shangri-La, Manila Facebook page
Make Mid-Autumn Festival 2022 extra special with Edsa Shangri-La's handcrafted mooncakes in traditional flavors (Black Sesame, Green Tea, White Lotus, Mixed Nuts, and Red Bean) or with contemporary fillings (Durian, Piggy Mooncake Honeydew, Lava Chocolate, and Choco-Loco). Individual rate starts at Php 388 nett, while Mooncake box rate starts at Php 1,788 nett.
Call (+63) 2 8633 8888 to order or visit Edsa Shang's website.