Ribs, wings, and more: Enjoy Southern US Favorites at Waterside's Sunday BBQ Brunch
Indulge in the vibrant tastes of your favorite western fare at Waterside's Sunday BBQ Brunch making every Sunday the most exciting day of the week.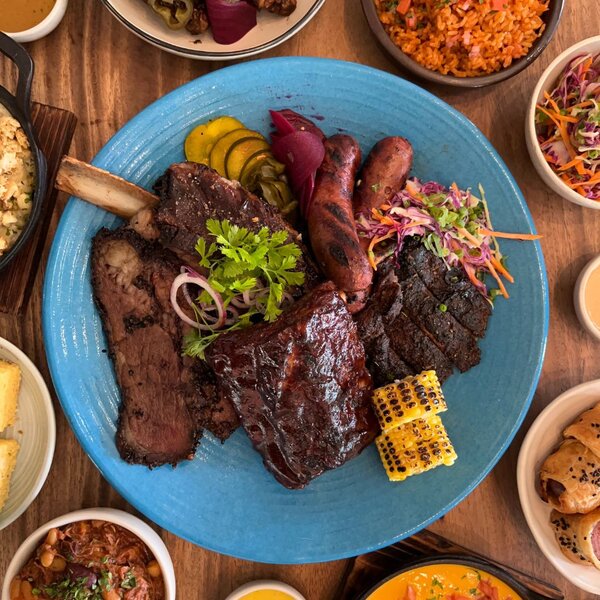 Smoked meat platter/IMAGE from Solaire Resort and Casino
Bring your friends and the family together for an unforgettable brunch experience that boasts an abundant selection of grilled staples, a dessert collection, and delectable menu complemented by thirst-quenching beverages from brews to concoctions and even fizzies and juices.
Snack on a roster of starters with different textures and levels of savoriness. Sample the soft corn bread that comes with smoked butter and honey or Texas-style honey wings with ranch. A set of crisp salads are also available if you're looking for a more balanced opening to your Waterside adventure.
Have some Caesar salad with garlic croutons and parmesan or a light cucumber salad with tomatoes, red onion, and drizzled with lemon herb vinaigrette. There's also the wedge salad with pork belly burnt ends and blue cheese, and the mom's potato salad which has soft boiled eggs and garden herbs.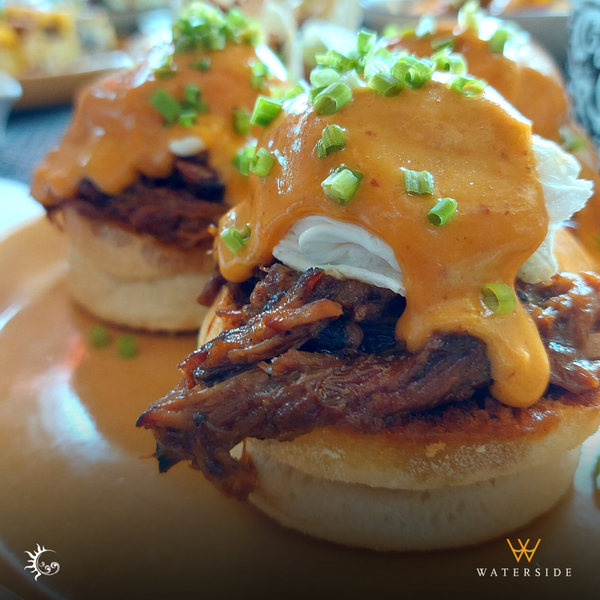 Pulled pork eggs benedict/IMAGE from Solaire Resort and Casino
Satisfying brunch classics are a must-have in every plate. Enjoy servings of pulled pork eggs benedict with a complex chipotle hollandaise on grilled English muffin or opt for Scotch eggs with a rich homemade beer mustard. If you prefer omelettes, the chorizo and mushroom frittata is a delicious alternative which is made of eggs, chistorra sausage and herb mushrooms. The breakfast burrito combines everything good in one appetizing roll filled with smoked meat, scrambled eggs, and bacon.
A thrilling smoked meat platter serves as the main attraction with perfectly grilled meats with several options for sides. Please your senses and have a go at alcohol-infused cuts like the whisky-cured USDA short ribs or the bourbon baby back ribs. Get servings of smoked USDA brisket or the barrel smoked pork belly for more charred goodness.
There's also homemade sausages and juicy jerk chicken. Choose from a selection of sides like the Waterside spiced fries, creamy mashed potatoes, creamed corn or mac and cheese to complement the smokiness of each bite.
Buttermilk  fried chicken/IMAGE from Solaire Resort and Casino
The brunch favorites never go out of style. Find crunchy buttermilk fried chicken paired with cornbread and plenty of country gravy. There's also cottage pie made with smoked oxtail and pork belly burnt ends spiced with paprika and sweetened by brown sugar. The tender slow-roast beef shin is paired with a spicy-tangy chakalaka sauce, while the smoked sausage comes with cowboy beans.
It's not just all meaty bliss. The sea also sweeps through the menu with a seafood paella, beer-battered fish with chips, grilled oysters with chipotle bourbon butter, and cajun kingfish.
An assortment of desserts will tickle your fancy. Grab a slice–or two–of a moist chocolate layer cake, fun and festive strawberry confetti cake, decadent red velvet, some fudgy and chunky chocolate brownies, some classic American pie, and even different kinds of donuts.
For an even stronger sugar rush, there's a special milkshake and sundae bar where you can create the most elaborate vanilla milkshake with various cookies and confections and select spirits and liqueurs. You can let your creative side and imagination run wild.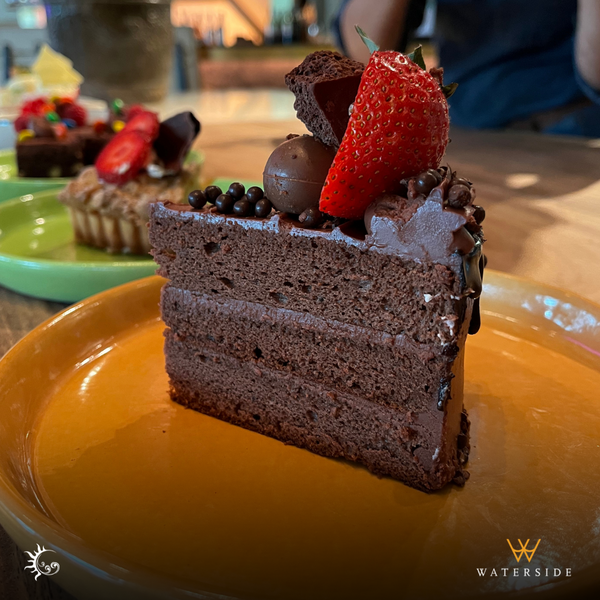 Chocolate cake/IMAGE from Solaire Resort and Casino
Indulge your senses with a range of gastronomic excitement at Waterside. Waterside BBQ Sunday Brunch is from 11:30 a.m. to 2:30 p.m. For inquiries and reservations, please call 8888-8888 or email restaurantevents@solaireresort.com. For more information, visit its website.
---
This is a press release. Minor edits were made prior to publishing.
Store Information