Enjoy Japanese and Western Favorites and more at Yawaragi's Kisetsu Weekend Buffet 
Indulge in an array of Japanese specialties and international gourmet dishes at Yawaragi's Kisetsu Weekend Buffet.
Bring your loved ones together for an unforgettable buffet experience that boasts a vast selection of Japanese and western staples, an onslaught of dessert options, and many more complemented by refreshing beverages from beers to Champaigne to mocktails and juices.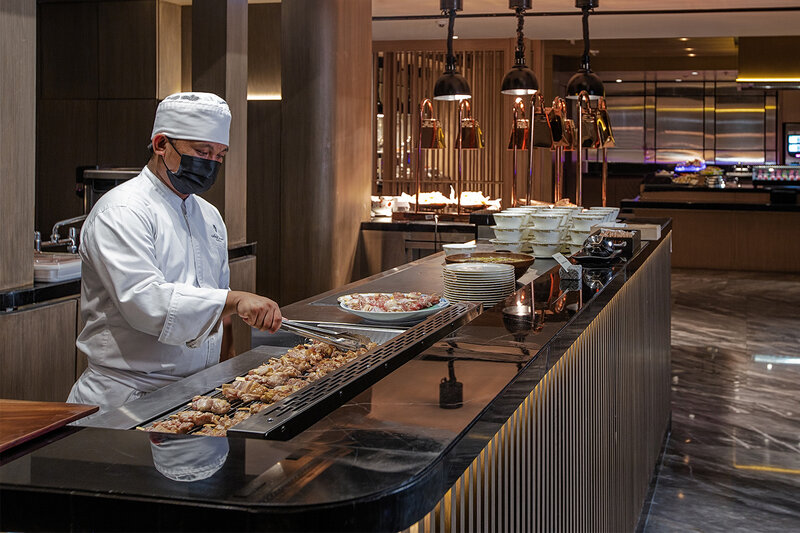 Live station for grilling seafood and skewered meat
Available from Saturdays to Sundays for lunch (12 noon to 3 p.m.) and Fridays to Sunday for dinner (6 p.m. to 10 p.m.), the Sunday Lunch Buffet features Japanese favorites such as prawn and vegetable tempura, maki rolls, sashimi, Japanese curry, hot pot, tamago yaki with stewed hijiki seaweed, grilled black cod in Saikyo miso, and udon noodles in shiitake sauce.
The premium Sunday specials include tender roast sirloin of Australian beef, Alaskan king crabs, and lobsters; a roving bar cart highlights a selection of signature cocktails along with free-flow champagnes, wines, and beers. At the robatayaki counter, chefs can grill various seafood and skewered meat a la minute for you.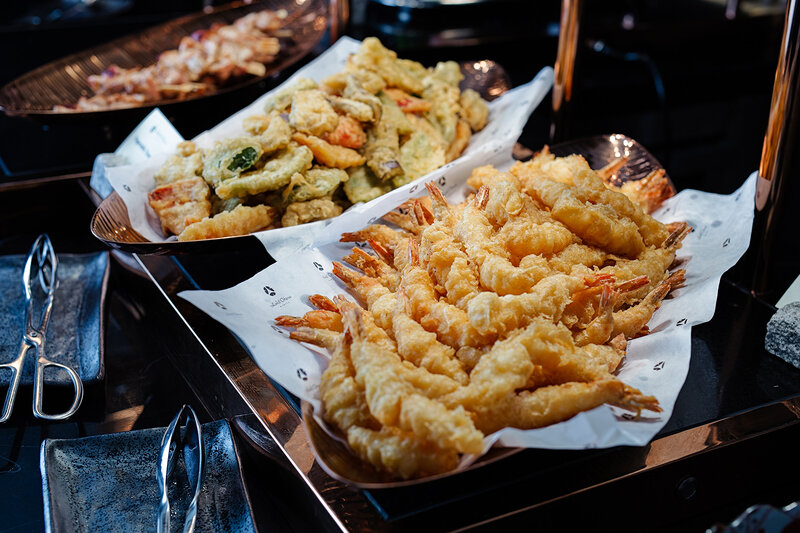 Prawn and vegetable tempura
Saturday Lunch and Friday to Sunday Dinner Buffet days will still include a carvery station, seasonal produce and seafood such as shrimps, mussels, and clams. Some menu items may change slightly without prior notice due to ingredient availability and quality.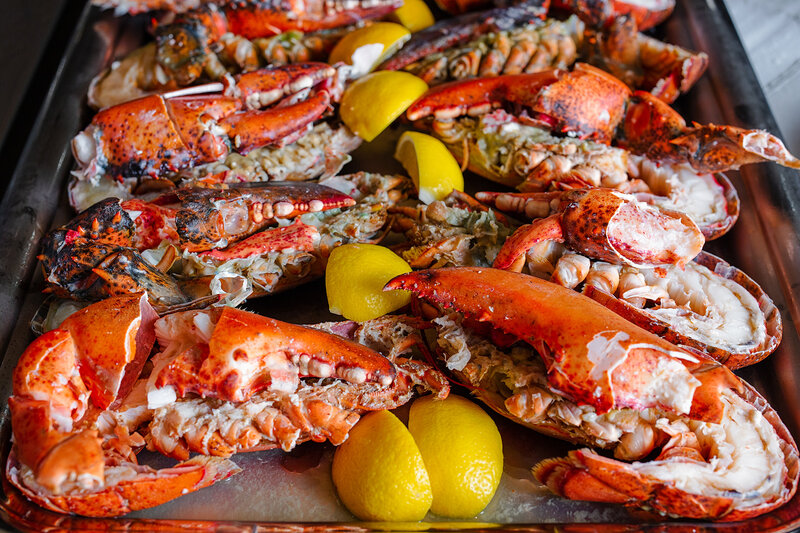 Plump and juicy lobsters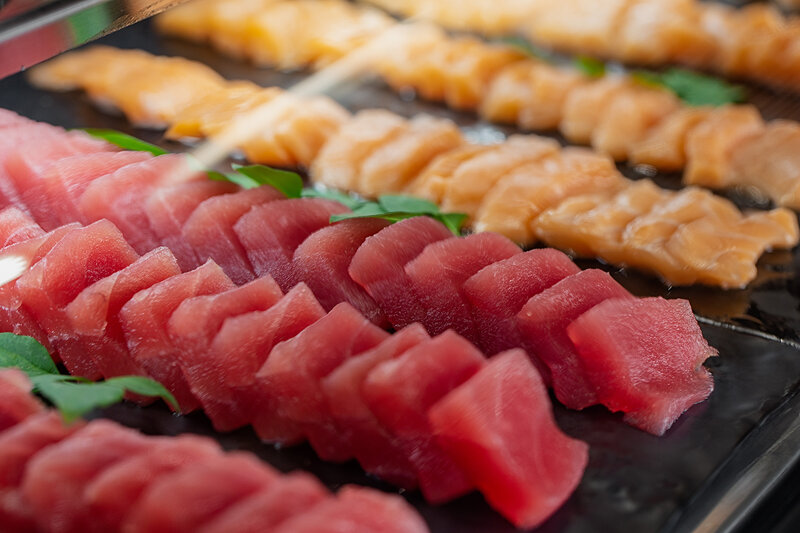 Fresh tuna and salmon sashimi
For the dessert spread, Pastry Chef Vi Serrano presents the yard long concept – emphasizing each dessert's deconstructed elements to let you appreciate the culinary team's meticulous attention to detail.
When in Japan: Summer showcases Japan's summer fruits such as compressed melon in fresh orange juice, cinnamon-spiced watermelon, plum sponge cake, plum wedges, and peach coulis. The deconstructed desserts are paired with crunchy almond streusel, sunflower seeds, raisins, orange coral sponge, and whipped white chocolate ganache.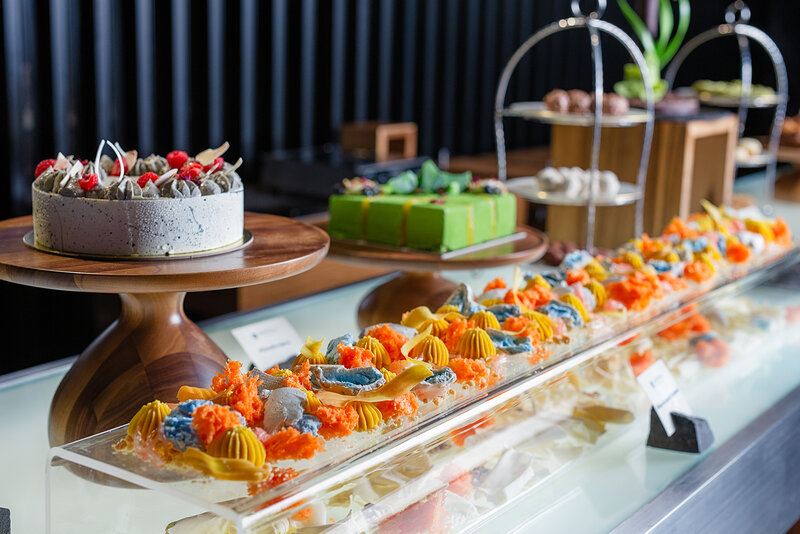 Assorted desserts and cakes
On top of that, you can enjoy Japanese desserts such as dorayaki, wasabi chocolate pudding with strawberry custard sauce, and mochi; chocolates, and assorted cakes including Black Sesame, Irish Profiterole, Pistachio Opera, and Cherry Chocolate.
For Saturday Lunch, the buffet is priced at Php 2,950 nett per person. Sunday Lunch with free-flow non-alcoholic drinks is Php 4,300 nett per person, while Sunday Lunch with free-flow non-alcoholic and alcoholic drinks is at Php 5,200 nett per person. Friday to Sunday Dinner is at Php 3,150 nett per person.
Guests who would like to include free-flow drinks can avail the beverage upcharge at Php 650 nett per person for non-alcoholic drinks; Php 1,700 nett per person for both non-alcoholic and alcoholic drinks. The price is halved for children aged 6 to 12, while kids below 5 years of age can eat for free.
The Kisetsu Weekend Buffet is available at Yawaragi Restaurant, located at the fifth floor atrium hall of Hotel Okura Manila. Advance reservation is highly encouraged. For inquiries and table reservations, call 0917-842-9067, email yawaragi.service@hotelokuramanila.com, or book online here.
Follow Hotel Okura Manila for more information about it latest offerings and promos on Facebook and Instagram.
Hotel Okura Manila is located at 2 Portwood Street (formerly Palm Drive), Resorts World Manila, Newport City, Pasay City.
---
This is a press release. Minor edits were made prior to publishing.
Store Information