A Season of Sparkles and Spirits at Solaire
Create wonderful memories with abundant feasts and meaningful gifts filled with Sparkles and Spirits this holiday season at Solaire.
An abundant holiday feast at Fresh transforms the celebration to make the season extra bright and even more exciting.   Dive into wide choices of fresh seafood catch, endless lobsters that can be prepared and cooked to your liking, and sought-after, melt-in-your-mouth oysters. There's also a section dedicated to assorted cold cuts and cheeses, a live salad station with fresh and crisp greens, and an array of world cuisines – from Filipino, Chinese, Japanese, Korean, Italian, as well as Western favorites. In addition, you can also find a carving station that highlights juicy roasted meat slices, an egg station that can accommodate how you want them done plus a breakfast counter with your morning musts. The top-notch dessert station has a variety of succulent sweets from whole cakes to frozen treats, too.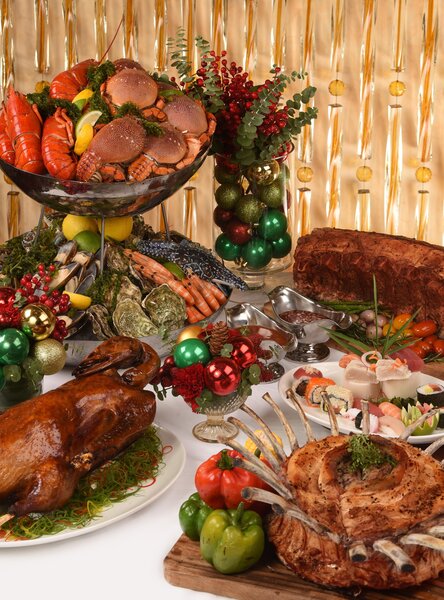 Indulge in an abundant spread of festive delicacies from Fresh for a merry celebration.
Continue your festive traditions at Finestra Italian Steakhouse with its rich holiday offer that brings the finest tastes of Italy right to your table. Savor the depth of pheasant and black truffle agnolotti and every bite of a pan-roasted turbot blanketed in Sambuca velouté. Let the luxurious taste and texture of slow-cooked lamb fillet and belly cradle your taste buds, and finish with a humble sampler of decadent desserts like a chestnut and praline cream with white chocolate and vanilla semi freddo, and caramelized hazelnut with fresh berries. The restaurant extends the festive indulgences with its Italian Sunday Brunch that also gets the holiday touch. Bask in the intimate ambiance of Finestra with special live entertainment to accompany your dining pleasure. Invigorating flavors of the Yuletide season linger at Red Lantern with delightful holiday tastes highlighting the best of Cantonese cuisine. Find satisfaction in servings of a triple combination of barbecued pork with honey, drunken chicken roll, and braised beef shank.
Read more: Finestra Italian Steakhouse at Solaire Manila
Celebrate in Yakumi with the freshest Japanese ingredients that will enliven your holidays. Japanese traditions fill the occasion with fresh sashimi slices of melt-in-your-mouth Hamachi, yellowfin tuna, and also Hokkaido scallops. A variety of mains made from seafood, meat, and poultry are also included. Take a bite of perfectly baked Hiroshima oysters with miso mayonnaise, as well as subtly sweet Mirin-marinated grilled Norwegian salmon. You also have appetizing Australian lamb rock with Japanese vegetables, and chicken thigh with seasoned hijiki wakame rice and a mixed miso soup. For dessert, a rich pear and almond cream tart and a mascarpone semifreddo will bring your Yakumi dining to a full circle. If you're still craving Yakumi's distinct tastes and goodness, don't miss its Festive Sunday Brunch that will add more vibrancy to your holiday festivity.
Stellar culinary creations from Yakumi will delight your celebrations of Yuletide traditions.
Read more: Savor the Flavors of Japan once more as Yakumi at Solaire Reopens its Sunday Brunch Buffet
Waterside takes on a boodle fight theme with heartwarming specialties that commemorate the tastes of home for the Christmas season. Enjoy top favorites that are packed with smoked goodness like grilled liempo and chicken inasal wings, as well as grilled stuffed squid and grilled tuna belly, plus golden-skinned Lechon kawali all paired with your choice of rice from plain, garlic, to rich aligue or bagoong. The staple sides can't be missed. Add a touch of tang and tart with green mango salsa or atchara, pickled mango, and ensaladang talong. Even the sweet finishers in the form of ginataang halo-halo and bibingka are keepsake traditions. For New Year, the restaurant transitions back to its vigorous menu of Latin-inspired cuisine fronted by a generous Surf and Turf platter with an irresistible 600-gram bone-in USDA ribeye and barbecue-style lobster thermidor, while the cap it off with a luxurious dark chocolate mousse with chocolate sponge cake, and mango vodka sherbert with passion fruit gel with white chocolate powder for texture and cashew nuts for some added crunch.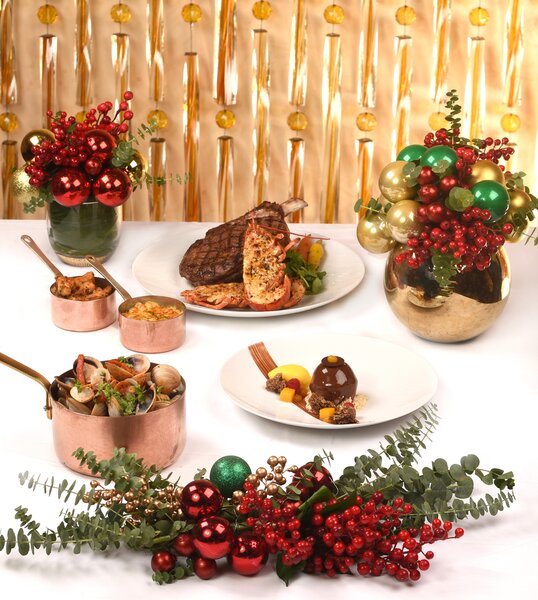 Bring warm wishes and good tidings to your festivities with spectacular flavors from Waterside.
Head over to The Patisserie, Fresh, or Food Court and bring home items from this year's Festive Takeaway menu for an even merrier holiday cheering. Enjoy a festival of Yuletide tastes with a collection of indulgent treats like a 36-month air-dried ham with parmesan puffs, mains that include the classic roasted US turkey with cranberry sauce, roasted jus and chestnut stuffing, boneless Christmas ham made sweeter with marmalade glaze, and roasted jus, a generous serving of slow-roasted bone-in USDA prime rib with bearnaise and shallot jus, portions of whole roasted duck with orange and star anise glaze, helpings of whole roasted pork crown roast with pomegranate glaze, and slow-roasted bone-in leg of lamb with roasting jus and mint sauce.
Solaire's collection of Christmas Hampers makes a great addition to the holiday feasts, too. Bring home a box or share the spirit of the season with one as a gift. Available at Fresh, The Patisserie, Oasis, and The Bakery at the Food Court.
Solaire's Royal Gourmet Hamper is filled with holiday gems that will complement any feast.
For more information and reservations, call 02-8888-8888 or email your reservations at restaurantevents@solaireresort.com. You may also visit their official website.
---
This is a press release. Minor edits were made prior to publishing.