JOIN NOW: Jean Leon Wine – Manila Launches on Sept 15
Celebrate good times by joining Jean Leon Wine – Manila launch on September 15.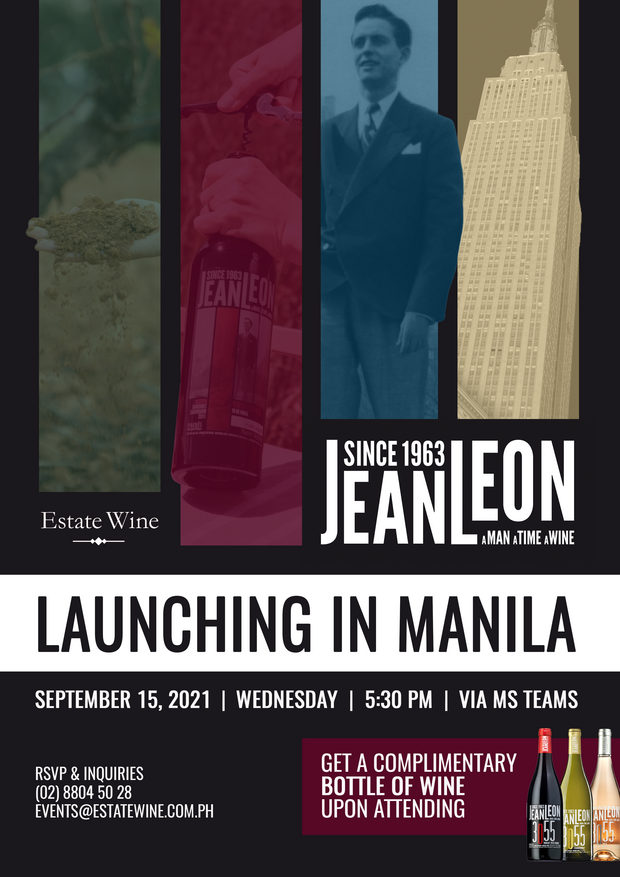 IMAGE from Estate Wine
A Lasting Legacy
Jean Leon, the winery's founder, was born in 1929 in Santander, Cantabria. At the tender age of 19, he set off to New York City to pursue his American dream. After working his butt off, the young man opened La Scala restaurant, one of the most exclusive restaurants in Beverly Hills.
In 1962, Leon went back to Spain and purchased a 150-hectare estate in the Penedes wine region just outside Barcelona, hoping to plant French varieties in the area.
Jean Leon ran the business until he was diagnosed with laryngeal cancer in 1994. He then entrusted his winery to the Torreses and spent the rest of his days sailing on La Scala d'Amore, his luxuy yacht. He passed away on Oct 6, 1996.
Today, the Jean Leon winery offers tours, wine tastings, and other gastronomic experiences.
A Man. A Time. A Wine.
A MAN
Jean Leon was an extraordinary individual with a rare instinct for staying ahead of his time. After immigrating from Spain to the United States, he came to Hollywood where he worked at Frank Sinatra's Villa Capri restaurant. This brought him into contact with the world of cinema, and he befriended famous actors of Hollywood's Golden Age.
A TIME
Jean Leon's first big project, the La Scala restaurant in Beverly Hills grew out of his friendship with James Dean. It quickly became a gathering spot for influential people such as Marilyn Monroe, John Fitzgerald Kennedy, Zsa Zsa Gabor and Paul Newman.
A WINE
Jean Leon then started a new venture in crafting wines bearing his own name so he could proudly serve it in his restaurant. In his efforts of producing a signature wine, Jean Leon pioneered international varietal wine production such as Cabernet Sauvignon, Cabernet Franc and Chardonnay from his native Penedès, Spain.
EVENT DETAILS
Date: September 15, 2021 (Wednesday)
Time: 5:30 p.m., PHT
Venue: Microsoft Teams
For those who are interested, you may pre-register here.
*Get a complimentary bottle of wine upon attending the event.
For inquiries, contact us via events@estatewine.com.ph or at (02) 8804-50-28/0917-117-2294/0945-802-8890/0917-109-6575.
General Information
G/F Republic Glass Building, 196 Salcedo Street, Legaspi Village, Makati City