Three Ways to Serve Cutlassfish with a Filipino Twist!
Tired of eating plain old fried chicken or pork chop everything single day? Want to try something new other than your usual fare for lunch or dinner? Then we got you covered! We at Primer Philippines will share tips on how to make appetizing Japanese dishes with a Filipino flair that will surely keep your tummy happy!
We will teach you how to prepare three simple, yet incredibly delicious fish dishes using cutlassfish or espada.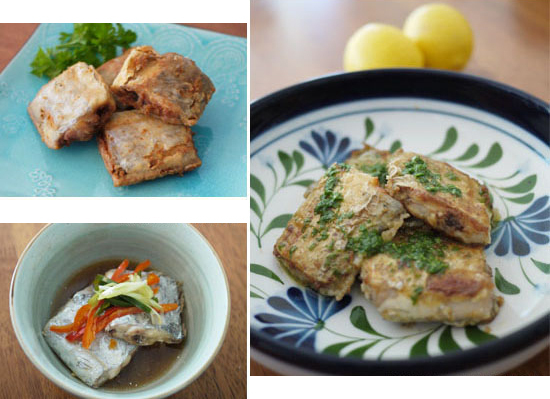 Cutlass fish three ways/Image by Philippine Primer
French Cutlassfish Meunière
Ingredients (good for 4):
4 Cutlassfish fillet (approximately 150 g per slice)
Aji-Shio Pepper 6 g
Flour 20 g
Butter 20 g
Sauce:
Parsley 1 dash
Butter 12g
Lemon juice 1 tsp
Cooking directions:
1. Sprinkle Aji-Shio Pepper on the fillet, leave it for 2 to 3 minutes. Coat it evenly with flour after that and remove the excess flour.
2. Heat butter in a frying pan and fry the fillet once it has melted.
3. When it's almost cooked, turn it over and remove the excess oil.
4. To make the sauce, melt butter in a pan and then add the parsley and lemon juice. Heat it gently.
---
Filipino-style Fried Cutlassfish
Ingredients (good for 4):
4 slices of Cutlassfish  fillet  (approximately 150 g per slice)
Flour 20 g
Frying oil (corn or canola oil)
Coconut vinegar 4 tbsp
Aji-Shio Garlic 6 g
Pepper 1 dash
Cooking directions:
1. Marinade the fillet in the vinegar and seasonings for half a day.
2. Drain the marinade, then coat the fillet with flour and fry it in the oil.
Note:
Marinade the fish immediately after buying it. This is a traditional way of marinating fish in the Philippines. It is very similar to how the Japanese use sake to remove bad odors and preserve fish and meat longer. You can also use bangus (milkfish) and tilapia (Izumi snapper) for this recipe.
---
Chinese-style Steamed Cutlassfish
Ingredients (good for 4):
4 slices of Cutlassfish  fillet  (approximately 150 g per slice)
Sake 2 tbsp
Bell pepper 1 pc
Red bell pepper 1 pc
Green onion 1 pc
Ginger 10 g
Sauce:
Sake 2 tbsp
Aji-Ginisa Shrimp 7 g
Soy sauce 3 tsp
Sugar 2 tsp
Water 40 cc
Sesame oil 2 tbsp
Cooking directions:
1. Marinade the cutlassfish in sake and ginger for about an hour.
2. Cut the ginger, bell pepper, and red bell peppers into small pieces. The green onion, into small pieces about 4 cm in length.
3. Put the ingredients for the sauce in bakeware and microwave it for 30 seconds.
4. Put the cutlassfish, peppers, and green onion on a plate and steam them on high heat for 10 minutes. After that, steam them again in the sauce for another 5 minutes.
5. Heat the sesame oil in another pan and pour it over the dish.
Note:
This recipe can be used using any white-fleshed fish such as lapu-lapu (a member of the grouper family). It tastes a little light, so add soy sauce and salt according to taste.
Have you tried cooking any of these amazing dishes? Show off your creations in the comment section below!
General Information