Chayote All the Way: Three Easy Chayote Recipes
Chayote is one of the most versatile vegetables in Filipino cuisine. In fact, it's an all-around ingredient utilized in countless Filipino dishes. It can be used in soups, stews, and even on side dishes.  So this time, we are sharing three easy ways to cook this wonderful ingredient. Bon appétit!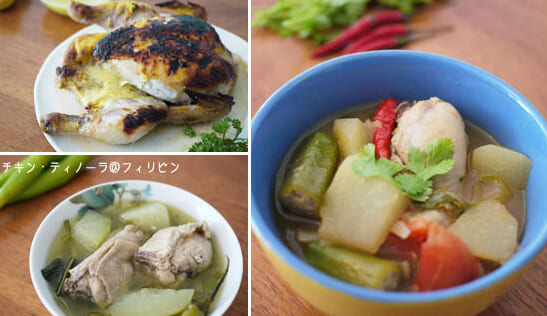 (Clockwise) Tandoori Chicken With Mango and Chayote Chutney Sauce, Chicken and Okra in Tomato Stew, and Chicken Tinola/IMAGE by Philippine Primer 

Chicken and Okra in Tomato Stew

Ingredients (for 4 people):
400 g chicken thighs
4 tablespoons olive oil
200 g chayote
200 g okra
Tomatoes
Onions, chopped
Garlic, grated
2 cups water
Coriander
Red bell pepper (optional)
Chicken seasoning:
2 small tomatoes
1 chicken fillet
2 tablespoons vinegar
7 g Aji-Ginisa
Cooking directions:
1. Chop chicken into small pieces. Put them in a bowl and mix with chopped onions, grated garlic, vinegar, and Aji-Ginisa and leave it for an hour.
2. Chop the sayote and tomatoes into small pieces. Split the okra in halves.
3. Saute the chicken, onions, and garlic in one pan in olive oil.
4. Sweat the onions, then add the chayote and water. Once it boils, toss the tomatoes and okra in and simmer.
5. Add red bell peppers and coriander (optional).
Note:  
In Portuguese, frango means chicken, com means with, and quiabo means okra, which is known as frango com quiabo in Brazil. This dish is a local dish of Minas Gerais, which literally means "okra and chicken." Native to Africa, okra is a vegetable that is eaten all over the world and is called okra in every country. In the Philippines, okras are large and cheap and often used in soups. It is not recommended to eat okra raw.
Tandoori Chicken With Mango and Sayote Chutney Sauce
Ingredients (for 4 people):
1 kg chicken
4 tablespoons honey
1 tablespoon vinegar
Ginger, grated
10 g Aji-Shio
6 g garlic
200 g yogurt
1 tablespoon curry powder
Chutney-style sauce:
100 chayote
100 g dried mango
1 tablespoon olive oil
150 ml water
Cooking directions:
1. Rinse the chicken and dry it well. Make sure to remove all feathers.
2. Put the chicken in a plastic bag, then add 3 tablespoons of honey, vinegar, and ginger and marinate it for half a day.
3. Discard the excess liquid, add 1 tablespoon honey, Aji-Shio, garlic, yogurt, and curry powder, and marinate it overnight.
4. The next day, bake it in an oven at 220-240 degrees for 20-30 minutes.
5. Thinly slice the chayote and dried mango. Saute the chayote in olive oil, add water and dried mango and let it simmer.
6. Once soft, use a blender to make the sauce. Heat it in a pan after. It should have a jam-like consistency.
Note:
In the Philippines, you can easily get a whole chicken. Tandoori chicken is a famous dish in the Punjab region of India, and is mostly cooked in a pot-shaped kettle called tandoor. The refreshing spiciness of the turmeric and the yogurt's mild flavor blend together, enhancing the chicken's flavor.



Chicken Tinola
Ingredients (for 4 people):
700 g bone-in chicken
80 g onion
30 g ginger, chopped
5 g garlic, chopped
300 g sayote
80 g water spinach
3 pieces string beans
1 liter water
2 g Ajinomoto seasoning
7 g salt
Green bell pepper (optional)
Cooking directions:
1. Chop the onions and chayote into small pieces, and cut the string beans and water spinach into 4 cm-long pieces.
2. Heat the olive oil in a pan and saute the onions, garlic, ginger, and chicken.
3. Add water and salt to the pan and let it boil. When the chicken is tender, add the vegetables. Season with Ajinomoto seasoning according to taste.
Note:
Most Filipino used fish sauce called patis instead of salt on their dishes, which gives more flavor to their food. It tastes like salted fish, so try with a small amount first and adjust based on your preference. Meanwhile, Ajinomoto sold in Asian countries is a product made of 100% monosodium glutamate while those sold in Japan contains 2.5% sodium ribonucleotide in addition to monosodium glutamate.