MANILA FEAST: Sweets and Liquor Shops in Metro Manila Worth Trying This Holiday Season
With Christmas just around the corner, the Philippine Primer-listed sweets and liquor shops that are perfect this coming holiday season. It's about time to splurge on sweets and liquor treats.
Santis Delicatessen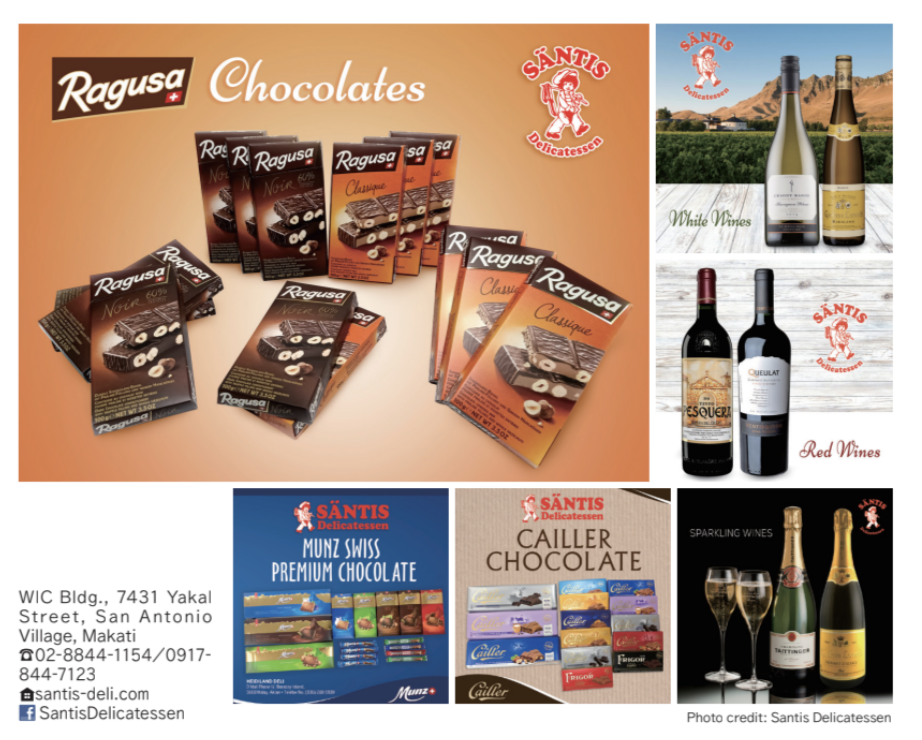 IMAGE from Santis
Santis Delicatessen is known for its world-class gourmet ingredients ordered from all over the world. It offers a wide variety of European ingredients and a wide selection of sweets and wines.
For wine selections, we  recommend you their best-seller such as Taittinger Brut Reserve (Champagne, France) for Php 3,386 , Gustave Lorentz Cremant d'Alsace Brut (Alsace, France) for Php 1,081, Pesquera Tinto Crianza for Php 1,319 and Ventisquero Queulat Cabernet Sauvignon Gran Reserva for Php734 and Craggy Range Te Muba Sauvignon Blanc (New Zealand) for Php 1,129 and Gustave Lorentz Riesling (Alsace, France) for only Php 789.
Meanwhile, we recommend Cailler (various Php 189 / 100g, Php 513 / 400g), Munz (various Php 135 / 100g, Php 378 /300g) and Ragusa (various Php 189 / 100g, Php 729 / 400g).
Currently, Santis' main branch is located on Yakal Street in Makati, with a total of 14 stores including BGC and other branches. See the product catalog on our website or Facebook. You can also call your nearest store and arrange for your own driver, or Grab or Lalamove to pick you up.
Address:  7431 Yakal Street, San Antonio Village, Makati City
Phone number: 0917-8447-123
Email: santislover@santis-deli.com
Website: www.santis-deli.com
Facebook:@SantisDelicatessen
Instagram: santisdelicatessen
Twitter: @SantisDeli  
Dough & Grocer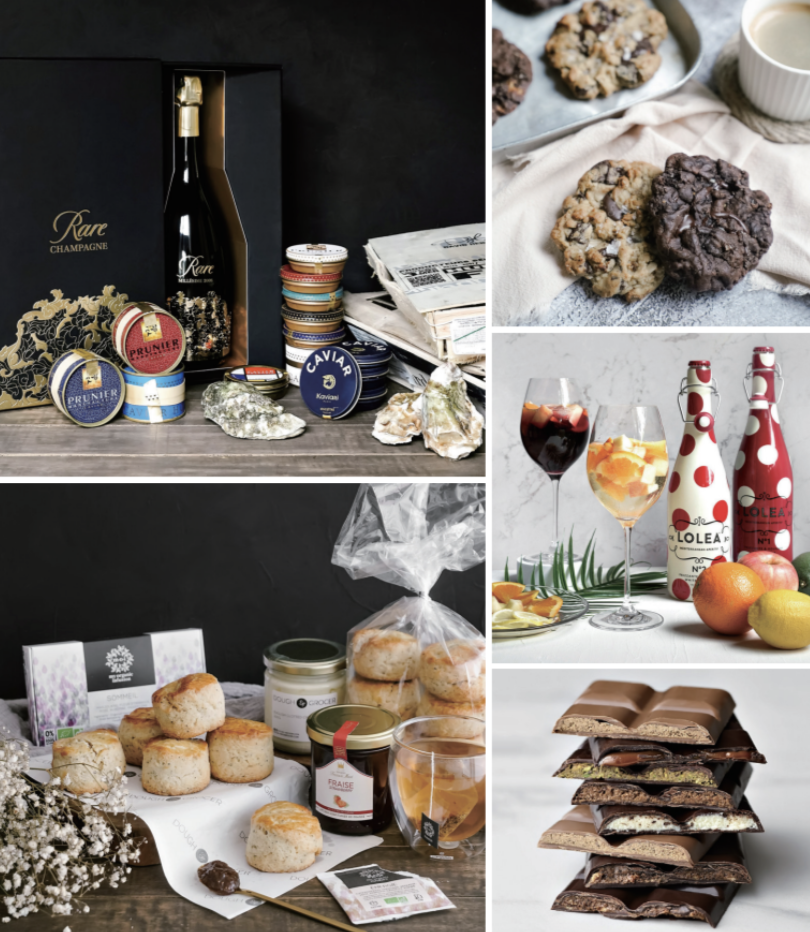 IMAGE from Dough & Grocer
Dough & Grocer is known to be a great curator that offers a wide array of high-end European sweets that you can't get anywhere else. They also offer an exclusive deal for original cookies from the restaurant "Prologue" and carefully selected Western liquors abroad. If you want to shop without hassle from purchase to delivery, we recommend using the online shop.
For sweets, we include L'Éclair de Génie Box of 16 Ganaches & Pralines (115g) and various Prologue cookies. Homemade Echiré Scones are delicious with English Clotted Cream and Francis Miot Strawberry Jam.
For Western liquors, we recommend Lolea Sangria, which is based on red wine. Serve it very cold in a tall or stem glass with plenty of ice, and accompanied by citrus fruits, peach, or strawberries. We also urge you to grab Rare Champagne Millésime 2008 which is a good pairing for seafood dishes such as oysters and lobster.
Meanwhile, Lail Vineyards Blueprint Cabernet Sauvignon 2017 is the #1  best wine of 2020 by Wine Enthusiast magazine. It goes well with beef, lamb, benison, chicken, and hard cheese.
Address: 87 Sct. Gandia St, Diliman, Quezon City
Phone number: 0917-525-0813
Email:  contact@doughandgrocer.com
Website:  www.doughandgrocer.com 
Facebook: Dough & Grocer 
Instagram: doughandgrocer
Estate Wine
Champagne Pommery/IMAGE from Estate Wine 
Estate Wine is a wine merchant and exclusive partner to Berry Bros. & Rudd of UK. Their Legaspi shop is located on the ground floor of Republic Glass Building on Salcedo St. In Legaspi Village . Customers may view a catalog on the website and send their orders thru messenger or by phone. They are also on GrabMart.
One of their highly recommended product is Berry Bros. & Rudd, Coffee Liqueur, a cold-drip coffee liqueur. It has the aromas of roasted coffee and dark chocolate. Intense, bittersweet with light enlivening spice, rich chocolate, and faint smoke.
Henri Giraud, Rataifa Champenois Solera 1990 – 2013 is a glass of champagne packed with aromas of roasted nuts, berry fruits and spices, and a full-bodied palate of stewed stone fruit, grapes and candied orange peel. This would be delicious sipped over ice with dessert. And finally, NV Champagne Pommery Brut Royal exudes a pale yellow with faint green highlights and delicate bubbles. This wine is elegant and lively with a very nice and lingering finish on the palate
Address:  GF Republic Glass Building, 196 Salcedo Street, Legaspi Village, Makati City
Phone number:  02-804-5028
Email: ewi@estatewine.com.ph  
Website:  www.estatewine.com.ph
Facebook: @estatewine
Instagram: estatewine
The Wine Club
Decoy Cabernet Sauvignon 2019/IMAGE from The Wine Club
The Wine Club offers premium California wines mostly from Napa Valley as well as other regions. The Wine Club exclusively imports and represents the wines of Caymus, Shafer, Duckhorn, Grgich Hills, Chappellet, Far Niente, and Cliff Lede. They have an online shop where users can search for their desired wines by brand or price range. Payment can be made through a credit card or GCash.
One of their recommended wine, Decoy Sauvignon Blanc 2020 begins with inviting aromas of sweet citrus, pink grapefruit, and fresh-cut hay that rise from the glass beckoning the first sip. The energetic citrus notes are echoed on the palate, where they mingle with enlivening natural acidity and flavors of summer melon and refined minerality that carries the wine to a sleek, refreshing finish. Decoy Cabernet Sauvignon 2019 features silky tannins and balanced acidity. On the palate, rich flavors of raspberry, ripe plum, and blueberry carry the wine to a long, luxurious finish, with nuanced hints of oak and sweet baking spices.
Address: Cacho Gonzalez Building, 101 Aguirre, Legazpi Village, Makati City 
Phone number: 02-8893-7784
Email:  sales@wineclub.ph 
Website:  www.wineclub.ph
Facebook: @wineclubph 
Instagram: wineclubph
JINRO

With its large-scale and high-end production facilities, HITEJINRO presents exceptional premium products like whiskey, wine, traditional liquor, and sparkling liquor on top of soju and beer.
It remains true to its reputation as Korea's top beer and soju maker, distributing its products to around 80 countries already—one of which is the Philippines.
Address: The Palisades, Gallardo St., Legaspi Village, Makati City  
Phone number: 02-8242-4894 
Email:  marketing@hitejinroph.com  
Website: www.hitejinroph.com/
Facebook:  @jinro.phl 
Instagram: jinro_ph 
Pâtisserie BEBE ROUGE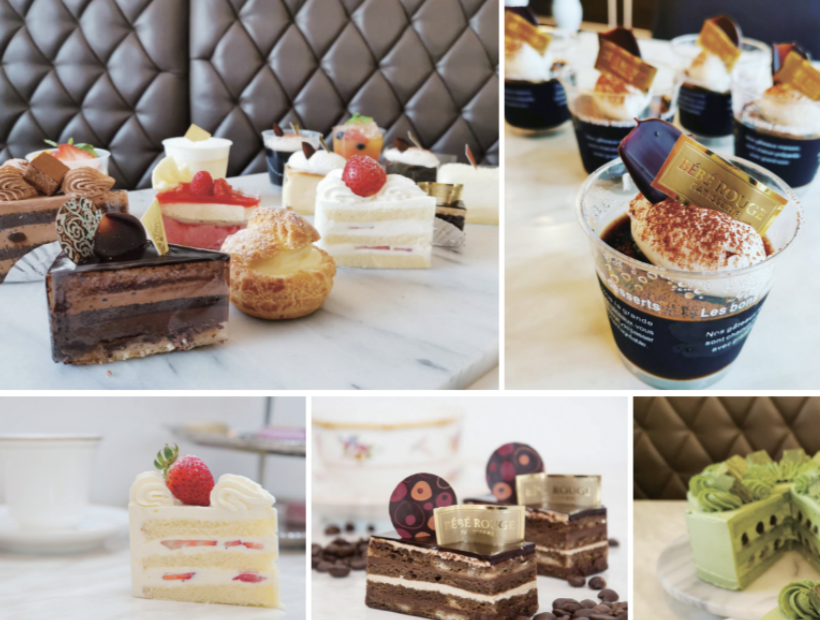 IMAGE from Pâtisserie BEBE ROUGE
A popular French sweets shop run by a Japanese pastry chef, BEBE ROUGE offers various kinds of sweets and pieces of bread such as strawberry shortcake, which is a signature product of the store. They also offer seasonal decoration cakes, macaroons, eclairs, cookies, madeleines, and freshly baked bread.
Gift boxes of various sizes are packed with several types of sweets, so you will be happy to bring them with you. Delivery to Makati and BGC areas is possible through Grab. Slices of cakes can now be ordered via Grab, so be sure to use them as snacks, gifts, or as a gift.
Address: 7602 Sacred Heart Street Corner Metropolitan Avenue, Barangay San Antonio 1232 Makati  City
Phone number: 02-8833-2826  | 0917-851-9636
Email: beberougenhtc@gmail.com
Facebook: Pâtisserie BEBE Rouge
Instagram: patisserie_beberouge
The Flour Girl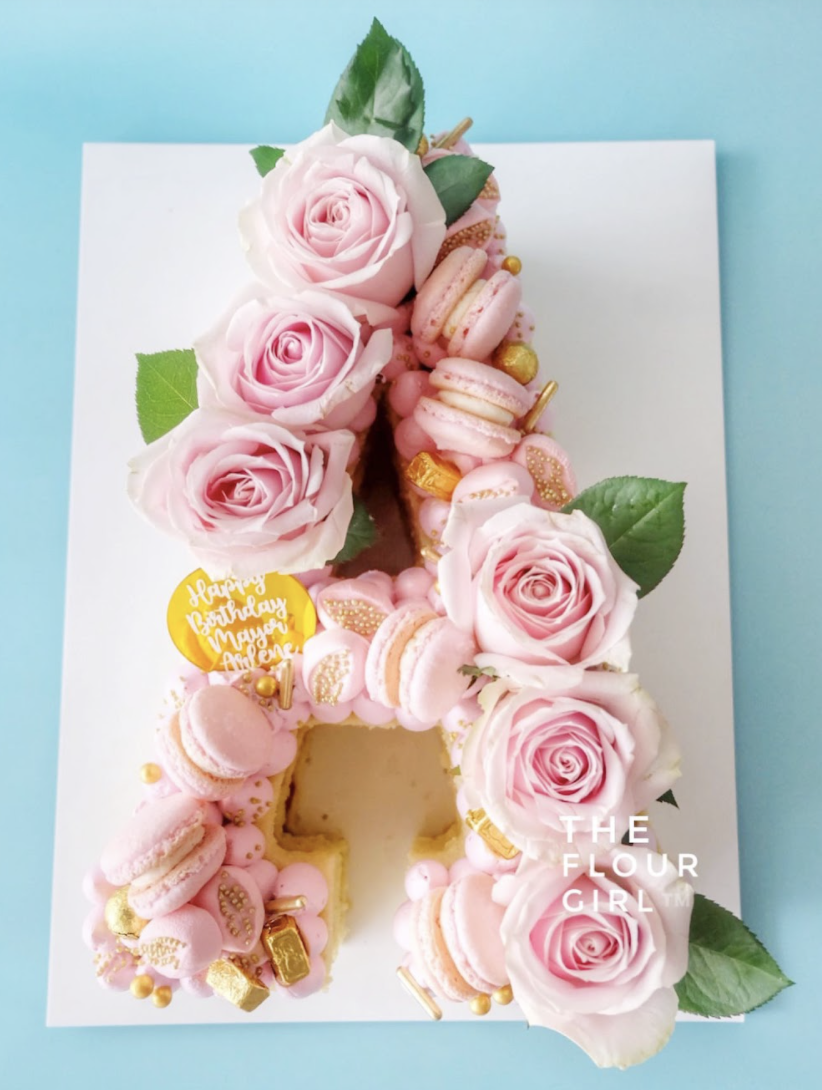 IMAGE from The Flour Girl
If you are looking for a custom cake with deco, this is the place to go. The Flour Girl is an expert when it comes to custom design cakes such as "Monogram Cakes", "Buttercream Cakes", and even wedding "Floral Cakes." You can also explore their charming "Minimalist Cakes" and the "Chocolate Pinata Cakes" that are popular in the United States and other countries with surprises inside.
To order, send a sample of your desired cake via messenger. Please e-mail them with further details such as size, theme color/use, date, and wait for the estimated price. It is best to make a reservation at least one month in advance. Cakes can be picked up at the store using Grab etc.
Address:  G/F D' Ace Plaza Brixton Cor. United St. Kapitolyo Pasig City  
Phone number: 0916-697-9452
Email:  theflourgirlbakerymanila@gmail.com 
Website:  http://theflourgirl.net/
Facebook: @theflourgirlbakery 
Sweet Success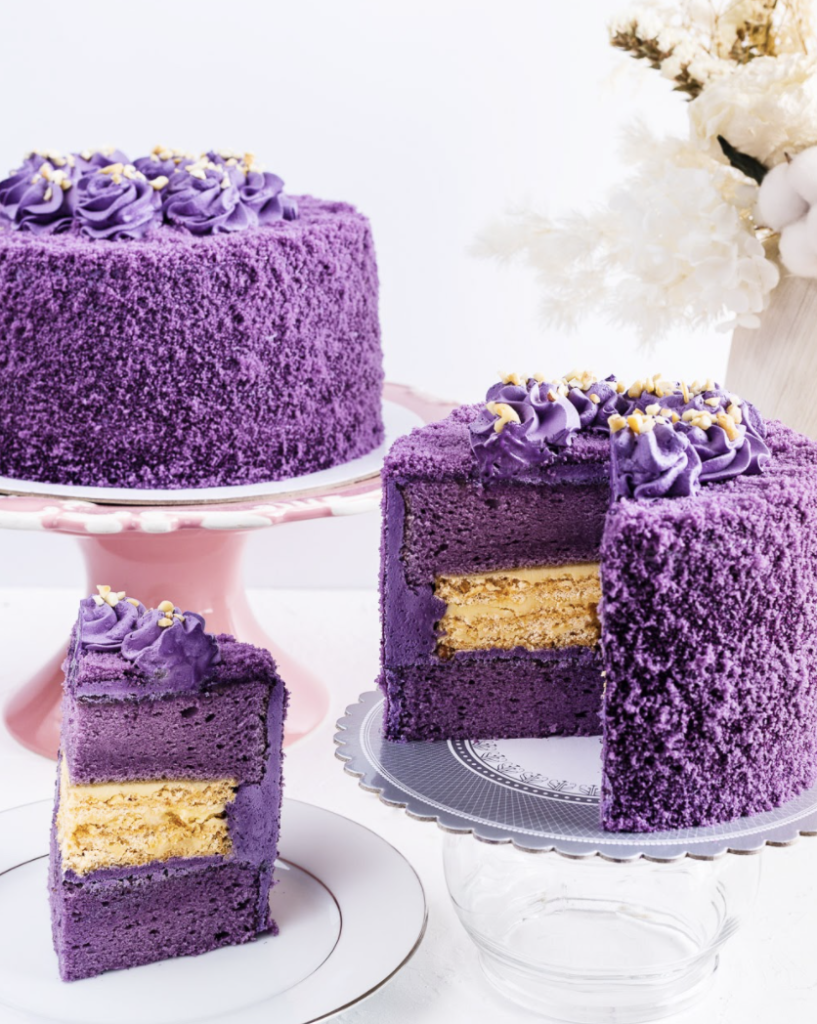 IMAGE from Sweet Success
Sweet Success is the vision of Zeny Tong, a mother of four children and a full-time homemaker. Having an interest in culinary and entrepreneurship, Zeny started her career in catering which she later focused on baking.
They recommend their bestseller Ube Sans Rival Cake, which has a bright purple color. This is a layer of Sans Rival and Ube's sponge cake, a traditional Filipino sweet with buttercream, nuts, and meringue. To order, you need to book in advance or 3 business days to be exact and they only offer for pick-up.
Address: 2B 960 G. Masangkay St. Binondo, Manila
Dylan Patisserie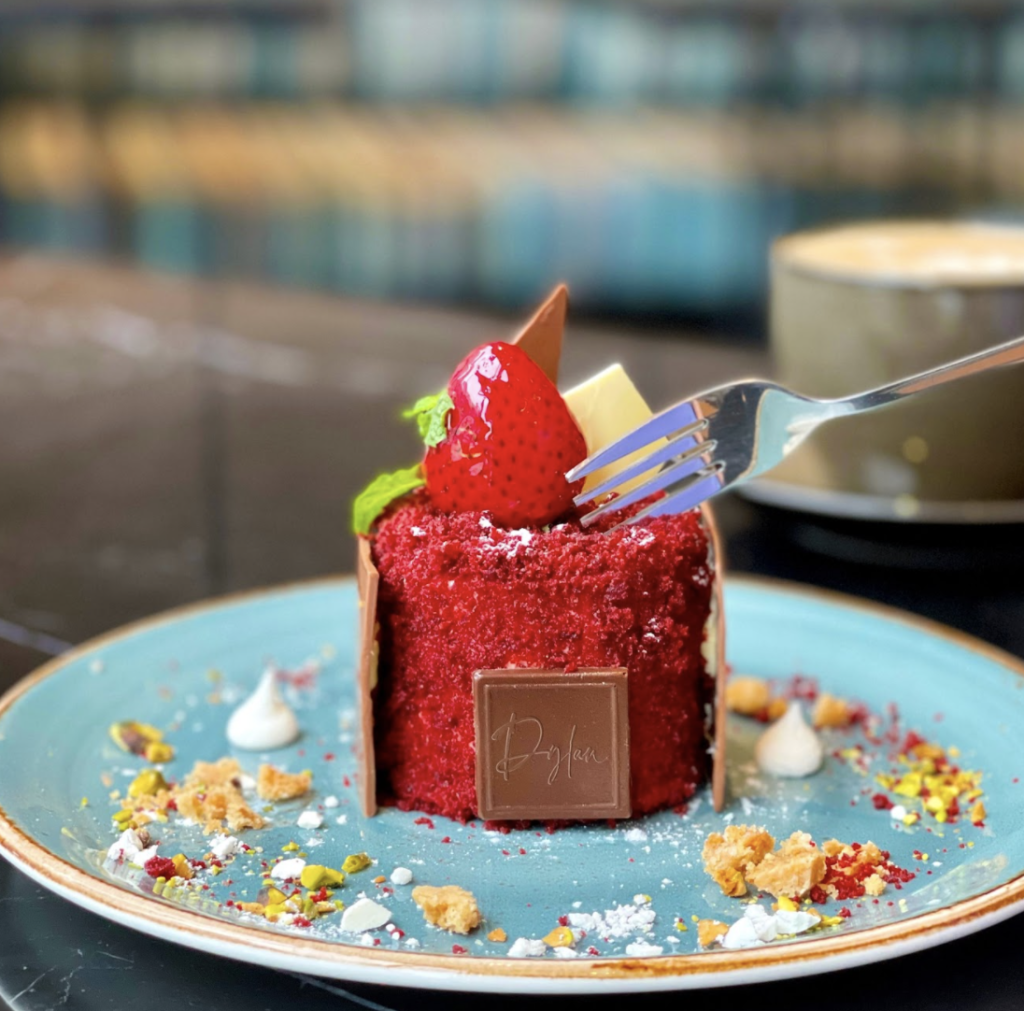 IMAGE from Dylan Patisserie
A French patisserie on Jupiter Street in Makati, Dylan Patisserie has many pastry treats to offer such as whole cakes, sliced ​​cakes, macaroons, and bread that are lined up on a fashionable display. There is a wide variety of cakes, including cheesecake, tiramisu, chocolate cake, as well as Pandan cake, and Ube cake, which are unique to the Philippines.
They also accept orders for custom cakes. Boxed macaroons can be used as a trinket or as a gift. In addition, they also offer a gift set of sweets from Php 2,800 to Php 6,600 that is perfect for this coming holiday season.
Dylan only uses high-quality ingredients such as couverture chocolate, which is more than 31% cocoa butter, fresh berries, and French butter.
Address: 116 Jupiter Rd, Makati, 1209
Phone number: 02-8777-2999
Email: info@dylanpatisserie.com 
Website: www.dylanpatisserie.com  
Facebook: @dylanpastisserie.ph
Instagram:  dylanpatisserie.ph
KO Pâtissier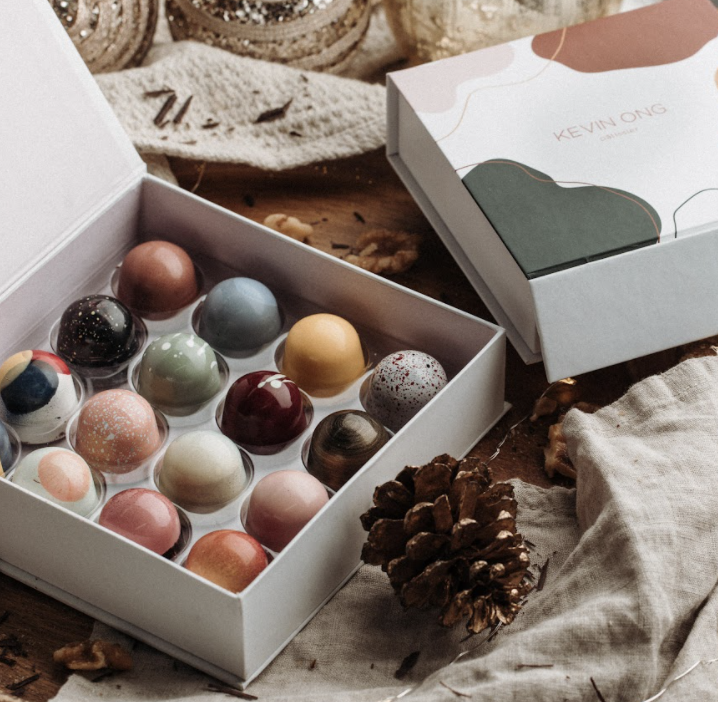 IMAGE from KO Pâtissier
KO Pâtissier is known for their famous bonbon chocolate. This unique store offers various French pastries such as bonbon chocolate, cakes, macaroons, cookies, and dragees. With a luxurious lineup, the packaging is also fashionable. You can indulge in it alone or share it as a gift. Currently, there is no store, and it sells online via Instagram.
Bonbon chocolate is 9 pieces / Php 1,000, 16 pieces / Php 1,500, cake is about Php 2,300 ~ 3,000. Delivery and pickup are possible. (In the case of pickup, it is recommended to arrange a car instead of a motorcycle.)
Phone number: 0917-626-1697
Email:  KOPatissier@gmail.com
Facebook:  @KOPatissier
Instagram:  kopatissier
Cinq Dessert Boutique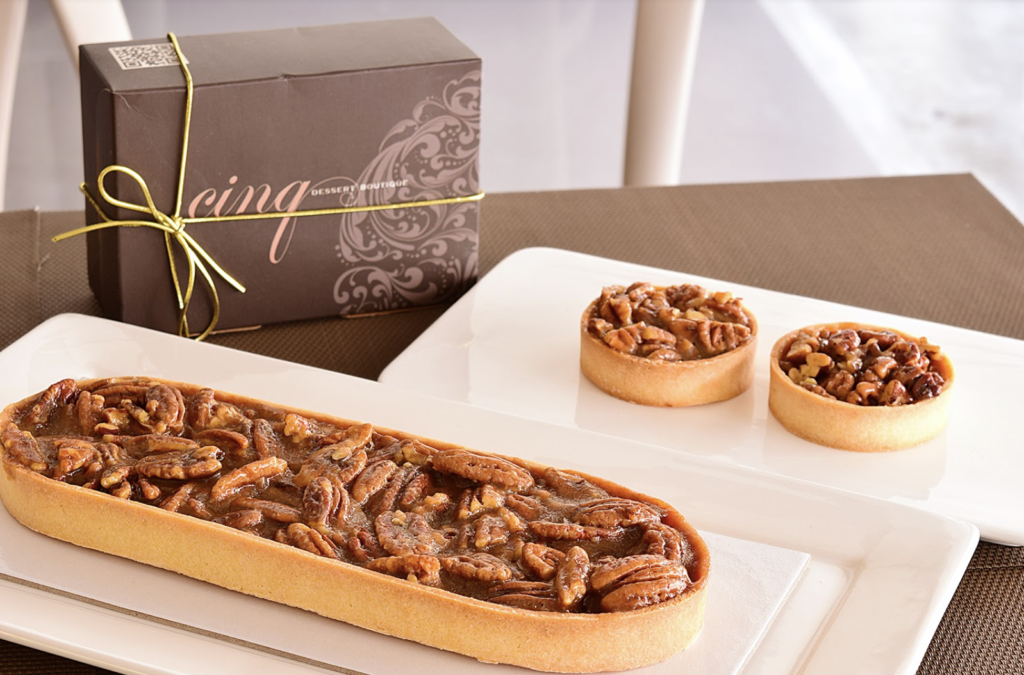 IMAGE from Cinq Dessert Boutique
Cinq Dessert Boutique is a fashionable patisserie store located at Jupiter Street in Makati. They offer two sizes of cake, a large one that is good for parties and a mini-size cake that can be enjoyed alone. Their bestseller is AURORE, a chocolate tart with macadamia and caramel. It's not too sweet, and the cacao flavor spreads throughout your mouth, making it a truly blissful taste. You can order via Viber. Pick-up and delivery are also available.
Address: GF Ceo Flats, 27 Canopus corner Jupiter St. 1211 Makati 
Phone number:  0917-833-3445
Email: info@cinq.com.ph 
Website:  www.cinq.com.ph
Facebook: @cinqdessertboutique 
Instagram:  cinqdessertboutique
Nokopan Bakery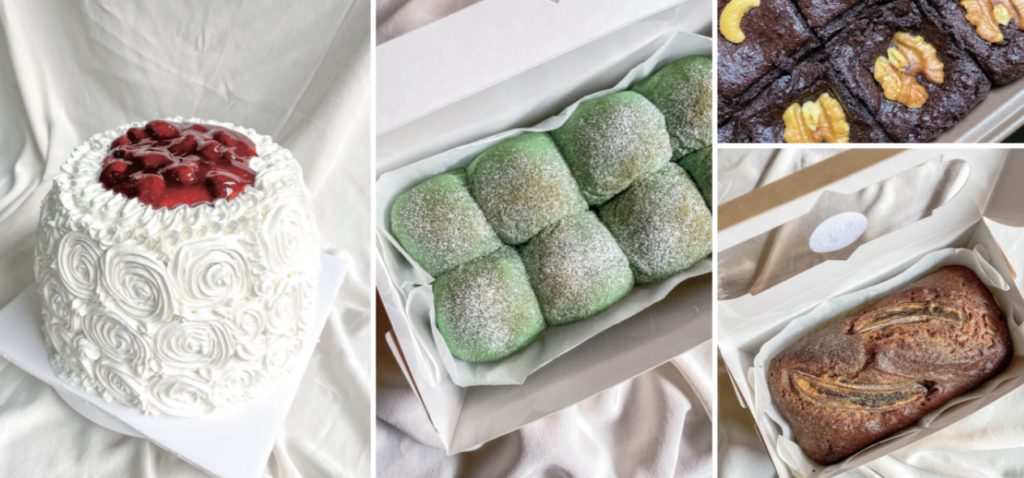 IMAGE from Nokopan Bakery 
Nokopan Bakery has started as a home bakery in his hometown of Toyama prefecture. At first, products were sold only to neighbors. Little did they know, their products were introduced on social media and gained many clients from the Philippines.  Since then, they opened their store here in the country.
Currently, they sell bread and sweets online in Pasay. Their sister store, Midori Bakery, also sells vegan bread and sweets.  You can order from their official Facebook and Instagram account.
Email:  nokopanbakery@gmail.com 
Website:  midoribaker.cococart.co 
Facebook:  @nokopanbakery 
Instagram:  nokopanbakery 
Edoan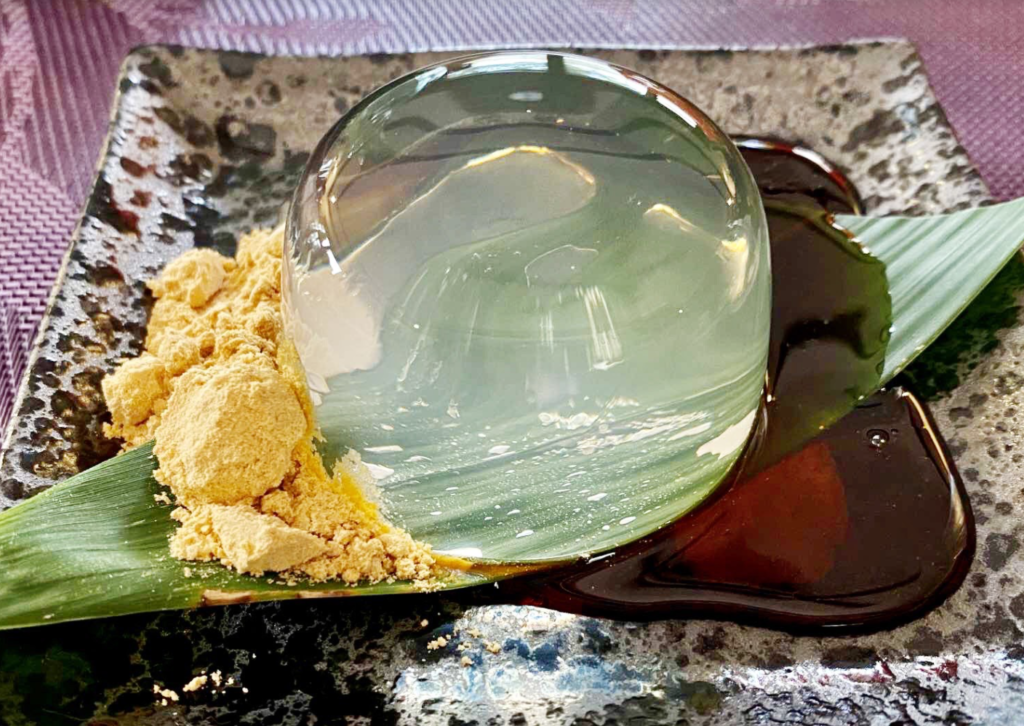 IMAGE from Edo An
Mr. Sakamoto, the man behind EDOAN, revealed that it all started as a hobby. Little did he know making sweets as a pastime would eventually reach a lot of people through the countless collaborations they have with popular cafes and restaurants.
They shared that their products are available in cafe shops such as Santa Rosa's Himawari Specialty Coffee and CaKe's Coffee and Tea.
For Western Confectionery
Cream puffs (1 piece / Php 80)
Eclairs (1 piece / Php 80)
Custard Pudding (Php 80 / pcs)
For Japanese Sweets
Dorayaki (1 piece / Php 50)
Ohagi (1 piece / Php 50)
Daifuku (1 piece / Php 50)
Matcha Buns (1 piece / Php 40)
Mizu shingen mochi (1 piece / Php 70)
Address: B12L18 Ponderosa Leisure Farms Pasong Langka, Silang, Cavite
Phone number:  0917-172-0900
IJO Bakery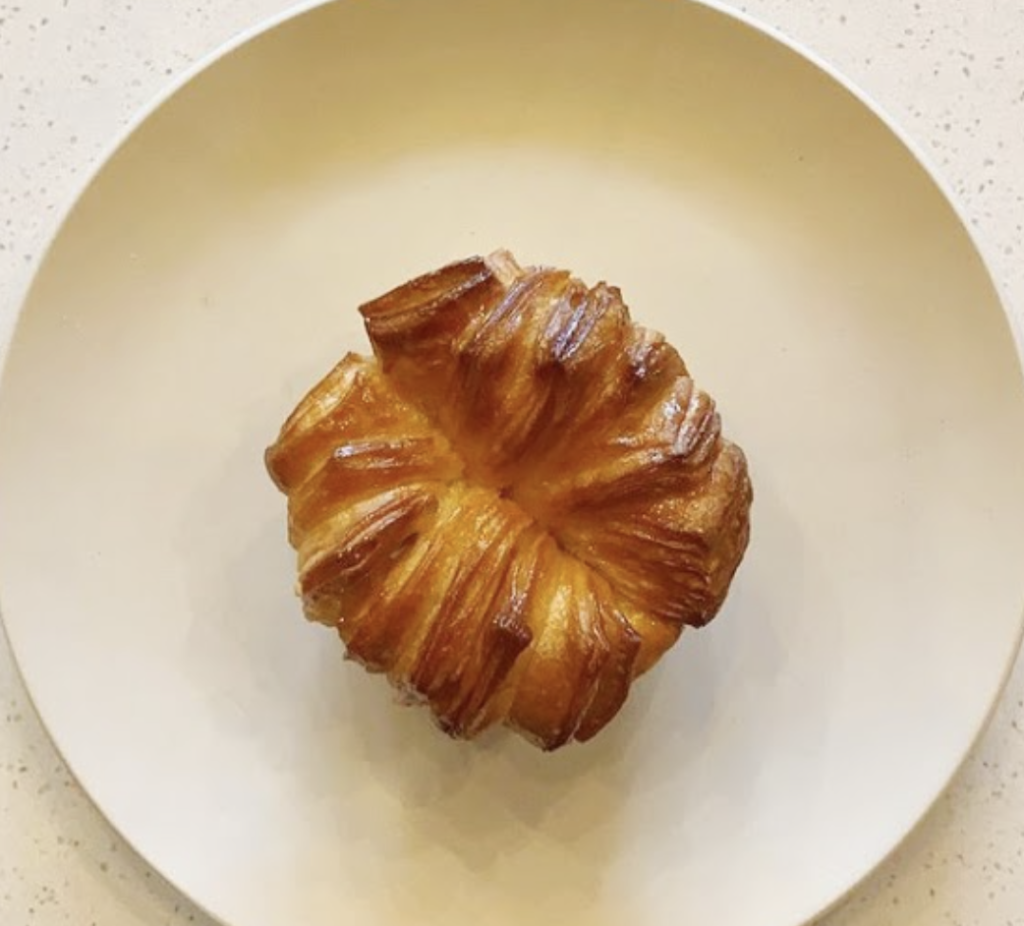 IMAGE from IJO Bakery
IJO Bakery is a small bakery and cafe in Batangas. They are known to sell freshly baked bread such as croissants are lined up in stores. According to IJO Bakery, they recommend their monkey puff made from croissant fabric. Small and easy to eat. It's delicious and perfect for a little snack. Delivery to Metro Manila is a minimum order of 12 pieces, the delivery fee is  Php 250. You can order via Viber, phone call and text message.
Address: W5R3 + R22, Lipa, Batangas
Phone: 0945-729-5257
Instagram: ijobakeryph
Sakuraco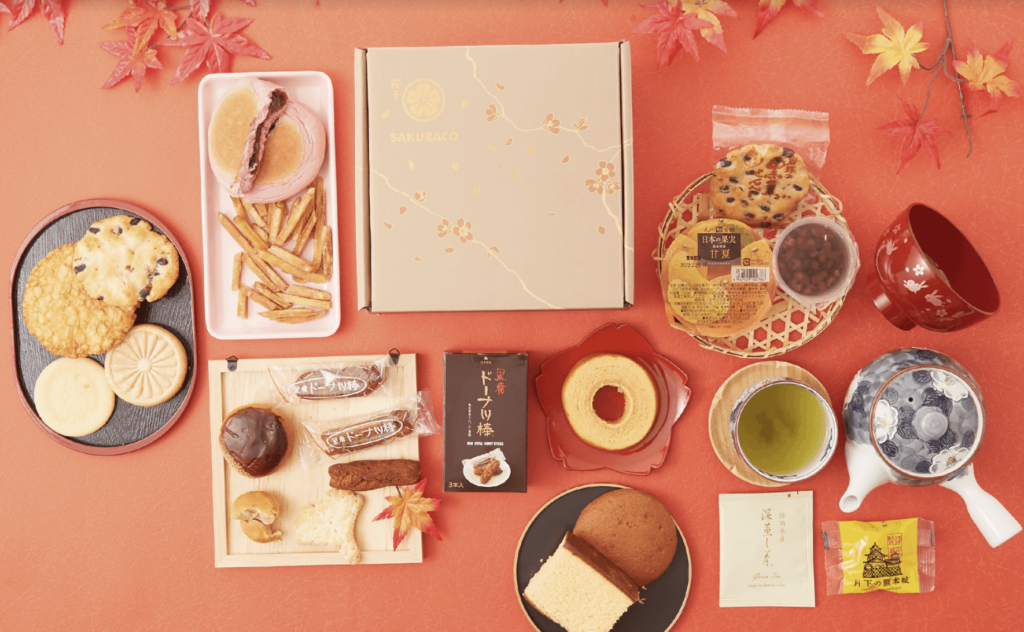 IMAGE from Sakuraco
Sakuraco is a subscription-based Japanese sweets assortment. Every month, the store offers a different kinds of themes in line with their products. You will be surprised by what you'll receive every month. This marketing strategey is in to create an ongoing subscription for their products.
Also, all Japanese sweets are directly from Japan. You can subscribe to their sweet treats by 1 month ($ 37.50), 3 months ($ 35.5 / month), 6 months ($ 33.5 / month), 12 months ($ 32.50 / month).
This November, "Autumn in Kyushu Kyushu Autumn" will be on sale. The contents of
Website: sakura.co 
Facebook:  @wearesakuraco
Instagram: @wearesakuraco 
Twitter: @wearesakuraco
Truffles by K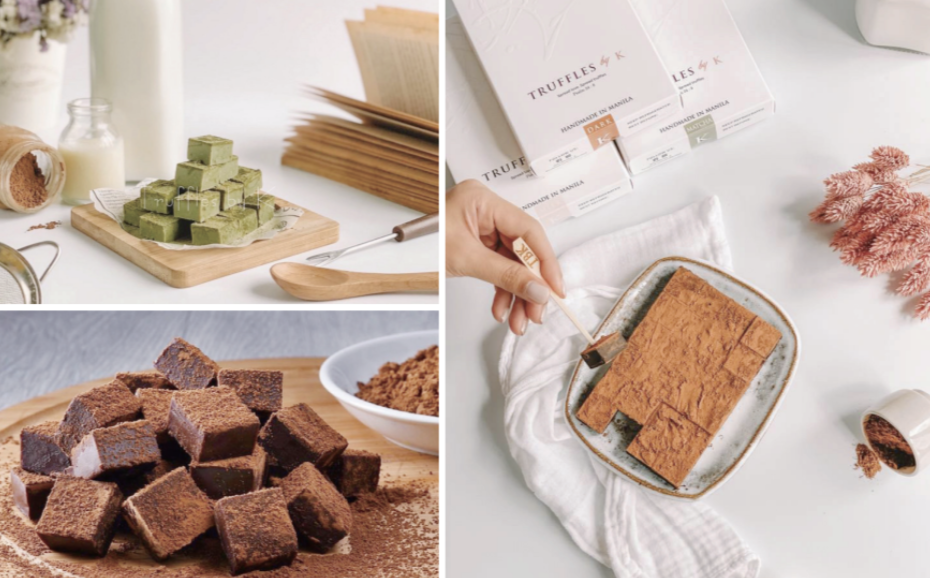 IMAGE from Truffle by K
Truffles by K is a delectable truffle sweet store. You can have a taste of their bestseller Milk chocolate, dark chocolate, and matcha. Boxes containing 28 chocolates (2×2 cm in length and width) are only Php180 (milk, dark) and Php 230 (matcha).
Delivery is available in Metro Manila, Bulacan, Laguna, Cavite (arrangements are made by the shop, fees are paid by the customer). They don't offer a pickup option. You can leave messages and order through their social media accounts.
Facebook:  @trufflesbyk
Instagram:  trufflesby_k

---
This first appeared in Philippine Primer's Japanese Magazines November 2021 issue