The Maya Kitchen Kicks off August Cooking Classes this ECQ
It's ECQ again for Metro Manila (and for most of the Philippines), and as a gift to help everyone, cooking school The Maya Kitchen is inviting everyone to attend its upcoming slew of classes!
On August 28, 2021, Saturday, 10 a.m. to 12 p.m., master how to come up with a meal plan to serve your family three times a day with Easy Cooking Ideas for Menu Planning. Get menu-planning guidance and cook along with The Maya Kitchen's very own Chef Cha, in this fully interactive Zoom class! All enrollees will also get one of The Maya Kitchen's best-selling menu-planning cookbooks for free – Mix & Match Meals Book 6: Your 4-Week Menu Guide to Easy Gourmet Cooking. This class is Php 2500.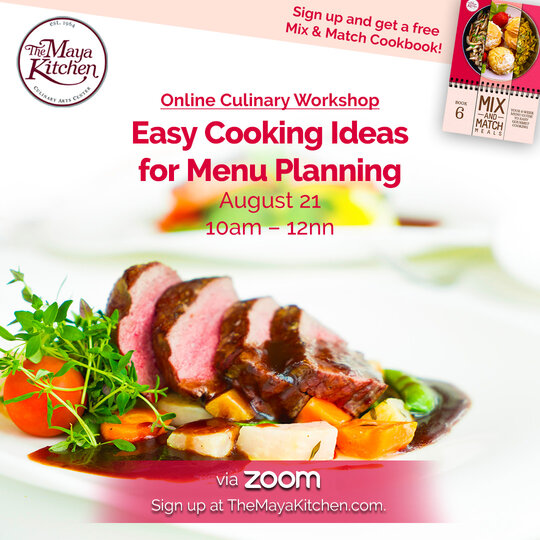 IMAGE from Buensalido PR
Then on September 4, Saturday, 10 a.m. to 12 p.m., learn how to cook bento box favorites in the Tempura And Karaage Online Cooking Class. Also via Zoom, the Maya Kitchen's chef instructors walk you through how to make Chicken Kaarage, crunchy deep-fried pieces of marinated chicken, and Ebi and Vegetable Tempura, shrimp and veggies lightly coated in batter and deep-fried to crispy perfection. This class is also Php 2500.
IMAGE from Buensalido PR
The Maya Kitchen continues to offer quality cooking and baking classes online to help people improve their skills and better learn their way around the kitchen. These classes are all conducted via Zoom, where students have a chef instructor who provides step-by-step coaching for every recipe and answer any questions participants may have. Whether you're looking to start your own cooking journey or improve your skills as a baker or experienced home cook, there's a class for you at The Maya Kitchen. Sign up today!
Chef Cha/IMAGE from Buensalido PR
For more information on this and on other course offerings, log on to themayakitchen, e-mail contactus@themayakitchen.com, or visit The Maya Kitchen Culinary Center every Tuesday to Saturday at 8F Liberty Building, 835 A. Arnaiz Avenue (Pasay Road), Makati City. You may also call us 8921185 or 892-5011 local 108 or +63929 679 6102.
Like and follow Maya Kitchen on Facebook and Instagram  and follow them on Twitter.