Primer Cooks: Easy Japanese-style Minced Meat Curry
This time, we'll show you how to make quick and easy minced meat curry at home. 30 minutes is all your need! This is a traditional Japanese curry dish made with ground meat, bite-sized vegetables, and spices. You can also swap out the meat with more vegetables for a healthier vegan option.
Japanese-style Minced Meat Curry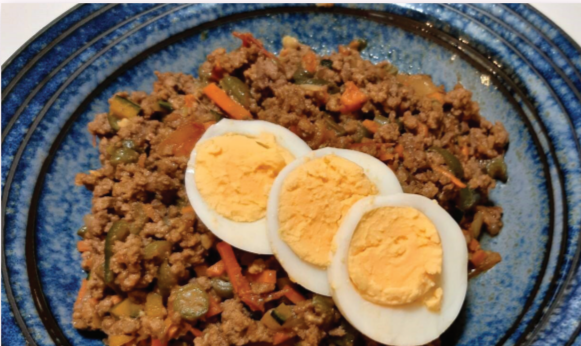 IMAGE from Philippine Primer
Ingredients:
200g ground pork
20g ground beef
100g white onion, chopped
100g tomatoes, chopped
50g carrots, chopped
50g green beans, chopped
50g pumpkin, chopped
5g garlic, minced
3g ginger, minced
1 pc egg, boiled
1 pinch salt and pepper
1 tbsp dashi powder
1 tbsp tomato ketchup
2 tbsp cooking oil
2 tbsp white sugar
2 tbsp cooking sake
3 tbsp soy sauce
3 tbsp curry powder
Cooking directions:
1. Heat oil in a pan, then saute the minced meat in garlic and ginger.
2. Add the vegetables and saute until half-cooked.
3. Put in the seasonings and spices, then continue sauteing until the meat browns.
4. Add the mayonnaise, salt, and pepper.
5. Serve with boiled egg on top.
Serves 4.
---
Additional notes:
Compared to other Asian countries, Filipino cuisine uses less spices, and there are many dishes with Western to Chinese nuances, probably because the food cultures of the United States, Spain, and China are historically fused. However, there are many types of spices available. If you take a look at the seasoning department in supermarkets, you can buy spices in bottles and packs —which are cheaper than those in Japan— that you can conveniently place anywhere in the kitchen. The curry powder is one of them. The ones here are slightly yellower in appearance and milder in taste than the Japanese variety.