Philippine Primer Cooks: Easy and Yummy Okonomiyaki
Okonomiyaki is a savory Japanese pancake or frittata usually enjoyed as a snack. It literally means 'grilled as you like it,' and it's made with flour, meat, seafood, and vegetables mixed together and cooked in a grill. Today, we're sharing our version of okonomiyaki with you so you can make this popular street food at home.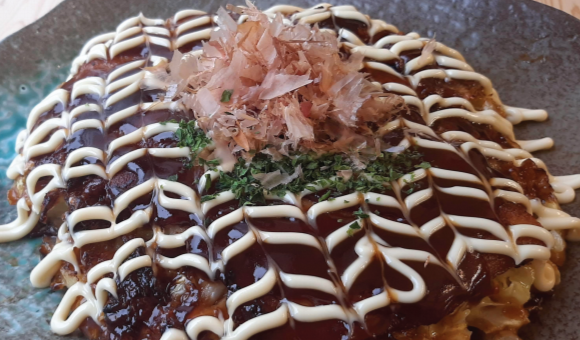 IMAGE from Philippine Primer
Easy and Yummy Okonomiyaki
100 g all purpose flour
100 ml water
1 tsp Ajinomoto seasoning
150 g cabbage, shredded
50 g shrimp, chopped
50 g squid, chopped
1/2 lb sliced pork belly
1 egg
2 tsp canola oil
50 ml tonkatsu sauce
30 g Japanese mayo
Salt and pepper
Dried nori flakes
Dried bonito flakes
Cooking Directions:
1. Combine flour, water and Ajinomoto seasoning in a mixing bowl.
2. Mix the shredded cabbage, squid, shrimp, egg, salt, and pepper.
3. Combine the batter and cabbage mixture in a large bowl.
4. After heating oil in a pan, shape the okonomiyaki mixture into a circle.
5. Place 2-3 sliced pork belly on top of the okonomiyaki and grill it for 5-6 minutes.
6. When the bottom side is nicely browned, flip the okonomiyaki and repeat step 5.
7. Once cooked, transter the okonomiyaki to a plate and top it with the tonkatsu sauce, Japanese mayo, dried nori flakes, and dried bonito flakes.
Makes 1 serving.