LET'S COOK: Thick-sliced Pork Tonkatsu
Crispy on the outside and juicy on the inside, pork tonkatsu is a popular dish in Japan and is often served with steamed rice and shredded cabbage.
Today, Chef Takashi will be teaching you how to make his take on this beloved dish using thick slices of pork chop. This dish will be loved by those with a big appetite!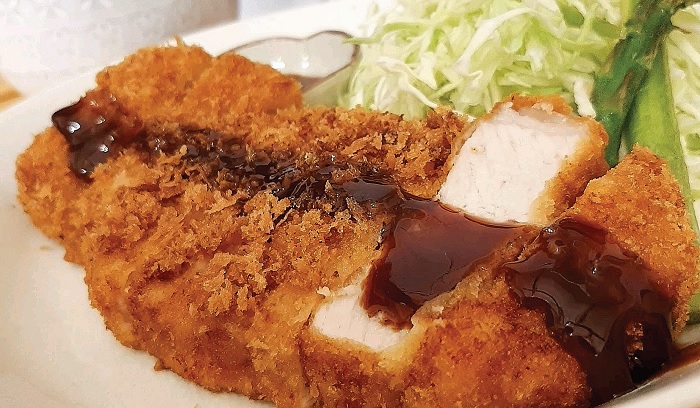 IMAGE from Philippine Primer
Thick-sliced Pork ​Tonkatsu
4 pcs (250g each) pork chop
1 pc egg
45 g milk
50g flour
250g breadcrumbs
1 pinch salt and pepper
Tonkatsu sauce:
120 ml ketchup
30 ml soy sauce
30 g sugar
8 ml vinegar
1 pinch black pepper
Cooking directions:
1. To make the tonkatsu sauce: In a pot over medium heat, combine all ingredients and simmer until thick. Set aside.
2. Score the fat on one side of the pork with a knife to keep the meat from curling when deep-fried. Repeat on the other side.
3. Season with salt and pepper.
4. Put the egg, milk, flour, breadcrumbs in separate bowls for the batter.
5. Dip the pork in milk, then dredge in flour, making sure to coat them completely. Dust off excess flour. Dip them in the beaten egg, then press into breadcrumbs to coat both sides.
6. Heat oil in a deep frying pan until it reaches 160 degrees.
7. Deep-fry until golden brown for about 6 minutes, turning them every two mins.
8. Drain the pork on paper towels and cut into bite-size strips.
9. Serve on a plate with the sauce and shredded cabbage.
Serves 4.
Tip: Instead of throwing your stale bread into the bin, you can transform it into breadcrumbs, which can be used as breading for chicken, topping for pasta, filling for casseroles, and many more!
About Chef Takashi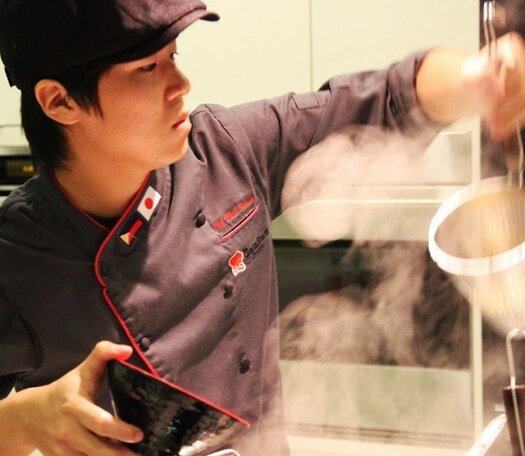 IMAGE from Philippine Primer
A veteran chef with more than a decade of experience working in the kitchen, Chef Takashi Kawasaki turns local and easy-to-find ingredients into yummy treats that will make you ask for more. He specializes in Japanese cuisine prepared with a local twist. You should check him out on Facebook, Instagram, and YouTube.