Let's Cook: Shigeji-style Tantanmen Ramen
Ramen is a Japanese noodle dish that features wheat noodles in a meat or vegetable-based broth garnished with a wide array of a series of toppings such as chashu (Japanese-style roasted pork belly), scallions, mushrooms, bok choy, soy sauce eggs, and seaweed.
Below, you'll find a classic ramen recipe, courtesy of Shigeji-san, that you can try at home.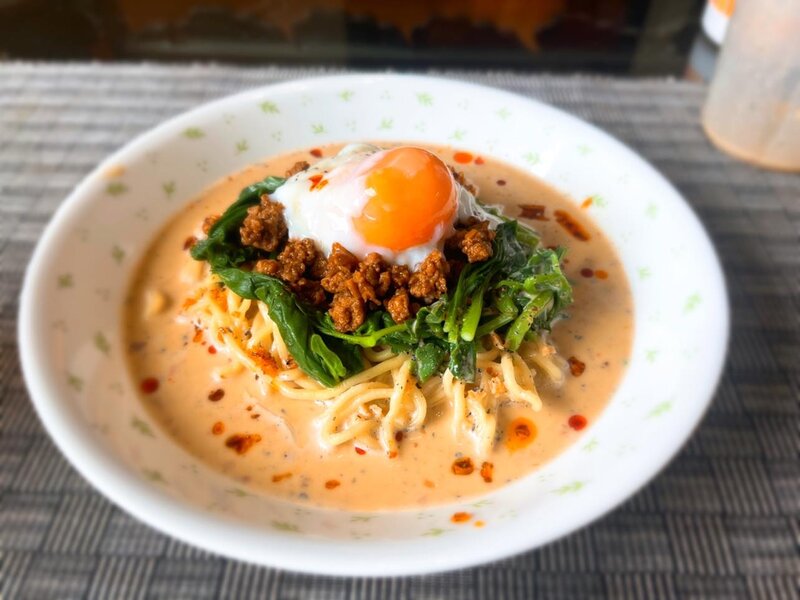 Tantanmen ramen/IMAGE from Philippine Primer
Also read: Shin Mikana Philippines opens third branch in Araneta City, Cubao
Ingredients:
Nikumiso (Braised ground pork seasoned with miso paste)
100g minced pork
1 tbsp ginger, chopped
1 tbsp scallions, chopped
Shaoxing wine or sake (according to taste)
Doubanjiang (according to taste)
Oyster sauce (according to taste)
Sesame oil (according to taste)
Soup
200-250 ml unsweetened soy milk
Chinese mackerel or chicken soup base
1 tsp sesame oil
Nerigoma (according to taste)
Oyster sauce (according to taste)
Sesame seeds, grounded and steeped in hot water (according to taste)
Japanese pepper (optional)
Salt and pepper to taste
Chinese noodles (raw or dried)
Spinach or bok choy, blanched
1pc onsen tamago (Japanese slow-cooked egg)
Chili oil
Cooking directions:
1. To make the nikumiso, saute the ginger in sesame oil. Once fragrant, add the doubanjiang, minced pork, and Shaoxing wine or sake.
2. When almost cooked, add the oyster sauce and scallions.
3. For the soup, dilute the nerigoma in a small amount of hot water, then add the rest of the ingredients and mix well (use a protein shaker to make it easier). Chill the soup in the refrigerator.
4. Boil the noodles until firm, then shock it in cold water to stop the cooking process.
5. Shake the chilled soup once again and add to a bowl together with the noodles. Top with the blanched spinach or bok choy, nikumiso, and onsen tamago. Drizzle with chili oil before serving.
Serves 1.
Tip: Doubanjiang is delicious, but it is salty so cook with it in moderation.
Also read: Shigeji Shares 3 Easy Recipes You Can Try At Home
General Information