Let's Cook: Salmon Takikomi Gohan
Salmon is one of the easiest and healthiest fishes to cook any time of the day. And versatile? Of course! This wonder fish tastes great when baked, grilled, poached, steamed, or stewed. In short, it does it all. What's more, salmon is good for you. It is rich in heart-healthy omega-3 fatty acids, protein, and tons of vitamins such as B vitamins and vitamin E.
So today, we're teaching you how to transform salmon into an easy, but yummy dish: Salmon Takikomi Gohan, a Japanese rice dish seasoned with soy sauce along with mushrooms, vegetables, meat, or fish.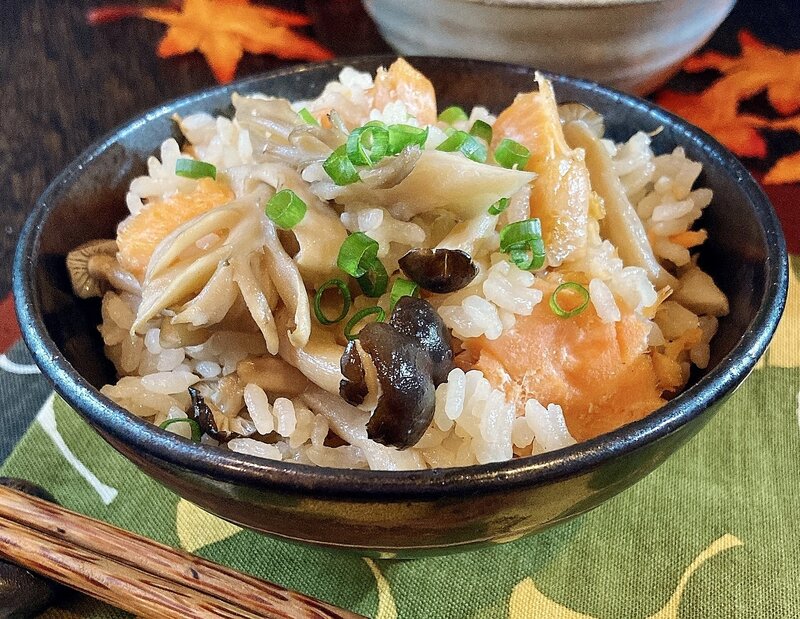 IMAGE from Philippine Primer
Salmon Takikomi Gohan
Ingredients:
200 g salmon
30 g shiitake mushrooms
30 g shimeji mushrooms
5 g ginger
5 g scallions
300 g rice
300 ml water
2 tbsp soy sauce
1 tbsp sugar
1 pinch salt
Cooking directions:
1. Debone and skin the salmon, and then season with salt.
2. Slice the ginger, scallions, and mushrooms thinly.
3. Wash rice by stirring it thoroughly in water with your hand and drain. Put it into the rice cooker's inner pot. Add water, soy sauce, and sugar.
4. Put the rest of the ingredients into the rice cooker.
5. Let them sit there for 15 mins before cooking the rice.
6. When the rice is cooked, let it steamed for a couple of minutes, then loosen and mix gently. Serve.
Good for 3-4 people.