Let's Cook Napolitan Spaghetti
Napolitan spaghetti is a popular Japanese-style pasta dish made with spaghetti, onion, garlic, bell pepper, and sausage in a simple catsup-based sauce. This particular dish is considered yoshoku or Western-influenced cuisine. In Japan, it is often served at home, but it is also a standard wafu pasta menu item at cafes and restaurants. This is easy to prepare and can be made in less than 20 minutes.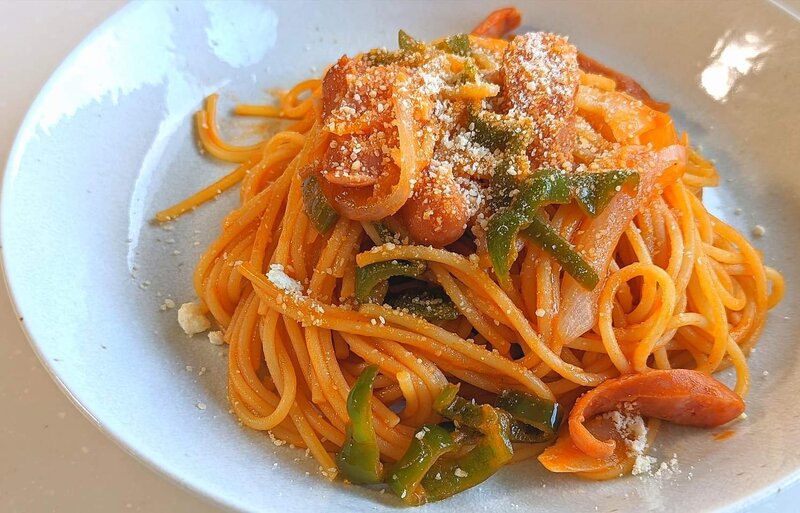 IMAGE from Philippine Primer
Ingredients:
10g/1 clove garlic
150g white onion
50g green bell pepper
80g/4 pcs sausage
250g spaghetti pasta
3 tbsp cooking oil
10g butter
8 tbsp banana catsup
100ml pasta water
2 tbsp fresh milk
salt and pepper to taste
Cooking directions:
1. Mince the garlic and chop the onions, green bell peppers, and sausages.
2. In a pot, boil the spaghetti in 2 liters of salted water.
3. Heat oil in a pan and then stir-fry the chopped vegetables and sausages until softened. Season with salt and pepper.
4. Add the pasta water and banana ketchup to the pan and simmer for about 3 minutes.
5. Toss in drained spaghetti and mix in milk and butter.
6. Once mixed properly, serve.
Good for 2-3 persons.