Let's Cook: Deep-fried Tofu with Soup Stock
We love tofu for its versatility. After all, it's like a blank canvass for flavors. It's available in every season and can be included in pretty much any kind of dish such as stews, stir-fries, salads, and noodles. Plus, it's low on calorie, rich in calcium and vitamin D, and an excellent source of protein. With so many options, you won't even have to repeat a recipe!
Speaking of the devil, we at Philippine Primer are sharing with you a quick and easy tofu recipe. Now let's get to cooking!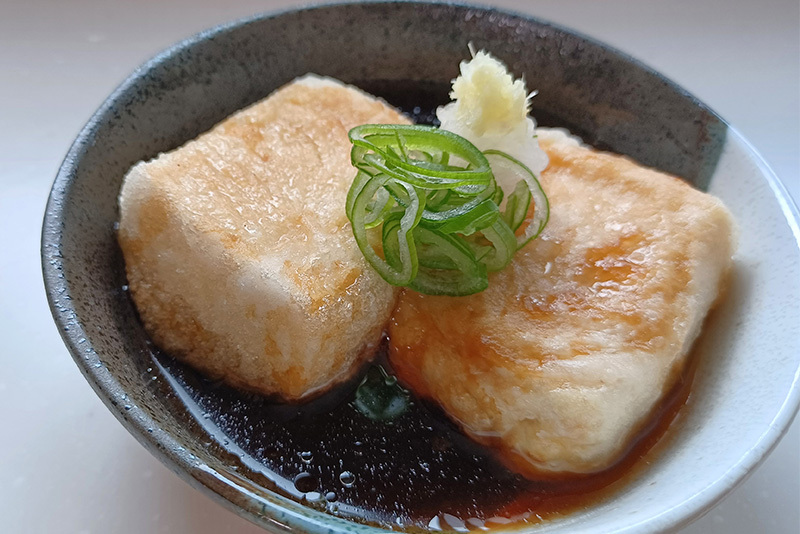 Deep-fried tofu with soup stock/IMAGE from Philippine Primer
Ingredients:
1 block (400g) tofu
50g radish
5g ginger
5g spring onions
2 tbsp corn or potato starch for dredging
cooking oil for frying
Soup stock:
4 tbsp water
2 tbsp soy sauce
1 tbsp sugar
1 pinch dashi powder (optional)
Cooking directions:
1. Put the tofu on a paper towel and chop into 4 equal parts.
2. Place the tofu on a plate and cover with plastic wrap, and heat in the microwave for a minute to dehydrate.
3. Grate radish and ginger. Slice the spring onions into strips, then soak in water.
4. Dredge the tofu in the starch, then fry in oil at 170℃ for about 2 minutes.
5. Mix the soup stock ingredients in a bowl and heat in a microwave for a minute.
6. Put the tofu on a plate and pour the soup stock over it.
7. Garnish with grated radish and ginger, and chopped spring onions.
Serves 2-3 persons.
Cooking time: 15 mins.
Also read: 3 Veggie Veggie Tasty Tofu Recipes