Going Meatless this Holy Week? Try Hatsu Hana Tei's Limited Edition Lenten Specials!
Coming up with the family meals every day is tough work, more so if you have to prepare food during Lent. And since the Philippines is predominantly a Catholic nation, for a lot of people, the Lenten season means abstinence from meat and alcohol, in preparation for the Holy Week. This means you'll probably have the usual ginisang munggo or grilled fish on most days during this period.
However, just because you're abstaining from meat doesn't mean you can't treat yourself to something hearty and delicious. Starting this March until April 15, 2022, Hatsu Hana Tei in Makati is offering delectable meatless dishes from their Lenten Selections such as Saba Shio Bento and Tachiou Teriyaki Bento for only Php 400!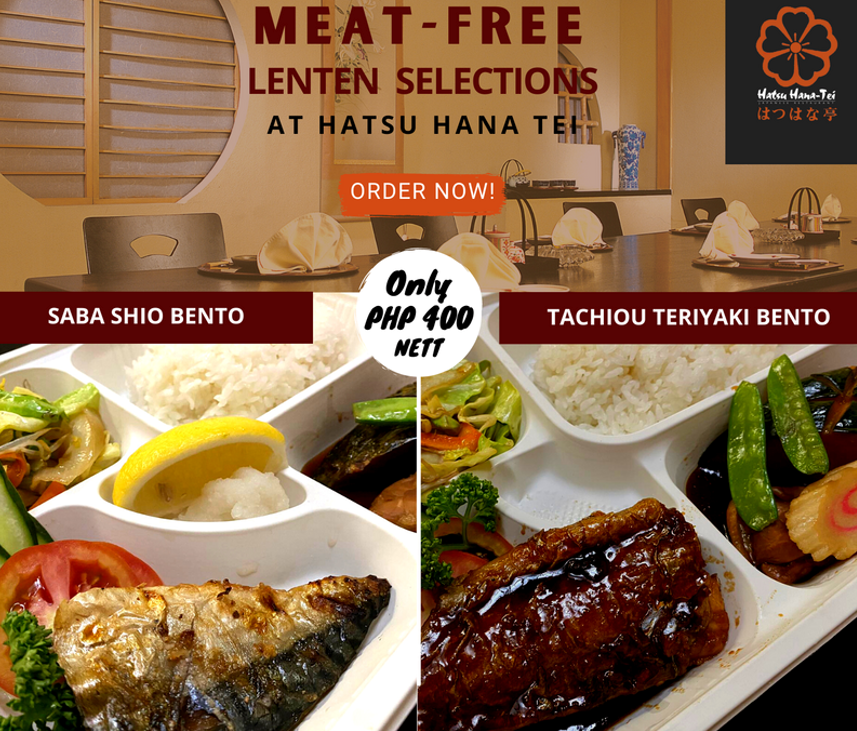 IMAGE from Hatsu Hana Tei
These limited edition bento boxes are both so scrumptious, you'll easily forget your Friday favorites!
Serving oishilicious food since 2002…
Hatsu Hana Tei serves authentic Japanese dishes in a upscale ambiance perfect for those seeking a relaxed dining experience. Aside from the usual sushi, soba, and donburi, they also serve Kaiseki-style meals—a traditional, multi-course Japanese dinner—perfected and innovated over the years to satisfy their esteemed diners.
IMAGE from Hatsu Hana Tei
Come and dine in at Hatsu Hana Tei to enjoy the ultimate Japanese dining experience. You will not be disappointed, we assure you!
IMAGE from Hatsu Hana Tei

2F Herald Suites, 2168 Don Chino Roces Avenue, Pio del Pilar, Makati City

0917-316-9250 / 0939-938-3718

11:00 a.m. to 2:00 p.m. / 5:30 p.m. to 10:00 p.m.