1621 Sushi Pizza: Tickling Your Taste Buds With Their Innovative Culinary Mash-up
Quarantine has gotten everyone thinking of innovative ways to prepare and present food and this food start-up is making noise with its unique and innovative culinary mash-up of pizza and sushi.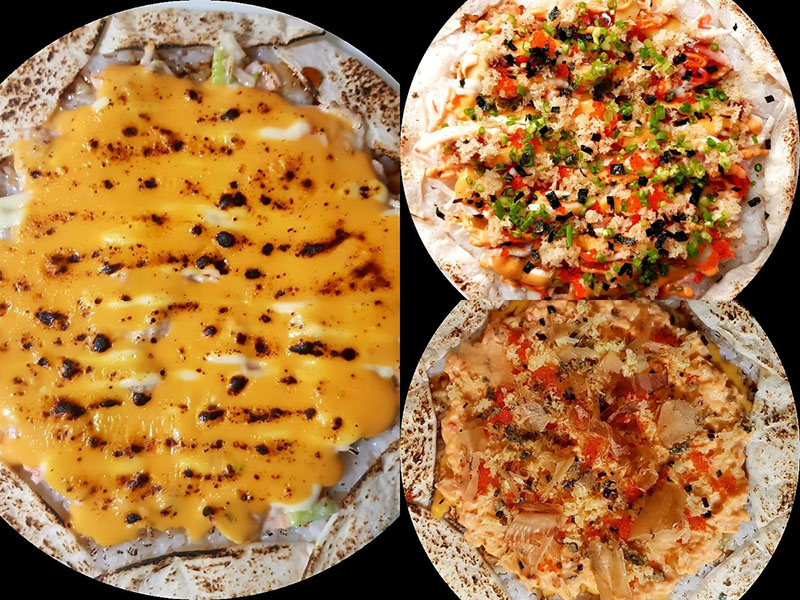 1621 Sushi Pizza is a brainchild of founders Joan Teotico and AJ Reyes and the first of its kind in Manila. It was born out of Joan and AJ's love for eating sushi and pizza that had gotten them into thinking of experimenting and combining the pizza crust and Japan's famous sushi flavors.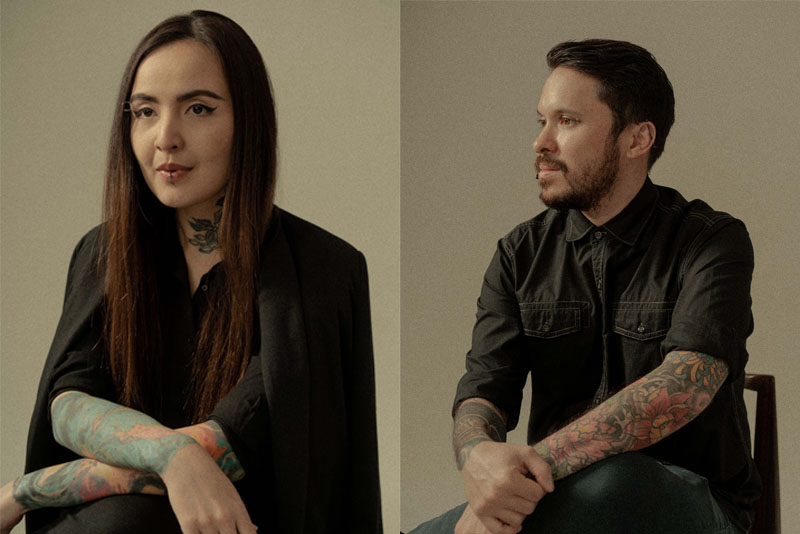 With its unique concept that caught people's attention, the original intention of opening by October already started early August.
1621 Sushi Pizza's Three Iconic Flavors

Sushi Pizza Founder and Executive Chef Antonio Jose E. Reyes personally handcrafted each sushi pizzas giving each flavor a distinct and unforgettable taste.
One of their family and kid-friendly best-seller we got to try out is the Sushi Aburi (Php 450/9 inches) composed of fresh salmon and tuna with Kani, gari, tobiko, cucumber, spring onion, and nori topped with wasabi mayo, soy glaze, and handcrafted cheese sauce that is torched to add a smoky flavor.
Sushi Aburi (Php 450/9 inches)
The Sushi Aburi is a burst of flavor in one bite. It has the perfect balance of sweetness and saltiness coming from the mayo, soy glaze, and cheese sauce all the while giving that freshness from the salmon, tuna, and cucumber.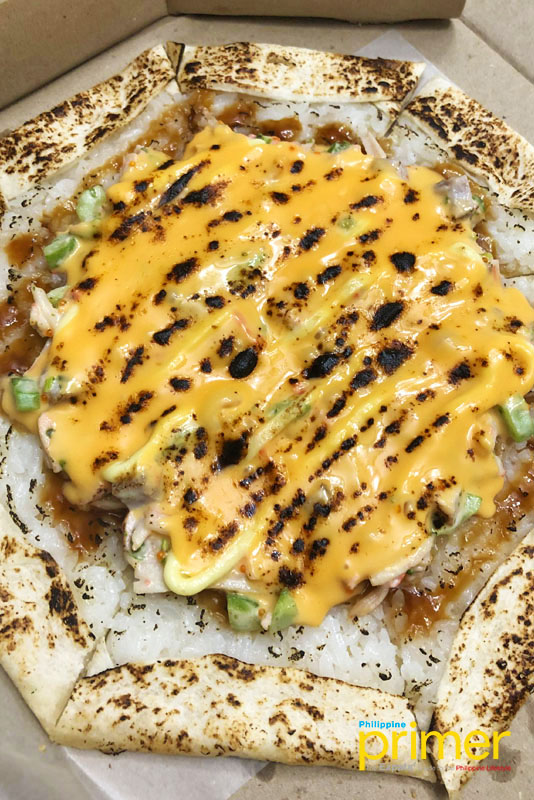 The Classic Tuna (Php 380/9 inches), on the other hand, is the first culinary creation of Chef AJ basing it on the long-time favorite classic tuna roll.
The classic tuna features premium ingredients from tuna belly to Kani, gari, soy glaze, sriracha mayo, handcrafted cheese sauce, tobiko, and tempura flakes.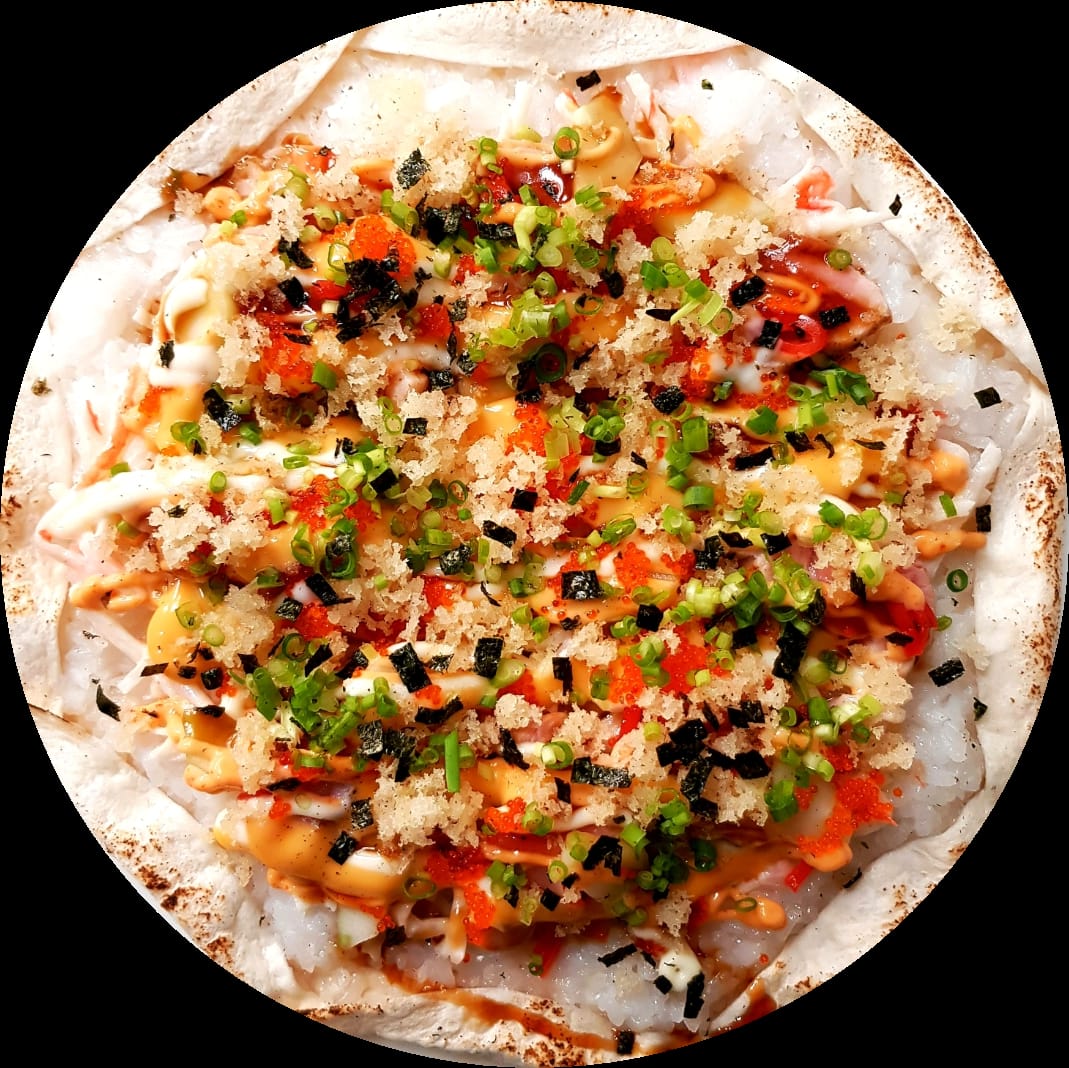 Classic Tuna (Php 380/9 inches)
Meanwhile, the Spicy Salmon (Php 450/9 inches) is a fun flavor. It features fresh torched salmon tossed in sriracha mayo, gari, and tobiko giving it a boost of flavor then topped with soy glaze, handcrafted cheese sauce, bonito flakes, nori, tempura flakes, and fried salmon skin.
These flavors can serve eight slices, good for two to three serving. You can also make special requests: e.g. fully cook salmon and tuna, reduce the spiciness of salmon, no mayo among others.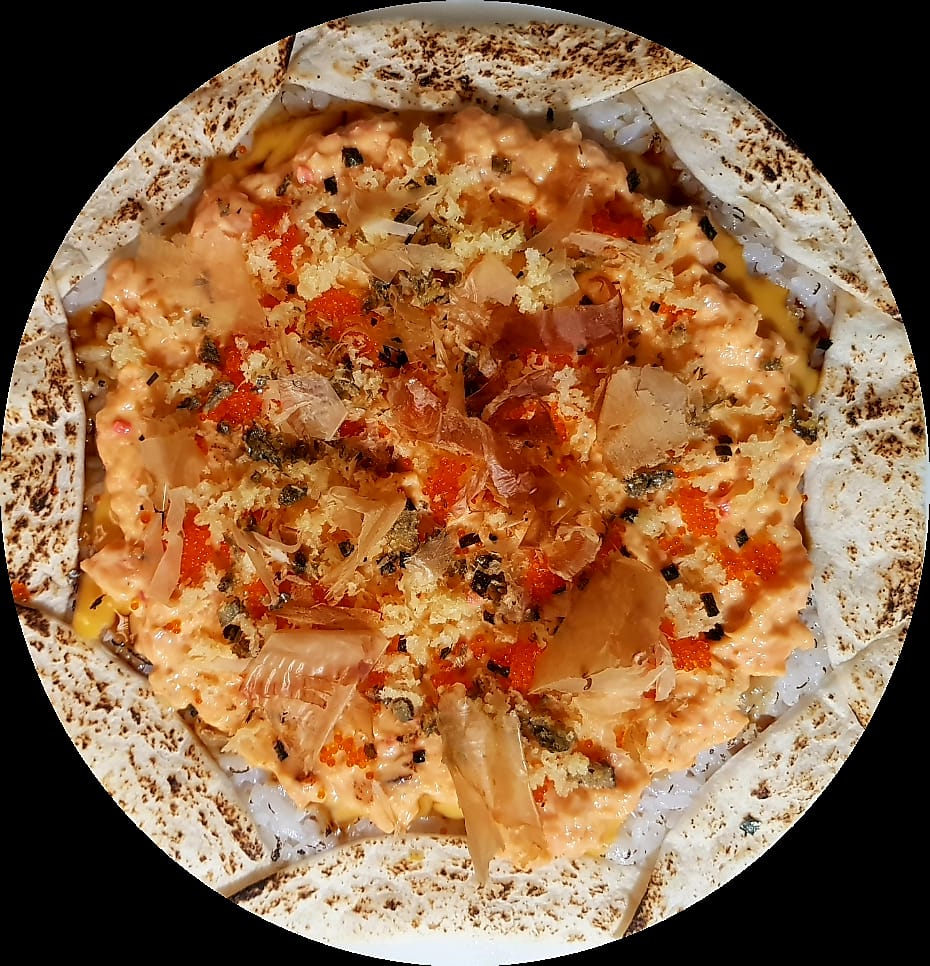 Spicy Salmon (P450/9 inches)
The sushi pizzas must be consumed immediately and can only be stored in the fridge for 24 hours. Should you wish to reheat, medium heat for 2 to 3 minutes is allowed in a pan and an oven at 180°C/360°F.
As food preparation safety is very important in this time of the pandemic, 1621 Sushi Pizza adheres to health and food safety protocols from regular hand washing and sanitizing to imposing physical distancing for curbside and third-party service pickup and wearing of face shield and face mask at all times.
How to order
Customers can enjoy ordering at the comforts of their home. You can place your order through this online form: form.jotform.com/202103442522438. The mode of payments is through online and digital platforms such as mobile or online banking and GCash.
Pick up orders are through third-party apps such as Lalamove, Grab Express, and Mr. Speedy. 1621 Sushi Pizza will contact you once the order is ready for pick up and you can book your preferred third-party service (with an insulated box for safety).
Once pick up service is booked, don't forget to send screenshots and the link of tracking to 1621 Sushi Pizza Whatsapp/Viber at 0917-812-1621!
Make sure to try out this innovative mash-up pizza and sushi and let us know below your thoughts!
Store Information
261 Ibuna Street, Barangay Little Baguio, San Juan Metro Manila
0917 812 1621 (SMS/WhatsApp/Viber/Telegram)
1621sushipizza@gmail