Crazy About Moringa: 3 Easy, But Nutritious Recipes
Moringa is great. Period. Not only it is packed with vitamins and antioxidants such as vitamin C, potassium, and beta-carotene, it can also be used in many dishes across different cuisines. That's why this time, we'll teach you easy recipes utilizing this nutritious and delicious ingredient.
Moringa in coconut milk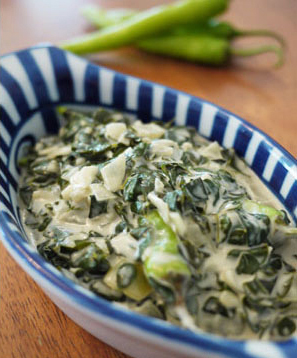 IMAGE from Philippine Primer
Ingredients:
3 cups moringa leaves
1 pc onion, thinly sliced
1 clove garlic, crushed
200 cc coconut milk
7 g Aji-Ginisa
Chili pepper to taste
Cooking directions:
1. Put the coconut milk, onion, and garlic in a pan and simmer them over low heat.
2. Once the onions caramelize, add the moringa leaves and the seasonings, then simmer again for approximately 10 minutes on low heat.
*If you like shrimp, you can also use Aji-Ginisa Shrimp.
Note:
This is a variation of ginataan, a Filipino dish stewed in coconut milk. You can buy fresh coconut milk in your local market. You can also use canned, Tetra Pak, or powdered coconut milk.
Italian Spaghetti with Moringa Sauce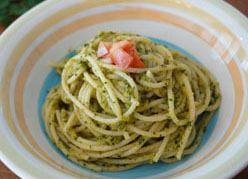 IMAGE from Philippine Primer
Ingredients:
440 g pasta
3 g Aji-Ginisa
2 tablespoons olive oil
[Sauce]
2 tablespoons olive oil
2 small onions
300 g carrots
1 piece dried tomato
100 g green beans
1 small tomato
3 cups moringa leaves
4 g Aji-Ginisa
500 cc water
Cooking directions:
1. Chop the onions, carrots, green beans, and tomatoes.
2. Pour olive oil into a pan and saute the ingredients for the sauce. When they brown, add water and simmer.
3. Puree the mixture in a mixer.
4. Cook the pasta, saute it in olive oil, and season with it Aji-Ginisa.
5. Mix the sauce with the pasta and top with chopped tomatoes.
Note:
Making sauce from sauteed vegetables takes time, but it's worth the effort. Moringa is rich in glutamic acid, making it an excellent ingredient for flavorful recipes. Aji-Ginisa is a seasoning that goes well with pasta.
Korean Kimchi Jjigae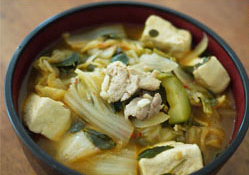 IMAGE from Philippine Primer
Ingredients:
300 g kimchi
2 small onions, thinly sliced
100 g Chinese cabbage, chopped
80 g zucchini, sliced
1 clove garlic, crushed
300 g tofu, sliced
2 small green onions, chopped
50 g moringa leaves
1 pepper, deseeded
200 g pork shoulder, cut into small chunks
600 cc water
7 g Aji-Ginisa
5 g butter
[Pork marinade]
2 teaspoons soy sauce
2 tablespoons sake
10 g ginger, crushed
1 clove garlic, crushed
1 teaspoon sugar
1 dash pepper
Cooking directions:
1. Marinate the pork in the seasonings for about 30 minutes.
2. Heat sesame oil in a pan and saute the ​​onions, pork, garlic, kimchi, and Chinese cabbage until it gets browned.
3. After heating the water in a pan, add tofu,​​ green onions, ​​zucchini, moringa leaves, chili pepper, and Aji-Ginisa, and then simmer for approximately 10 minutes.
4. Add butter to finish.
Note:
Zucchini is very popular in Korea. You can buy it cheap anywhere in Manila. You can buy kimchi at your local Korean grocery store, where you can also get other Korean products such as dried seaweed and samgyeopsal.
General Information