Zubuchon in Makati Offers Lechon Cebu Like No Other
Updated as of April 6, 2020
In almost every Filipino gathering—no matter how big or small the occasion—guests usually expect lechon to be served on the table. It makes the feast a little brighter, usually served on birthdays, Christmas, anniversaries, fiesta, and other celebrations. 
Fortunately, you don't have to wait for any occasion as you can now sample Zubuchon in their new place at The Assembly Grounds The Rise, Makati City.
Grab a bite of everything. #zubuchon #morethanjustalechon #realfood #healthy

Zubuchonさんの投稿 2020年3月1日日曜日
Zubuchon originated in Cebu, also known as the home of the best lechon. Its name was derived from the earliest 16th-century maps of the archipelago that refer to the island of Cebu as "Zubu" or "Zzubu" and the word lechon, which means roasted suckling pig.
What makes Zubuchon lechon unique from others is their natural way of preparing lechon. They cook their flavorful lechon with natural ingredients such as fresh coconut water and natural sea salt to achieve that "local taste" and deep mahogany brown lechon skin.
Our Makati branch has now relocated to The Rise in Malugay Street. It is open from 11 a.m – 10 p.m.See you there!#zubuchon #morethanjustlechon #zubuchontherisemalugay

Zubuchonさんの投稿 2019年8月2日金曜日
One of the crowd favorites is their classic lechon Cebu. Customers come back to Zubuchon for more crispy lechon skin and tender meat. You can also order it boneless, which can be served in various sizes such as small platter (Php 350), medium platter (Php 650) and large platter (Php 980), great for sharing.
Aside from that, Zubuchon also serves Filipino foods at its finest. Most of their dishes are Filipino homecooked meals, which will make you remember your lola's specialty.
One of their signature dishes is the crunchy and luscious Zubuchon Sisig (Php 260), comprising of chopped lechon ears, cheeks, meat, mixed with aromatics and chilies, perfect for hearty meals with your loved ones.
Another Filipino favorite that you should try is the savory Lechon Kare Kare (Php 400), lechon and assorted vegetable stew thickened with peanut sauce and served with shrimp paste.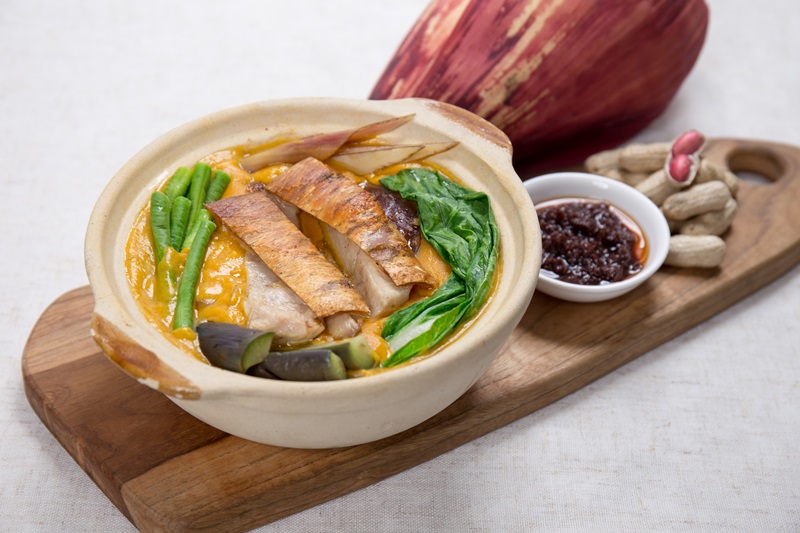 Lechon Kare Kare (Php 400)
A heavy meal is not complete without your favorite soup. You should also definitely taste the Sinigang Lechon (Php 360). This is different from the usual sinigang as it is served with Zubuchon's tasty and mouthwatering classic lechon. 
Sinigang Lechon (Php 360)
If you want to taste their variation of lechon dishes, Lechon Samplers 3 ways (Php 990) is a must-try, which is comprised of Zubuchon, Boneless Zubuchon, lechon flakes, served with a side of acharra.
Lechon Samplers 3 ways (Php 990)
To make your Filipino dining experience more memorable, Zubuchon also offers other local delicacies like Zubuchon Dinuguan, Kalderetang Baka and slow-cooked Adobong Puti. 
What is it about Dinuguan and puto that makes it such a Pinoy classic? Head on to any of our branches to enjoy this…

Zubuchonさんの投稿 2019年11月5日火曜日
Want to try their famous classic lechon? Visit other Zubuchon branches in Taguig, Pasig, and Quezon City.
How to get here
Zubuchon is located on the ground floor of Assembly Grounds at The Rise along Malugay Street in Makati City. It can be found beside Starbucks.
By car: From Landmark Makati, head north until you see Makati Ave and then turn right. Once you pass the Development Bank of the Philippines, turn left and then right just after BPI. From there, turn onto Malugay Street.
By public transport: From Ayala Triangle, ride the jeepney bound to Washington. This route will take you to the back entrance of Assembly Grounds.
---
Images grabbed from Zubuchon Facebook page

Ground Floor, Assembly Grounds at The Rise, Malugay, Makati City

Upper Ground Floor, Building A, SM Megamall, Ortigas, Mandaluyong City

Ground Floor, BGC Stopover Pavilion, Rizal Drive Corner 31st Street, Bonifacio Global City, Taguig City

Eton Centris, Quezon Avenue, Diliman, Quezon City

Ground Floor, Main Mall, SM Mall of Asia, Mall of Asia Complex (MOA), Pasay City
Restaurant Menu
You can scroll the image left and right.