LIST: 7 Filipino Comfort Food to Warm You Up During the Rainy Season
Filipinos love to eat, no matter what the season is. During the summer, they cool themselves with servings after servings of luscious halo-halo, yummy ice scramble, refreshingly sweet buko pandan, and other ice-cold treats. On the contrary, they warm themselves up during the rainy season with steaming bowls of bulalo, rich and creamy sopas, and flavorful lomi. Although they are common kitchen staples, they remain the most requested dish during this time of the year. To know more about these soul-warming foods, check out the list below.
Arroz Caldo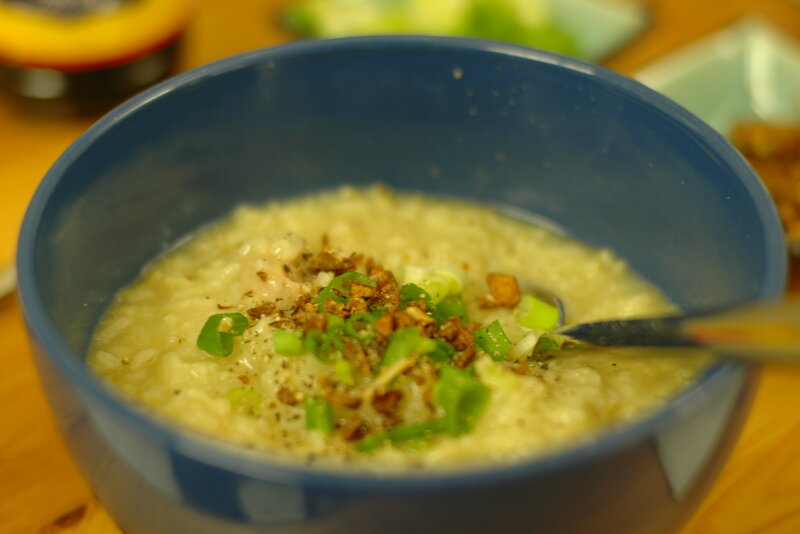 IMAGE from Wikipedia
Who doesn't love arroz caldo? This deceptively simple, yet delicious chicken porridge is made by cooking rice in chicken stock until it's thick. Arroz caldo is usually served with calamansi, boiled eggs, chili garlic oil, and scallions to achieve that multi-layered flavor profile this dish is famous for. This classic Filipino comfort food is the perfect way to warm you up from the inside out during cold, rainy days.
Lomi
IMAGE from Philippine Primer
Thick and hearty with loads of toppings unique to this noodle dish such as lumpiang shanghai (spring rolls), liver, and squid balls, in a flavorful, cornstarch-thickened broth, lomi makes for a filling snack or light meal that will take the gloom away during heavy downpours. What's more, it's easy-to-make and takes very little time to prepare.
Bulalo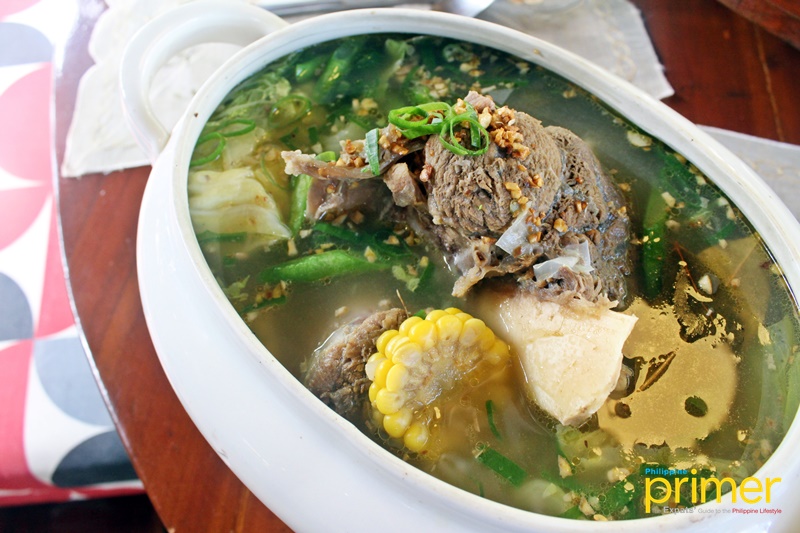 I think we all agree that there's nothing comforting than slurping a steaming bowl of soup during cold days. This Filipino favorite is made from beef shank, bone marrow, and a vegetables such as corn and cabbage in a flavorful broth. It's no wonder it's a favorite in Tagaytay, which has a relatively cool weather most of the year, since it does a great job of warming up one's insides.
Also read: 9 Best Places to Eat Bulalo in Tagaytay
Champorado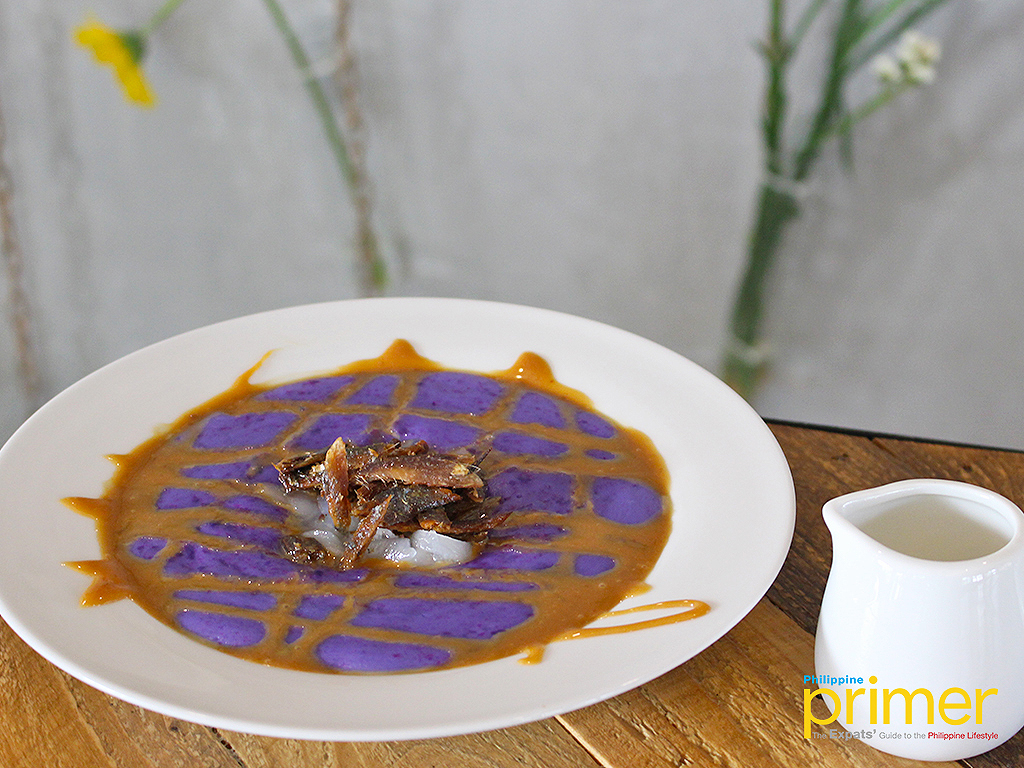 Champorado is another Filipino comfort food perfect for chilly days, especially during breakfast where it's traditionally served. This cocoa-flavored porridge topped with evaporated or powdered milk with tuyo (dried salted fish) on the side is also a favorite snack among students. Tuyo is usually shredded into bits and added as a topping to give this dish a contrast to the sweetness of the cocoa. If you find this weird, you should give this a try first before you judge.
Sopas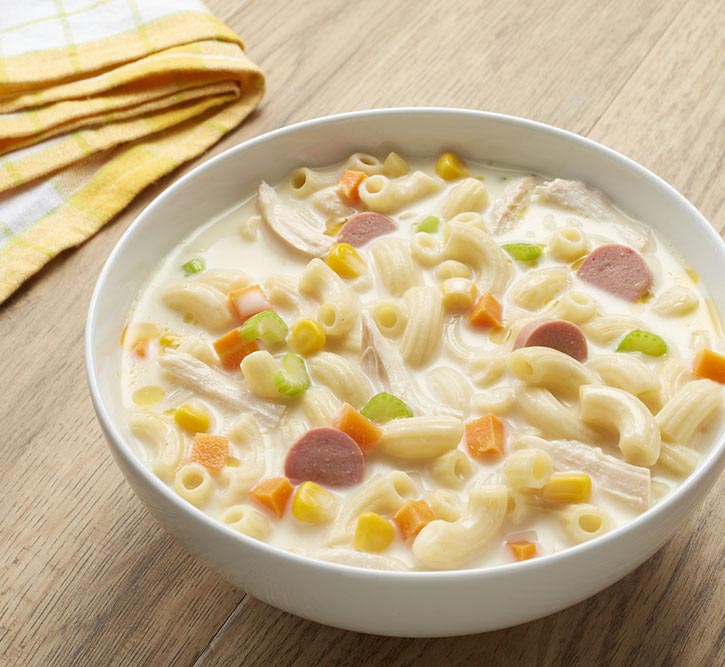 IMAGE from Kitchen Angel
Typically served as breakfast or to sick people, sopas is a complete meal in itself as it has shredded chicken, sausage, veggies, and elbow macaroni in a milky and flavorful broth. This is also excellent for those cold days whether you crave something warm and filling your tummy, feel under the weather, or you just feel like eating this delicious soup. In short, this is a dish that will surely remind you of home!
La Paz Batchoy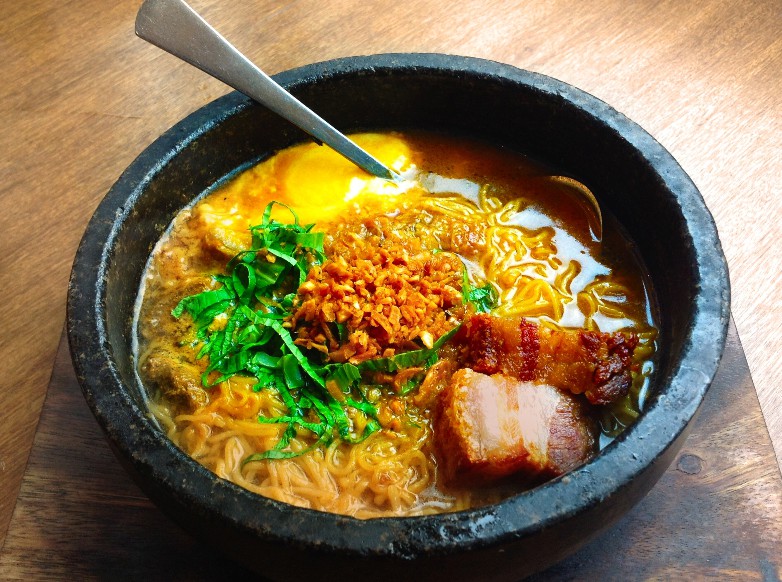 IMAGE from Philippine Primer
One of Iloilo's must-try delicacies, this flavorful noodle dish is called La Paz batchoy to honor La Paz where it originated. It is made with miki (egg noodles), pork innards, beef loin, chicken and shrimp stock, and topped with chicharon (pork cracklings), scallions, and toasted garlic. In Iloilo, it's customary for customers to request additional refills of broth before finishing the meal.
Sinigang
IMAGE from Philippine Primer
Arguably the ultimate Filipino comfort food, sinigang is a homely dish that can be served either with pork, beef, fish, or shrimp. It has an assortment of vegetables like okra, taro, and string beans, soured with tamarind, mango, or calamansi. It is hearty and delicious that mostly paired with rice. This much-needed comfort food is both delicious and filling; perfect during rainy days!
General Information