Let's Cook: Kare-kare with Curry Fried Rice
Cook kare-kare the easy way! Using simple hacks, you may enjoy this well-loved Filipino dish without spending the whole day in the kitchen.
This kare-kare recipe also comes with a simple, yet delicious curry fried rice for that one-two umami punch combo that will deliver a smile and a full belly to anyone who eats it.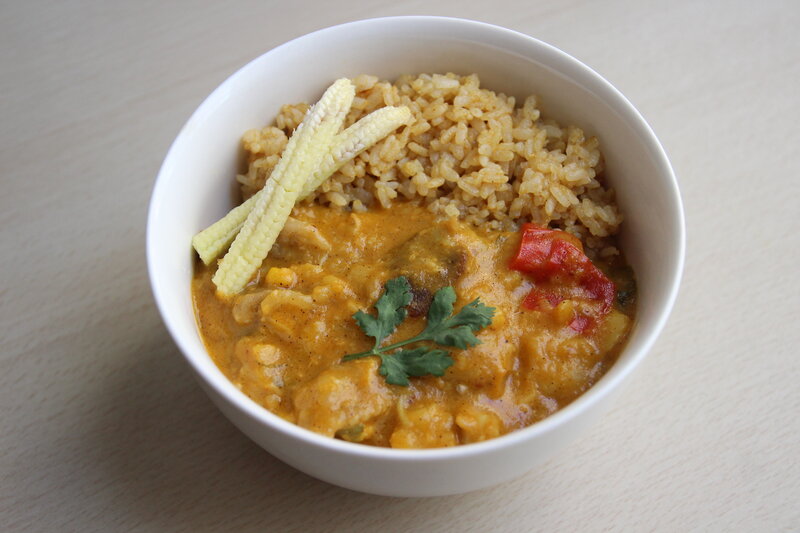 IMAGE from Philippine Primer
Ingredients:
Curry rice:
200 g Rice
1 pinch Salt
1 tbsp Soy sauce
1 tbsp Curry powder
Oil
Kare-kare:
100 g Beef short plate, thinly sliced
50 g Onion, thinly sliced
30 g Red bell pepper, thinly sliced
50 g Young corn, boiled
20 g Kare-kare mix
100 ml Water
Oil
Cooking Directions:
1. To make curry rice, heat oil in a pan and fry the rice.
2. Season with salt, curry powder, and soy sauce according to taste.
3. To make kare-kare, saute the beef short plate, onion, and red bell pepper in a separate pan.
4. Once partially cooked, add the water and kare-kare mix and simmer for about five minutes.
5. When the kare-kare is cooked, serve with curry rice topped with boiled young corn in a bowl.
Cooking tips: Slicing vegetables thinly makes them cook faster, allowing you to save time. Fatty cuts such as beef short plate is better than lean meat such as rump in rich, flavorful dishes such as kare-kare.
General Information