The Alternative: Your Go-to Shop for All Things Sustainable
Did you know that nearly a million plastic bottles are sold every minute all around the globe? This is why substitutes are present in order to reduce the use of plastics. Not only can it harm the environment when disposed of irresponsibly, but it can also injure one's health gravely.
Gratefully, a sustainable, zero-waste living is already within your reach as environmental advocates come together to establish your one-stop, online shop for your daily, environment-friendly essentials– The Alternative!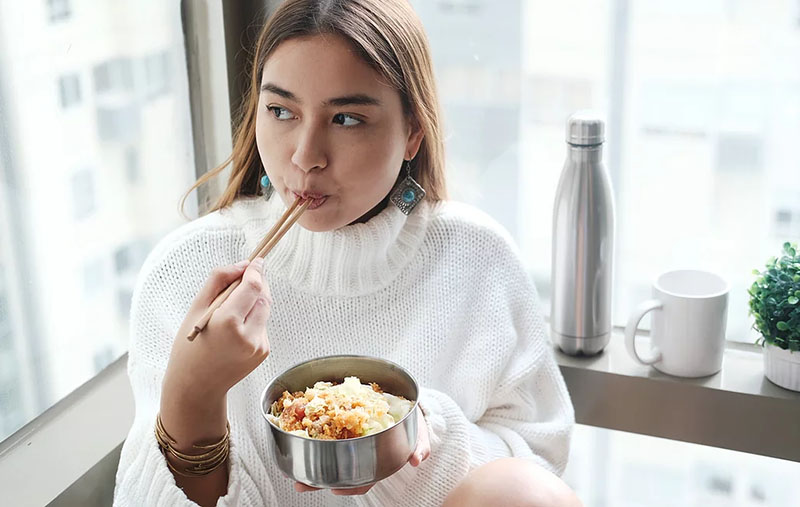 The Alternative is your go-to e-shop which provides you with three main zero-waste products and services– their sustainable items, refill & recycling, and composting services. Within this online shop, you may find a variety of brands which will take you a step further in attaining that sustainable lifestyle you wish to have.
BEACHBORN, for example, with their shampoo and conditioner bars ideal for traveling, is available at The Alternative, as a substitute for your many hair products contained inside bigger plastic shampoo bottles.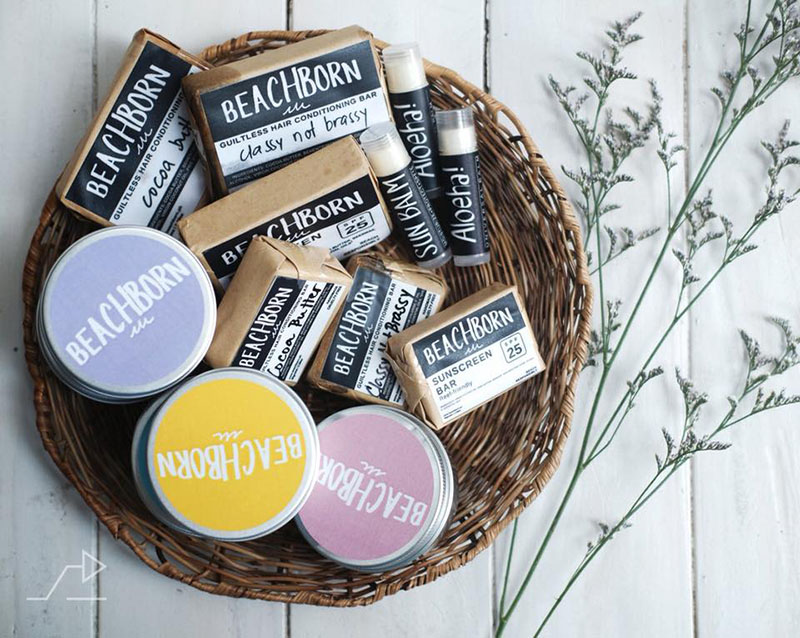 Beachborn is a brand of all-organic products, ideal to make a part of your travel essentials./ IMAGE The Alternative
In addition, The Alternative also houses NEUTRA ORGANICS with their line of organic products like body scrubs, hair creams, body bar soaps of Tomato Rose, Gugo Tamarind, Lime & Milk, and Black Beauty, lotion, balms, and other moisturizing creams fit for those with sensitive skin.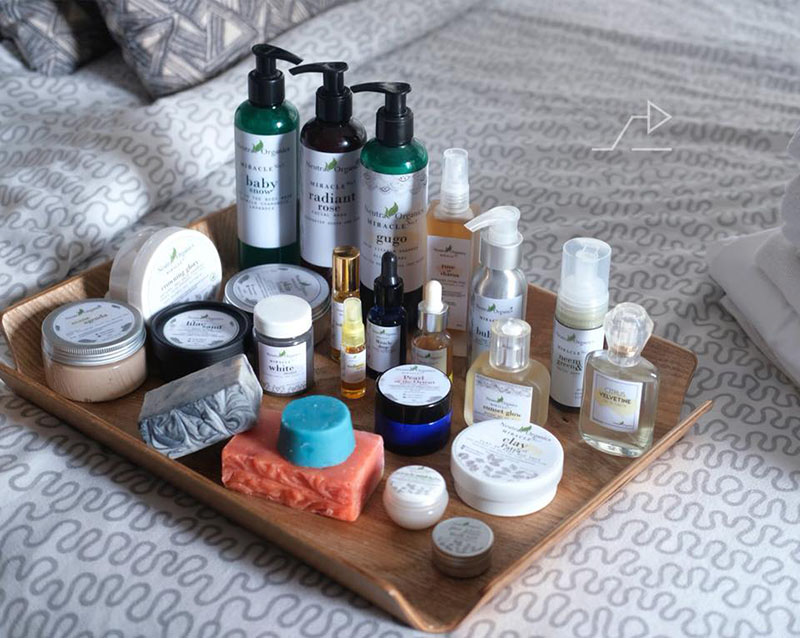 Neutra Organics is known for their natural soap bars, creams, and balms safe for babies, kids, and adults with sensitive skin./ IMAGE The Alternative
MESSY BESSY and its variety of personal bath & body care products are also available for purchase at The Alternative. Among their products are all-natural, hand & body wash liquid soap, hand cream & sanitizers, as well as insect repellents which are all organic as they were extracted from plants. Even though the products are placed inside bottles,  what makes these sustainable is the refillable containers for your next purchase.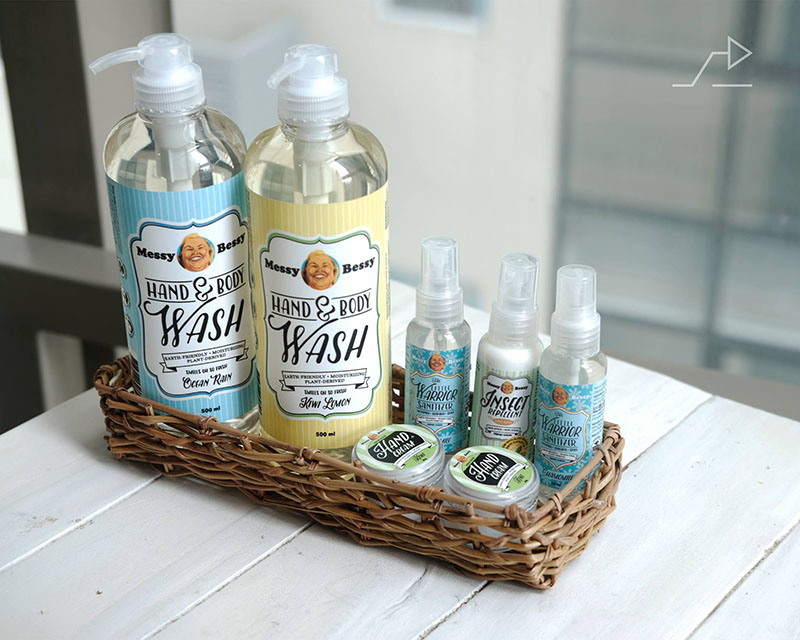 Messy Bessy ensures you a safe personal care experience with their "plant-derived" products./ IMAGE The Alternative
Meanwhile, THE BAMBOO COMPANY, with their Lakbawayan™ collection of bamboo products like their Kapecup (coffee cup), Bambaunan (lunch box), tumblers, dental floss, and Bamboo Travel Cases good for containing their Panda Charcoal Bamboo Toothbrushes, are also available at The Alternative– an ideal Bamboo lunch set all on its own.
Alongside these, The Alternative's variety of The Bamboo Company products also sport the handmade Labahamboo safety razor with a "close comb" design, ideal for shaving.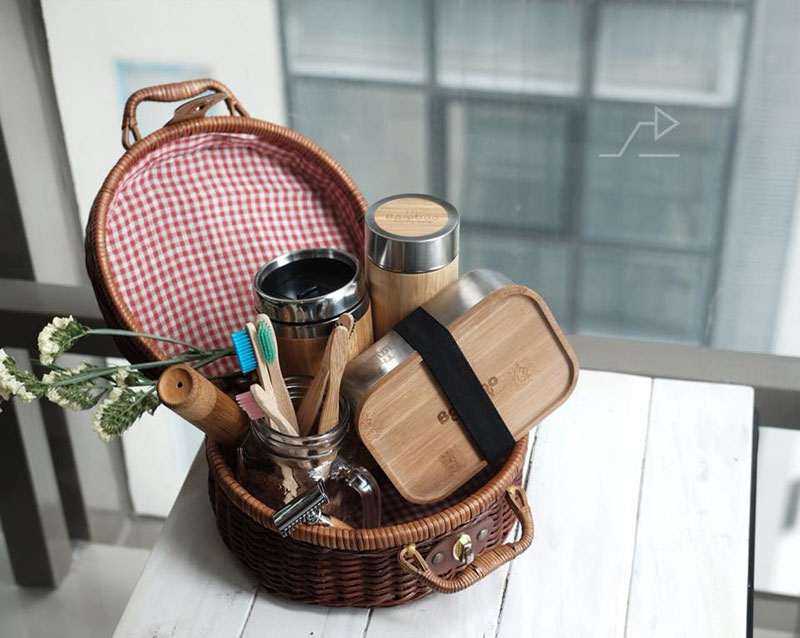 The bamboo lunch set, care of The Bamboo Company, is ideal for your daily self-care agenda whether at home or in your office./ IMAGE The Alternative
Plus, as a replacement to single-use, disposable products which can add further wastes to your homes, The Alternative is also the home of THE SIMPLE TRADE with its Katsa produce drawstring bags, straw set and toothbrushes made of bamboo, loofahs made up of sponge gourd instead of plastic, and stainless steel tongue cleaners which you can all place inside their "Anti-Packaging Movement" tote bags!
What's more is that some of these products reach your doorstep package-free, which means sustainable products come in newspaper or scratch paper packaging. Old shopping bags are also used to make sure that nothing comes to waste. More importantly, aside from these products, The Alternative also offers to refill your containers for you as well as recycle or compost them to ensure an authentic zero-waste lifestyle!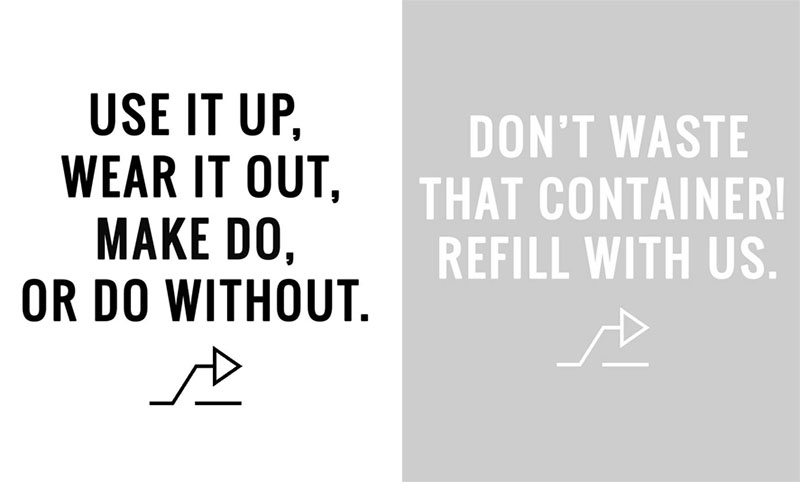 How to Shop with The Alternative
To purchase their brands, simply visit The Alternative Shop and click on the variety of product/s you wish to avail.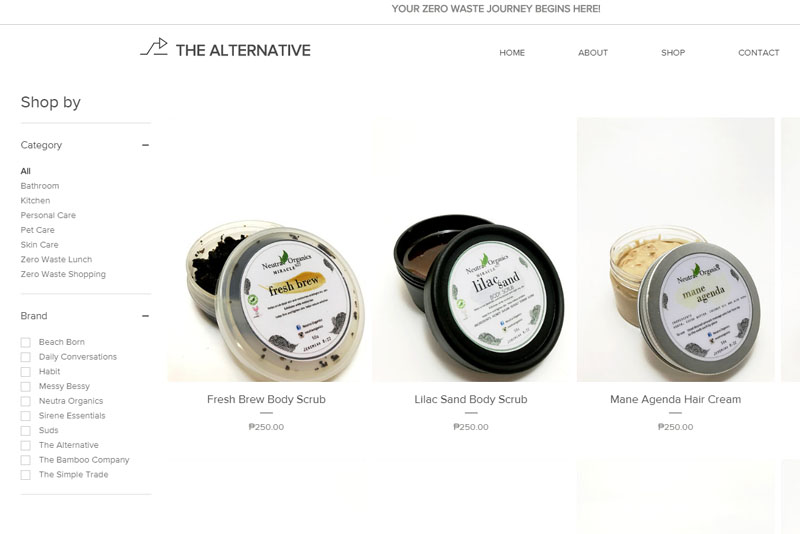 From here, you will be redirected to the product details. Under the "Purchase Option," indicate whether you would like to make a "First-Time Purchase," a "Refill", or to "Recycle." Do not forget to also indicate how many of the chosen products you would like to avail, before clicking "Add to Cart."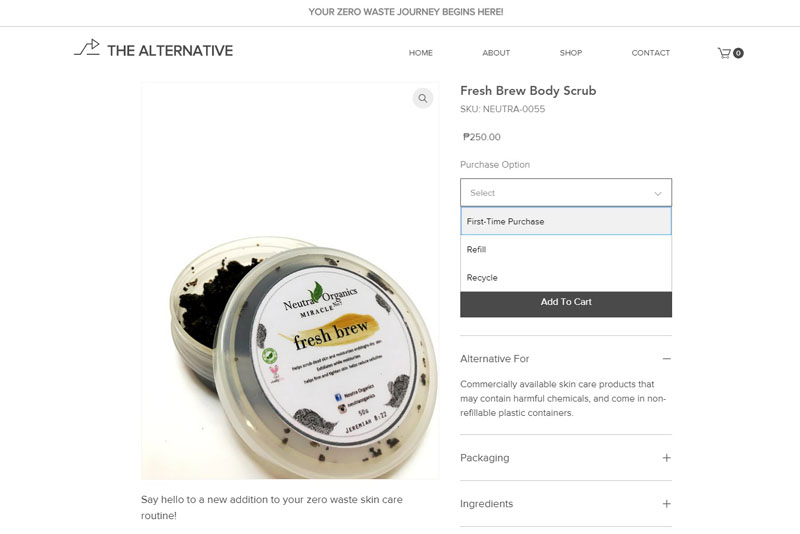 A window on the right side will appear, showing you once again the product/s you wish to avail before you click "View Cart".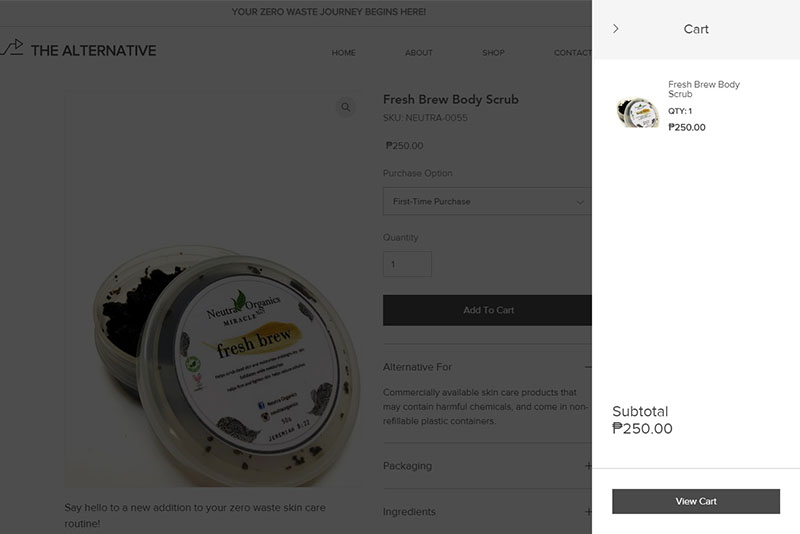 Next, the details of your Cart will appear, showing the sub-total of your purchase plus the shipping fee depending on the location options you may view by clicking the drop-down button beside the location bar (eg. Makati, Pasay & Merville, Paranaque). After which, click the "Checkout" button.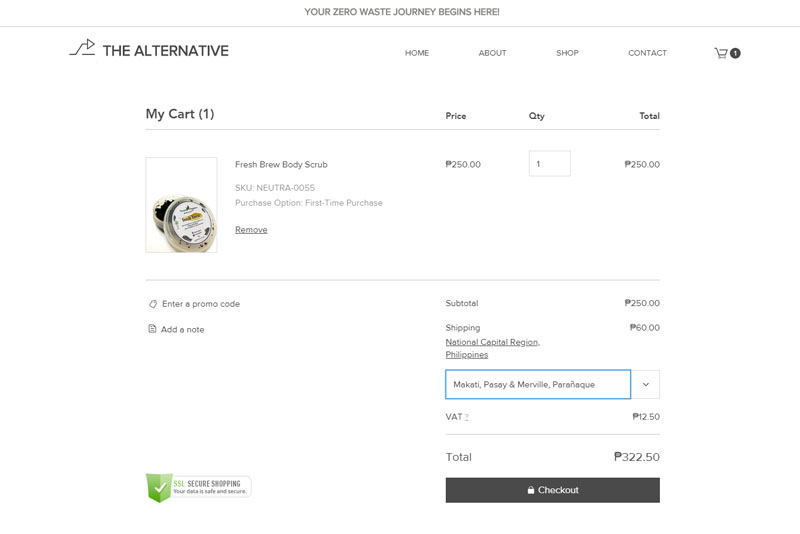 From here, you may secure your checkout details by filling out the "Shipping Details" and clicking "Continue", as seen on the example below.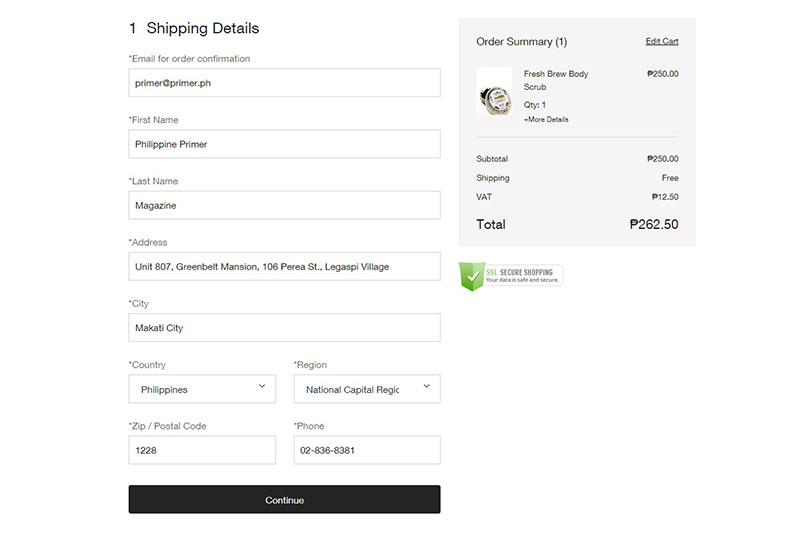 The Delivery Method comes next, giving you options as to where to deliver your The Alternative essentials. You may also choose the "Meet up" option at Rockwell Powerplant only, and then proceed to Payment.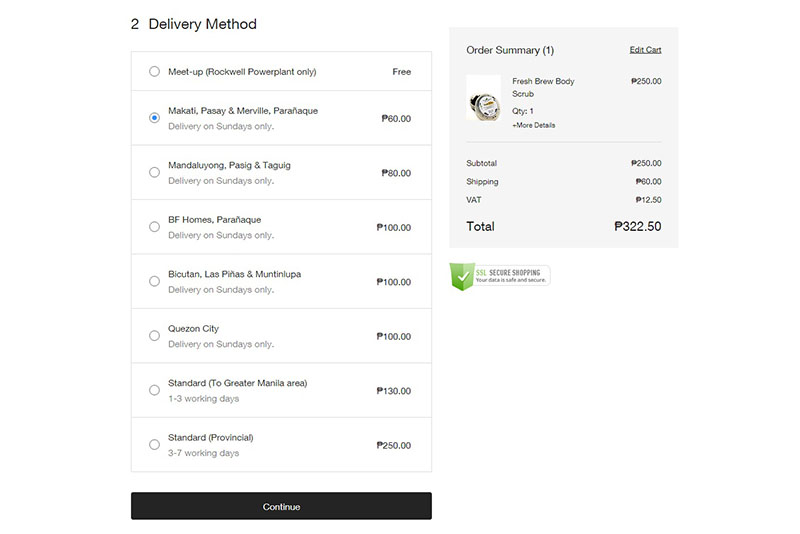 While The Alternative is brewing up more options for payment, settling your payments online (through BPI deposit) is encouraged by The Alternative. Cash on deliveries are also available during meet-ups.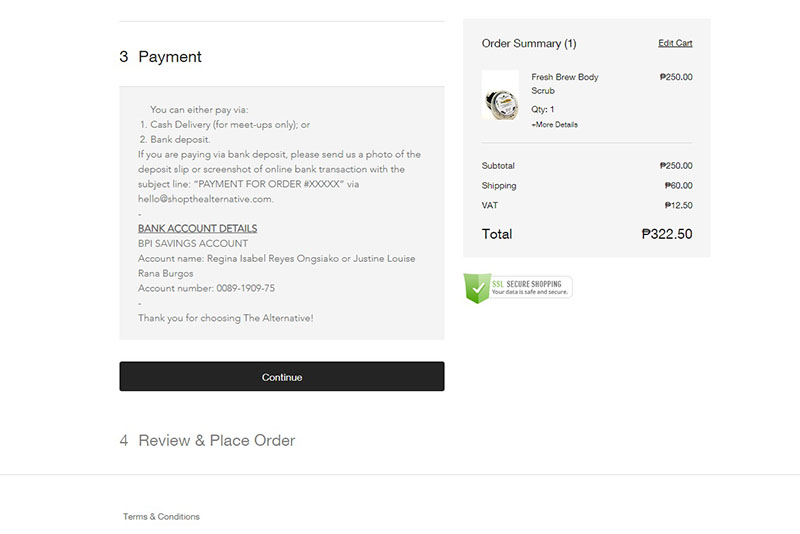 After placing your order, you may now expect your shipment, usually done every Sundays, to arrive a day or two for those residing in Manila, and a total of 2 to 4 days for those in the greater Manila area, as well as for those residing in the provinces.
From here, you may now enjoy your zero-waste products and shift from an uneconomical and inorganic way of living to a sustainable lifestyle to save your health and your environment!

For more information, visit their website at The Alternative or call them at 0905-313-9533. You may also send them an e-mail at hello@shopthealternative.com, give them a thumbs-up in their The Alternative Facebook Page, and follow them on Instagram @shopthealternativeph.
---
Written by Chin Sanigan
All images grabbed from The Alternative