Snake River Farms: Enjoy Gold Grade Wagyu at Home!
With beef, more marbling means more flavor. It also merits a higher grade, which puts American Wagyu in a league of its own.
Snake River Farms (SRF) is a producer of high-quality beef and pork in the United States. It uses a combination of the Japanese and US grading system to determine its premium quality.
Alternatives Food Corporation, the local distributor of SRF, brings in two of their top tier product lines—the Black Grade and the Gold Grade cuts.
Both were introduced through a cooking demonstration by Foodee Group Concepts' Executive Corporate Chef Carlo Miguel. He explained four different cuts of American Wagyu namely, Wagyu Tenderloin Black, Wagyu Chuck Eye Log Gold, Wagyu Striploin Gold, and Wagyu Ribeye Gold.
The Wagyu Tenderloin, Black Grade
Tenderloin is the meat inside the ribs that gets very tender when cooked. It is a prized cut that can be prepared for a memorable meal during a large gathering. Chef Carlo recommends enjoying wagyu tenderloin rare for maximum flavor and juiciness.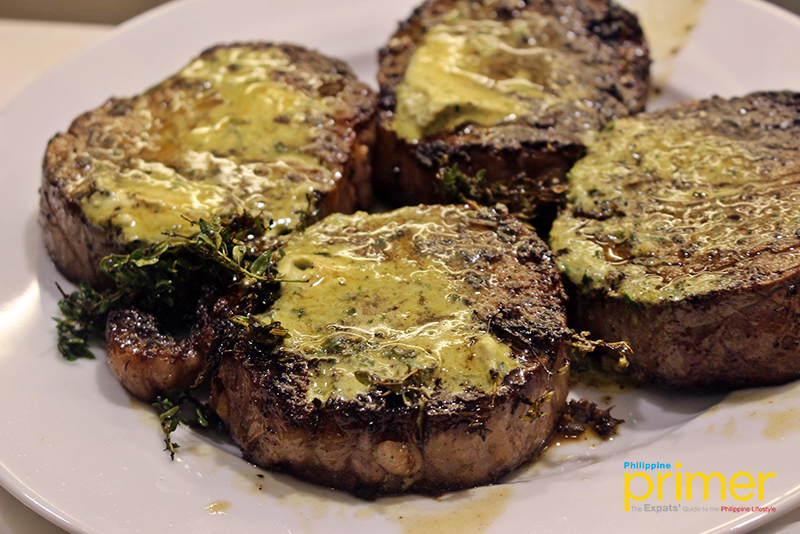 Wagyu Striploin, Gold Grade
The striploin is one of the most popular steakhouse cuts. The superior marbling of a striploin is held together by its tougher and firmer texture, giving it more flavor and an almost buttery taste when cooked. It is best-served medium-rare with a bright pink center.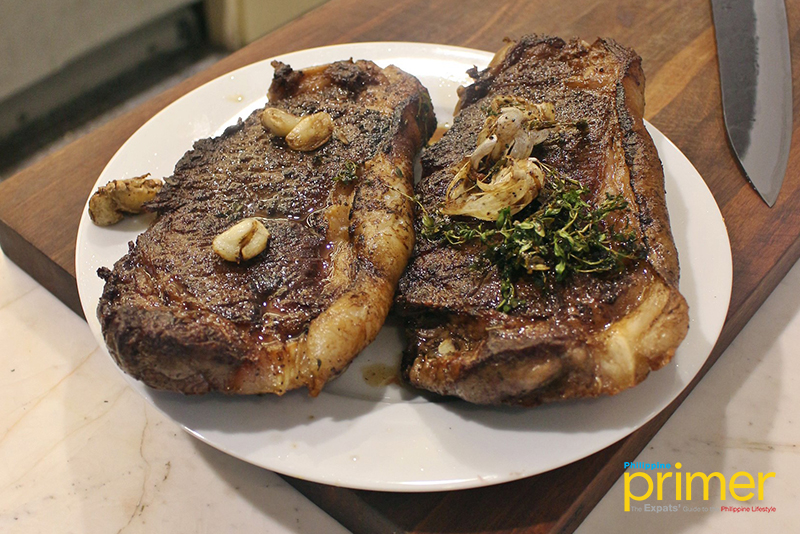 Wagyu Ribeye, Gold Grade
Popular in the Philippines for tenderly breaking off with just a spoon and fork, the extravagantly-marbled Gold Grade ribeye roast is specially selected, perfectly aged, and hand trimmed to create an amazing cap-off roast. Enjoy this cut best as medium-rare or medium!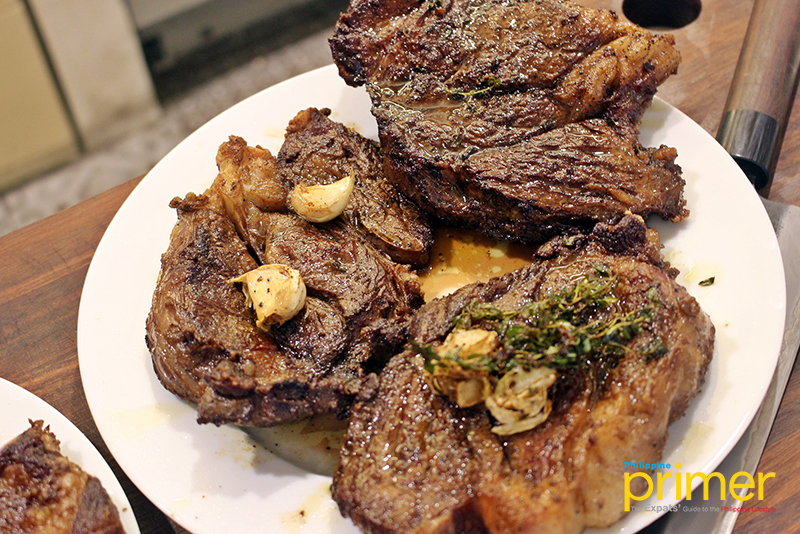 Wagyu Chuck Eye Log, Gold Grade
Chuck eye connects the shoulder and the ribeye. Its good marbling makes it the best choice for barbecues and steak. It is comparably tougher, which also means a more beefy flavor. It is usually served medium.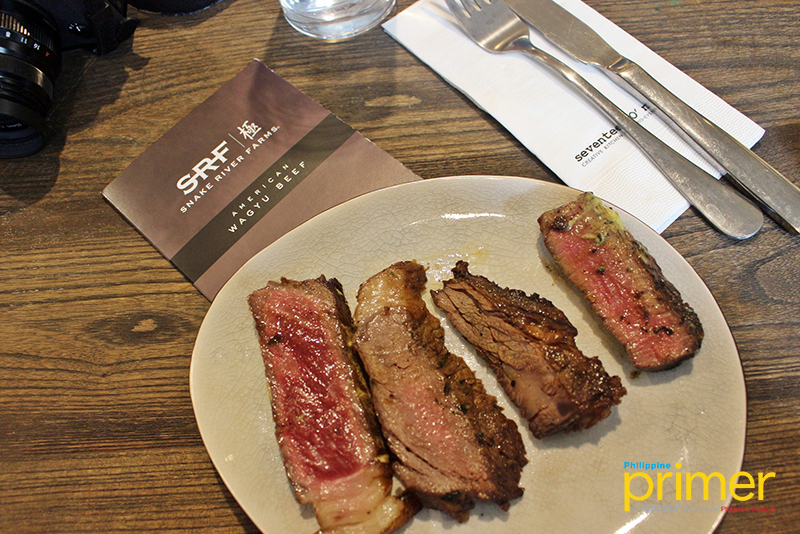 (L-R) Samples of the striploin, rib eye, chuck eye log, and the tenderloin
Alternatives Food supplies a number of top-rated hotels and restaurants around the country with these high-grade steaks. They also retail their products for 300 grams/pack.
To start your wagyu journey at home, Chef Carlo also demonstrated steak preparations and cooking techniques meant to enhance the inherent flavors of the meat.
Cooking SRF Wagyu Steaks
Chef pre-heated a cast-iron skillet before seasoning the steaks. To form that nice crust of salt and pepper without drying the steak too much, he seasoned both sides of the steak generously 5 to 10 minutes before cooking.
He seared the fat side first to get its natural oils before adding a small amount of canola oil. The sides are seared for 1 to 1.5 minutes. He then added several pieces of thyme, cracked garlic, and herbed butter to baste the steak.
Chef Carlo recommends flipping the meat continuously every 30 to 40 seconds to let it sear nicely and evenly all throughout. He also kept basting the meat with its own fat, juices, and the butter that was added earlier.
Cook to your preferred doneness, take it off the heat and let it cool for 7 to 10 minutes before serving.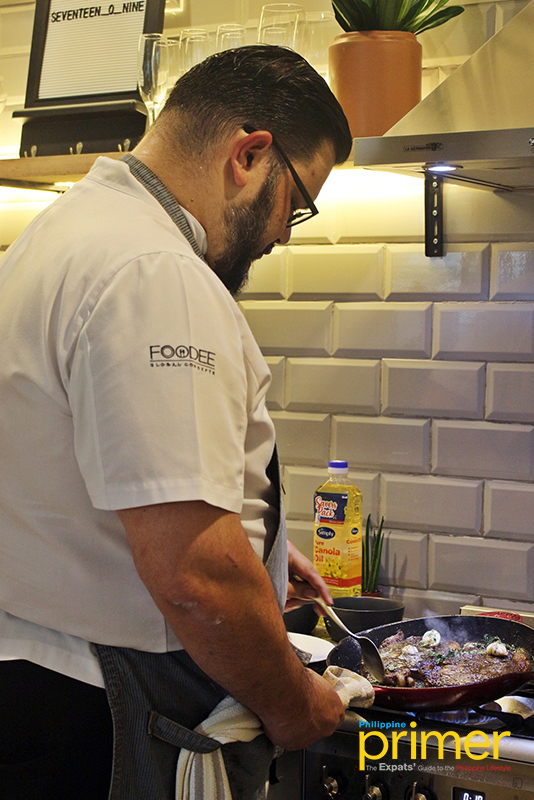 Snake River Farms is the premier producer of American Wagyu steaks featuring a buttery texture, complex flavors, subtle sweetness, and a lingering finish. Their Gold Grade is comparable to the A4-A5 of the Japanese Wagyu grading system.
SRF steaks are also crossbred with Angus, hence its tenderness and more beefy flavor. Why spend more when you can have the same quality?
SRF is available in South Supermarket (Wagyu Striploin Black Wagyu Rib Eye Black) and SNR (Wagyu Ribeye Black, Wagyu Ribeye Gold).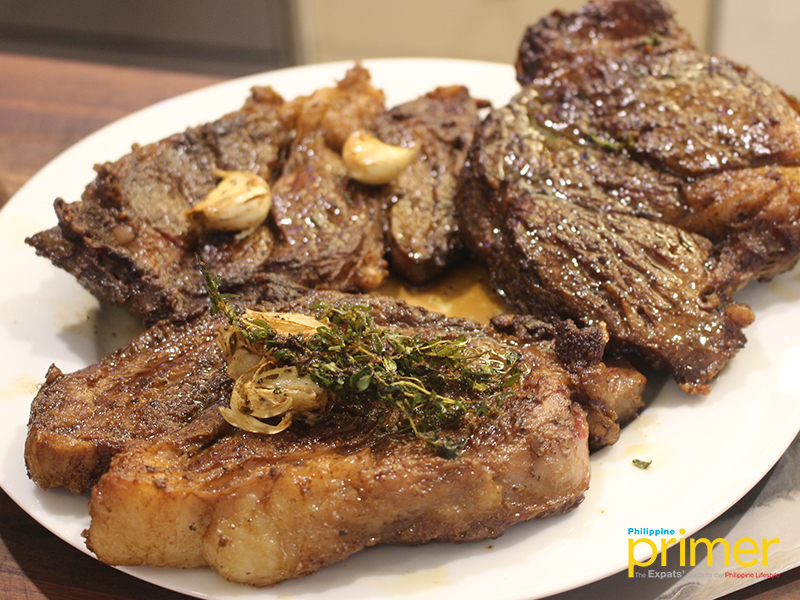 Details:
Contact number: 02-631-7228
Website: alternatives.ph
Facebook: Alternatives Food Corp
Instagram: @afcphils