Moving with Mober
Are you moving to a new house but is having a hard time looking for an affordable delivery van to move your appliances? Want to deliver something but don't have access to any deliveries?
If you can book a cab, a private car, a delivery bike, and a helicopter, you should be able to book a delivery van with the latest mobile app: Mober!

IMAGE FACEBOOK
Mober is a mobile application that provides fast, reliable and affordable delivery service to their customers. They personally try to connect individuals and business owners directly with the drivers for their delivery needs. The application provides delivery service at a click of a button.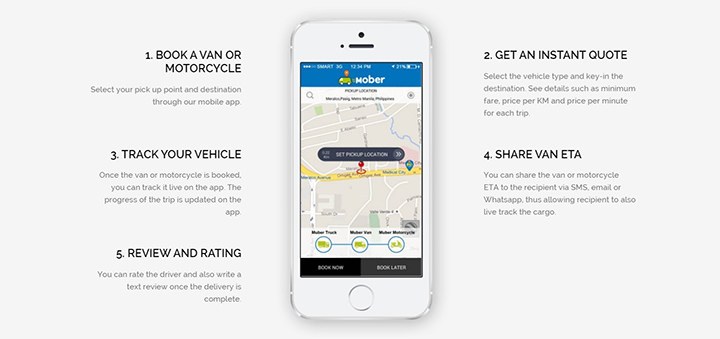 IMAGE FACEBOOK
Through Mober, you can now load your bulky home appliances and furniture conveniently through their lipat-bahay transport; Home and store deliveries are made easier with the same day or advance booking through their store deliveries; Taking your pet to the vet or anywhere safe and sound through their pet shuttle and; have a worry-free logistic support and personalized service through their Full-Freight Service.

IMAGE MOBER
With their same-day delivery strategy, packages will always arrive the same day they're sent out. Mober makes this possible because drivers do not handle multiple deliveries for multiple customers at the same time.
For a fee a little more than a taxi ride, users can place bookings. Prices depend on which vehicle users opt for and the distance between pickup and drop off locations. Base Fare is P250 and P450, respectively. The minimum fare is Php 500 for Van and Php750 for VanPlus (comes with loading and unloading services).
Know how to move at a click at www.mober.ph, or download the app from App Store or Google Play.  For questions and inquiries, you may contact them at:
Also Read: Paving the way for technopreneurs: Start-ups at UP JMA's Next
---
Written By Patricia Antoinette M. Nacianceno
Image Source: Facebook, Mober
Source: Business Mirror, Inquirer, Swirling over Coffee