J.P. Marzan's Marella Disinfection System Eliminates Germs and Viruses Everywhere
To make sure you're extra safe at home, J.P. Marzan Project Ventures, Inc. is here to give you additional protection through their state-of-the science Marella Disinfection System!
J.P. Marzan Project Ventures, Inc. is a construction and logistics company in the Philippines that also offers disinfection services utilizing the Japanese Marella Disinfection Systems.
According to Yusuke Kondo of J.P. Marzan Project Ventures, Inc., the Marella Disinfection System is a systematic sterilization process in which their well-trained staff use state-of-the-art equipment and solutions to disinfect various facilities such as condo units and office space upon customer's request.
State-of the-science Solution
For disinfecting surfaces, they use Marella Water, a safe and harmless solution made from electrolyzed hypochlorous acid that has a 99.99% disinfection capability, which is 80 times more effective than sodium hypochlorite, a solution commonly used in cleaning products. As a multi-purpose disinfectant, it can also sterilize vehicles, kitchenware, tools, and many more. What's more, it also has a deodorization effect on surfaces.
In the Philippines, sodium hypochlorite (NaCLO) is often used for disinfection by diluting chlorine bleach. However, there are concerns about its side effects on humans, animals, and plants.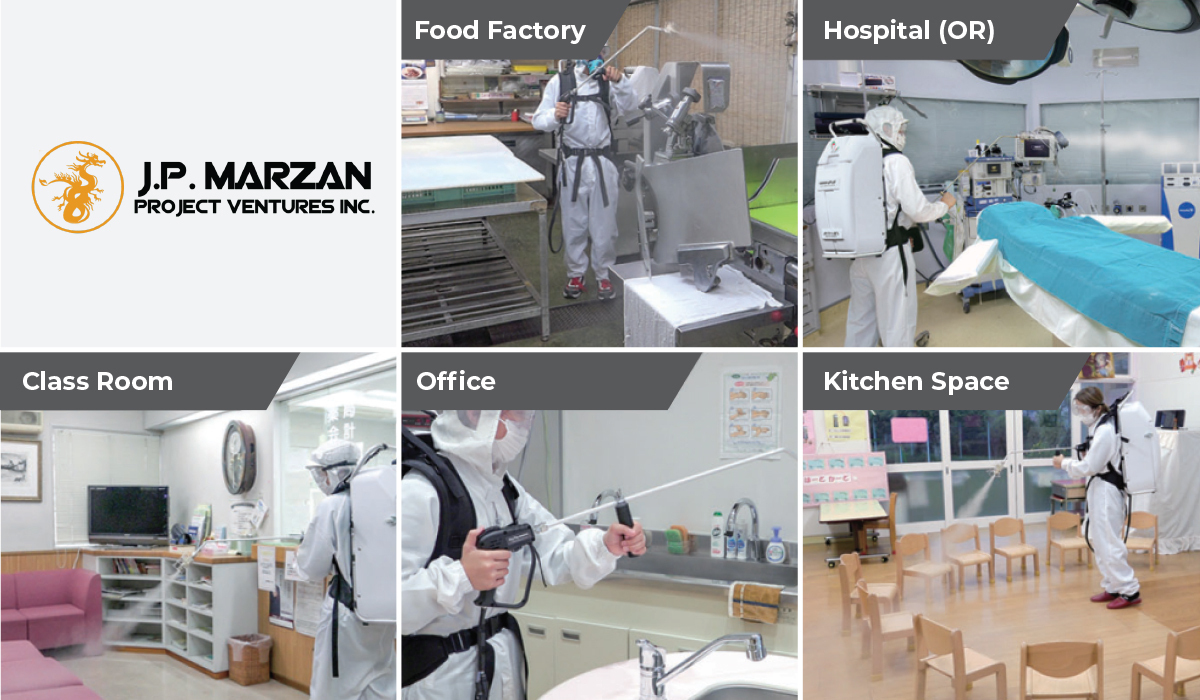 IMAGE from J.P. Marzan Project Ventures, Inc.
Features:
Electrolyzed hypochlorous acid (HCLO) is used for disinfecting surfaces.
Unlike sodium hypochlorite (NaClO) solution, no chemicals are used.
Safe for small children, animals, and plants.
The difference between hypochlorous acid and sodium hypochlorite is also explained on the Ministry of Health, Labor and Welfare's website, so please have a look. If you have any questions about Marella Water, please contact them here.
Nano-Mist System for Accurate Disinfection
A major feature of the Marella Disinfection System is its utilization of the Nano-Mist System, a backpack spraying device with a "nano" mist nozzle that sprays 10 μm or less mist that they use to disinfect specific areas or spots. It disperses Marella Water into the air like a mist-like spray that sterilizes and deodorizes surfaces accurately, ensuring total elimination of viruses and germs.
IMAGE from J.P. Marzan Project Ventures, Inc.
Eliminate germs and viruses everywhere!
According to Mr. Kondo, their systematic use of Marella Disinfection System is ideal for disinfecting and deodorizing restaurants, offices, medical facilities, schools, and vehicles such as automobiles, trains, airplanes, and ships.
Additionally, because it is safe for animals, their method can also be used to sterilize barns, coops, and other husbandry facilities.
If you have any questions regarding the Marella Disinfection System or if you want to know more about their rates, please contact Mr. Kondo through the contact information below. You may also visit this page for more information.
General Information:
Address: Pulo-Diezmo Road, Cabuyao, Laguna
Business hours: 8 a.m. to 5 p.m. (Mon-Fri) / 8 a.m. to 12 p.m. (Sat)
Contact number: 0917-155-2208
Email: yusuke.kondo@jpmarzan.com