HYPE Offers More Transport Options to Commuters
Grab's extension from a typical transport service to a business venture—complete with food delivery, payments, and shopping services—did not stave off other Transport Network Companies (TNCs) to join its list of competitors. In fact, HYPE Transport System Inc., a purely Filipino-owned company, adds itself to the growing list of game players in the transportation sector.

HYPE, which aims to be a remedy to threats of monopolization and road congestion in the country, provides new application features for the riding public. While your phone needs to be connected to the internet via Wi-Fi or mobile data to hail Grab, HYPE can be contacted through SMS. Simply indicate where you are located and the type of vehicle you need. While the commuter needs to specify his or her destination as well, the system will not let the driver determine your destination to avoid refusals from them.
After texting, you will receive a message with the driver's name, the car model, and its plate number, plus your fare.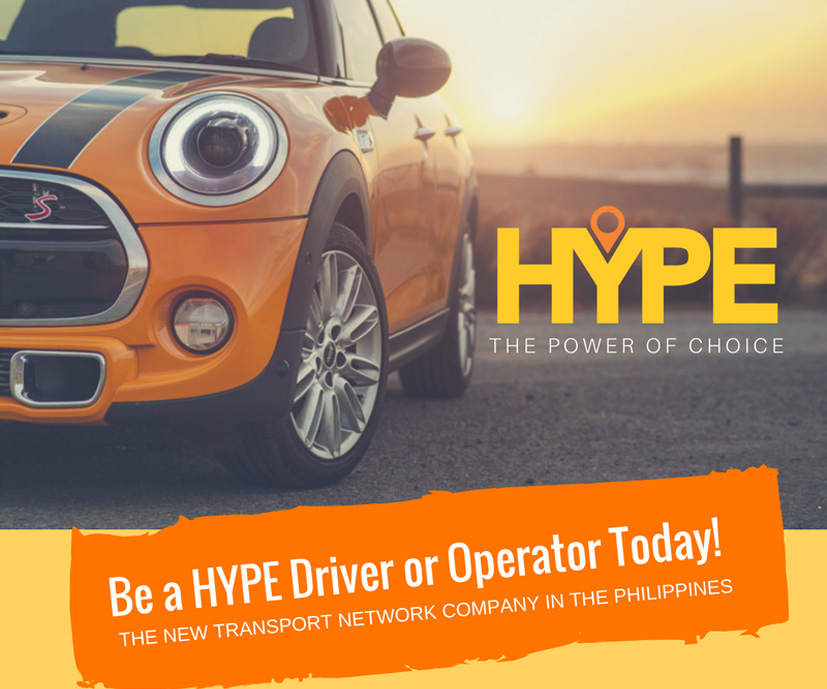 Among HYPE's services include HYPE Taxi, Pool for commuters off to the same route, Sedan for a group of four, AUV for a group of six, and SUV for long trips. HYPE's Sedan fare rate is Php 40 with a Php 14 per kilometer charge, while carpooling services collect Php 30 with a Php 9.50 per kilometer charge, according to UNTV News. HYPE will not be charging per-minute fees.
The new transport company also boasts of their low commission, leading operators to receive over 95% of what they earned from their 26th trip and their succeeding ones.
HYPE received their accreditation last April 18 and is soon to announce their grand launch, with beta tests on-going for Android and iOS users. Alongside HYPE for new TNCs are MiCab to operate in the metro, as well as in Cebu and Baguio; iPara Technologies and Solutions Inc., Hirna, and Laguna's GoLag, which will start beta testing at Sta. Rosa on July 21.
Also read: Go Lag: A Ride-hailing service in Laguna
For more information on HYPE's services and on-going application for drivers or operators, visit www.hypetransport.com or follow them on Facebook at www.facebook.com/HypePilipinas.
---
Sources: ABS-CBN, CNN Philippines, UNTV News, HYPE on Facebook
Image Sources: HYPE on Facebook, HYPE Website