Fresh produce courtesy of Diamond Star
Diamond Star Agro Products, Inc. is known as an exporter of quality mangoes to Japan and other Asian countries. They always give the best because they know how to produce the best. Applying this knowledge, they now aim to expand to providing fresh produce to Filipinos the way they do in Japan.
FRESHEST PRODUCE IN MAKATI. It's like getting your greens direct from farmers when you get your produce from Diamond Star.
Diamond Star recently expanded to delivering fresh produce straight from the farms of Benguet. Using cold chain logistics, they transport fresh produce from their partner farm in Benguet all the way to their warehouse in Metro Manila.
What is cold chain logistics?
A search on the internet would tell you that cold chain logistics involves having an "uninterrupted series of storage and distribution activities which maintain a given temperature range." In layman's terms, it means keeping something fresh (in this case produce) by keeping them cold throughout their farm-to-table journey.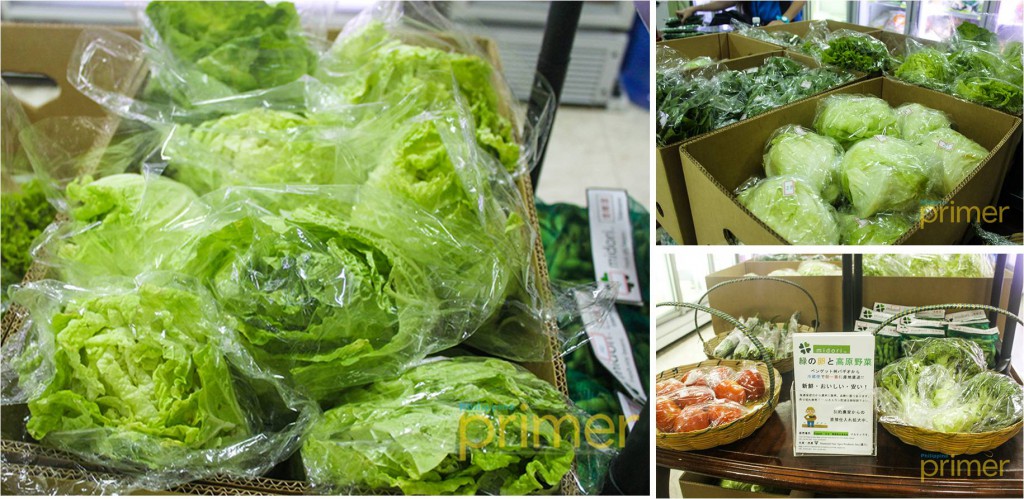 COLD CHAIN KEEPS THEM FRESH. These are just some of the produce you can get from Diamond Star: different varieties of lettuce (left) for as low as P160/100 grams; RB cabbage (top right) at P80/100 grams; (lower right) tomatoes at P130/100 grams, broccoli at P200/100 grams.
Diamond Star employs this kind of supply chain to ensure they give the freshest produce from their partners in Benguet to their waiting customers: Japanese and Chinese restaurants within Metro Manila.
Corporate Social Responsibility
Their produce distribution business also acts as the company's form of social responsibility. They deal directly with farmers as much as they can, ensuring they get only the best produce: lettuce, cabbage, broccoli, cauliflower, onion leeks, etc. It also means the money they use in getting the produce goes directly to the farmers.
They also teach farmers how to best take care of their products, like proper ways of growing and packaging. They ask farmers to go organic as much as they can to ensure the safety and freshness of produce.
Not a restaurant? No problem!
With their way of getting produce, they attract a lot of customers thanks to high quality produce at affordable prices. Groceries and supermarkets may have more choices, but for quality, Diamond Star may very well be one of the best.
FRESH AS CAN BE. Head on over to Teppen Korean and Japanese Grocery and grab yourself some of the freshest produce in Makati.
If you want to try their produce for yourself, visit Teppen Korean and Japanese Grocery, located at 2153 Don Chino Roces Avenue corner Herrera Street, Makati City, every Friday, Saturday, and Sunday from 9 a.m. to 3 p.m.
For businesses looking to get the best produce, you can call 02-553-7968 and have them deliver what you need from their warehouse straight to you.