Angkas: Beat Metro Manila traffic with motorbikes
When Filipinos say "Pa-angkas naman," they usually mean they want to hitch a ride with whomever it is they're talking to. A new app, called Angkas, seeks to take this to a different level and have everyone riding on everyone else's bikes, all in an effort to beat Metro Manila's traffic.
Late na? Walang problema! Sa ANGKAS, may diskarte ka!

Angkasさんの投稿 2017年5月23日
What is Angkas?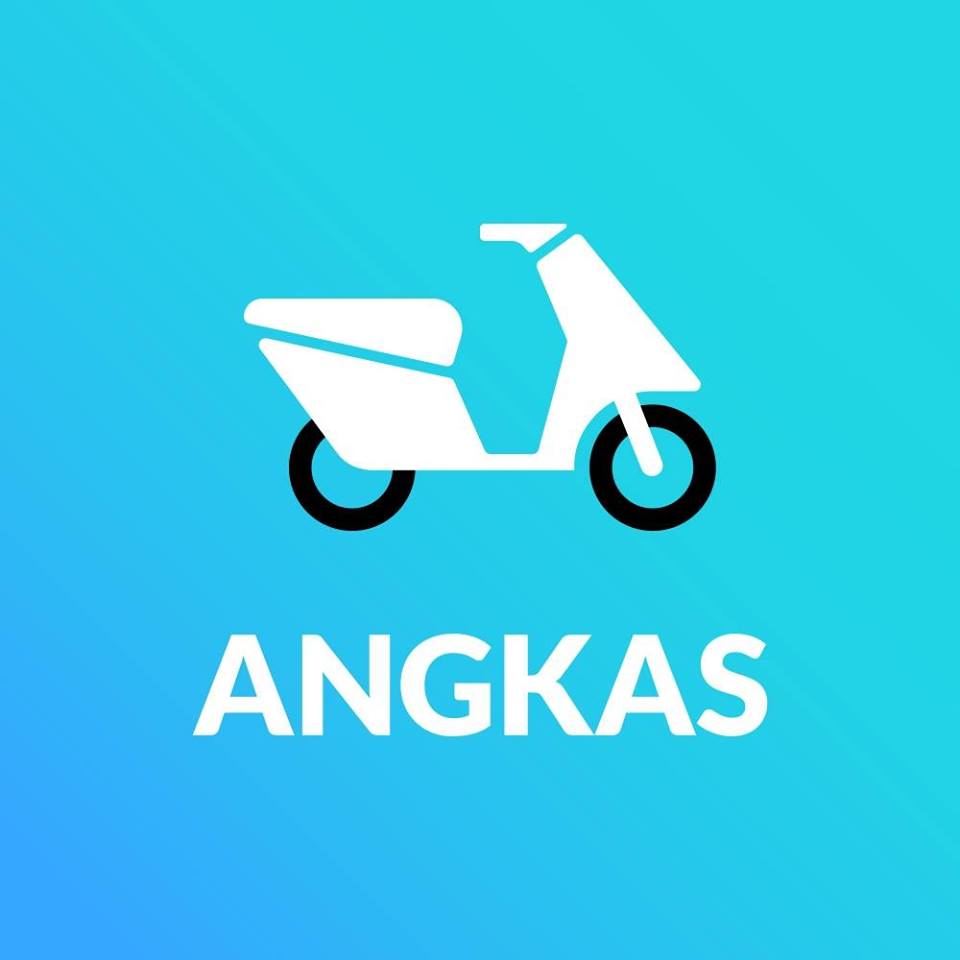 BEAT THE TRAFFIC WITH ANGKAS. IMAGE Angkas on Facebook
Angkas is a professional, on-demand motorcycle taxi service that allows commuters to safely and conveniently beat city traffic. Think of it as Uber or Grab, but only on two wheels.
IT'S EASY TO USE! It's also completely safe!/IMAGE Angkas on Facebook
The idea isn't exactly new, but it is working wonders for those who are really looking to bypass Metro Manila's legendary traffic. Angkas promises its commuters safe, convenient, and time-saving rides at prices that will never surprise you (unless there's a surge or something).
How safe is it?
HERE'S WHAT YOU'LL BE GIVEN. Safety is a priority with Angkas./IMAGE Angkas on Facebook
Angkas is completely safe, and they've taken the following steps to ensure passenger safety: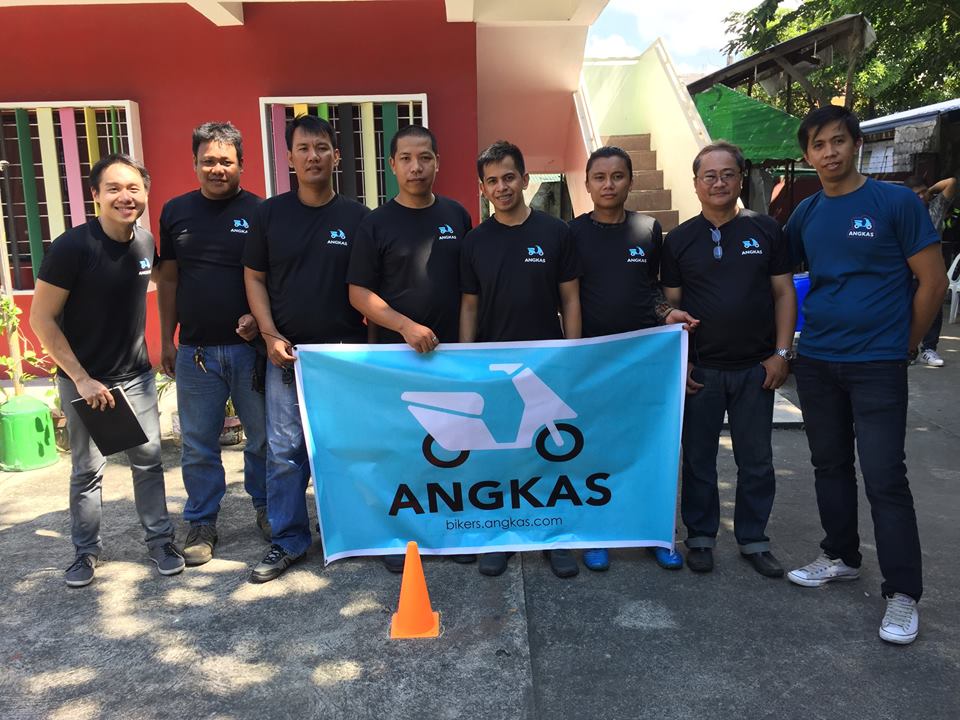 FROM THE FIRST BATCH. Here's a photo of Angkas' first batch of bikers./IMAGE Angkas via Facebook
Professional bikers. All of their bikers are carefully examined and undergo strict safety and defensive driving training and skills assessment conducted by certified safety instructors.
Driver's detailed info. Once you confirm your booking, you'll get your assigned biker's information: name, mobile number, vehicle registration, and ETA.
Live trackable rides. All rides with Angkas are logged into their system; rest assured they know where their biker is at any given time.
Passengers are covered with personal accident insurance in the unlikely event of an accident.
Gear & tools. Passengers are provided with helmets, face masks, caps, and raincoats for safety and hygiene.
What happens if I get into an accident?
Accidents are inevitable. They can be avoided, but they are still bound to happen. In the event of an accident, bikers are required to immediately report the incident to Angkas and the relevant authorities.
Once alerted, Angkas works with the biker and relevant parties to make sure that everyone is safe and attended to. As passengers are covered by accident insurance, all related medical costs will be free.
How to book a ride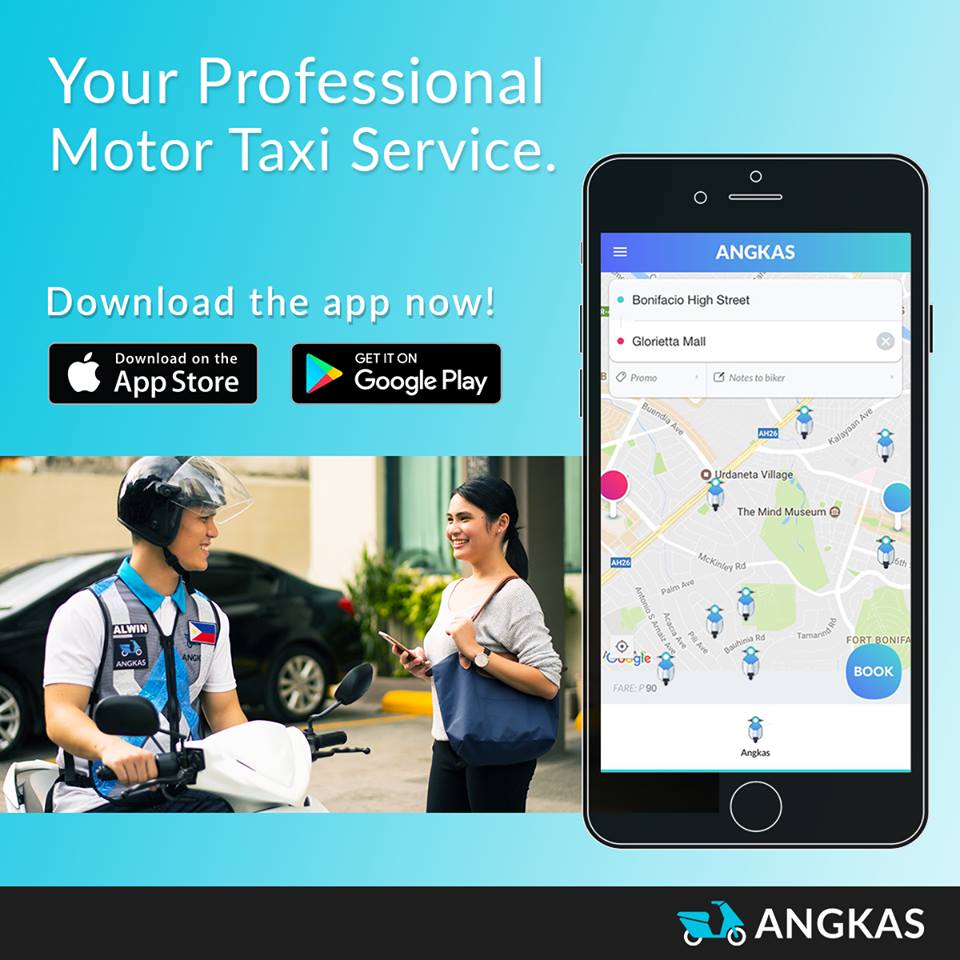 GET ANGKAS NOW! It's easy to use, and it's free (the app, that is)!/IMAGE Angkas on Facebook
Booking a ride with Angkas is easy enough. Just download the app, complete their one-time registration process, key in your pick-up and drop-off points (Taguig, Makati, Manila, Pasay, and Pasig), and confirm your booking.
Angkas charges a base fare of Php 50 for the first 2 kilometers, and Php 10 for every succeeding kilometer thereafter. Prices may increase during peak hours. All fares are calculated prior to and fixed upon confirmation of your booking. Sadly, credit cards aren't an option… yet.
Angkas is available for free on App Store and Google Play.
If you want to know more about Angkas, including how to become one of their bikers, please visit angkas.com. You can also call them via 0917-606-6913 or 0921-933-8074, or send them an email at support@angkas.com
---
All images grabbed from Angkas on Facebook