Almario Physio Team in Fort Bonifacio Introduces EMS Conditioning Program
For those who are suffering from chronic body pain or recovering from past accidents and serious medical conditions, physical therapy is the way to bounce back to a healthier body.
Unlike other clinics offering physical therapy programs, Almario Physio Team is uniquely different and has been the best choice for Physical Therapy Clinic in BGC.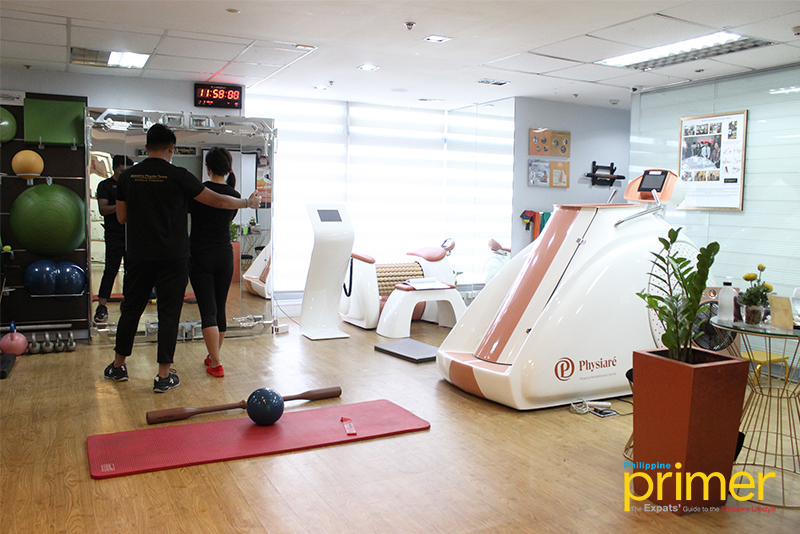 Founded in 2010 by CEO Ayeza Almario, Almario Physio Team specializes in different innovative physical therapy programs to help relieve patients and athletes from various body pain conditions. What's good is they offer comprehensive services and treatments to ensure the fast recovery of their patients in need of physical therapy care.
With advocacy to promote a comfortable experience for their clients, Almario wants to veer away from the usual hospital or clinic type of treatment, making their patients feel relaxed and comfortable during their therapy sessions.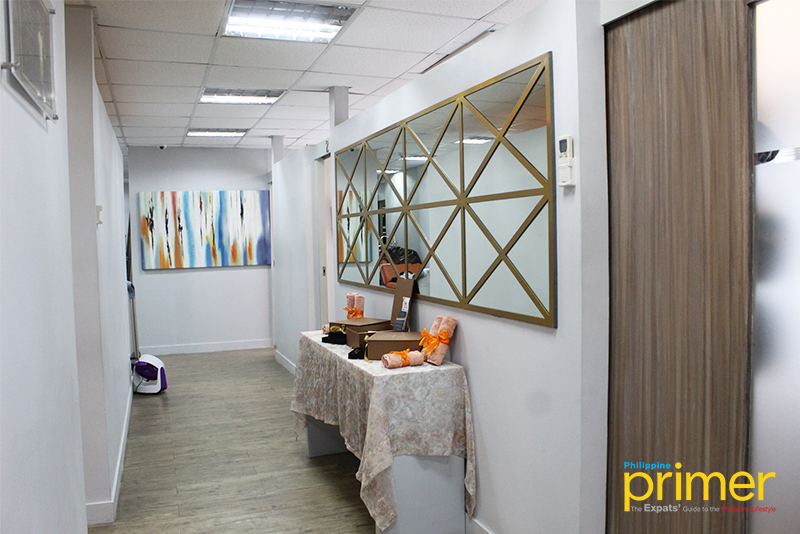 There are private rooms in the clinic for the patient's consultation and assessment
And last March 1, 2019, Almario Physio Team has finally launched their newest EMS Conditioning Program at their BGC branch.
EMS Conditioning Program
The EMS or Electric Muscle Stimulation Program was conceptualized back in 2010. Almario Physio Team thought of using it not only as a therapy program for patients but also as a part of an exercise routine to strengthen the human body.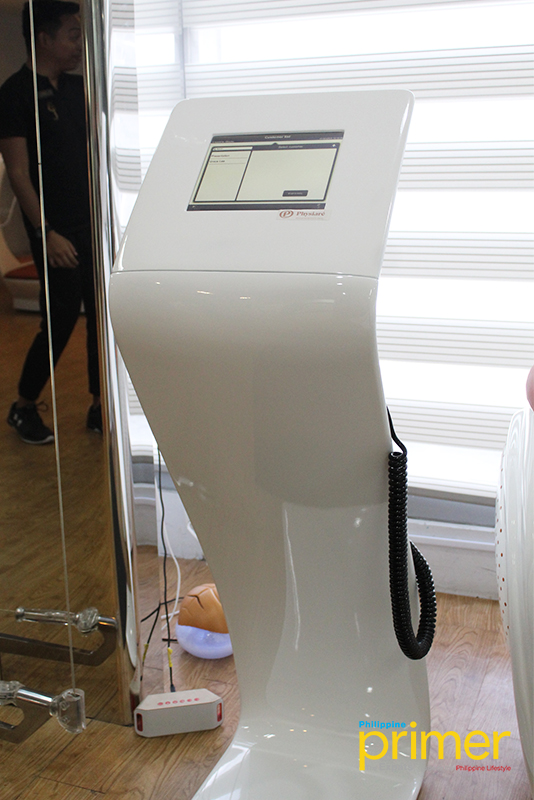 The EMS machine
EMS is usually used on patients with neurological conditions like stroke as a therapy to stimulate and activate the muscles in their body. With Almario, this concept is now integrated for a faster enhancement of muscle strength and endurance and to prevent body or muscle pain from recurring. It targets patients who underwent surgery, has chronic body pain, and competing athletes from children, working adults, and to patients aged up to 95 years old.
This program promises only 20 minutes of session equivalent to 90 minutes of workout geared towards conditioning and motivating clients to be more active and see fast progress.
How EMS Program works
Patients are categorized into 4 phases:
Phase 1 focuses on stability and mobility training. It is for patients who finished their rehabilitation pain relieving phase and need to start a strengthening program;

Phase 2 is for individuals who have a history of musculoskeletal problems and want to start a conditioning program. This phase focuses on movement training;

Phase 3 focuses on load training and is for individuals who have an active lifestyle and want to improve their fitness; and

Phase 4 is designed for athletes and is focused on performance training.
The program starts with a thorough medical assessment done by licensed physical therapists to ensure that individuals are the right fit for each phase. The PTs will perform assessment procedures designed to identify any existing or potential musculoskeletal condition prior to the start of the program.
The assessment includes a review of medical and exercises history, postural analysis, joint and muscle assessment, and fitness testing. Body composition analysis is also used to identify key areas in the patient's body to target during the program and provides an objective measure of improvement.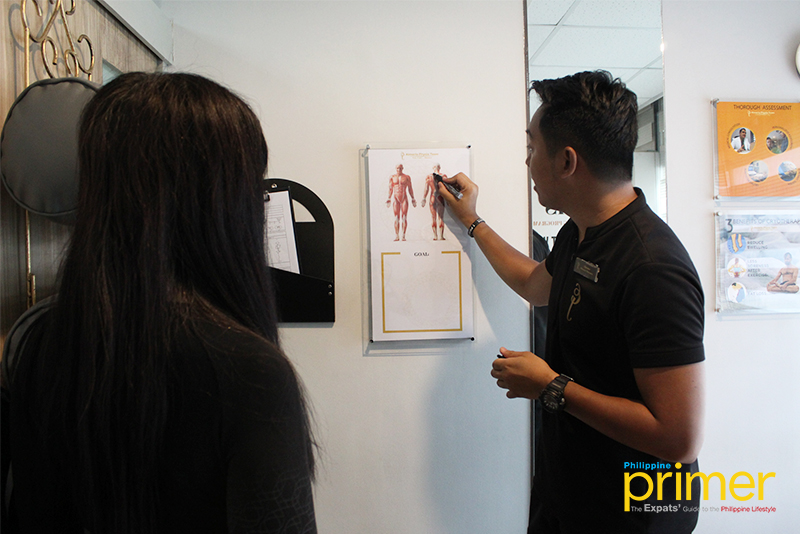 A licensed physical therapist will assess the patient throughout the program
Real-Time ultrasound imaging is used to identify if the deep core muscles are activating to prevent injury or reinjury during training. The results of the assessments are then explained and aligned with the patient's goals.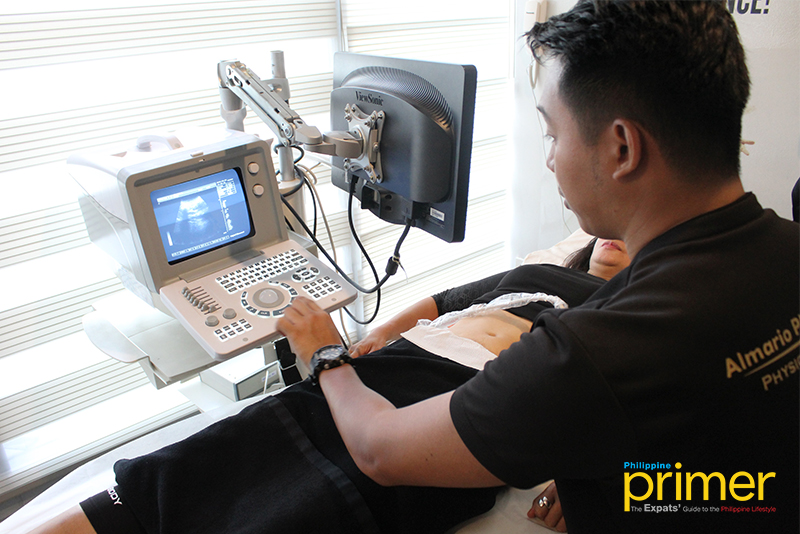 Real-time ultrasound imaging exercise for the core
The EMS bodysuit
In EMS, patients will wear a bodysuit equipped with electrode pads strategically located on the arms, back, chest, abdomen, and thighs. With the use of the EMS machine, electric impulses are generated all over the bodysuit which helps the body to contract the muscles during the 20-minute workout.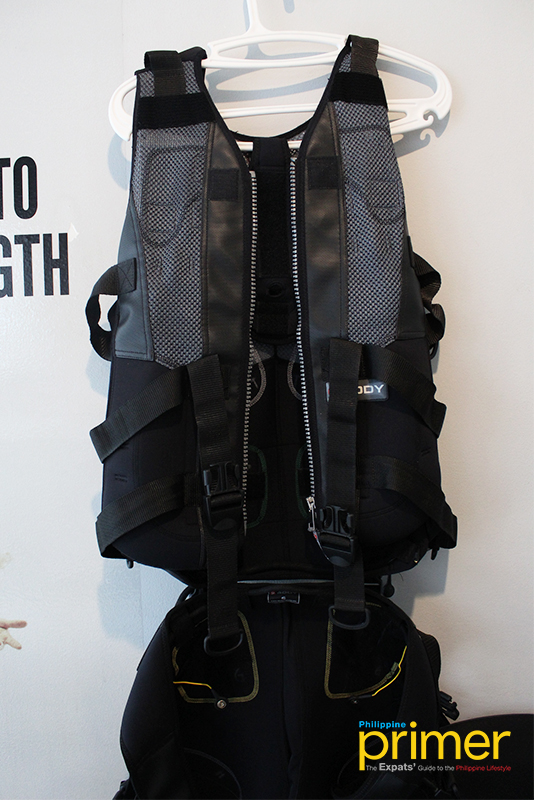 EMS Bodysuit equipped with electrode pads
The patient gets to choose the intensity of the electric impulses they want to feel throughout the exercise session. After the workout session, patients will have a 15-minute muscle therapy—a session finisher to let the body relax after EMS.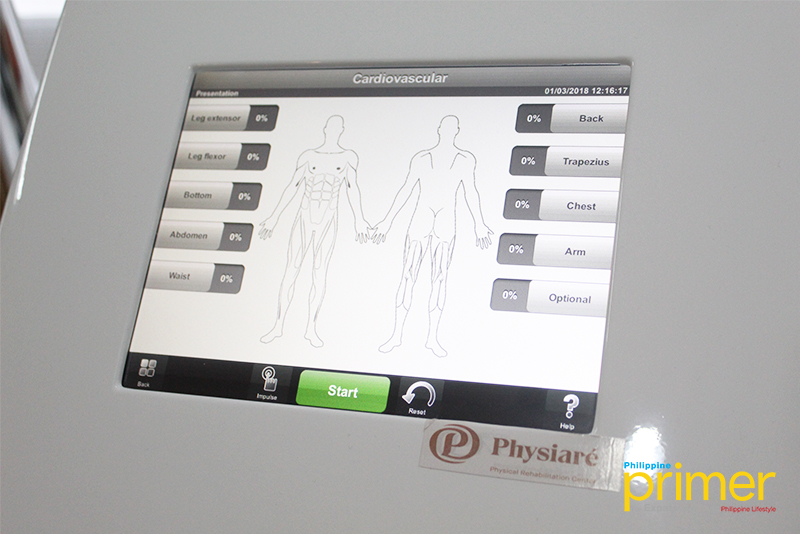 The intensity of the bodysuit's electrode pads can be adjusted from the EMS machine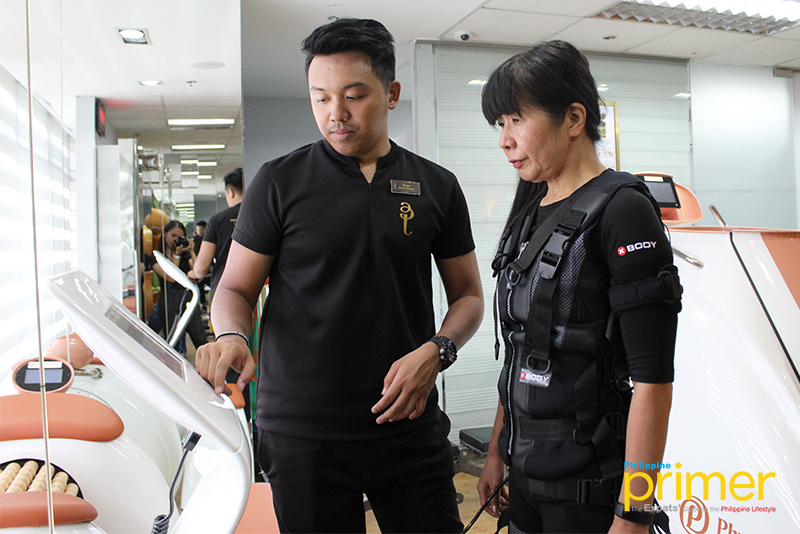 There are 8 sessions required for the EMS Conditioning program worth Php 8,000 per session. For new clients, Almario Physio Team will give 10% off of the complete 8 sessions when they avail the EMS program.
Almario also offers other programs such as Back Care Program, Muscle Release Therapy, Temporomandibular Joint Dysfunction Program, Toning Program, and Shoulder Care Program. They also conduct studies and research about their programs to ensure the quality and effectiveness of the EMS Conditioning Program on their clients.
Almario Physio Team is located at Unit 808, The Infinity, 26th street, corner 11th Avenue, Bonifacio Global City, Taguig City. Their clinic is open from 11 am to 8 pm. For more information about EMS and other services, you may call them at (02) 776-4977 and 0977-831-3424. You may also visit their website at www.almariophysioteam.com.
Details:
Address: 808 The Infinity, 26th street, corner 11th Avenue, Bonifacio Global City, Taguig City
Other branches:

Makati branch – 902 Medical Plaza, Dela Rosa St. corner Amorsolo Street, Legazpi Village, Makati City

McKinley branch – 210 Mckinley Park Residences, 3rd Avenue corner 31st Street, Bonifacio Global City, Taguig City
Operating hours: 11 a.m. to 8 p.m., daily
Contact information: (02) 776-4977 / 0977-831-3424
Website: www.almariophysioteam.com
Facebook: Almario Physio Team
---
Written by Deneca Ordinanza