My Ottoman Home in Makati: A Turkish and Moroccan Inspired Store for Your Home Decorations
My Ottoman Home in Makati: A Turkish and Moroccan Inspired Store for Your Home Decorations
If you would ask someone what was the greatest empire then, perhaps one would say it's the Ottoman Empire—an empire that arose centuries ago but still remains as the largest and longest empire known in history. This is what inspired My Ottoman Home in Makati to be named after a great empire.
In 2012, Pasha a Turkish restaurant started in Makati, with their love for the Turkish cuisine and culture they started bringing in colorful ceramics, carpets, and lamps to decroate the place. Other than their food some of their customers were amazed by the ceramics they used as well as their decors, giving them a complete vibe of the Republic of Turkey.
That reason alone caused people to start asking if they could buy their fixtures. This instance gave them the idea to create a separate business for that which is why in 2019, My Ottoman Home was born, delivering Turkish made home items at your door.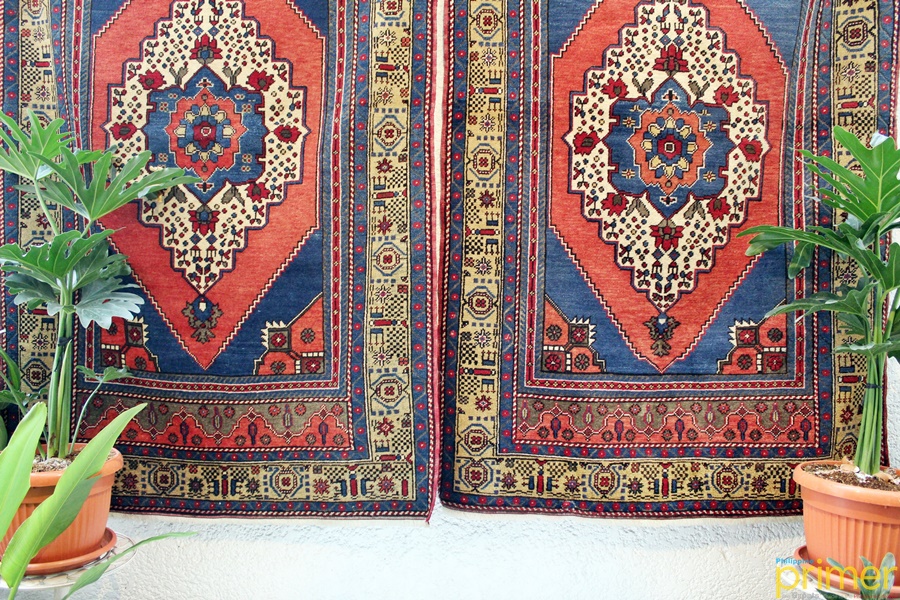 Carpets (Php 1,000 – Php 3,000)
As they separated their home decoration business, they started bringing in other items like carpets, lamps, and more kitchenware. Although they are still starting their humble business, My Ottoman Home already has a wide variety of choices for their customers.

Truly, one can fell in love at first sight with the colorful kitchenware they offer. Their ceramics are all shaped, hand-painted, and glazed by the hand of craftsmen, making it worth buying for the quality and effort that was put into it. From plates, to tea sets, wood plates, and candy dish—you name it!
Ceramic Plates (Php 2,2,50 – Php 3,950)
Even their lamps have its own story to tell, from collecting hand-cut glass pieces that comes in different colors and geometric shapes to putting it together, surely you would want one of these lamps to light up your home. They have a variety of table lamps and oil lamps that you can hang inside or outside your house.
Lamps (Php 1,250 – Php 72,000)
Their products may seem like it only fits those who have home of their own to decorate, but some items are also a hit to the younger generations. As they join bazaars and pop-ups, others would fall in line for their accessories and jewelries.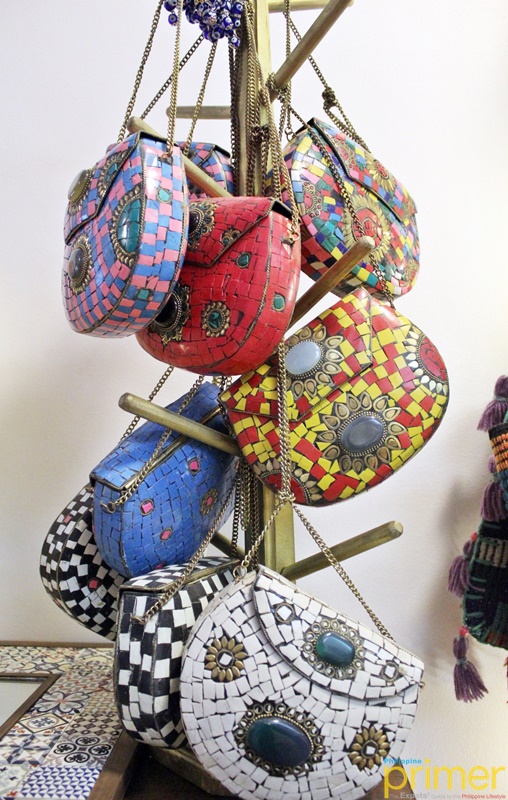 Mosaic Tile Clutch Bags
But above all their items, one item has truly standout when it comes to the sales. Many people have their own beliefs that has led people to commonly buy the Evil Eye.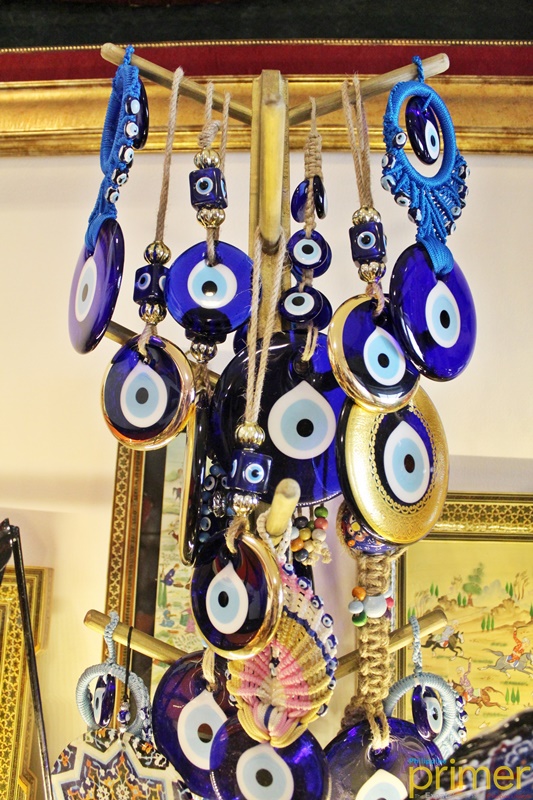 Evil Eye Ornaments (Php 350 – Php 1,250)
The origin of the Evil Eye is Nazar, an all seeing eye that it is believed to protect a person from negativity, jealousy, and even bad vibes. That is why most of their buyers would go for the eye that comes in different items, like a keychain, or as a door decor, and the like.
It is also believed that once you place the Evil Eye at a door, those who enter will not bring the bad juju inside the house.
Other than Turkish and Mediterranean items, they also offer Moroccan items like kaftan and poufs from their partner brand, Souk and Style. You can check out more of Souk and Style thru their Facebook page.
Kaftan and Poufs from Morocco
Currently, My Ottoman Home does not have a physical store, but the idea of settling in a store is in the works. They have a showroom where you can go, but strictly by appointment only. Other than that you can catch My Ottoman Home at bazaars and pop-ups around Metro Manila.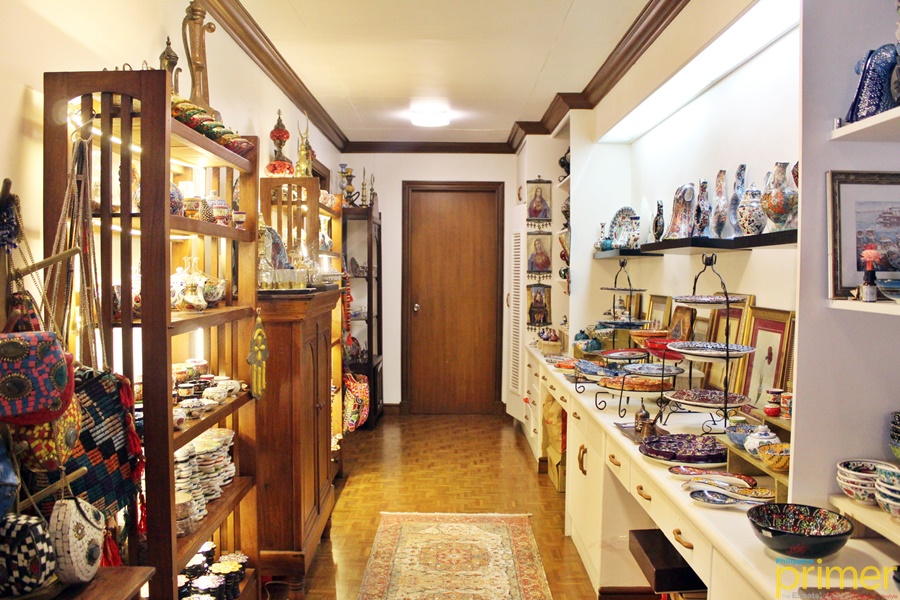 If you happen to be around Antipolo, My Ottoman Home has also a few displays of their items at Pinto Art Museum. While decorations for resorts are still on the works, you might be surprised to just see their pieces at different Mediterranean inspired resorts.
Also read: Pinto Art Museum in Antipolo: Haven for Philippine Contemporary Art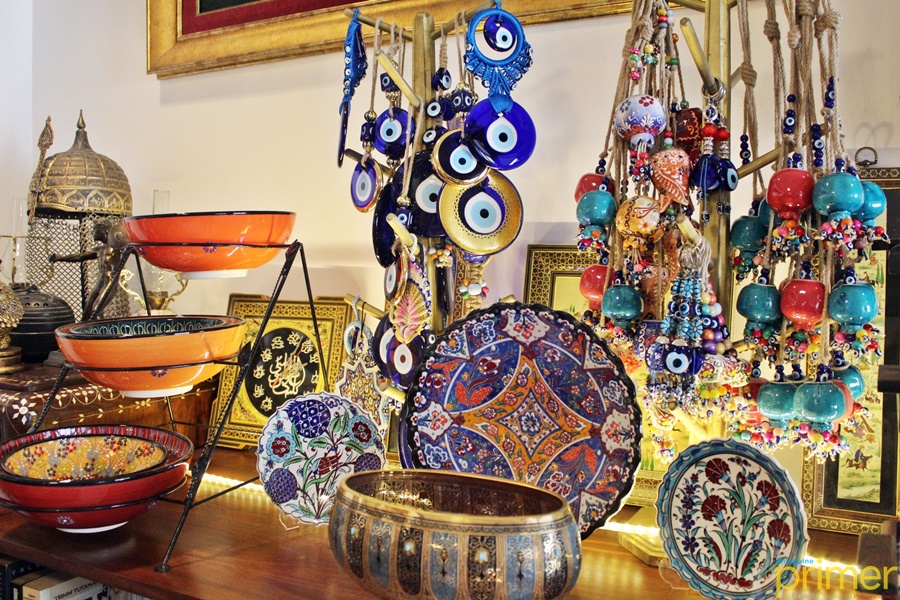 If you want a complete Turkish experience especially on special occasions, you can try booking their restaurant and buying their items. In collaboration with restaurant, they also started catering for intimate dinners and events, where they get the chance to show off their products as well as their Turkish meals.
Aside from all their existing plans, the number one goal of My Ottoman Home is to create a great empire of business of their own.
Details

Address: Bel-Air, Makati City
Contact: 0917-862-1700
Email: inquiries@azraliving.com
Website: azraliving.com
Facebook: facebook.com/AzraLiving
Instagram: instagram.com/azraliving