CIMB Bank Philippines: Next-level Mobile Banking at the Palm of Your Hands
With the aspiration to be the nation's first all-digital and mobile-first bank, CIMB launched its flagship presence, CIMB Bank Philippines Inc., last January 29, 2019. The bank promises to make banking simpler, more convenient and totally hassle-free.
The launch was graced by the presence of CIMB Group Chairman, Datuk Mohd Nasir Ahmad, and the BSP Deputy Governor, Chuchi G. Fonacier, completing the company's operating footprint in the ASEAN region.
The CIMB Board is joined by the Octo, CIMB's mascot
CIMB Philippines looks forward to bringing a differentiated and digital proposition to the market. They hope to serve the progressive and modern society that the Philippines is, as the internet and mobile penetration in the country remains one of the highest in the world.
By offering their products and services via the OCTO app, CIMB Philippines aims to provide a new banking experience for Filipinos. They strive to give Filipinos innovative financial solutions that will help them get ahead and advance their financial well-being.
Further, this mobile banking service promises to offer the "next-level" any day and any time, enabling their consumers to "carry" their bank branch in the palm of their hands.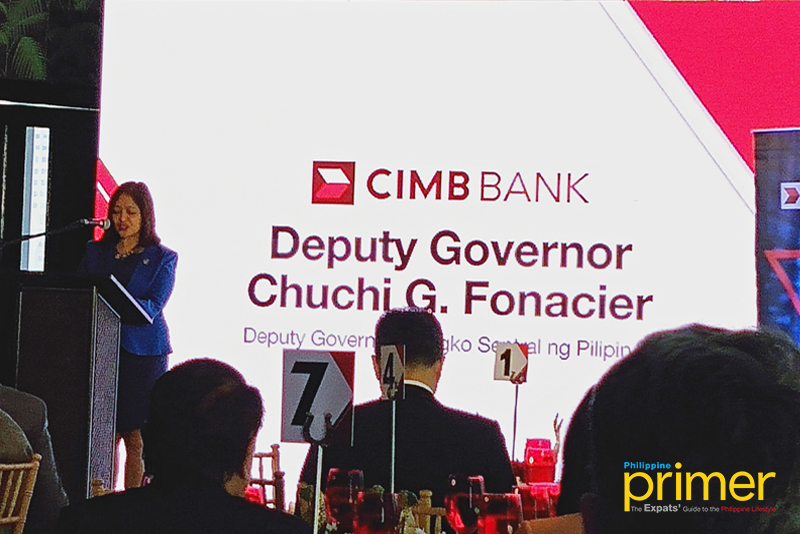 Ms. Chuchi Fonacier, the Deputy Governor of the Bangko Sentral ng Pilipinas (BSP)
CIMB Philippines' partners include 7-Eleven and DragonPay, giving them a total of 8,000 convenient customer touchpoints nationwide.
CIMB Bank's VISA-powered Debit Cards are accepted at 20,000 Bancnet, VISA and VISA Plus Automatic Teller Machine ("ATM"s) nationwide and are also accepted at two million VISA and VISA Plus ATMs worldwide.
They offer VISA and VISA Plus ATMs worldwide, which allows greater savings with a high-interest rate of 2% per annum that is eight times higher than that of other banks. Their retail banking convenience is powered by the OCTO app that can be downloaded from App Store or Google Play.
Mr. Effendy Shahul Hamid, the CEO for Group Ventures and Partnerships of the CIMB Group and Mr. Vijay Manoharan, the CEO of CIMB Philippines
CIMB also announced that they have received regulatory approval from the Securities and Exchange Commission of the Philippines for their investment banking joint-venture in the country. CIMB Bancom Capital Corporation or CIMB Bancom promises to deliver value-added advisory and cross-border capital market services to those who want to expand and grow across ASEAN.
For more information, you may visit their official website. You may also visit their official Facebook page and their Instagram.
---
This is a press release. Minor edits were made prior to publishing.