Business Talk with Hajime Koso, President of Isuzu Philippines Corporation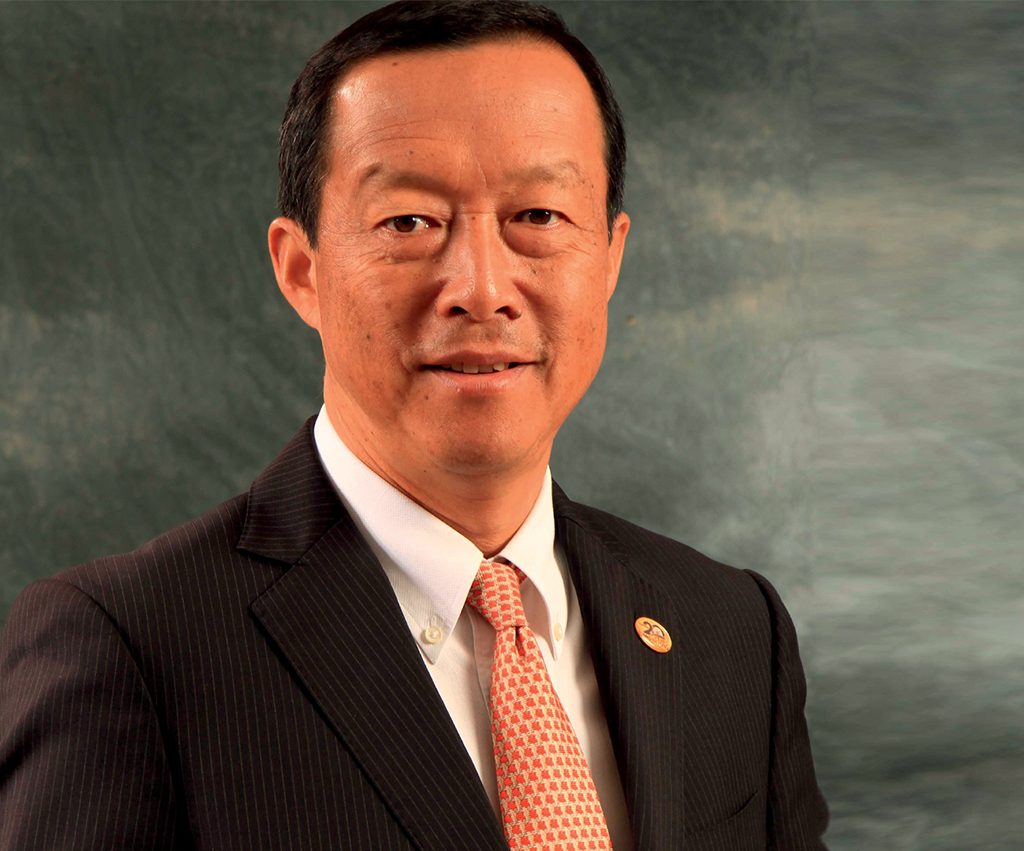 Born in Okayama in 1957. Hajime Koso joined Isuzu Motors in 1980 after graduating with a degree in sociology from Hosei University. He was transferred to international operations in 1985 after several years working in Isuzu's domestic sales division. He has since worked in the United States (1999-2003) and Indonesia (2010-2012) before being assigned to the Philippines in 2015. He also taught junior students at the Hosei University sailing club as a supervisor when he was not busy with work.
Isuzu is winning the top share in truck sales in the Philippines. They are getting more and more popular as the sales of their simple-yet-strong SUVs are steadily increasing. Having celebrated their 20th anniversary in the Philippines, they are eager to contribute to the country by coming up with an alternative public transportation instead of Jeepney. They are also working on expanding and improving the services in order to be loved by Filipinos.
What made you decide to join Isuzu Motors?
When I was in my second year at Hosei University, I saw a Chinese gentleman visiting the yacht harbor in Enoshima for observation. He was holding a twin‐lens reflex camera, and it was puzzling that they still use old-fashioned cameras in China. I felt that Japan would have a huge business potential overseas. I then became more interested in selling Japanese products to other countries rather than becoming a journalist.
I had plenty of manufacturers in my mind for my first job, but I finally decided to join Isuzu because they were affiliated with GM. Isuzu was then tapped as GM's nucleus when they decided to expand their business in East Asia.
Which division were you assigned to when you started?
I thought it would be necessary to experience domestic sales first to know how to sell the products so I started there. I was in charge of clients from key fleets like Nittsu or Sagawa Express for two years before being sent to a domestic dealer as a salesman for the next three.
Isuzu had just launched a program where they send junior workers from manufacturing to sales in order to expand their truck business; I was one of four workers selected and sent to a truck dealer in Fukuoka. It was a practice in self-discipline. We had to face the professionals in the truck field to know how hard the business was. It was then that I learned the importance of trust and how to appreciate people's kindness.
How did you end up in Isuzu's international operations?
A person from HR came to Fukuoka to talk to me in person. That was the first time I told them that I wanted to work overseas. I knew I was not ready for international sales because my English was not good. I also did not know much about trading, so I asked them to transfer me to international operations.
My duty back then was mainly logistics. It involved transporting the products, which included clearing customs and loading the ship. Cargo ships were the most common way of transporting most car components back then, but container ships have since replaced them. It was then that I widened my knowledge in international sales as I worked with clients overseas to improve the quality of product transport through container ships.
I later got a qualification as an International Logistics Master continued working in the international logistics industry for almost 13 years. I finally started my career as an international salesman after that. I was in charge of Taiwan for about 130 days where Isuzu had expanded its production and distribution. I had to travel there pretty often to start up the factory or support sales as it was a brand-new business entity.
You later moved to the States in 1999.
Yes, I did. I worked for Isuzu Motors America for four years. I was in charge of supplying the components to the factories, production management, transporting the products, logistics of spare parts within the States, and also international (including Japan) sales of SUVs produced in the factory in Indiana. We also had an engine assembly factory in Ohio, which was a joint venture of GM and Isuzu, and GM's truck assembly factory in Michigan. I used to go to sales companies in Latin America and South America a lot to extend our business, and I felt they were similar to the Philippines.
Where were you assigned to after the States?
I came back to the head office as a sales manager of Southeast Asia in 2003. We had just started producing the new D-MAX in Thailand and sales were increasing. The pickup truck manufacturing in Thailand was expected to lead a revival of Isuzu Motors when they started exporting to other countries in 2004. We kept on getting requests to increase production at monthly sales meetings, and we put up new factories to address those requests.
I later moved to Jakarta as a VP of Isuzu Astra Motor Indonesia from 2010 to 2012. Isuzu Astra Motor was a joint venture between Isuzu and Astra, a local financial combine, and dealt with production and sales. The Indonesian economy was on its way up and their demand for motor vehicles was about to overtake Thailand.
Back then, we wanted to produce a new model to enter the heavy-duty trucks segment, which Isuzu was getting a late start. We were also building a new factory which could act as the truck production base in Southeast Asia in order to expand the market to the region, including Indonesia. I was later re-assigned to Kyushu before moving to Manila.
When did you move to Manila?
I was transferred to the Philippines in April 2015 as the CEO of Isuzu Philippines after three years in Kyushu. I visited the Philippines several times in 2008 while I was in charge of ASEAN sales at the head office. I didn't get to come so often because it was rather a small market (about 7,000 – 10,000 units in sales, enough for the domestic market) compared to others in Asia. I remember visiting IAMC, a transmission factory owned by Isuzu Motors, more often than the head office itself. It was important in supporting the pickup truck project of Thailand, the pillar of our business in Southeast Asia.
The Philippines was way more developed than I had imagined. Cars in the street were newer and the people were more cheerful. The buses imported from Japan were totally gone, which impressed me a lot.
It's been three years since then and our sales have been increasing: 14,000 in 2014, 22,000 in 2015, 27,000 in 2016, and 30,000 in 2017.
What do you think are the reasons for this increase?
One of the reasons would be the increase in sales of the Isuzu mu-X. I think it sold well because it embodies what an Isuzu vehicle is: powerful and comfortable even though it's an SUV. Our vehicles are slightly different from those of other car manufacturers. They are durable and easy to repair.
Another reason would be an increase in truck sales. People have started buying new trucks instead of using second-hand trucks for logistics. The demand for trucks in the construction related industry has also been growing. I expect this to continue for a few more years.
Which type of cars is the best-selling?
The mu-X is our best-selling vehicle so far. We sold 30,086 units in 2017 and 13,157 of them were the mu-X. We also sold 7,500 trucks that year, a 20% increase from the previous year. The Philippines is expected to have a higher demand for trucks as influenced by its economic growth, something that we hope spreads to the rest of the world.
What do you think is the strength of Isuzu compared to other companies in the same industry?
If I had to pin it down to one thing, it would be our brand. Isuzu trucks have sold better than other truck brands in the Philippines. We had the biggest share in truck sales for 20 consecutive years and are recognized by the Chamber of Automotive Manufacturers of the Philippines, Inc. as the number one manufacturer for trucks.
Isuzu globally is known for its durable and dependable trucks that can withstand the challenging business operations, but what is more important is the support that we provide to our clients along with every purchase – and this is the Isuzu Advantage.
What are some of the challenges you face?
We have 41 bases in the Philippines, an established network, and a new service parts center, we should improve our supply capabilities. Improvements of the maintenance structure are in progress as well. We do our best to hold up our brand image as a premium truck manufacturer.
There is a big need for skilled and educated drivers which we are looking to capitalize on. When talking to CEOs of transport companies, they often say it's hard to find good drivers. They often tell us they will buy our trucks if we can recommend good drivers.
New or used, vehicles can be damaged if the driver is inexperienced and any accident can result in a huge amount of unnecessary expenses. They also can't earn money while the vehicle is under repair. Rising fuel prices are also a concern, which ties into the customers' needs for educated drivers. We are looking to improve our service structures to meet those needs and create a clear distinction to those made in China.
What kind of businesses are you still planning to develop in the Philippines?
We want to contribute to the logistics industry Isuzu's vehicles and after-sales services. We also want to contribute to public transportation.
We are looking at what products and services can be used as an alternative for the jeepney. We want to help reduce congestion in Philippine roads and improve public transportation. Furthermore, we want to contribute to enrich people's lives through our SUVs.
What is your favorite book?
My recent favorite is "Fabled Service" by Betsy Sanders. She started working as a part-timer for a famous department store in the States and became a VP after seven years of hard work. The book talks about what service really is.
According to Sanders, "sales is not just [about] selling your product; it's also about how you impress customers by going the extra mile." This idea can also be applied to other industries.