Business Talk with Tomoyuki Okagawa of JTB Asia Pacific Philippines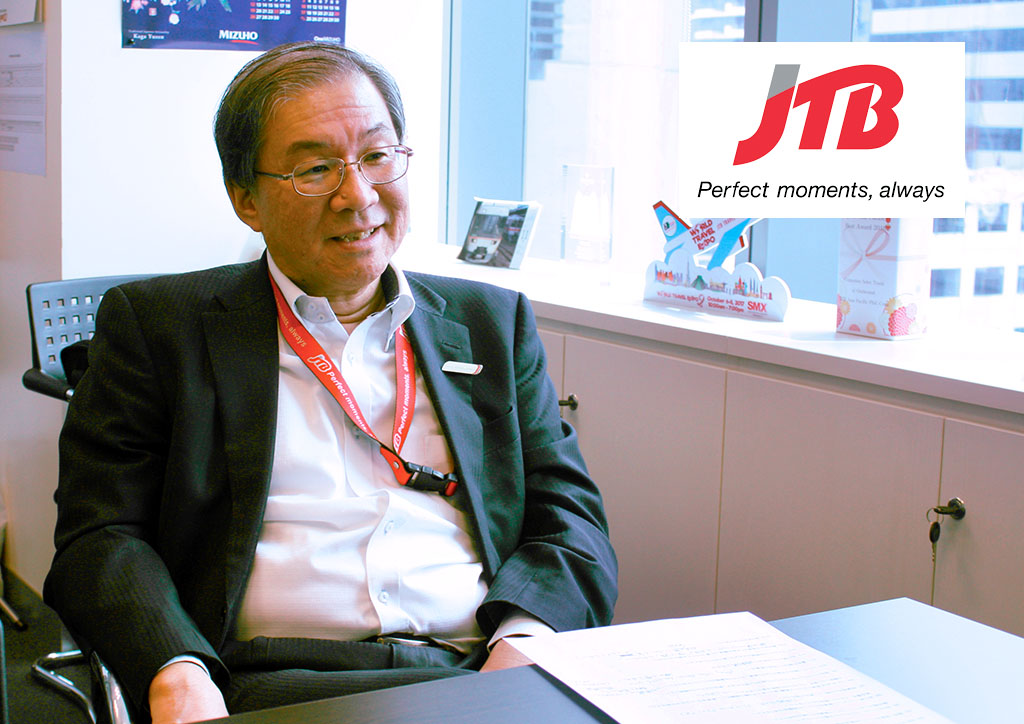 Tomoyuki Okagawa was born in Tokyo in 1964. He graduated from Sophia University in 1986 and began his career as a salesperson in a major Japanese company. He then transferred to JTB where he was first assigned to deal with overseas trips. He was assigned to Frankfurt in 2001 and Singapore in 2009. He came to the Philippines in 2013 at the time when JTB Philippines was established. He is a railway fan and has ridden in Manila's different railways.
What made you decide to transfer to JTB?
I used to work as a salesperson in manufacturing industry. When I was in grade school and junior high school, my father worked in Detroit, USA as an engineer in a car company. Looking at my father's achievements, I got this image that working in the manufacturing industry is what a man should do. After my graduation, I chose to work in a manufacturing company.
Working in manufacturing was not that bad; however, when I saw the job posting from JTB that says "why don't you show your passion for traveling?", I found myself sending my CV. I always liked traveling. I went on trips as a student. On one summer holiday, I traveled around Hokkaido for 2 months. I learned the art of hospitality while travelling and having part-time jobs. Students of Sophia University worked as teachers at cram schools with the wage of a few thousand yen per hour, but I worked in a guesthouse with the wage of 300 yen and meals.
What department did you start in at JTB?
Ever since I started working for JTB, I have been involved in overseas tours and have never dealt with JR tickets. I was stationed in one of the branches in Tokyo for 11 years. We sold overseas tour packages. I arranged corporate tours, government inspection tours, etc. One of the tours includes, "Recovering the Remains of Soldiers in Siberia." In the early 90s, Vietnam became a popular destination. I was in charge of arranging inspection tours for those who wanted to start a business or invest in Vietnam.
What did you do after 11 years of operating tours from Japan?
I went to Frankfurt as an expat and was stationed there for 6 years. It was my first office abroad. My job was to arrange tours and take care of Japanese tourists. Germany, at that time, had the 4th biggest number of Japanese tourists, following France, Italy, and England. There were many missions to see the cutting-edge green technology in Germany.
After spending half a year in Frankfurt, the 9/11 tragedy happened. I heard the news when I was attending the meeting with other managers of our branches in Europe. When I got back to Frankfurt I found out that most of the tours from Japan were canceled because of a rumor that Al-Qaeda members were hiding in Germany planning to attack European cities.
What did you do with the cancellation issue?
Honestly speaking, there was nothing I could do with it. JTB decided to shrink the business in Germany. Japanese tourists started to travel to Germany again after six months, which is why we weren't forced to close the Frankfurt office.
Which of your tours in Germany stood out the most?
There was a big incentive tour with 4,400 tourists that went without a hitch. One flight couldn't accommodate them all, so we divided them into 6 groups. We had to fly them Tokyo, Osaka, and Nagoya to Frankfurt for their sightseeing tour in Germany. It took three weeks to take them around Germany. After that, they headed to Paris by bus and stayed in Paris for four nights. We hired 20 buses and 200 conductors for the tour. The total number of stays reached 15,000 and it was a lot of work.
JTB can deal with that kind of huge tours. We simulated and checked the details of the tour many times and pulled it off without any problems. All of the tourists looked happy when they headed to Paris.
Which office were you assigned after Germany?
I went back to Japan for 2 years, then I was assigned to Singapore in 2009. It was before the construction of Marina Bay Sands was completed. I was put in charge of corporate planning for Asia. I decided which areas to put more efforts, allied with relevant companies, and purchased some other companies.
I remember looking at the aerial garden "Sands Sky Park" set on the top of Marina Bay Sands from a helicopter.
Was it at the time when there was a gradual increase in the number of tourists to South east Asia and Japanese companies started to be aware of the potential of the area?
Yes, it was. Suddenly, people were focusing on Southeast Asia. Vietnam and Indonesia were especially popular from 2009 to 2011, then it was Myanmar in 2012. We held a lot of investment tours during those years. On the other hand, the Philippines was not as popular.
Regarding inbound tours to Japan, it gradually increased until 2010. It drastically dropped in 2011 due to the Great Eastern Japan Earthquake and the concerns on radioactivity. Tourists started to come back the following year and the numbers have been going up since then.
How do you see South east Asia compared to Europe?
I think Southeast Asia is very energetic. On the contrary, Europe is mature and fashionable. For example, classical music suits Europe well, but not the Philippines. The passion here is overwhelming, but it's not the same in Europe. It's very valuable for me to experience living in both Southeast Asia and Europe.
We heard that you have been in the Philippines since 2013.
It has been four and a half years already. I was here at first to survey the area; two years later, we established our first office. I handled everything at first. People often comment "It must be fun to work in the Philippines for such a long time" but actually my first 2 years were tough. It is only recently that I get rid of my worries and devote myself to work.
How many offices does JTB have in the world?
There are about 1,000 offices in Japan and 110 offices in 37 countries. In the Philippines, we have 2 offices, one is in Manila since April 2015 and Cebu since April 2016. Before the opening of these offices, we rented a corner in a travel agency.
It went well from the first year and now has established a branch in Cebu, too. Our strengths are our global network and the brand power that enables us to make any arrangement our client may need. We are confident to serve with omotenashi or Japanese hospitality. We consider ourselves as the Japanese window and a bridge from the Philippines to Japan.
Our Manila branch is our outbound office; it is for the Filipino travelers going to other countries. We also deal with clients looking for casinos and luxury hotels in Manila. On the other hand, Cebu is a resort area and has many tourists including the Japanese. Our Cebu branch mainly deals with inbound tourists.
How does JTB see the Philippines?
There is potential in business here in the Philippines. The number of Japanese tourists coming to the Philippines has flat-lined, but there are a lot of Filipinos going overseas. Additionally, we see that more companies in the Philippines, both Japanese and local companies, will implement incentive tours to Japan, in order to raise their corporate value.
What do you think of the companies that implement incentive tours in the Philippines?
Travelling is a top priority for Filipinos, much like how Japan was 30 years ago. Japanese companies used to send their staff on incentive tours to destinations like Hawaii or Europe. It reduces corporate tax and acts as an effective way to motivate employees. It is not common in Japan anymore, but it has become a thing in the Philippines. They will even visit the same destination they went on a incentive tour with their company.
This is why the Philippines is becoming our most important client. The economy is improving and there are few other risks apart from the political climate and national security.
What will attract the investors to do business in the Philippines?
When it comes to service, Filipino's hospitality and flexibility are great characteristics. Our Filipino staff can communicate well with clients without a manual. If we mention another country, Singaporean staff are neat but not as friendly. Filipino staff have good smiles that the clients like.
Are there any concerns to invest in the Philippines?
Some Filipinos are not punctual, which is a disadvantage for the business. I am strict with those who are late to come to the office in the morning. My staff have already learned and they always have to come on time. If they are punctual, most of the other issues could be solved. Also, heavy traffic is a problem. Our corporate sales team goes to Laguna, Cavite, Batangas, Quezon, and Clark, and they often have to reschedule the plans due to traffic. The number of companies they can visit in a day is 3 at the maximum, which is inefficient.
There are many local travel agents in Manila. What is JTB's strength compared to other local companies?
Making use of our global network, we can arrange anything according to our client's requests, especially if they want to travel to Japan. We can operate everything by ourselves and not have to be part of a delegation. Also, our brand is strong in the tourism industry.
Vacation rentals such as AirBnBs are a new way of providing better service to travelers. I assume that these kinds of rentals are strong among Filipino tourists. There are many of them seeking promo tickets to get the cheapest price. We are thinking of either including it in our portfolio or simply strengthen our partnership with hotels.
It would work to our advantage if we can arrange vacation rentals by ourselves and earn something from it. We don't have enough hotels in Japan, so AirBnBs have become more important to boost the number of tourists flying to Japan. It will enable foreign tourists to visit more local areas where hotels are not available.
Inbound tourism to Japan is a booming sector in the Philippines. How does JTB plan to take advantage of this?
We would like to tap wealthy Filipinos. These are the type of people that have a lot of requests yet don't mind the cost. We can customize the plans according to their preference. For them, we have the Royal Road in Japan.
It is our service that listens to the needs of each customer to give them their preferred trip. For example, we can arrange for a private jet have them travel to resorts around the world with a their own tour guide. Some customers prefer to travel by themselves without tour guides, but they still want someone ready to assist them whenever they want. JTB has the know-how to respond to those needs.
Do you have plans to expand JTB in the Philippines?
We looking to put up more retail stores. We opened one at the Mall of Asia a year ago, and we're looking at opening another at SM North EDSA in Quezon City.
How are your retail stores doing in Manila?
They're doing better than expected. Filipino love it when they are physically talking to someone. Most of them are also worried about paying with a credit card online. Some Filipinos like to inquire by e-mail or phone, then come to the store for payment.
Having a brick-and-mortar shop gives us that edge over our competitors. It addresses the need for customers to talk to someone before deciding on what they should get.
Favorite book:
It is a book called "Timetable 20,000 Kilometers" written by Shunzo Miyawaki. It tells his story of riding all the lines of the Japan National Railways, or Kokutetsu, in 1978, which spanned 20,000 kilometers at that time. This book won the Japan Nonfiction Award despite railway novels being seen as a minority. It also started my love for railways.