Business Talk with Gianpietro Iseppi of Solaire Resort and Casino
One of the leading and most prestigious resorts and hotels here in the Philippines is Solaire Resort and Casino. It is known as a luxury five-star hotel complete with world-class amenities that can rival the best of what the world has to offer. Five years on and Solaire has not lost a beat. One of the people responsible for keeping the engine running is Gianpietro Iseppi, Vice President of Hotel Operations for Solaire Resort and Casino.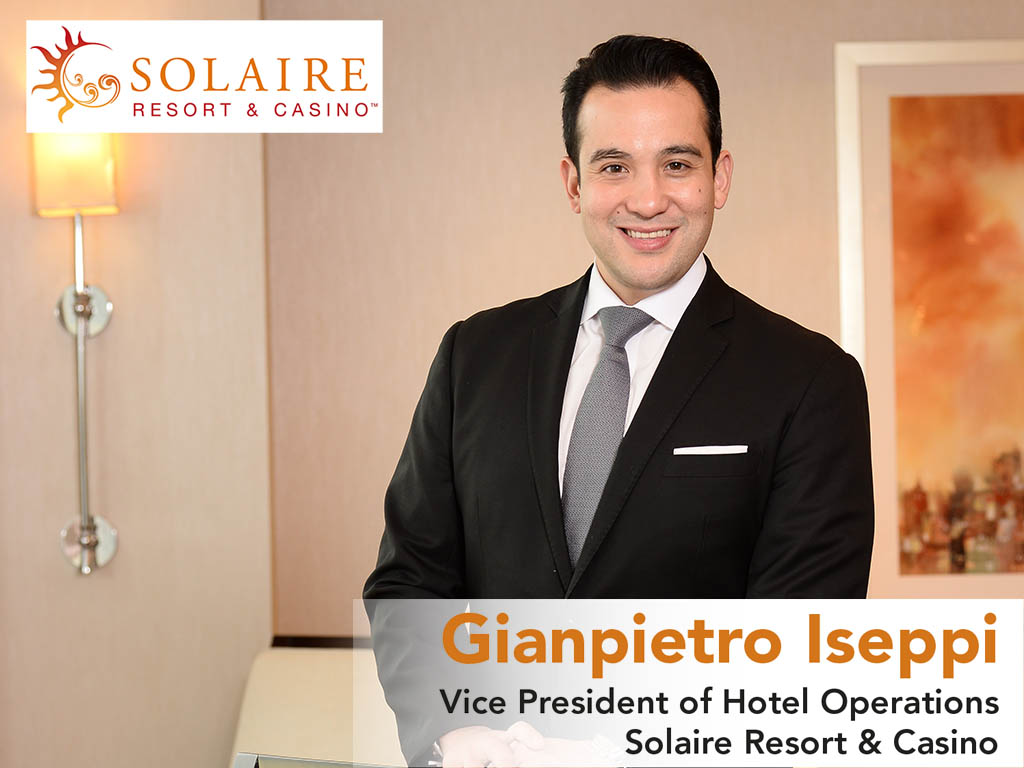 In this edition of Business Talk, we sat down with the half-Filipino, half-Swiss VP to know the ins and outs of the hotel industry as well as Solaire's push towards the future.
Let's start with a brief intro, GP.
I'm Gianpietro Issepi, Vice President of Hotel Operations. I've been working for Solaire for almost three years and have been in the megaresort industry for about 17 years. I'm half-Swiss, half-Filipino. I grew up in the Philippines,  got my degree in Switzerland, and spent some time in Las Vegas.
I made my way back to Asia about eight years ago after working with Las Vegas Sands about 13 years or 14 years and have been in Solaire for about three and a half.
What does your role in Solaire Resorts entail?
I oversee all the rooms and front-of-house operations. If you're anywhere in our public areas, I usually have some influence on what you'll see. Rooms are my specialty, and that includes housekeeping, public areas, and front house spaces.
How did you get in the hotel industry?
My father's family owned a very small hotel in Switzerland. Each hotel had about ten rooms and every summer I would go up there and that was the requirement. We had to work there and ever since we were six years old, I've been serving tables. When it came time to make a decision on where to go to school and what to focus my career on, I always knew what I was going to do by the time I was ten years old.
What is the idea behind Solaire?
Solaire is an integrated resort that brings world-class amenities to the doorstep of the Philippines. Their long-term goal is for the brand to influence more people to visit the Philippines and eventually expanding worldwide.
What was there approach to developing Solaire?
I came to Solaire about a year after they opened. I believe Entertainment City grew around Solaire. I think the idea was [to put up] a homegrown brand bringing international service with its own Filipino hospitality at the helm of it.
Mr. Razon, our chairman and owner, was the guy who did that. He was the one who was willing to take the risk. He has seen the world and wanted to bring a world-class brand right to the shores of Manila.
How do you think Enrique Razon's experience in the ports industry factored into what Solaire is today?
I think he's extremely well traveled and he has what most people don't. He is a visionary. 90% of the people would go out to the bar at night are visionaries when they start drinking. The difference with Mr. Razon is he wakes up the next morning and he does it.
He's the guy who sees something and saw an opportunity and put everything in front of us. If you look back 10, even 15 years from where we're seated from right now, this was nothing. This was all open waters and look at it now. After a thousand of sunsets, he saw it and I don't know a lot of people that's (as big of a) visionary as him.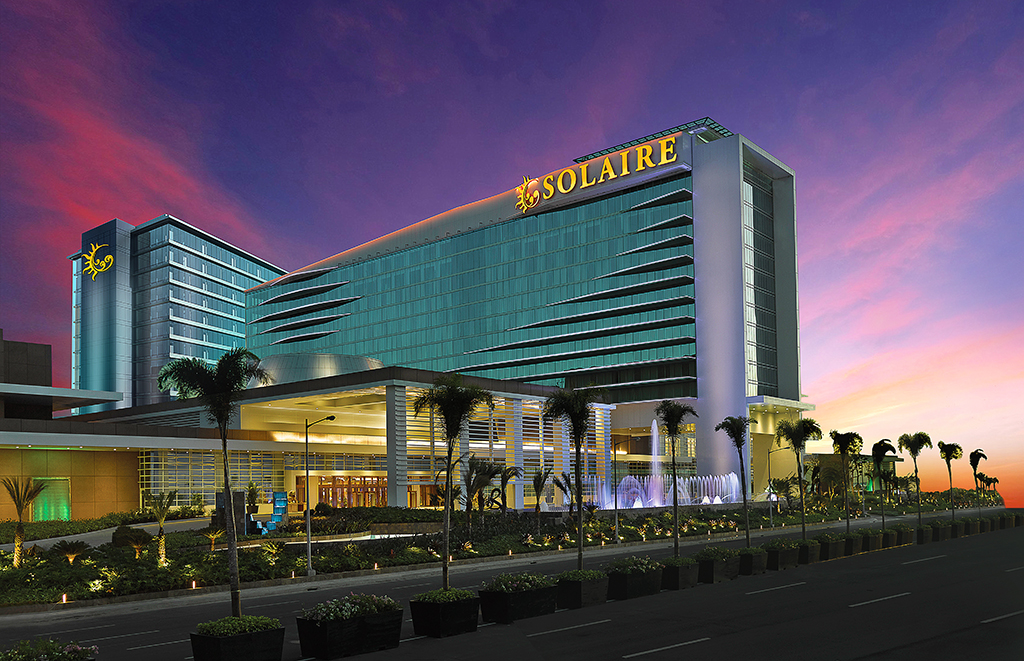 What separates Solaire from the other establishments or the other resorts here in the area?
For us, we stay very true to our brand. Our brand, our clientele, and our vision is luxury. Everything and anything that we do encompasses around that and circles around that one word, whether its the stone that you see it comes from Italian quarries, the marble that you see, or the stone that's coming directly from Turkey.
The designers that we use for every single restaurant, the people that work here, everything we do is about luxury; we don't compromise.
How has Solaire done ever since it was put up?
We are now going into our fifth year and I would say the first year the market was really adjusting to the luxury brand. When Filipinos travel, especially Filipinos travel oversees their happy to spend the money in Tokyo, Singapore, New York, and all these places and it became a little bit unusual to come to a place like Solaire and have international standards and be willing to spend for that level of luxury.
I think the first year was an adjustment period for the market and for people to understand that Solaire is a player in the world-class integrated resort game. The first year, two years adjustment period and the last three years we have just blown up.
People who are renowned in the gaming industry fly here to Solaire to answer the question of what's going on, what's happening, why am I hearing in every background "Solaire in Manila," when four or five years ago you wouldn't hear a humming of the word of Solaire. Now, it's a brand that's starting to gain traction and people are wondering what's happening here and why people are talking about us.
Have been any takers with the global expansion of Solaire?
Mr. Razon is a visionary and for him to keep such an incredible brand on the shores of Manila is the short-term goal. I believe the brand is meant for the international stage. Once the product hits its stride and it is where it needs to be, then it's ready for the world stage.
Are there any particular achievements that you would want to highlight?
When I joined the property, I told Mr. Razon that we are going to be a Forbes five-star hotel. He told me to not come back if you can't hit that goal.
Forbes rates over 6,000 hotels globally, and only 173 earn a five-star rating. We were able to do that in our second year of operation and that's something unheard of in this business. To hit over 600 standards and to consistently score above 90% with a mystery auditor, it's something we're very proud of.
What are some of this standard that you have to especially the ones that are the hardest to hit?
Any megaresort or integrated resort operator will tell you that the efficiency is always the most difficult part to hit. As the brand and the number of rooms grow, the harder it gets to deliver bags to rooms within ten minutes. It's hard to ensure that your check-in is done within 5 minutes because the property is on ten plus hectares [of land].
The simple act of walking from the front concierge to the guest room is between five to seven minutes. We have to get a bag up to your room in ten minutes and do it consistently, which is about 95% of the time. To be able to do that with 800 guests every single day is difficult.
You have to be logistically savvy. You have to understand the layout of the property and how to meet a lot of those efficiency standards.
Would you call that as one of the bigger challenges you faced as the VP for Hotel Operations or was there something tougher?
The mindset of a lot of the team members to get on the same page and everyone speaking, that takes a while. You have to create a corporate culture. You have to create a culture of not just telling people what to do, but asking people to do things and believing in what you're saying.
The great thing about being in the Philippines is hospitality, warmth, and friendliness is part of our DNA. Of all the places I've lived: Macau, Las Vegas, Singapore, Switzerland, everywhere I've lived, it has been the easiest to do [create a corporate culture] here from that standpoint because people enjoy other people here in the Philippines. They enjoy the interaction, they enjoy the friendliness.
That was the easy part. The hard part was to get everyone refined in a specific way. We had to teach them how to use certain terms the right way. We had to get them speaking fluently and easily and not robotic. The Filipinos workforce powers the world and it's nice to be able to use that homegrown hospitality here and now.
What plans does Solaire have for the future apart from the global expansion?
Refining this brand is the most important thing for us. This is the center of the world for us right now when it comes to Solaire. Growing from this point and making sure the brand is known worldwide as a luxury five-star integrated resort is the key for us.
We're looking to expand locally. There's Vertis North in Quezon City that's in the future plus there's always something happening.
When I say refining the brand, it's [about] constantly evolving. If you come back here next month, there will be new shops opening up, there are new emotions, there are new dining concepts, there are new room concepts; we will never ever stop. That's the thing I love about this hotel: we put the money back in the brand. We've already refurbished rooms twice. In five years, no in the hotel room will do that.
Mr. Razon believes in having the best product and to do that, you have to put the money back into the business.
How would you describe the way you manage at Solaire?
I believe in relationships. I believe that to get people do what you want over and over again, they need to believe in you in person. I believe that relationships are the core of long-term success and that's me.
"I think GP is as people person as you can get. We've enjoyed working with him because he puts a lot of value on relationships." – Edge Montero, Director of Brand and Marketing, Solaire Resort and Casino
Leadership by example is very important for us and that's how the entire management team is. We're involved in everything. We're on the floors every day, walking 15,000 steps because we wanna know what's going on with the property. We don't hold meetings in the offices, we're walking the property, and we're seeing what's what. We're very quick to act and we're very free with our opinions.
Who are some of the people you look up to?
The difference between me and most hoteliers is I grew up in the megaresort and integrated resort business. Most hoteliers come from corporate hotels and corporate-branded hotels; that's never my specialty. I grew up in hotels that have between 2,000 and 5,000 rooms.
Coming from Las Vegas, when I look at hotels and mega-resort people, Steven Wynn is an idol of mine. The things he did in Las Vegas, starting with The Mirage, Treasure Island, his concepts, his never-ending visions, he was a visionary.
When you look like a guy like Steve Wynn, his time was 20 years ago. You look at a guy like Enrique Razon and his time is now. He is a young man who's hungry and has a lot to prove. He bursts out of the gates faster than most people.
He's here every day. This is Mr. Razon's home. When other owners say "This is my home. I built this piece by piece," that's not nearly as true as what Mr. Razon does every day. He walks these floors every single day, so he knows where we have to change the marble and where the wallpaper's amiss. I guarantee you won't see a single piece of marble that's not shiny for you to see your face in. That is the kind of standard we have in our company.
Describe your typical day at work?
There's a lot of communication. The team doesn't work in silos. There are a lot of lines within organizations. This person may report to that person but none of that really matters in Solaire. Every morning we all meet, from marketing to the hotel team to the beverages and gaming. Every day starts with everyone knowing what's going on.
We proceed throughout the day with about 400 to 500 arrivals and 400 to 500 departures. We pride ourselves on "turning the house," which means getting the property really ready by 2 or 3 pm. The property is already humming by 3 pm. You can start to feel the people transitioning to the evening.
Nighttime is when Solaire really shines. It's when we are at our busiest. The lights go dim by 5 pm as the property transitions to the evening. That's who we are and that's where we really shine. 5 pm is when the entertainment starts with about 12,000-15,000 people walking through the doors. The evening time is Solaire time.
Can you give us a quote/word/phrase that motivates you to do well in your job?
There are two things that I've always lived by. One was "Do what everyone else won't."
When I was a young man in this business, I would always do the tasks and jobs that everyone had too much pride to bother with. When I was young, it was taking out the garbage or doing the dishes because someone didn't show up for their shift. It was also about making a difficult decision.
Nowadays, I believe in the adage "Anything worth doing is worth overdoing." I don't believe that there's room for mediocrity.