Business Talk with Mr. Mitsuhiko Shimizu of Hitachi Asia Ltd.
Mr. Mitsuhiko Shimizu is the General Manager of Philippine Branch of Hitachi Asia Ltd. Born in Tokyo and has a Bachelor's Degree in Commerce from Waseda University. He began his career in Hitachi in 1987. For the first 7 years, he sold power plant-related products in Southeast Asia.
He was later assigned in Indonesia in 1995 and in Singapore in 2002. He was promoted to be the representative of Jakarta branch and stayed there from 2005 to 2008. He was given the post of General Manager for Hitachi Asia Ltd., Philippines since October of 2012 and is also the President of The Japanese Association, Manila, Inc.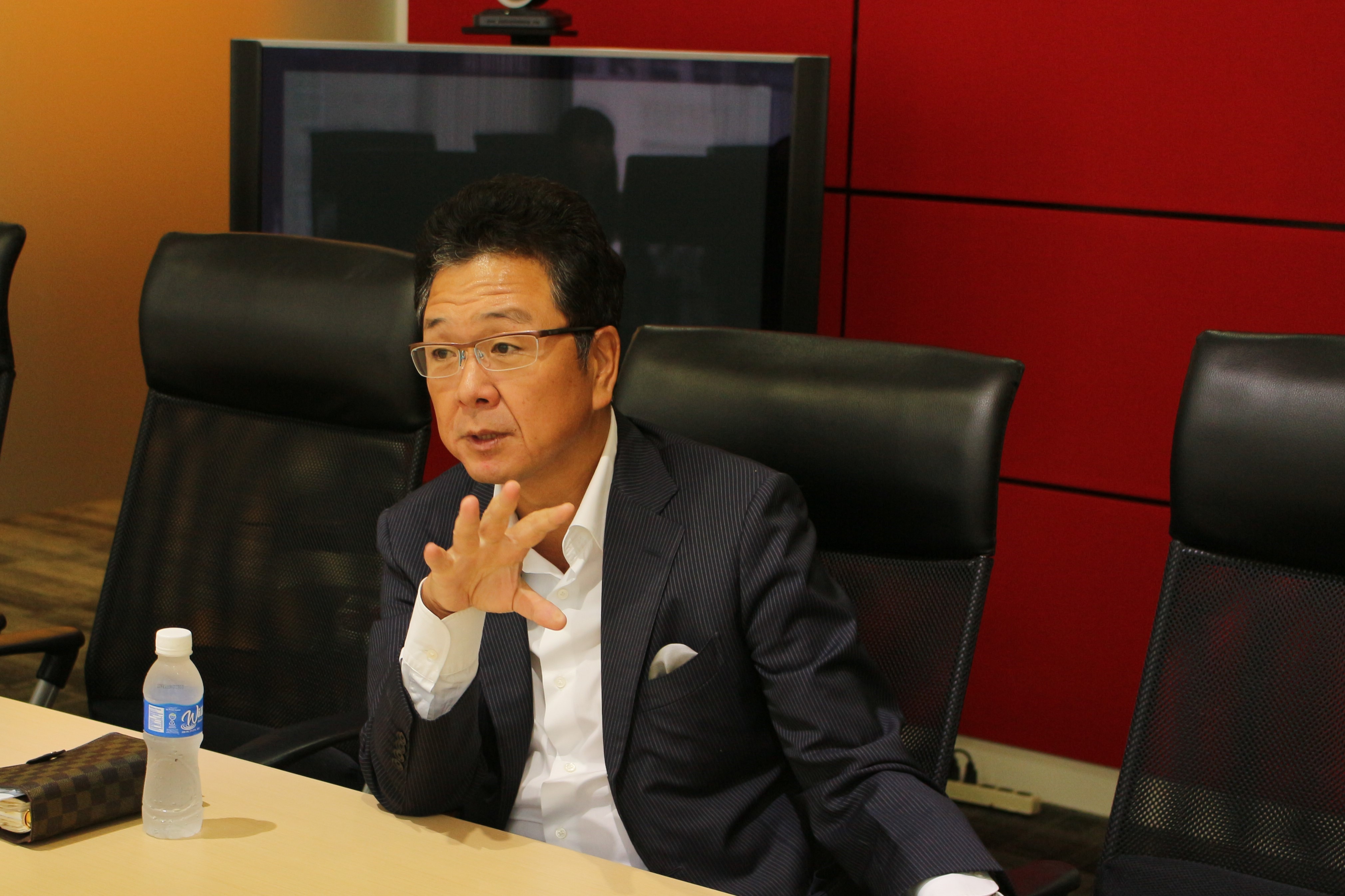 What motivated you to join Hitachi? 
When I was in college and looking for a job, most students, including myself, took the easy route in choosing which companies we wanted to work at. This came before the collapse of Japan's bubble economy, which meant it was easy for us to find a job. I still had to find a job while studying in the faculty of Commerce, so I applied and got a tentative offer from a trading company.
Working in a trading company is good if you want to make money, but you will be too busy. As I looked for alternatives, I found out that Hitachi was recruiting. I applied and got an offer without really knowing what Hitachi was all about; I didn't even know Hitachi was in the power plant business before I started! All I knew about Hitachi was that they made TVs and elevators. I went to my professor to get his opinion and he said there should be no need to worry about working in Hitachi.
How did you feel about your assignment to sell hydroelectric power?
I hardly knew it was one of Hitachi's businesses, so I was just like "I see," but hydroelectric power and thermal power were the mainstream business of Hitachi at that time. Everyone wanted to do overseas sales regardless of their English skills. I was assigned to that position by chance.
I knew nothing about power plants. What I was able to picture were electric appliances and computers. When I started doing my job, the regions Hitachi covered were the Middle East and a few Southeast Asian countries: Thailand, Indonesia, Kuwait, and Abu Dhabi, but not the Philippines.
Was it the first stage of Hitachi globalization?
It wasn't about globalization. Hitachi started exporting products a long time ago. They started exporting machinery for hydroelectric power to Davao as early as 1930. It was the beginning of Hitachi expanding their reach overseas. They later expanded their customer base to places like the U.S. in the 1950s. Hitachi shifted its main products to thermal power a few years later.
Just like in other countries, the seniors in the Philippines know Hitachi for electric fans and TVs. We have sold those products not only in the Philippines but also around the world.
Still, the percentage of the sales was limited and the demand in the Japanese market was much bigger at that time. Our main customers included Japanese power plant operators and Japanese National Railways. Honestly speaking, we only did overseas business when the Japanese market was off-season and our factory was available. Our overseas marketing was like this until the 1990s, similar to what was being practiced by other Japanese manufacturers. Once the Japanese market shrank, we had to change our strategy to strengthen overseas business for the last 15 years.
It sounds like you have dealt with huge national projects. How do you see the development of Southeast Asia and the Philippines?
The situation in the Philippines is different from other Southeast Asian neighbors. The gap between the rich and the poor is still big and the number of bikes is less compared to other countries. From what I have watched, our Filipino managers owned cars in 1995 while our managers in Indonesia didn't. It means that the managers earned more in the Philippines than in Indonesia. Times may have changed but the income level remains the same in this country and there are still not that many people who can afford bikes.
Another example is the minimum wage. The minimum wage in Indonesia increased by 20% every year during the first half the 2000s, but it did not happen here. The situation in the Philippine is unique.
We heard that Hitachi was changing its business model. What exactly is Hitachi going to do and how are you going to do it?
Yes, it is true. We are going to shift from a business to consumer (B2C) to business-to-business (B2B) format. B2C businesses can easily be affected by the economy, but B2B businesses are more sustainable.
One of the triggers of this change was our ¥78 billion deficit. It was regarded as our biggest loss as a manufacturer. It forced Hitachi to change its strategy. Hitachi came up with 2 directions and one of them was transitioning to a B2B.
We also want to transition from products to solutions and services. Nowadays, the prices of the products drop easily due to stiff competition and rapid commoditization. If we stay put, the prices of the products can drop one-tenth or even one hundredth even if we innovate; that's why we're not going to. We can source these products elsewhere. We would instead focus on proposing solutions and other service businesses.
This has been the policy of our structural reform and business reorganization since 2008.
Which aspect of the Philippine market is interesting? 
The fact that the private sector is the top one to invest. Investments by government-affiliated companies can be unhealthy with governmental subsidy and so on. They cannot invest and make profits like private companies. However, private companies can make decisions by themselves.
What are the difficulties of doing business in the Philippines?
It may be in conflict with what I just said, but infrastructural investment led by the private sector has its downside, like following government policies.
Another pain point is the slow development of regulation. For example, thermal and nuclear power plants cannot stop their operations easily, like one day on and another day off. Those plants need to generate minimum power continuously, called a "base load." It takes a long time sometimes as long as 20 years, to convince the local residents to build a new plant.
What are the strengths and weakness of Filipino staff?
I have worked with staff from various backgrounds. In my opinion, Filipinos are great to work with. Language skill is one advantage, but they are also good at presentation and discussion. Also, the way they make slides for presentations and marketing reports are excellent. I haven't faced any difficulties in working with them so far.
The difficulty I've had in working with Filipinos is job-hopping. It is typical for young generations. Filipinos also feel it is easier to work overseas and earn 2 or 3 times of their salary in the Philippines. This is a unique problem here.
What do you do as the president of the Japanese Association, Manila Inc.?
There are several missions, but mainly the operation of the Japanese clinic, management of the Japanese school, and organizing various events such as a summer festival and cultural festivals.
How do you spend your private time?
I play golf and am fond of scuba diving. I dive in Anilao and many other places. I spent my holy week in the Maldives and it was great. Last June I went to Tubattaha Reef. I needed to set aside 5 to 6 days to go there by ship and the season is from March to June. I planned to go there at holy week, but it was already booked.
What do you see yourself doing in the future?
I would like to retire and move to a Southern island as soon as possible. I am now 52 years old and working, but Europeans and Americans retire at the age of 50. The ideal destination is Hawaii. The climate is nice and warm there. I would like to spend my time there playing golf and diving.
What is your favorite quote or phrase?
I have been recently reading "The Autobiography of Fukuzawa Yukichi" and other books about him. Yukichi Fukuzawa established Keio University, which is always looked at as the rival of Waseda. In one of his essays, he says "It is necessary to have a cheerful demeanor, and not give a first impression which turns people off." I think it is a very impressive way of thinking considering the time he lived in.
This interview also appears in the December issue of Philippine Primer English magazine.