Business Talk with Dani Aliaga of Bistronomia
Bistronomia Corp. (formerly La Lola Group) was born out of the passion of three Spanish gentlemen who wanted a taste of home in the Philippines. Six years on, and their many concepts are some of the most popular Spanish concepts in the country, led by La Lola Churreria.
In this edition of Business Talk, we sit down with Dani Aliaga, Marketing and Strategy Director and the co-owner of Bistronomia to know how the group has fared, what separates their restaurants from other Spanish restaurants, and how they are looking toward the future.
Please introduce yourself. What is your role in Bistronomia?
My name is Dani Aliaga. I'm 33 years old, and I'm from Barcelona, Spain. I am the Marketing and Strategy Director for Bistronomia. I'm the one who's on top of marketing, communications, and public relations for our outlets and our company.
How did you get into the restaurant industry?
It started when I was in college. While I was studying Tourism and Hotel Management [at the Universitat Autonoma de Barcelona], we naturally wanted to have some fun. To do that, we had to find a way to make money while studying. That's when my business partners and I, who I met while I was studying in the university, to start working as waiters or any other job a restaurant would have for us. We ended up liking the job and the industry and that's how we got into it.
What made you decide to start the Bistronomia?
La Lola Group (now Bistronomia) started 6 years ago. I've been in the Philippines for 11 years and we have had restaurants in the city prior to that. We took what we learned from those restaurants and decided to start La Lola Group with a clear idea.
What was your vision for La Lola?
Our vision for La Lola was we wanted to set up concepts in the city that can be found in Barcelona. We felt that there was an opportunity and we took advantage as we are already based here.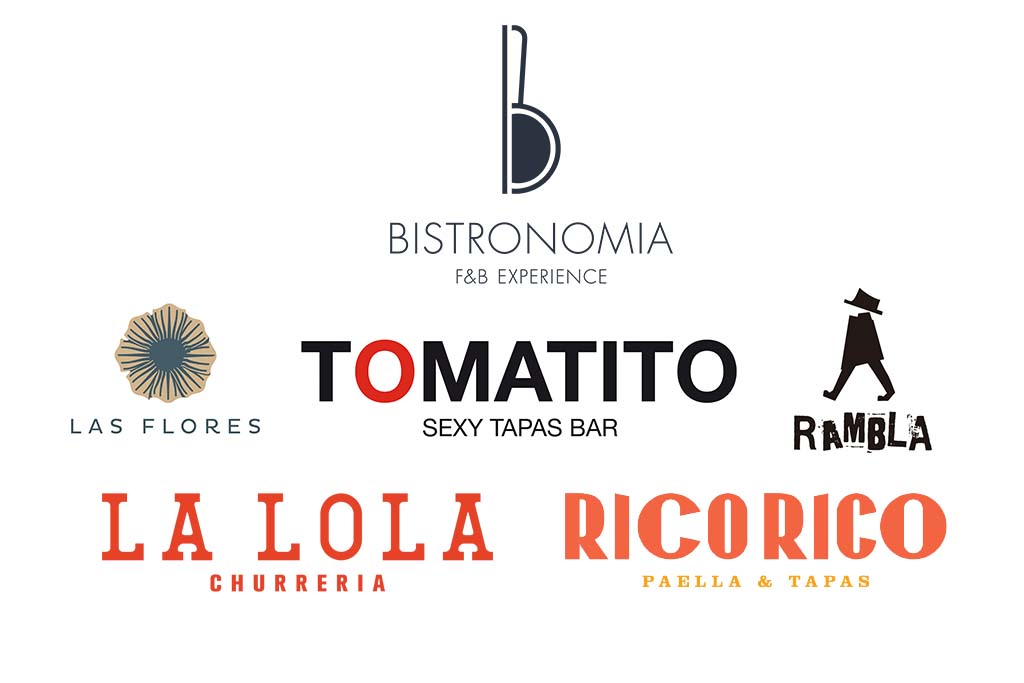 LA LOLA IS NOW BISTRONOMIA. The name has changed, but the people behind it are still the same, pushing forward with their unique brand of Spanish restaurants.
How many restaurants are under Bistronomia and what is the concept for each one?
We have 20 branches for La Lola Churreria, three restaurants (Las Flores, Rambla, and Tomatito) and Rico Rico Paelleria, a paella concept located at the SM Aura food court. Las Flores is your traditional Spanish food. Rambla serves food that you can find in Barcelona, and Tomatito is a mix of Spanish and Latin cuisine. The ambiance for Tomatito makes it more informal compared to Las Flores and Rambla. It also has a younger vibe.
What sets your restaurant apart from other Spanish/Spanish-themed restaurants?
I believe what sets us apart is our attention to detail. These days, anyone can get their hands on whatever recipe they want, even those from the world's best chefs. What sets the chefs apart is how they do it. It's the same with the restaurants. We like to be in the restaurant and spend as much time as possible listening to the customers and what's happening there.
What are the challenges you've faced in the six years you've been with La Lola?
The restaurant business is a human-driven industry. We're not machines; we all make mistakes. We're not a production line where everything is replicated nearly 100% of the time. I think that would be the challenge, but it also has positives. Yes, you can get bad things from people, but you can always get something good from them. It all depends on how you work with each other.
How has the company fared since its inception?
I think we have been hitting milestones throughout our company's lifespan. What we try to do instead is to focus on one project or goal at a time. We're a small group, but we want to keep on achieving things on a regular basis. I think we have been very lucky because people like our concepts and we have the chance to work on them and show it to everyone.
What are your plans for Bistronomia?
We have a few projects that we are working on but have not yet materialized. For now, we have La Lola Churreria openings in Tagaytay, Iloilo, and Lipa, Batangas. We'll also be opening a Las Flores at The Podium expansion in Ortigas. We always have things in our drawer when it comes to concepts, but we like to focus on one thing at a time. Once we see a certain idea taking shape, that's the time we give more attention to that idea. We're in constant talks about ideas we get.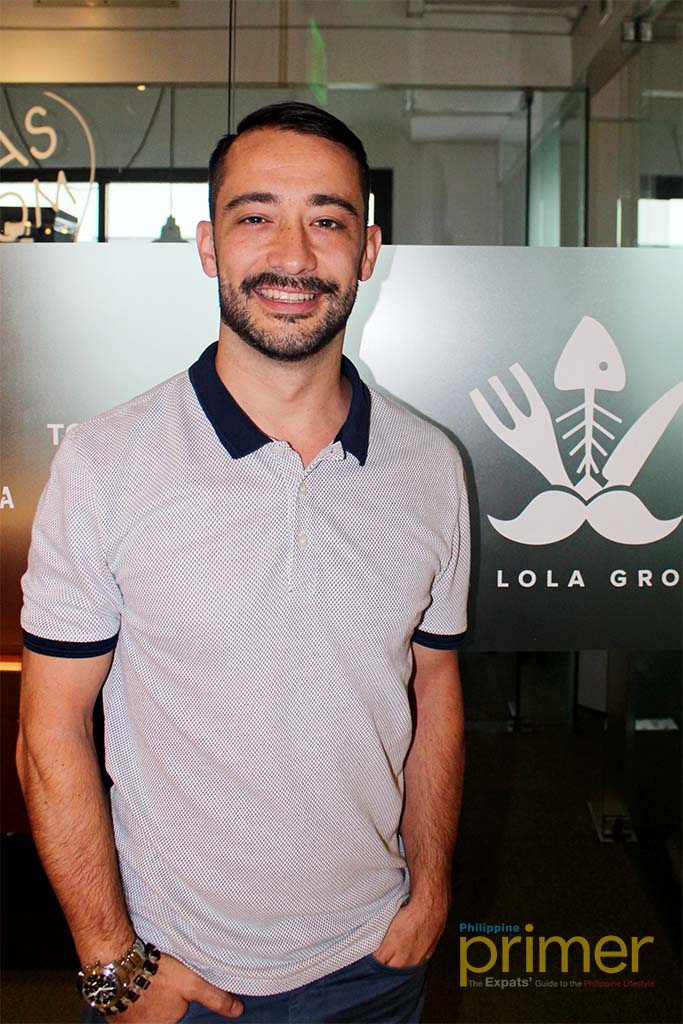 THE "MAKULIT" BOSS. He likes to know how the restaurants are doing based on customer feedback so they'll know what to improve on.
How would you describe your management style?
We try to stay in touch with our clients and staff. I'm very makulit when it comes to getting back to customer's comments on social media or in the restaurant. I like to be approachable because I think the more approachable I am, the faster the employee will feel better towards me and be able to solve any problems we encounter. When it comes to clients, I like to listen and pay attention to them, which is why I try to be at the restaurants as much as possible. I have an honest, humble, and fun approach. You have to be humble and honest in what you do, but you also want to try and have fun as much as possible.
"Dani is very open to ideas. I think that's what makes La Lola different from other brands. We're all very approachable to people and we keep in touch with them. He also likes talking to his customers, so there's that bit of intimacy built within the brand."

– Hannah Legaspi, Marketing Officer for Bistronomia Corp.
If we can laugh while working every now and then, I think that's better than being strict and stiff. I understand that you have to have some sort of organization and rules but at the end of the day, we're still human. We still have feelings. You can have a bad day and keep quiet about it, or you can share it and the other half of your day can become better.
Who are the people you look up to?
There are a few chefs that I like a lot. There are also restaurant groups that I would like to one day be able to build into. I'd like to be able to own a company that's similar to Andilana Group or the Tragaluz Group from Barcelona. Between those two groups, they have at least 70 restaurants and I think they've done a great job. On a more personal note, I really look up to my dad. He's my role model and I feel I want to be like him.
He had his own company similar to Home Depot. It's his dedication, resilience, sacrifice, and patience that I really look up to. I'm still amazed how he was able to do what he did.
What has made the biggest impact on your role with Bistronomia?
The biggest impact in my 11 and a half years in the Philippines are its people. It can be challenging and frustrating [to live here], but I'm still amazed at how people here can make it. I'm amazed at how they can push so hard and not just survive but achieve their goals with very little. That's what always keeps me in check. It's not easy to be here in the Philippines. You have to "fight" and push hard to get your dreams.
We've had employees who had very little in terms of their studies or finances yet they really wanted to make a difference in their lives. We have employees who went from washing the dishes to now running our kitchens. Doing it out of sheer will to improve themselves and making a change in their lives and letting us see it, it's just… wow.
What's a day of work like for you?
I come to work and have Hannah complaining all the time. (laughs)
I start work at 10 am and stay until 7 pm. I try and tackle all the marketing concerns of all of our concepts. By 6:30 or 7 pm, I leave the office and visit our restaurants. At times I can visit just one, but I try to visit all of them during the week and stay until 10 or 11 pm.
I like going to our restaurants because I like talking to our regular customers and the staff. I'm very involved in marketing, but I'm also involved in other HR aspects. I want to know how the employees are doing, but only up to a certain extent. It lightens my day when my old bosses would come up and talk to me, so I want the employees to feel the same.
What's a quote/word/phrase that motivates you to do well in your role?
You either have a solution to every problem or a problem to every solution. I like it a lot because it defines us very well. It defines how we work [at La Lola]. I'm a guy who's like if there's a problem, you give me a solution. If not, then you're probably part of the problem. Problems and challenges will be there, but at the end of the day, we hired you to solve those problems.
---
This interview also appears in Philippine Primer English magazine's November issue.