Business Talk with Panasonic Philippines' Shinichi Hayashi
Born in 1964 in Osaka. Shinichi Hayashi spent his school days in Kansai and joined Panasonic Corporation (formerly Matsushita Electric Industrial Co., Ltd.) in 1988. He was a business-to-business sales representative in the import firm department who eventually transferred to their Tokyo office in 1988. He started to work overseas in Singapore in 2012. He assumed his new role in the Philippines in 2016 after he completed his tour of duty in Malaysia.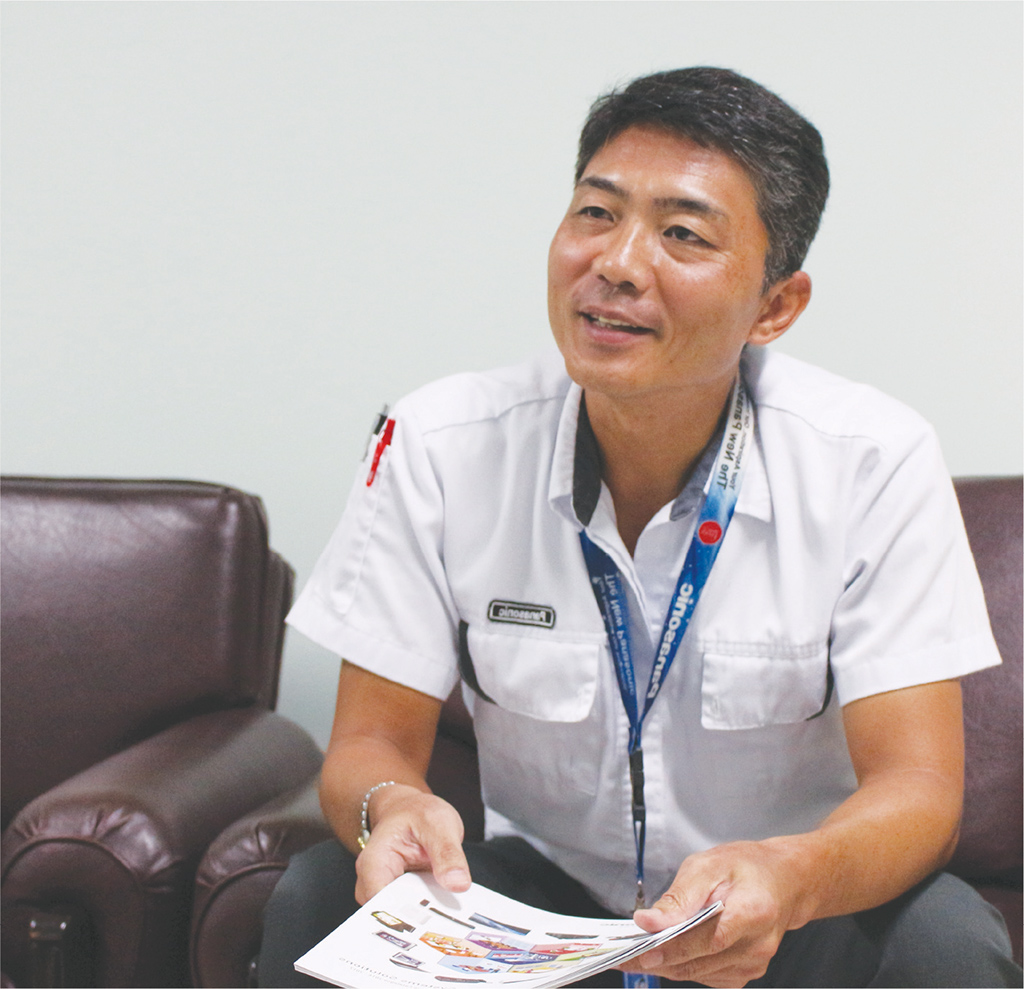 Panasonic continues to provide practical and high-quality home appliances that have been entrenched in Philippine culture. Behind the wheel of this big ship is Mr. Shinichi Hayashi, the President of Panasonic Manufacturing Philippines Corporation. In this edition of Business Talk, we get Mr. Hayashi to tell us more about Panasonic's line of beauty products, as well as his plans for taking Panasonic Home Appliance to the next level. He also talks about how Panasonic will ride the wave of high economic growth in the Philippines and open a new chapter in Panasonic's history.
What led you to join Panasonic, especially in the Philippines?
Panasonic's global presence and overseas networks were what led me to join Panasonic. I always had a strong desire to do something abroad and do business in a different setting. I used to be a student in the science and engineering majors and was not gifted in language, but overcoming my weakness in language was important to me. Also, working globally on a big stage was very attractive.
What does Panasonic do in the Philippines?
In brief, our business creates and sells consumer electronics. We manage 2 types of products: imported and domestically manufactured. Products that are popular and would fit a certain a country are usually manufactured locally. Those that can be offered as common global models would be manufactured overseas and then exported.
Here in the Philippines, home appliances like air conditioners, refrigerators, washing machines, and electric fans are made in the Philippines. We manufacture some of our most popular models here in the Philippines, like single and twin-tub washing machines. Other variants, like those with fully automatic functions or front-loading washing machines, have to be imported.
We also import our split type air conditioners, while window-type air conditioners, which are often seen in the Philippines, are made locally. Other enterprise business equipment, such as TVs, projectors, security cameras, and fax machines are also imported.
What kind of products are popular in the Philippines?
There are several products that are really suited for the culture here. One of them is the B10 refrigerator series. The B10 series has equal-sized freezer and refrigerator in one unit, as opposed to the freezer being normally smaller than the refrigerator. It's popular with sari-sari stores because they don't need to buy two appliances: a freezer and a refrigerator.
Twin-tub washing machines may be popular in other countries, but our single tub washing machines are popular here. It's a type of washing machine that has rotating cleaning components called a spin motor and a pulsator. We went with this technology to give people access to washing machines without it being too expensive.
We also noticed that people who live in the city have a strong tendency to buy upper middle–end or "prosumer" products. We look to take advantage of this trend by promoting exclusive electronic products with the logo of "Japan Quality," which has given us good sales resulting in double-digit growth just last year.
Panasonic recently started selling its Panasonic Beauty line to the general public. Could you tell us more about Panasonic Beauty?
A lot of women in the Philippines have started to care about fashion or beauty-related matters thanks to the rise in the country's per-household GDP. We saw this as an opportunity to promote Panasonic Beauty.
A hair dryer with nanoe™ function typically costs ¥10,000 or just under Php 5,000. Though we were concerned about people's buying capacity, we still went through with it because we believed in the potential to get to the market.
It's still early, but the fact that they choose to spend a certain amount of money for beauty products makes us believe that sales will go up as time goes on.
How does the Philippine market compare to other areas?
Domestic demand is very attractive for the future of Panasonic, especially when you consider the 100-million population count. Political stability has been good, and the Philippines has also sustained the highest economic growth in all of Southeast Asia.
We would like to focus on the domestic demand to gain a better foothold in the market. This can be realized by increasing the market share in this country, which would also result in growth for Panasonic.
What do you find appealing about the business in the Philippines? What kind of advantages do you have?
We cater to domestic demand, which is our biggest advantage. If we can successfully put our brand image to users aged 40 to 50, their children can easily use Panasonic products. This can only be done in the Philippines because of their strong family ties.
What problems have you encountered while doing business in the Philippines?
There is no preferential tax system for the manufacturing industry aimed at domestic demand. It's different when compared to other Asian countries. However, I have high expectations for the manufacturing industry in general, especially with what the new administration is considering.
Electricity is also expensive in the Philippines. The solar panel is one of our products, which we use in our factory operations to save on our electric bills. However, this only brings the cost to that in Japan. It still costs twice as much as Malaysia, and they provide one and a half times the benefits to their electric bills. The situation is very tough for the manufacturing industry.
Logistics should also be enhanced. Traffic in the Philippines is terrible. There's also the problem of having to bring our products to a solitary island by ship since the Philippines is an archipelago. We are trying to reduce the lead time of our supply chain as much as we can, but there is still a long way to go.
What are the best things and the challenges about Filipinos?
Many people in the Philippines can communicate in English, so it is very easy to establish good relationships with them compared to other countries in Asia. They have a cheerful personality and take their work very seriously. They are also very talented and wise enough to work on design or software development.
If I had one concern, it would be our difficulty in hiring well-trained developers and engineers. We have been dealing with an industrial structure based on service businesses, yet more people go for jobs in BPOs, consulting, and accounting firms.
What does the future hold for Panasonic in the Philippines?
I would like to expand towards business use for our products. Real estate investment is very popular in the Philippines, and reinforcing the development of hardware and software-related equipment would create a great opportunity to expand our platform.
These can include large-sized air conditioners/refrigerators, security cameras, and projectors, or even reinforcing operation solutions such as solar panels for condominiums and office buildings. Panasonic products are superior in terms of high performance/quality, making our solutions reliable with a design that has been deeply researched for all kinds of users.
What do you do in your free time?
I do jogging, play golf, and read books for my personal life. In 2002, I started jogging in earnest. I have completed 20 full marathons so far, but I have not run a marathon for the past 2 years.
I usually run 10 – 20 kilometers on Saturdays and Sundays, which means once or twice a week in a place like a promenade recently established near McKinley in BGC. I also play golf two or three times a month but my skill is nothing to brag about (laughs).
What's one quote/phrase that you live by?
If you try hard for everything on your own, you will see the truth and would not be affected by what people say about you.
Sometimes you fail to see what is right and wrong if you do not have your own mindset. That is why I always try to have a very strong picture of my behavior especially when I have to face difficulties.
---
This story appears in the September 2017 issue of Philippine Primer Magazine.