Mark Kooijman of Philippines Urban Living Solutions
How you look at doing business usually boils down to one of two things: do you want to simply make a profit, or are you looking to affect social change? Businessmen are usually driven by one of these things, but Mark Kooijman, Founder and CEO of Philippines Urban Living Solutions, is driven by both.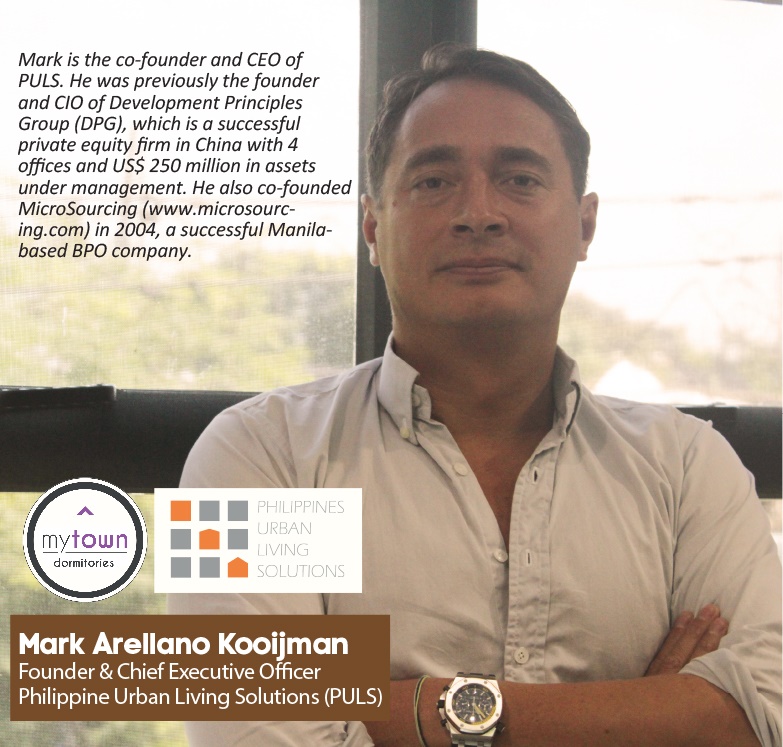 IMAGE Philippine Primer
Primer: What exactly is PULS and what is it all about?
Mark Kooijman: So, Philippine Urban Living Solutions. We develop dormitories for young professionals who live in BGC mostly, but also in Makati. We try to fill in a gap where a lot of young people can't live where they work. The average salary, for example, in BGC is around P22,000 for a young professional while the average, or let's say the smallest studio in The Fort (type apartment) is around P25,000.
There's a big discrepancy between the salaries of the people who are working there and the prices to live there. What we try to do is to develop dormitories along the BGC perimeter so that everybody can still walk into The Fort and make use of the facilities that are in The Fort but create a product that is much, much cheaper.
We've also tried to differentiate ourselves from other dormitories by offering a more luxurious and tailored product.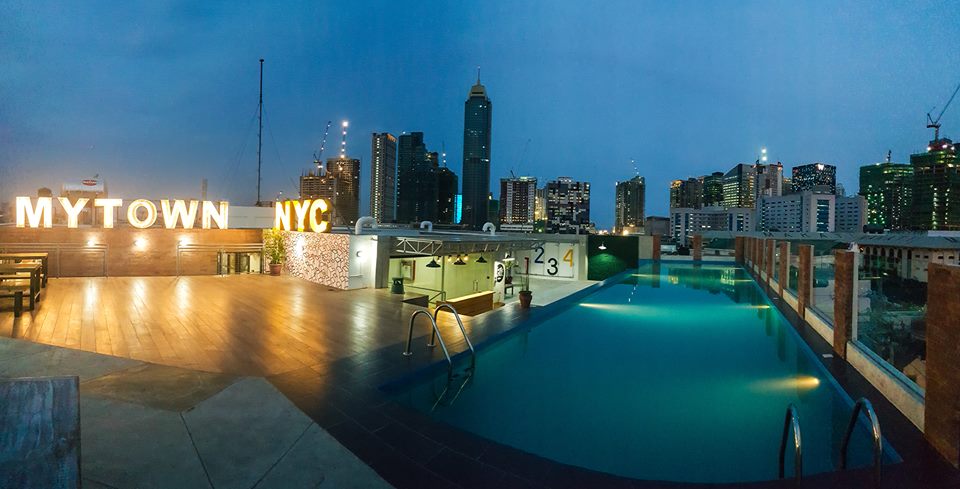 A HOME AWAY FROM HOME. MyTown's latest project, New York, puts you closer to BGC than ever./IMAGE MyTown PH
P: What was your idea behind MyTown and how you pitched it to your corporate clients and the professionals who work in and around BGC?
M: Basically, we have a two-pronged approach in our marketing. One is we focus on corporate (clients). If you look at the average corporation with an office in BGC, they have a difficult time in both attracting and retaining their staff.
Attrition rate within the industry hovers between 35 and 50%. That's because if you work in BGC while you live in Marikina and you can get a job in Eastwood, then you'd quit your job in BGC and work in Eastwood. It's a given that people want to live close to where they work.
What we tell our corporate clients is if you want to recruit and retain staff, why don't you offer them housing as well? If you look at the BPO industry, they have problems retaining staff. They also have problems making sure the staff arrive on time.
For the average BPO company, roughly 30% of its staff is late because "I was stuck in traffic," or "I missed my jeepney ride," or "The LRT line was very long." It's a very acceptable excuse here in the Philippines, so your staff comes in late.
It's also difficult to ask your staff to render overtime or if you have an emergency assignment, you can't just say "Do you mind working for four hours more today?" because people need to travel back to Marikina for three hours. It's too cumbersome.
So what we're telling our corporate clients is this: If you want to increase the way you can attract and retain staff and also increase the productivity of your staff and the happiness of your staff — because how happy are you if you just spent three hours feeling sweaty in public transportation, then at the end of the day you'd travel three hours back — then rent a dormitory with us, a couple of units, a floor, or a building and have your staff living close by.
They're happier and they'll be on time for work. People are also less likely to resign from their job if it means "I lose my house when I resign." It's also a marketing tool when you recruit them. If you get an offer from Accenture and another company, say Teletech, offers you the same job plus a unit, you'll choose the one that comes with the housing.
So that's the main pitch we have to corporate clients. At the moment, we have 12 companies who have said "This is something we want to offer to our staff" and we want to continue to bill that out. Aside from focusing on companies, we also focus on individuals.
We have our individual marketing. Our main pitch to individual tenant is "Look, you're spending so much time on commuting. You're also spending so much money on commuting." We did a survey of around 800 BPO workers and on average they spent P4,500 a month on commuting. You know it yourself, if you go to Laguna back and forth you'll spend around P150 or something like that a day.
So our pitch is instead of spending an hour, two hours in traffic, just get a bed in our place and you can start drinking beer at 5:30 instead of standing in line and spending hours trying to get back to where you live.
That has been very successful as well. If you look at our individual tenants, some are really living there full time. They might come from the provinces or they say "Okay, my parents really live far away, so I'll stay for seven days in the dorm."
There's also a big chunk of our tenants who say "I'm just using it as a bed from Monday to Friday. By Friday night, I go to my parents, bring my laundry, and eat decent food." Basically, they just use it during the work week when they want to avoid the cost of commuting.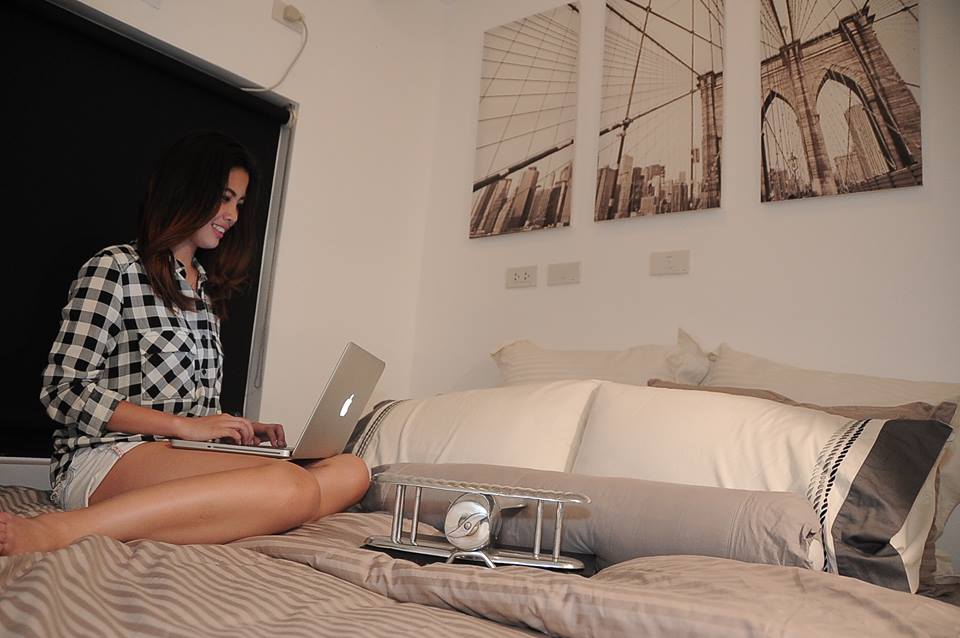 LOOKING FOR YOUR OWN SPACE? MyTown's Private Rooms are perfect for you!/IMAGE MyTown PH
Primer: Which is perfectly reasonable because most of the workers who try to find an apartment or a bed, that's really all they're looking for.
M: Yeah, it's just a place to sleep. That's also how we designed our dormitories. If you look at our units, they are quite dense. In order to make sure that the price point is attractive for this market (individuals) — because we can provide luxury and a relatively nice location, but in order to still make it affordable, we had to shrink the units, which mean they are quite dense.
The way we try to do it is that we have four people living on a 10-square-meter unit. You still have a private bathroom. You still have a private kitchenette. The bed itself is quite private. It's not your average bunk bed made of some cheap metal.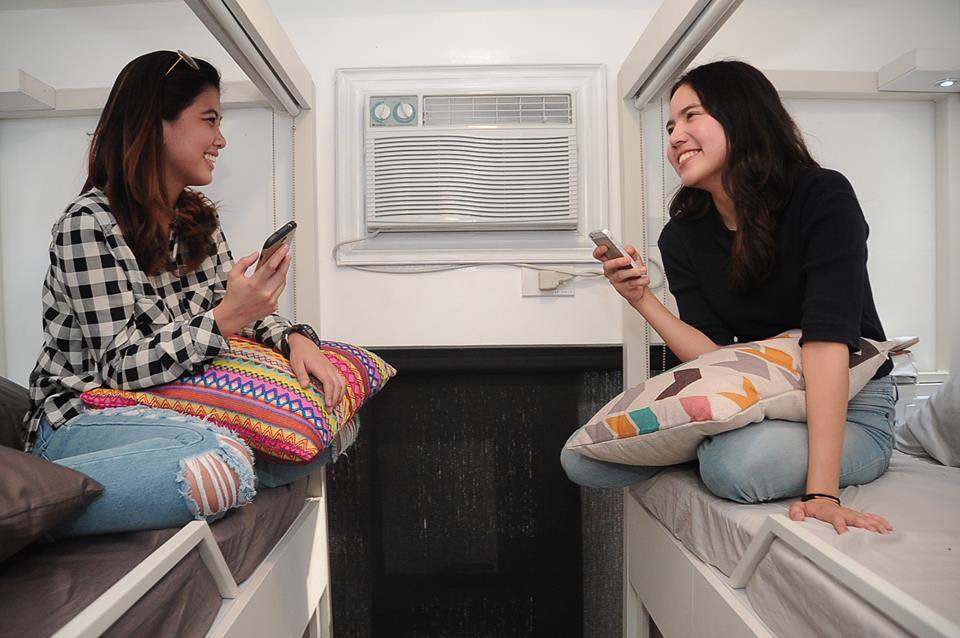 I CALL TOP BUNK! Two of the four beds in their 4 people sharing rooms still make you feel like you have your own space./IMAGE MyTown PH
We really try to (give you) your own private space where you can charge your things, you can watch TV, and you can also — with roller blinds you can lock down — have a sense of privacy despite being in a very dense unit.
We also have very nice and large communal space. The idea is that for people to only use it as a bed. Our dormitories have gyms, a movie theater, a karaoke, places where you can eat, and places where you can browse or watch TV.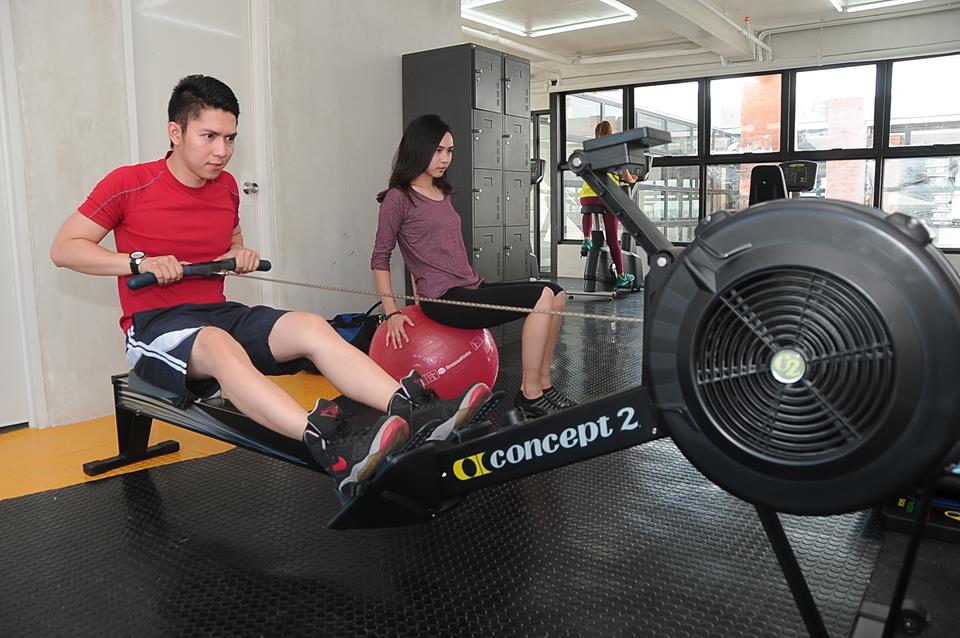 ALL-IN-ONE SOLUTION. They've got a gym within the building! No need to go outside!/IMAGE MyTown PH
The idea is after work, they go there and watch TV, surf the internet, eat something, or exercise. Only when it's time to go to bed will they say "Okay, now I'll just go to my bed, I'll sleep, then next morning I go to work."
Our dormitories are, in essence, like a house where you spend your time in the living room, in the kitchen, or other areas and the unit itself is like a bedroom where you just go there to sleep or when have some quiet time.
Primer: That also answers what sets you apart from other places.
M: Yeah, but that's just the amenities and the luxury of our buildings. What I want to add to that is what really sets us apart is we really try to create a community we call the MyTown Club.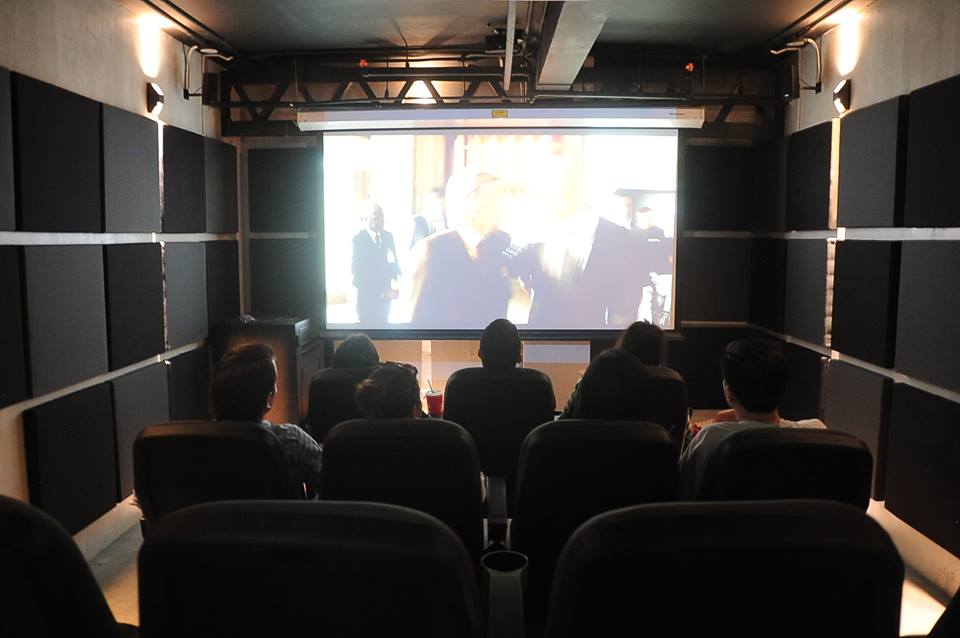 MOVIE NIGHT? No need to go out! MyTown has you covered with a theater room./IMAGE MyTown PH
We organize parties. Aside from Halloween, Christmas, and Valentines, we recently had our summer pool party. We constantly try to engage with the tenants and give them a fun living experience. It's not only about giving them a unit where they go to bed; they're part of a community.
We're developing an app where they can do their bill payments, join yoga or meditation classes that we're giving, we have promos on food — we're constantly engaging with our tenants to give them an excellent living experience, unlike other dormitories where all you do is just rent a bed and that's it.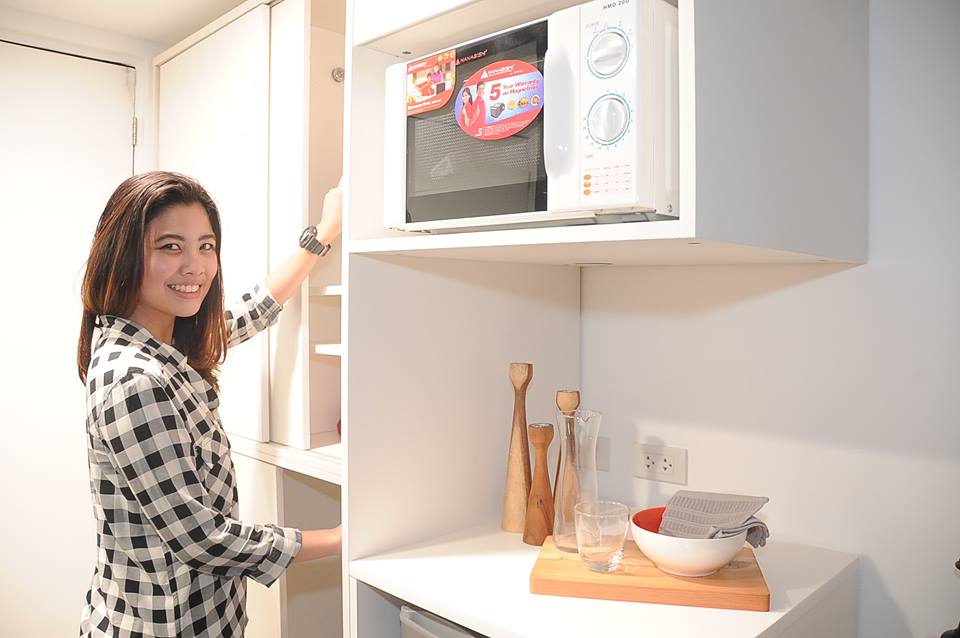 DID SOMEONE SAY STORAGE? They've got cabinets (not lockers) for your stuff. Got more? They have big lockers for MORE of your stuff./IMAGE MyTown PH
I think what also sets us apart is that most dormitories only give a locker to store their things. I mean, no young professional can store all their stuff inside a locker.
What we have much larger built-in cabinets where you can hang your clothing. If you're a young professional, you want to be able to hang your shirts and your pants. You need to be presentable at work. On top of that, we have special drawers where you can store additional things.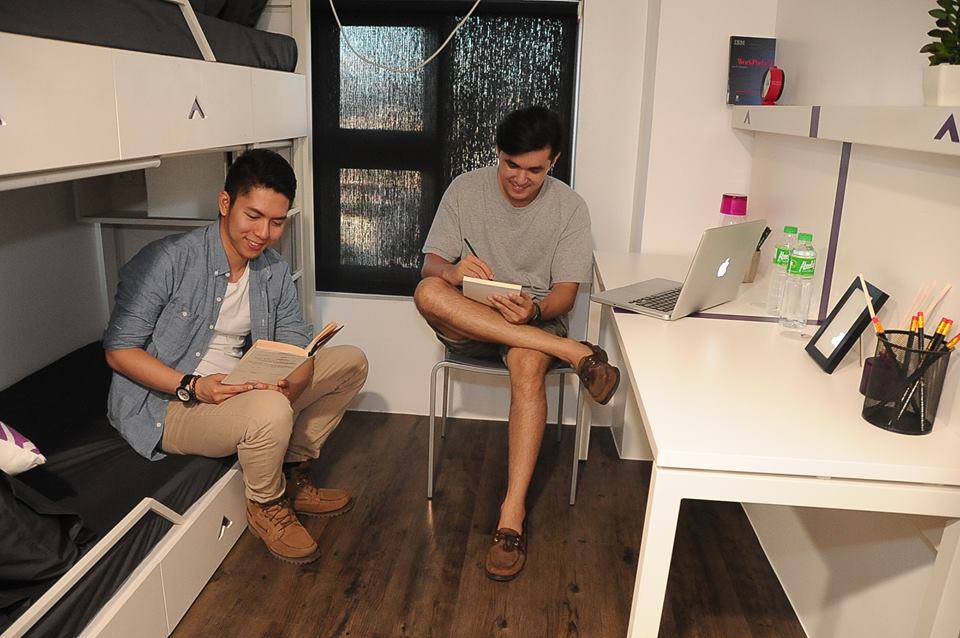 SIMPLE YET CRITICAL. For most people, a desk in your room may not sound much; but having one has its advantages./IMAGE MyTown PH
And then on top of that, we also have separate lockers which you can rent if, for example, you have something larger you might want to store big ticket items like a piece of luggage or stacks of books.
What we try to do is to think with the market and provide the best product possible. I would say that's very different from the mindset of other dormitory operators where they're like "Let's make it as cheap as possible, thrown in as many beds, and try to extract as much return from our investment as possible." We're completely different (because) we want to give them a quality experience.
Primer: From what we've seen on your website, you currently have three MyTown properties with 13 more to come within the next couple of years or couple of months.
M: Yeah, I would say within the next 18 to 24 months. We have some larger projects which may take 24 months to complete, but we have some smaller ones that will take around 12-14 months to complete.
Primer: What made you decide where to put them within BGC or Makati? What was the process?
M: We really wanted to focus on The Fort. We kind of see BGC as the Manhattan of the Philippines, so we expect major corporations to have a presence there.
There are, I think, at the moment 200,000+ young professionals working there and it's expected to grow to 380,000 in the coming years. We expect there would be a huge shortage of living space for all these young professionals working there.
We basically focused on areas around The Fort. One of our criteria has always been that it should be at least a seven-minute walk to the entrance gates of BGC. That's why we focused on the perimeter wall of BGC, then there are the entrance points — you have the West Gate next to JP Morgan; you have the North Gate, where Uptown is being built; and you have the East Gate, which is around Market Market. (The area) Around those entry points is where we buy land and put up some dormitories.
We mostly focused on the West Gate because most of the companies are around Burgos Circle. We just recently bought some land around the North Gate because we see Uptown coming up as well and I think Google, Citibank, all their headquarters will be established there.
Primer: One interesting theme we noticed as well is you name your properties after big cities in the world. There's MyTown New York, MyTown London, we think one of them will be named MyTown Dubai.
M: Yes. Dubai, Milan, Auckland, Singapore, Tokyo. It's all going to be capital cities.
Primer: What made you decide to use capital cities as names for the properties?
M: We thought it was a nice gimmick since so many Filipinos are very internationally oriented. We also give the buildings a bit of the flavor of that city.
If you'd go to MyTown New York, everything is painted in New York taxi cab yellow and you'll have signs there, so there's a flavor of that city. Same thing with MyTown London: we have all the murals that are related to London.
If you look at all the other real estate developers and how they named their properties, they all try to exude a sense of luxury and European-inspired property. We didn't want to go that way.
We also plan to build a lot of buildings, so naming it after capital cities is the easiest way to expand. (laughs) You'd never run out of names.
Once you run out of capital cities, we can also do secondary cities like LA, Washington, and Miami.
Primer: With MyTown, are you planning to expand outside of BGC and if so, where are you planning to go?
M: We're looking at the Makati area. We're also looking at the Pasay area, but not just in the BPO space; we're also looking at the entertainment industry. There are a lot of people working for the casinos who cannot afford to live near Mall of Asia. We're also looking at North Edsa and Ortigas.
We focus our efforts on BGC and then we expect to spread ourselves to the other business hubs in Manila and, maybe at a later stage go to places like Alabang, where there are major BPOs, and also to major cities like Cebu and Davao.
In essence, we just follow where the same problem exists. You have business and technology parks where nobody can afford to live close by so they have to commute, so we offer a product that's beneficial to employees and to the employers as well.
Primer: What's been the toughest challenge for PULS to date?
M: I think (its) to find the best product offering.
The market here in the Philippines is very price sensitive. Our tenants range from a nurse who earns P14,000 to, let's say, a manager at a BPO company who earns P30,000.
As a developer, we need to determine all the time how luxurious do we make our units and how many amenities do we have such that we are better than the market but we don't increase our prices that we price ourselves out of the market. If we priced our beds at P6,000 a month, then no nurses or starting employees at a BPO could afford it anymore.
Finding the perfect the balance where we can say we offer a superior product compared to the market but then we don't price ourselves out of the market has always been a little bit of a challenge to our company and we will continue to calibrate our product offering.
We see demand for more luxurious (units). We get young couples that are working in The Fort that don't want a bed space yet cannot afford a studio and are willing to pay P15,000 or P20,000 for a new apartment space; at the same time, we have young nurses who are earning P12,000-P14,000 who don't mind living with six other people and having a communal bathroom but we only want to pay P2,500 per bed instead of P4,800. I think, as we will be developing more projects, we will try to see if we can create different products for different segments of the market, but that's still something we're fine-tuning.
Primer:  So you're basically looking towards not just building more places to live but having more places to live that are curated for the people that want to live in those areas.
M: Yes, but always at a higher level. We can always build these rooms, put in metal bunk beds, and start leasing it out for P3,000 a month, but that's not what we want.
We don't want to be at the bottom end of our market where all our competitors are. We always want to offer a superior product that will also be good for long-term leases.
We expect the Philippines to continue to grow and grow and grow so these dormitories where you have 12 people living in crammed conditions and everybody pays P2,500 a month — we hope that that would not exist anymore in five years.
What we're hoping for is that the average salary will go from P22,000 to P30,000 where more people can afford to live in less dense spaces — like it is in the West. If you would be a journalist or a nurse in London, you don't need to live with 12 nurses and the salary (you make).
Primer: Yeah, you can get your own flat.
M: No, you can't get your own flat; that would still be too expensive. But you might be able to, say, share a flat with two colleagues of mine where each gets a bedroom. So we believe that in the end, the market will move more and more towards a higher quality of dormitory.
If you look at our dormitories, we don't have the 12 beds in one room. We have four, two, and one at a fairly high end level because we expect the market will start going in that direction.
What we are eventually hoping for is that our buildings will be all single units. It will just be that the market of sharing will cease to exist. When you graduate from college and start with, say, BPI, you just go to our place and (be able to) afford a single, 10-square-meter condo by yourself.
That's the way it should be; it shouldn't be as a young graduate or professional, the only choice you have is either stay at home with mom and dad or share a unit with a bunch of strangers and only have a locker. It's insane that it's due to the point of economic development in the Philippines, and we hope that that would change.
Primer: PULS was established in 2011. During that time, you kind of focused on corporate clients only. Now you've focused on individuals…
M: It's actually the reverse. We started with individuals. Our first project was a small project in Brgy. Pembo where we created a dormitory for the nurses of Ospital ng Makati.
That's where we first did our experiment with different sized units. We did a 7-square-meter unit, a 10-square meter unit, and a 12-square-meter unit just to see if seven was too small or if 12 was too large. What we got in the end was the most accessible size and price point in the market.
We then started developing our London project and that's when we got interest from a corporate client, a software developer, who said "Look, we need to take the entire building." That's when we started to think we can maybe tap into a corporate demand instead of just individuals for foreign companies.
We've always done both angles and we want to continue doing that. If we only did our buildings 100% corporate clients, then it means if a corporate says "I'm going to quit" or "We're moving back to the US" and they've leased two floors, then we need to find another corporate client and that would be very difficult.
What we want is to get the optimal balance between individuals and corporate clients. We're looking for something around two-thirds or 70% corporate clients and 30% individuals. We also hope to have a waiting list of individuals so that in case a corporate or individual leaves, we can immediately (have that unit occupied). What you want to achieve as an operator is to have 100% occupancy, and to do that we believe it's best to have that mix of individuals and corporate clients.
It's also good from a social perspective and staying in touch with the market. You want to constantly have individuals so you can see how they like the units and how they compare your units to the competition.
If you only talk to corporate clients, you're always talking to HR representatives who will say "We need 50 beds at the lowest price possible." It's a whole different with individuals; with them, we need to convince them to take a bed with us. It's why keeping the dialogue with the individual tenants is also important for us so we can see where the market is.
– I think that's going to strike a perfect balance between people who want to work for a company that provides housing and professionals who might bounce around from one company to another yet not necessarily leave the area where they started.
M: Yeah, I fully agree. Ultimately, (we're looking) to stay in touch with the market and also not to be a corporate-only dormitory provider.
Also, from a social perspective, you build this idea to create better living conditions for the young people of the Philippines. So to say we're only going to build for Accenture, that's not fully within the scope and goal of our company because we really started with just providing better living spaces for young people.
Primer: How would you describe the way you manage PULS? Are you a strict boss or…
M: How am I as a boss? I'm fun, jolly… I would say the corporate culture is quite fun and it's only performance-driven.
We care very little about formalities, heirarchy, everything you expect in a normal corporate life. We're driven but we have fun. People will find that it's fun to work here and that they want to excel here. We also provide the incentives for them to do that.
The only thing is that we're very performance driven. I would almost say we don't care when you come to the office or how you are dressed. We don't even care what you do while at work or after work, but if we say "This needs to be delivered by Monday," then it needs to be delivered by Monday. We don't accept any excuses.
We tend to drive our people hard so the performance requirements are such that you can't play video games all day, but we're not like a typical Filipino company where you have to come in at this time and address me as "Sir" and all that other stuff.
Primer: Who or what inspires to be the best company you can be?
M: We're driven by mainly two things: (one is that) we set up this company with an idea to affect social change here in the Philippines.
There are many problems in the country: environmental, social, and everything else. These are difficult problems to solve, and the government is the one trying to solve these problems.
My personal philosophy is that you can never solve all these problems if you're only reliant on government or institutional funding. You need to create a commercial product or company where the returns are so attractive that private capital will go into that.
That was always the idea behind PULS: we would create a product that is for young professionals that will also fulfill a social need in the country because we can also divert into making small condos for young families and things like that.
I think that the future of living in the Philippines is vertical and smaller condos. We need to create a company wherein the returns are so attractive that we can attract companies like Templeton and SM to invest billions of pesos in us to create more of these dormitories, and the reason why they invest in us is because we are creating good returns. If we would just be a social project and be non-profit, then companies like SM will not give us money to put into our projects.
Our goal has always been to find solutions for social problems but make them so commercial that it will attract capital. Once you can fix that, then private capital will come in and housing problems that we have in Manila, where I think 23% of the people live in the slums. The government will never have enough money to house all those people. You need to have billions and billions come in from private capital.
It's the same thing with Globe and Smart. The reason they do these prepaid SIMs makes commercial sense; on the other hand, it also helps the C and D class people to afford mobile phones than if they were to go subscription-based.
It works both ways: the consumer can afford to have a cellphone and because it's prepaid, they can just put in P50 or something like that. It also works for Globe because they're making a lot of money by tapping into that market.
That's the way to solve it. You can only solve the problem of, say, how can the poor communicate by offering a commercial product.
If it had to be a subsidized government program where they would subsidize the communication, then probably only a few hundred thousand people could take advantage of it. By creating a commercial product, you let millions of people have access to it. So that's one thing.
Of course, we're also motivated by the progress of our firm. In the end, we want to IPO (initial public offering) on the market and make good returns for our shareholders as well as to make a profit.
Primer: What's a typical day of work like for you here at PULS?
M: I usually arrive between 9:30 and 10. I usually work out in the morning, and I'd usually leave at five. I would have, on average, two to three meetings in a day.
We're a data-driven company so we do a lot of data analysis and financial modeling to determine the direction of our company.
Primer: Last question: what quote/phrase/words do you live by?
M: I would say my motto in life, and it is what I live by, is success will always come if you pursue excellence in all aspects of your job. I want to be excellent in everything I do. I want to understand all the bits and pieces of my company.
This is something that's a little bit lacking in the Philippines. Here, people would rather get something done exerting 80% of the effort than give it their all. I think if you want to be successful, you have to be excellent in everything that you do. Once you're excellent, the money will come by itself as you automatically beat other companies.
If you're an excellent barber, you'll be a successful barber. If you're an excellent electrician or engineer or whatever you are, you will be successful because you will be beating everybody who just does 50% or 80% effort. Excellence is also in the details.
Read more about MyTown here: MyTown Micro-Apartments in BGC and Makati: A rental you never had
---
Written by Andronico Del Rosario
Note: Photos of units are from MyTown New York. Other properties (MyTown Paris and MyTown London) may have different amenities.