Business Talk with Japan Airlines' Kazuhiro Ishida
We sat down with Kazuhiro Ishida, the General Manager of Japan Airlines (JAL) in the Philippines, to talk about JAL and how they have done in the country, as well as giving a bit of history about JAL and the Philippines.
Before being assigned to the country, Mr. Ishida worked in China as part of JAL's marketing team for four years.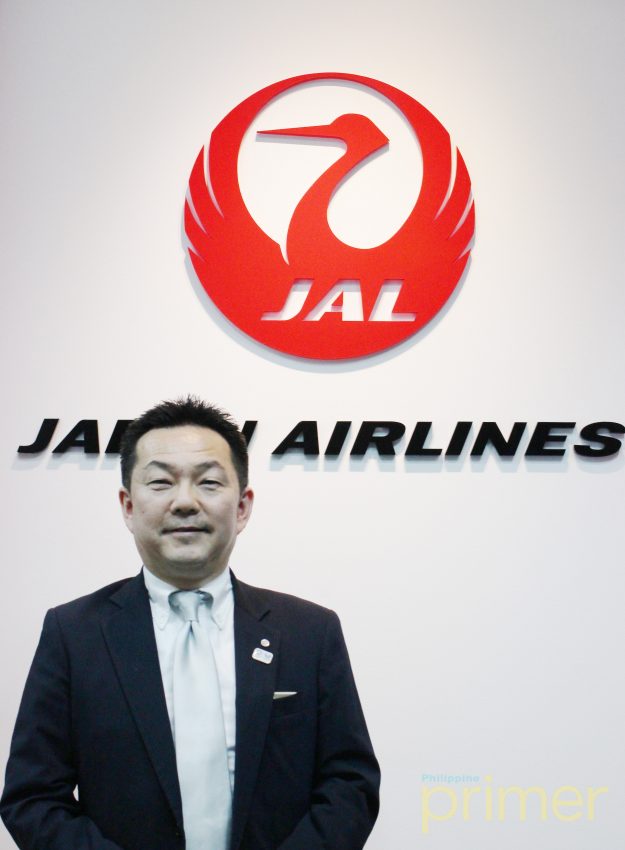 TEAMWORK IS KEY. Mr. Ishida is a firm believer in teamwork. "If they focus their energies and concentrate on one thing, they can win."
How long have you been the General Manager for JAL Philippines?
I've been General Manager for JAL for three years and 6 months. I was transferred from Tokyo after being a temporary member of Tokyo 2020 Olympic Bid Committee. An interesting thing happened while I was part of the bid committee. During the ceremony in Buenos Aires, the person who delivered the envelope to the International Olympic Committee chairperson was a Filipino, [Francisco] Elizalde. Perhaps it was a sign for me to go to the Philippines.
How has JAL done in the Philippines in terms of passenger departures? Do Filipinos choose JAL to fly to Japan?
Our main customers right now are Filipinos. A few years ago, however, we catered more to Japanese businessmen and Overseas Filipino Workers (OFWs) flying between Manila and Tokyo.  We also have the Filipino leisure market flying to America, especially to the West Coast. However, we shifted to catering more to tourists after the significant increase of Filipino tourists [who fly to Japan].
What has been the biggest hurdle JAL has faced in the Philippines?
We have had problems with infrastructure, but the situation has greatly improved compared to previous years. The completion of the Skyway (NAIAX) and renovations to NAIA Terminal 1 have helped out a lot. Transportation Secretary [Arthur] Tugade knows the situation of the airline industry, and his efforts have helped improve it.
What has been some of the biggest contributions of JAL to the Philippines?
The US occupied Japan back in 1951. JAL was not given a permit to self-operate by the US, but Philippine Airlines (PAL) was kind enough to loan their aircraft to JAL under the condition that they keep an image of the Philippine flag on the plane. In many aspects, PAL taught JAL how to operate as an airline.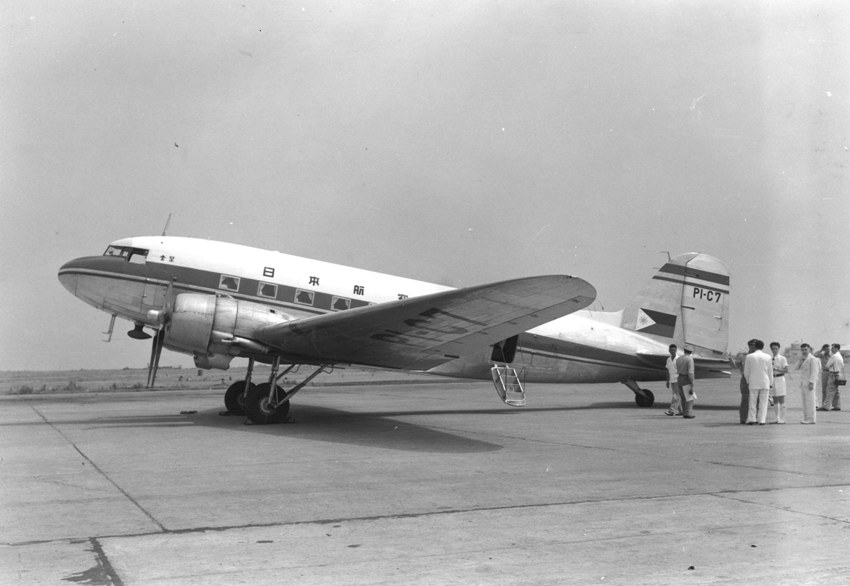 The Kinsei. A DC-3 loaned by PAL to JAL during its early days, under the condition that JAL keep an image of the Philippine Flag on the plane.
1967 saw the maiden voyage of our Japan-Manila flights, so we have a lot of shared history. JAL has helped the country since then.
When Super Typhoon Yolanda hit the Philippines in 2013, the Japanese Government dispatched the Japan Disaster Relief (JDR) Medical team with the help of chartered flights from JAL, all within of 24 hours. In total, the JDR took two JAL charter flights and a regular flight to help in the relief efforts for Typhoon Yolanda.
JAL also sends one Filipino each year to Japan via the JAL Scholarship Program. A total of 1,471 students have participated in the program since it was launched in 1975, with many of the alumni now playing an active role in the international community.
JAL has also given several provinces access to solar lights, thanks to its Charity Mile Project and our partnership with Kopernik, a Japanese non-profit organization that helps address social issues in developing countries. Customers can choose to donate their miles to the project to aid in making solar lights for provinces like Negros.
How has it working with the Filipino staff here at JAL?
It's enjoyable for me [to work with Filipino staff]. You see, 70 percent of seamen employed by Japanese-owned shipping companies are Filipino because they are adaptable and generous wherever they are. My Filipino staff share the same talent, and I appreciate their adaptability.
How many flights do JAL operate in the Philippines? Does JAL plan to fly out of Clark or Cebu?
JAL currently operates two flights between Narita Airport and NAIA. Right now, we do not have any plans of expanding our flights to Clark or Cebu, but we are improving our products and services to set ourselves apart from the other airlines in oder to meet rapid growth of travel demand.
How would you describe the way you manage JAL?
It's very difficult, but I would like to use the Rio Olympics as a comparison, in particular the 400-meter men's relay. Japan came in second that time, with Jamaica winning gold and the US winning bronze. Some of our athletes were talented, but they were not as strong compared to those from the US or Jamaica individually. However, if they focus their energies and cooperate together as a team, they can beat the US.
The Filipino staff here already have a good relationship with each other, and I would like to strengthen that bond through teamwork.
Who is the person you look up to in JAL?
I look up to Dr. Kazuo Inamori, the former chairman of JAL and the founder of Kyocera and KDDI. He became JAL's chairman after the company filed for bankruptcy.
He made dramatic changes as JAL's chairman [to improve the company]. He was a very modest man who refused the salary he was being given. He essentially worked as a volunteer for JAL.
He was a rich yet modest man, often making reservations in small hotels. Everyone in JAL looks up to Dr. Inamori because of this.
Describe your typical day at work.
Every week I attend to the airport. I greet VIP passengers at the check-in counter. It's fun to talk to the customers. That's why I work even during weekends. In the office, I usually talk to our Passenger Sales Manager about sales planning and our target market.
We do not have private rooms here at JAL, same as the JAL headquarters. If you want to talk to the president, you can do so without having to schedule a meeting with a secretary.
I'm also active with promoting Japan to Filipino tourists by talking to tourism organizations in Japan.
What quote or phrase motivates you to do well in your job?
The enterprise is a difficult one, but 'when there is a will there is a way;' and what colonization needs most is a hearty will. – Abraham Lincoln, 1857.
When I was a part of the Olympic Bid Committee, everyone did not think that Tokyo will get to host the 2020 Games. There's the radiation issue, the competition like Turkey and Spain, and the fact that Tokyo is quite far from Europe and the United States.
Japan, however, has experience in hosting the Games since we have hosted the [Summer and Winter] Olympics a total of four times. We had to resolve the radiation concerns and have the entire team be in one mind in wanting to host the Games.
JAL aircraft
What are your plans for JAL in the Philippines?
We will be continuing to introduce more high quality products and services, given differentiation from the other airlines, in oder to meeting growing travel demand.
As you know, JAL is a very modest organization. We mostly employ Japanese staff, but now we've changed our strategy. We would now like to send foreign staff to other areas. Filipinos are the best candidate because they can speak English fluently and are very adaptable.
We can see many Filipinos who are actively working in Dubai and Singapore. We began the global HR training system at JAL serveral years ago so that more non-Japanese staff can be involved and  contribute to the developement of the airline. I'm looking forward to seeing more Filipino staff among them.
A portion of this story first appeared in Philippine Primer English magazine Volume 13 April 2017 Issue. Minor edits have been made for website posting by Philippine Primer editors.