Perfect moments, always: JTB Asia Pacific Corp.
Preparing for a trip to Japan will always be a hassle if you try to do it alone. Take away all of the fuss with JTB Asia Pacific Corp.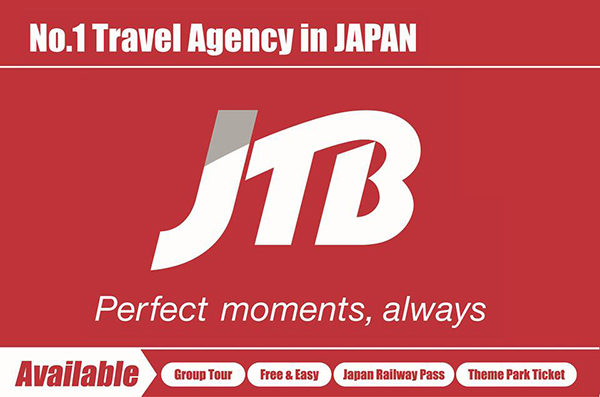 Founded in 1912, JTB has grown from its humble beginnings of 11 employees to a group that now employs 26,000 people in more than 480 facilities located in over 100 cities and 37 countries worldwide
They've become known as Asia's number one travel agency with over 100 years of experience in the travel industry, offering high-value services as a destination management company.
Why choose JTB?
Trips to Japan can be hard, but JTB can take all of that away with their century-long experience in the travel industry. They treat each customer as VIPs, giving a personal touch to every customer they meet. They go the extra mile with their work to ensure you're given the best travel experience possible, going as far as crafting an itinerary to suit your taste.
Their global network of over 480 facilities will cater to anyone planning to go in or out of Japan.
Their services
JTB offers the following services for anyone wanting to go to Japan:
JR Rail Pass
USJ Admission Ticket
Visa Assistance
Travel Insurance
Customized Tours
MICE and Incentive Tours
Airline Tickets
Land arrangements (transportation and hotel stay)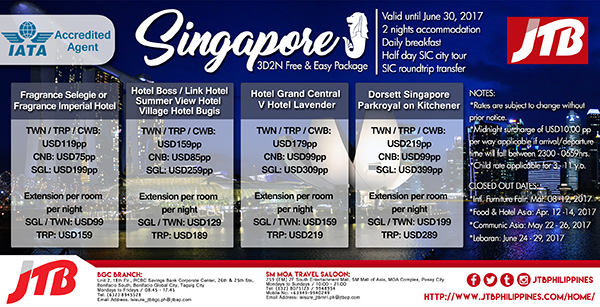 SINGAPORE! JTB can do more than just help you get to Japan.
Where to go
If you're looking to go to Japan, make sure you visit JTB at their SM Mall of Asia and BGC branches:
JTB Travel Saloon – Mall of Asia
259-EM, 2/F, South Entertainment Mall, SM Mall of Asia, J.W. Diokno Blvd., Mall of Asia Complex, Pasay City
10:00 am – 10:00 pm daily
02-807-5123, 02-994-8954, 0949-994-0249
leisure_jtbmnl.ph@jtbap.com
BGC
Unit 2, 18/F, RCBC Savings Bank Corporate Center, 26th and 25th St., Bonifacio South, Bonifacio Global City, Taguig City
8:45 am – 5:45 pm, Monday to Friday
02-894-5528
leisure_jtbbgc.ph@jtbap.com
Make sure you follow JTB on their social media accounts for the latest updates: JTB Philippines on Facebook and @jtbphilippines on Twitter and Instagram.