Experience expert cosmetic care at Wilson & Ayache in Makati
At Wilson & Ayache, they help you put your best face forward.
Wilson & Ayache is a clinic that specializes in cosmetic surgery, cosmetic dermatology, aesthetic medicine and age management and intervention located in Makati City. Armed with a team of expert professionals, Wilson & Ayache is one of the best clinics in the metro that delivers the "latest in medical and surgical techniques" when it comes to their specialization.
SKIN AT ITS BEST. Wilson & Ayache offers promos for their facial service
Taking pride of their personalized cosmetic care, Wilson & Ayache makes sure that they only give the best for their customers. They offer complimentary consultation to find out your options. As you go inside their clinic, a relaxing ambience will welcome you with their homey interior. They have accommodating staff who will make you feel relaxed in every service you avail of.

Clinic interior
Some of the Pro Medi-Facials services that Wilson & Ayache offers are their signature Warm Chocolate Tablea, Skin Detox and Anti-wrinkle Pure Gold Facial, and Skin Brightening and Whitening Facial. The clinic also offers Organic Science Medi-Facials, which uses organic ingredients. They have Organic Lush Green Forest Facial for acne-prone skin, Organic French Marine Anti-PIH Facial for blemished hyperpigmented skin, and Organic Gold-n-Carrot Facial for wrinkled skin. With their team of board-certified doctors, you will surely get help to make your skins revitalized and rejuvenated for a more youthful look.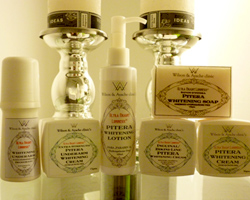 If you wish to take care of yourself the Wilson & Ayache way, they have skin care products that you can use. They have various products to help nourish your skin with the nutrients they need.
Look your best at any age—the Wilson & Ayache way! For more information, see the details below.
DETAILS
Address: Lower G/F Legaspi Park View Bldg., Legazpi 134, Makati City
Facebook page: https://www.facebook.com/pg/WilsonAyacheClinic/ (Wilson & Ayache clinic)
Website: http://www.wilsonandayache.com/
Operating Hours: 11:00 am to 8:00 pm (Tuesday to Sunday); Closed on Monday
Email: clinic@wilsonandayache.com
Contact: +63 2 846-6725 or +63 917 5945766 (5WILSON) (GLOBE); +63 922 8388534 (SUN)
For the US and Canada call toll free at:
(818) 945-7668 (WILSON8)