Theo & Philo Artisan Chocolates
Theo and Philo paves the way for the local chocolate

The Philippines grows premium cacao beans and has, in recent years, been producing world-class chocolates that can rival the finest chocolates of Europe.
Founded in 2010 by Mr. Philo Chua, Theo and Philo Chocolate is the first bean to bar, single origin chocolate maker in the Philippines.
"As I delve more into the history of chocolate, I found out that although European countries are more well-known for their chocolates, no European country actually grow their own cacao beans as their climate doesn't allow it. The cacao plant can only grow within 20 degrees north and south of the equator, just like in the Philippines, where I was born and raised," he said.
Sure enough, Philo's realization combined with his passion for food and cooking led to the creation of Theo and Philo. The cacao beans sourced locally from Davao are used to make distinctly Filipino chocolates.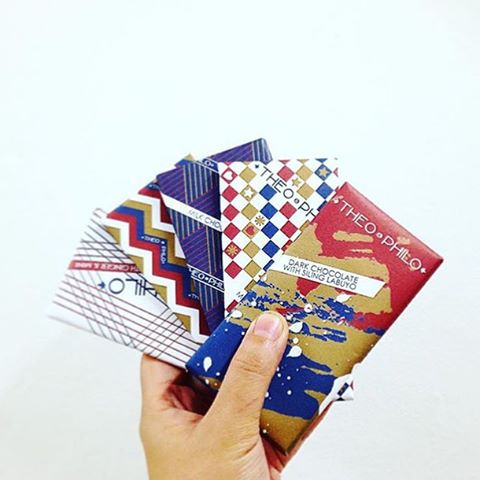 Photo by Artery via Theo and Philo Facebook
Among their flavors include the classic 70 percent chocolate; Labuyo, which is a nice sweet and spicy contrast between chili and chocolate; Green Mango and Salt, a fun combo of chocolate and the favorite Filipino fruit; Calamansi, a play on sour and sweet using the local version of lemon; Barako, a chocolate and coffee combination using the best Batangas barako coffee; Pili and Pinipig, a crunchy version with kicak pili nuts and toasted rice; Adobo, a quirky flavor of milk chocolate, soy sauce, toffee and black pepper; and Turon, chocolate paired with banana, crispy caramel and sesame seeds.
True to its name, Theo and Philo is more than just making chocolates. Theo is short for Theobroma Cacao, the scientific name for the cacao plant. Philo is from philos, the Greek word for love. Together, Theo and Philo means chocolate and love. As part of a group of enterprises who wants to make a better world, Theo and Philo is dedicated to offering scholarships and supporting farming communities.
Theo and Philo chocolates are available in Bo's Coffee, Gourdo's, and Human Nature branches.
–
Article by Marian Benetua
Photo from Theo & Philo Facebook