Save Time and Money on Expert Car Maintenance Services With Rapide's Website Booking and MechaniGo
Save Time and Money on Expert Car Maintenance Services With Rapide's Website Booking and MechaniGo
While quarantine measures in most parts of the country are now more relaxed, the threat of the virus is still very much present. One way to protect yourself from COVID-19 is to limit your nonessential trips outside. Thankfully, with the help of technology and the internet, running errands and going by your regular routine can be easily done in the comforts of your homes.
For your car maintenance needs, you can always count on Rapide Auto Service Experts to give you high-quality service at the most reasonable price. At the same time, Rapide now allows customers to book services through their website for a safer and hassle-free transaction!
There are so many advantages when you book through the Rapide website. You can reserve a guaranteed slot and there's no need to leave your house to go to a Rapide branch and wait in line to do so. They also employ contactless payment and great discounts when you book selected services. Secure your PMS-Oil Change slot for as low as Php 1,215 and receive an additional 10% off!
Visit rapide.ph/booking/service to book and experience a quick and easy service reservation system! The website booking is currently open to the following branches: Poblacion, Binan, Jaro, Kawit, C. Raymundo, Dasma, and San Antonio.
MechaniGo by Rapide
Rapide's affordable and CASA-quality services can now be done right at your home! Yes, you read that right, with MechaniGo by Rapide home car maintenance service, customers can book any service anytime and anywhere including PMS-Oil Change, Batteries, Tires, Brakes, and Disinfection Services as well as Car Tinting for as low as Php 2,999 for the full unit! It's car maintenance made easy, which is quite handy now more than ever.
Here's an exciting deal: for as low as Php 1,350, you can avail of PMS-Oil Change home service with the home service fee waived!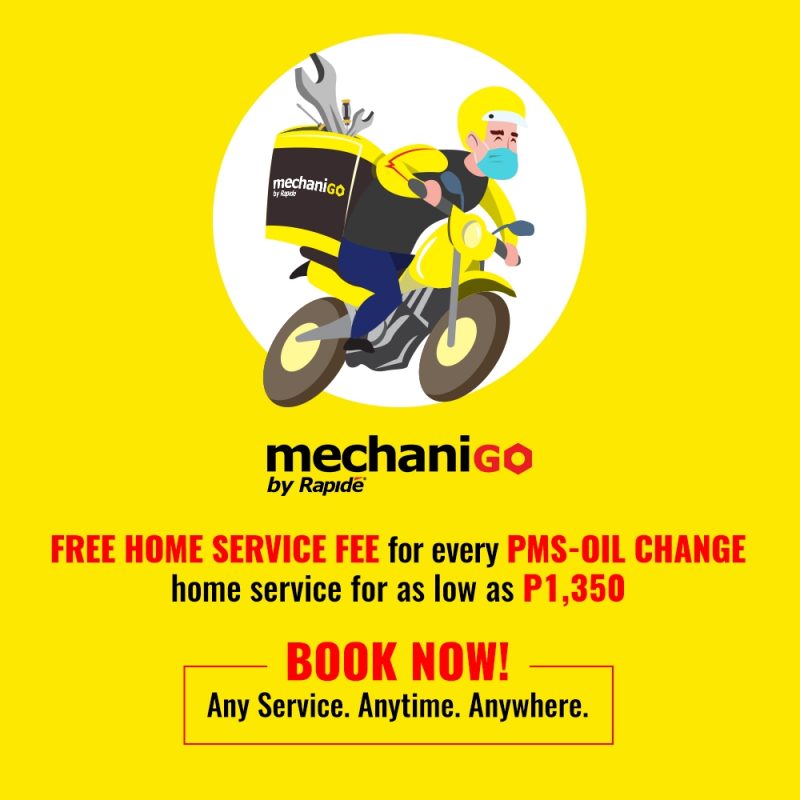 Currently, MechaniGo's service areas cover Makati, Pasay, Manila, Pasig, Mandaluyong, Ortigas, and San Juan.
For more information about MechaniGo by Rapide, visit their Facebook page at facebook.com/mechanigobyrapide.