Guidelines Under the General Community Quarantine (GCQ)
Presidential spokesperson Harry Roque addressed the country this morning with the revised list of areas under enhanced community quarantine (ECQ) and general community quarantine (GCQ) as well as the guidelines for the latter.
The guidelines are to be followed as a master plan for a phased reopening of the economy. As of writing, the areas under ECQ are the following while the rest of the country is understood to be under GCQ starting May 1, 2020:
National Capital Region
Central Luzon (except Aurora)
CALABARZON
Pangasinan
Benguet
Baguio City
Iloilo province
Cebu province
Cebu City
Davao City
For areas under GCQ, manufacturing industries such as beverages, cement and steel, electrical machinery, wood products, furniture, and others will be allowed to operate. See the full list below:
Manufacturing Activities
Beverages (non-alcoholic and alcoholic drinks)
Cement and Steel
Electrical Machinery
Wood products, Furniture
Non-metallic products
Textiles/ Wearing apparels
Tobacco products
Paper and Paper products
Rubber and Plastic products
Coke and Refined Petroleum products
Other non-metallic mineral products
Computer, Electronic and Optical products
Electrical Equipment
Machinery and Equipment
Motor Vehicles, Trailers and Semi-Trailers
Other Transport Equipment
Others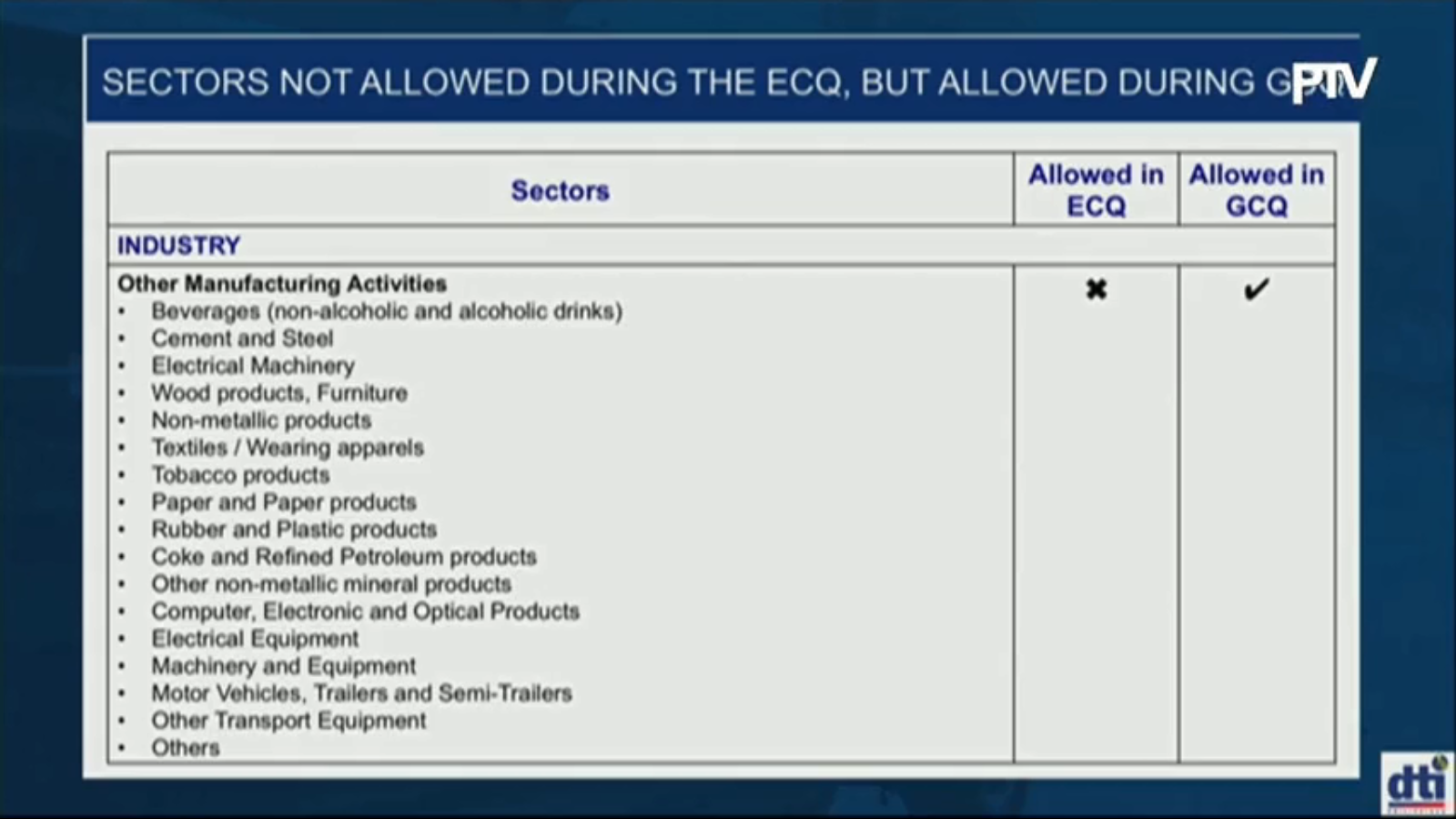 Other Services
Malls and Commercial Centers (including hardware stores, clothing and accessories, and non-leisure stores)
Barbershops, salon, spas, and other personal care industries
Wholesale and Retail Trade and Repair of Motor Vehicles and Motorcycles
Construction and Build Build Build
Forestry and Logging
Publishing Activities
Motion Picture, Video and Television Program Production, Sound Recording and Music Publishing Activities
Advertising and Market Research
Other Services
Real Estate Activities
Office Administrative, Office Support and Other Business Activities
Legal and Accounting
Insurance, Reinsurance, and Pension Funding, Except Compulsory Social Security
Architecture and Engineering Activities; Technical Testing and Analysis
Scientific and Research Development
Other Professional, Scientific, and Technical Activities
Social Work Activities Without Accommodation
Government office – Frontline offices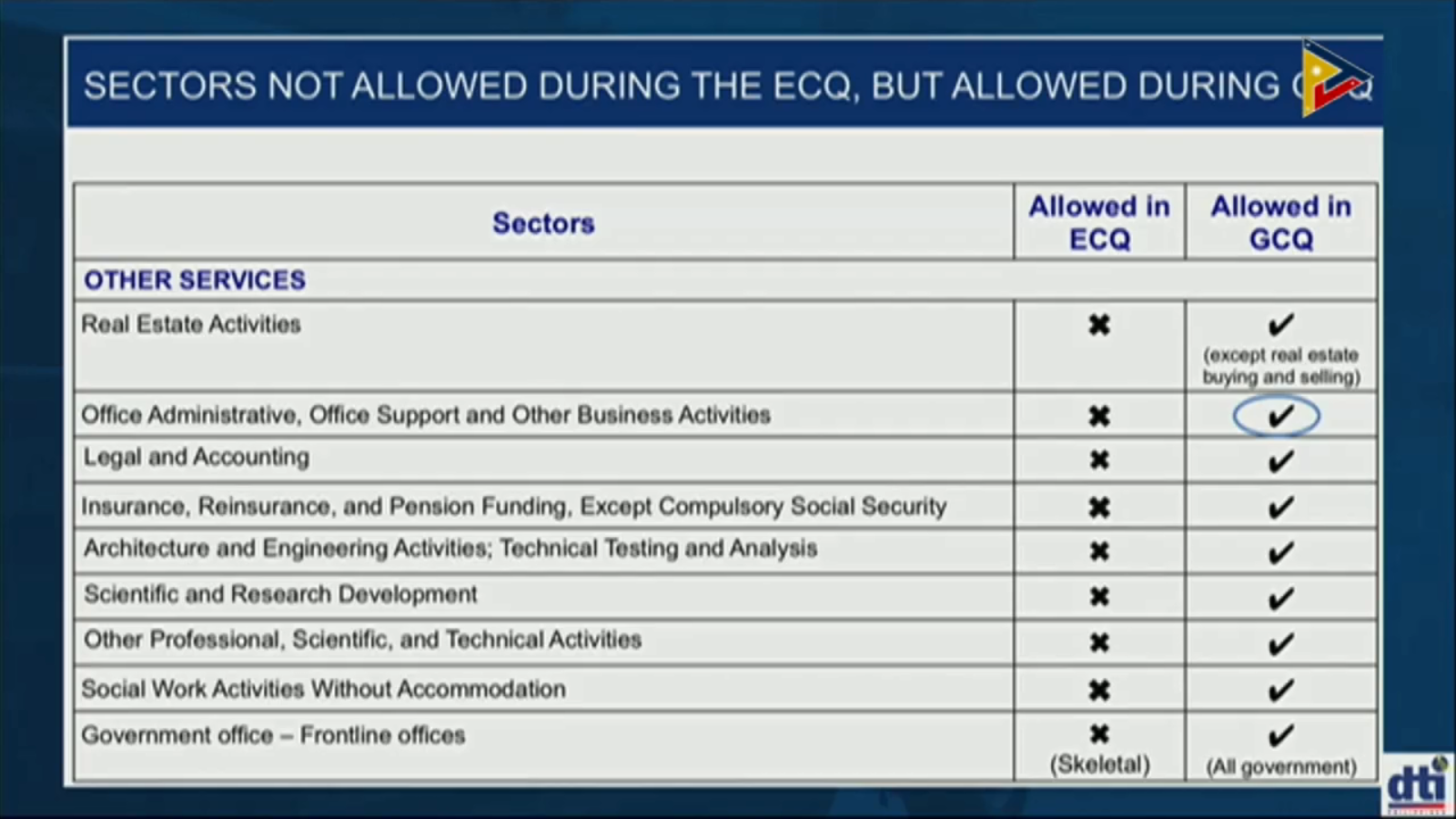 These establishments and activities, however, will remain closed/prohibited for the whole country:
Sports-related mass gathering, included but not limited to trainings, games, tournaments, championships,
Libraries, archives, museums, and other cultural activities,
Gambling and betting activities,
Travel agency, tour operator, reservation service, and related activities,
Activities of membership organizations.
Beginning May 4, higher education institutions will be allowed to operate with a skeletal workforce in areas under GCQ for the purpose of finishing the Academic Year 2019-2020 to issue credentials to students and to prepare for flexible learning arrangement for the next Academic Year.
RECOMMENDATIONS RELATIVE TO THE MANAGEMENT OF THE CORONAVIRUS DISEASE 2019 (COVID-19) SITUATION
Furthermore, public transportation will be allowed in reduced capacity while the industries listed above are still subject to minimum health standards which means wearing of face masks and temperature checks.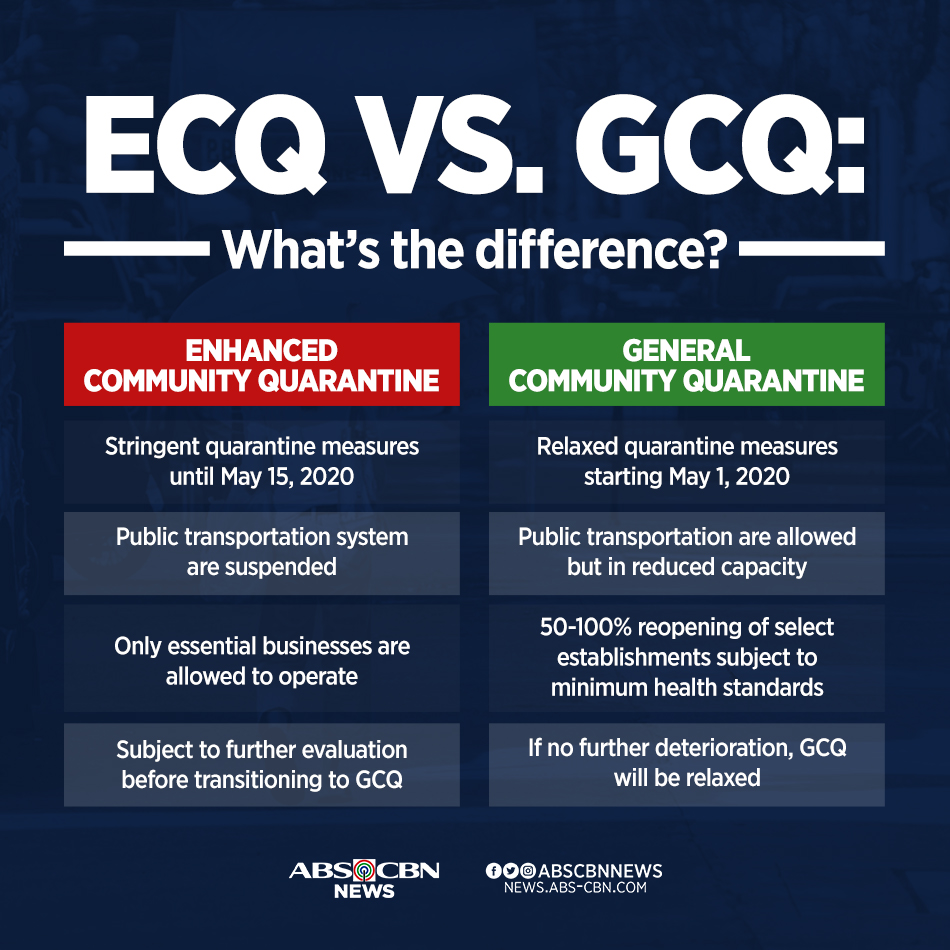 IMAGE grabbed from ABS-CBN News
Watch the full address from the website of the Office of the Presidential Spokesperson.
---
Sources: Office of the Presidential Spokesperson, ABS-CBN News