7 Local Ice Cream Brands in Manila Offering Both Classic and Atypical Filipino Flavors
Summer or not, for dessert or for any other time, ice cream has always been one of the favorites among everyone. A staple food to tickle one's sweet tooth, if you may, no matter what brand concocted it.
But this time around, we'll shine a bright light to ice cream brands here in the Philippines that's completely Filipino for you to taste the best of what the country has to offer—from the classic flavors to those originally unthinkable!
Sebastian's
Deemed as the premiere artisanal ice cream in Manila that was founded back in 2005, Sebastian's boasts of peculiar Filipino flavors such as Sapin-Sapin, Champorado & Dilis, Mangga't Suman, and Green Mango Sorbet & Bagoong. What's more, they are home to ice cream poppits as well, which are basically small scoops of ice cream dipped in their corresponding flavor of frozen shell!
Price range: Php 100 to Php 400
Store address: Various locations
Facebook: facebook.com/Sebastiansicecream
Instagram: instagram.com/sebastiansicecream

Carmen's Best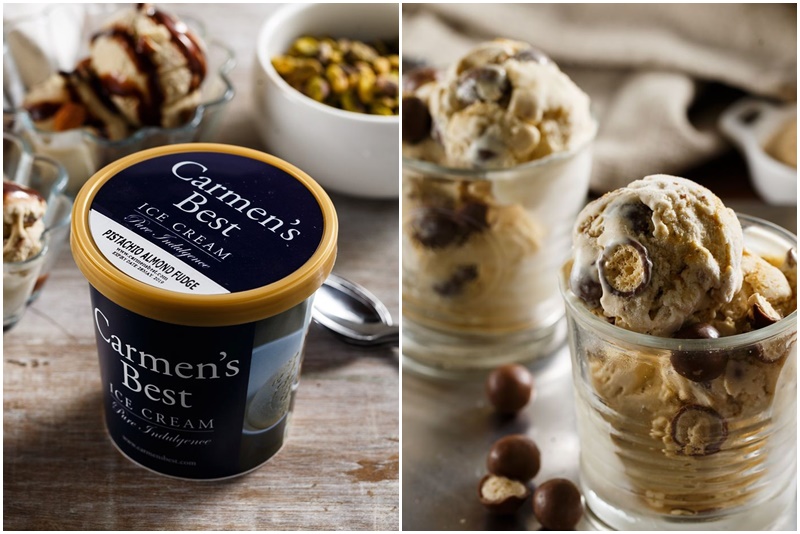 Founded on the goal to successfully market the pasteurized milk from his father's dairy farm as ordered (since the products were not selling well due to its ephemeral nature), Paco Magsaysay thought of the hows and eventually fused his unspoken affinity with ice creams to it. From then on, Carmen's Best utilizes only the produce of their very own dairy, which foremost centers on fresh milk and cream. 
Some of their forefront flavors include Malted Milk, Vietnamese Coffee, and Nuts About You.
Price range: Php 150 to Php 300
Store address: Various locations
Website: carmensbest.com
Facebook: facebook.com/CarmensBest
Instagram: instagram.com/carmensbest

Papa Diddi's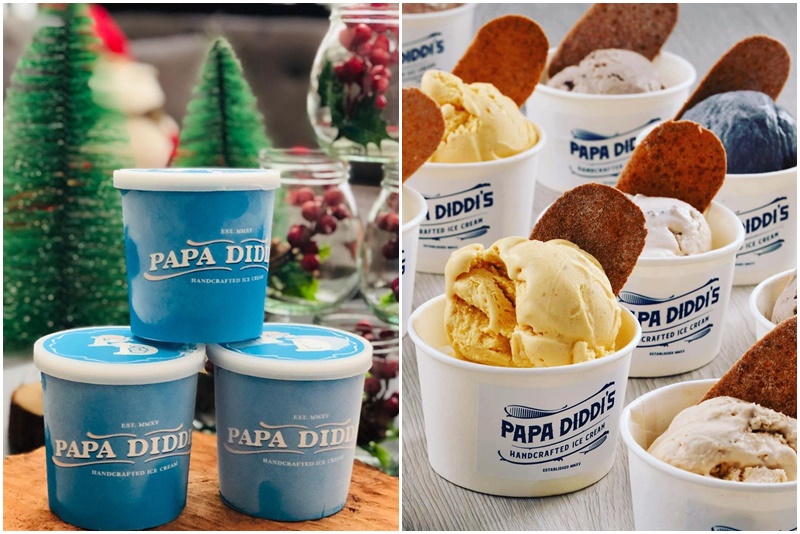 Papa Diddi's bears an amicable story within, where the fore characters are founder Paul and his father Diddi. Back in the rural expanse of the northern part of the country, Paul grew up watching his father concoct ice cream among many other experiments by means of the produce of their family farm—an activity he gradually picked up hence the tributary namesake of the brand that offers only the most unusual variety of handcrafted ice cream.
For one, they have flavors like Roasted Forbidden Rice, Davao Meets Bicol, and Mantequilla De Mani. 
Price range: Php 80 to Php 385
Store address: Various locations
Website: papadiddis.com
Facebook: facebook.com/papadiddis
Instagram: instagram.com/papadiddis

Carousel Creamery
Carousel Creamery takes pride in being home to 101 flavors of ice cream that are foremost crafted in small batches. Among these hundred goodies are Bacon and Cheese, Earl Grey Tea, White Rabbit, and the pun-named Game of Turons, which you can taste in one, two, or three scoops on top of the pint choice.
Price range: Php 100 to Php 500
Store address: 8 Missouri St., Greenhills, San Juan, Manila
Facebook: facebook.com/carouselcreamery
Instagram: instagram.com/carouselcreamery

Adam's Ice Cream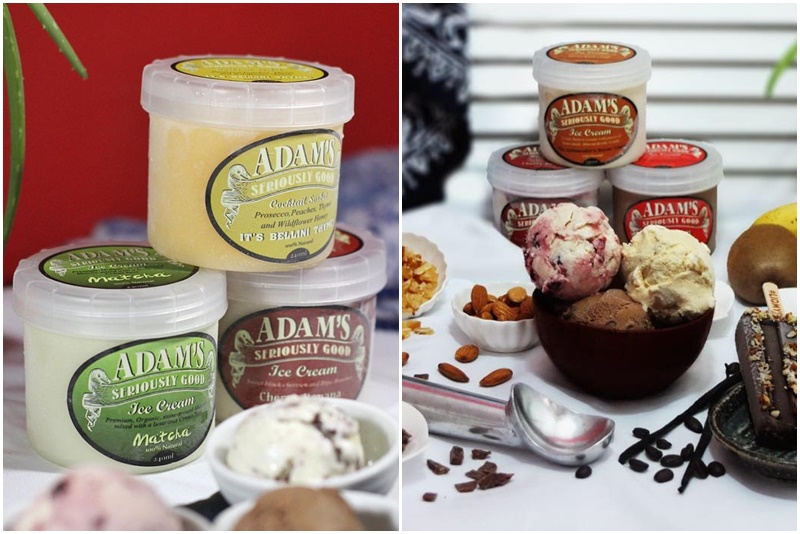 While Adam's dairy ice cream variants encompass, among others, First Lady's Fantasy that is sugar-free chocolate sweetened with organic coco sugar and honey and Dulcinea De Manila that is a combination of authentic Spanish manchego cheese and sweet red grapes.
The dairy-free ones include Chiqui Monkey that is an amalgamation of home-made and organic peanut butter as well as organic coco sugar and dark chocolate chunks, and Lemon Dream made of organic lemons and pure coconut milk. 
What's more, they have vegan cocktails sorbets too! Choose among It's Bellini Thyme, Campari Sun, and Watermelon Margarita. 
Price range: Php 300 to Php 350
Store address: Various locations
Website: adamsicecream.com
Facebook: facebook.com/AdamsIceCream
Instagram: instagram.com/adamsicecream_ph

Fruits in Ice Cream
Within their own plant situated in the province of Bulacan, Fruits in Ice Cream (FIC) create variants through making use of only the best dairy from New Zealand and Australia. As per its name, FIC mostly uses fruits as the highlight of their products.
They presently offer a line of ice cream that traverses premium selection, frozen custard, sugar-free ones, pinoy sorbetes, and a number of limited edition kinds.   
Store address: Various locations
Website: fruitsinicecream.com
Facebook: facebook.com/ficph
Instagram: instagram.com/ficph
Price range: Php 100 to Php 500

Arce Dairy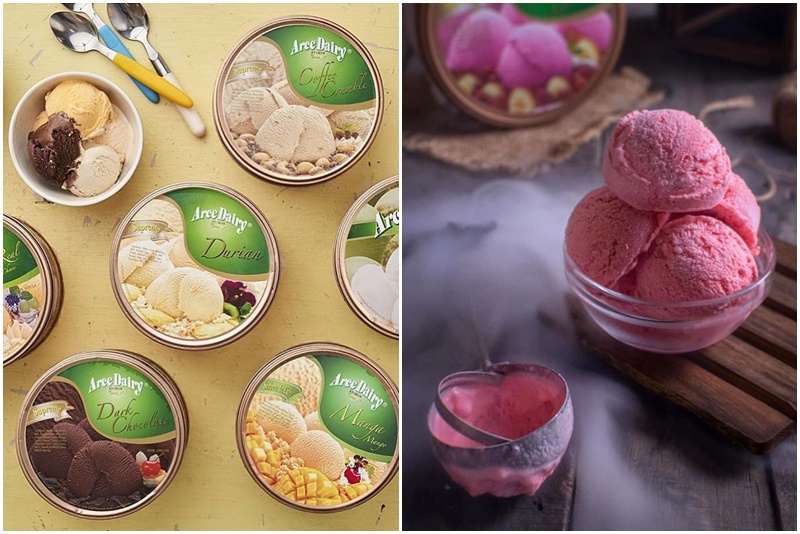 Since the foundations of the Arce family, Don Ramon Arce, Sr. and Doña Carmen Arce, put up their pioneering dairy plant back in 1935, Arce Dairy has been providing only the top quality fresh carabaos milk and ice cream in town hence the namesake "Torchbearers of Quality Ice Cream" on top of their many accolades like "The Country's Premier Quality Ice Cream Maker" from award-giving body Gawad Parangal.  
To date, the variety of their ice cream flavors include supreme, classic, regular, lite, sorbete de caro, and sorbet.
Store address: Various locations
Website: arcedairy.com
Facebook: facebook.com/arcedairyicecreamofficial
Instagram: instagram.com/arcedairyicecream
Price range: Php 80 to Php 600

Which among these have you tried already? Share with us in the comments below!