Siargao Plus More: 7 Sublime Locations to Add to Your Surigao del Norte Itinerary
There's no doubt that Siargao, the Surfing Capital of the Philippines, is the most popular tourist destination in Surigao del Norte.
With its clear blue waters, seven-foot-high swells, and huge tubes, it's no wonder that the island is considered among the top surfing destinations in the world—offering a veritable surfer's paradise especially when you add the laid-back and chill vibes it emits.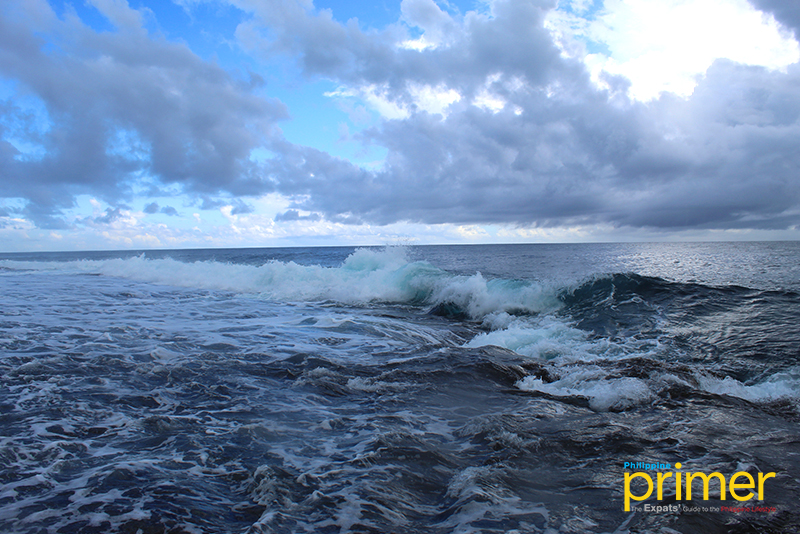 The blue horizon, as well as the wide ocean beyond, makes up the totality of the beauty of Magpupungko in Pilar, Siargao
Still, Surigao del Norte has so much more in store beyond Siargao that are equally beautiful and enchanting; locations that definitely deserve a slot in your first or next Surigao del Norte itinerary.
Sugba Blue Lagoon
Del Carmen, Surigao del Norte
Palawan doesn't have a monopoly on gorgeous lagoons, because Surigao del Norte has plenty of them, too. And one of the most famous ones is the sprawled out Sugba Lagoon that looks like a fairy tale location come to life.
Turquoise waters of the Sugba Lagoon and islands covered with green forest and jungle
You can ask your boatman to take you through the mangrove sanctuary to see the local wildlife including birds and various species of fish, or you can dock in one of the many beaches along the route to swim, snorkel, and sunbathe.
The best thing about Sugba Lagoon is that it would not make you feel suffocated amid a large crowd of tourist-heavy seasons.
Bucas Grande
Island in Socorro, Surigao del Norte
When you head further south from Siargao, you'll reach Bucas Grande—an island that is composed of many small islets, littered with lush green forests, lagoons, and cave networks.
It is foremost a prime ecotourism destination that looks straight out of a picture-perfect postcard.
Tropical sea bay and lagoon designed by the landscaped hill, clouds, and mountain rocks with rainforest
One of the most popular attractions here is Tojoman Lagoon, where there's an abundance of stingless jellyfish during the months of June and September.
Tojoman Lagoon / IMAGE Flickr
There's also Sohoton Cave that only appears during low tide, as well as Sohoton Lagoon that boasts of clear and calm waters, and bright green foliage.
For thrill-seekers, the ultimate highlight of Bucas Grande is spelunking and cliff-jumping at Magkukuob Cave.
Magpupungko Rock Formation and Rock Pool
Town of Pilar, Surigao Del Norte
Located in the town of Pilar, Magpupungko Rock Formation is composed of limestone and granite that have been naturally been sculpted by the wind and waves.
Nearby, you'll find a white sand beach that's perfect for sunbathing and swimming.
If you visit during low tide, you'll also be able to see the Magpupungko Rock Pools.
It's a gorgeous, clear pool within the rock formations that looks like a natural infinity pool. You can swim here and even cliff jump, if you dare to climb the sharp rocks.
If you want to do the latter, be extra careful and wear reef shoes to prevent cuts.
Mabua Pebble Beach
Brgy. Mabua, Surigao City, Surigao Del Norte
The list of white sand beaches in the Philippines goes on and on, especially across places like Batangas, Quezon Province, Palawan, Camarines, Aklan, Cebu, Davao, Sarangani.
But if you're looking for something different, you may opt to visit a pebble beach instead—particularly, Mabua Pebble Beach in Surigao City.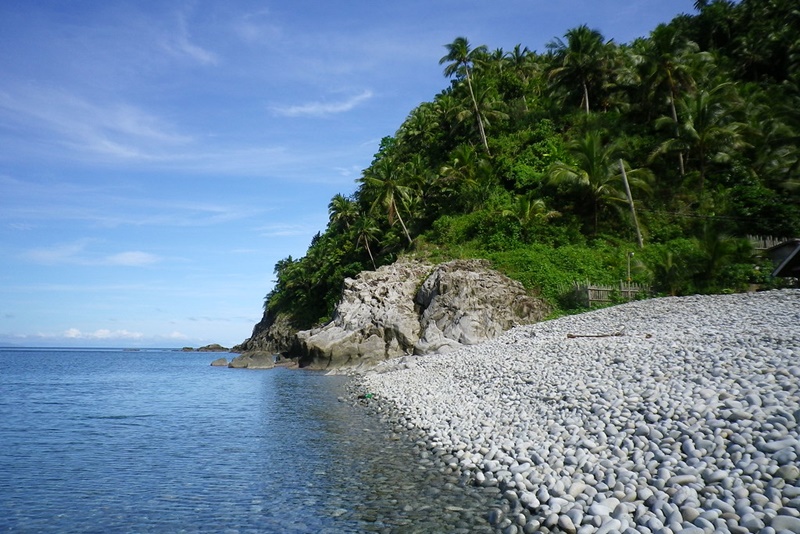 IMAGE Flickr 
It is one of the most visited beaches in Surigao del Norte, and it stretches up to a kilometer. Apart from the thousands of smooth white pebbles, you can also find larger rocks in the area, with some as big as bowling balls.
There are also boulders at the end of the beach, where you can perch to take some photos and appreciate a gorgeous panoramic view.
Daku, Guyam, and Naked Islands
General Luna, Surigao Del Norte
Island hopping is one of the best activities in Surigao del Norte, since it's composed of two large islands—each with their own cluster of islets ready for exploration.
Daku, Guyam, and Naked Islands are among the best and most popular.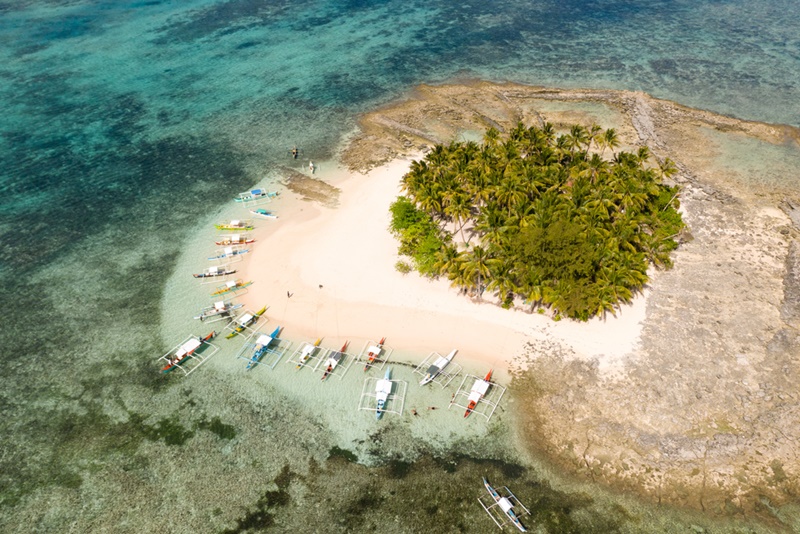 Seascape with a beautiful island
Daku is so-named because it's the biggest of the three. Guyam, meanwhile, is smaller and has that secret tropical paradise vibe with its cluster of palm trees off to one side.
Finally, Naked Island features a long stretch of fine white sand, where most people love swimming or snorkeling in its surrounding shallow waters.
Although great for sunbathing, it is best to remember that there are virtually no trees here to provide shade so you might as well bring a large amount of sunblock and a wide-brimmed hat for some sun relief!
Raza Island
Surigao City, Surigao Del Norte
For an absolutely peaceful time, head over to the undeveloped Raza Island. Not only is it beautiful and utterly tranquil, it also has a unique phenomenon where high tide and low tide alternate every three to six hours.
IMAGE Flickr
The locals take advantage of this situation by picking seashells on the side of the island where there's low tide, then simply switch locations once the tide reverses. If you want a totally different experience, don't forget to visit Raza Island.
Mapawa Cave
Mapawa, Surigao City, Surigao Del Norte
Caves can sometimes be creepy or mysterious, or sometimes even sacred. But the Mapawa Cave just 15 kilometers away from the city proper of Surigao is downright awe-inspiringly beautiful.
It's reminiscent of a cathedral, with its high arched domes and chandelier-like stalactites. You'll be surprised at how immense this cave is, considering the small entrances that are only accessible on foot after a 30-minute habal-habal ride.
Surigao del Norte is a surfer's dream location, definitely, but it's also something more. As this list proves, the province is also a beautiful ecotourism location that will satisfy surfers and non-surfers alike. Book that tour today and experience Surigao del Norte for yourself!