6 Obstacle Course and Calisthenics Training Facilities in Manila
Being physically fit and active truly changes one's lifestyle. There are various training and workouts that help a lot of people in achieving their desired body state and health.
Mostly seen in workout videos, calisthenics is a training method that promotes health through the use of bars and a graceful showcase of strength. It is also popularly known as a street workout.
On the other hand, an obstacle course is a set of challenging physical activities, which require speed, endurance, and agility.
Obstacle course and calisthenics training
Both sets of training are different in a way but have a common denominator in terms of how body power is used.
To make sure you are always fit and moving, here are 6 indoor/outdoor obstacle course and calisthenics training facilities you might want to check out:
Also read: LIST: Specialty Gyms in Metro Manila
SPARTA Philippines
If you are looking for a complete training ground where you can practice your physical skills, SPARTA PH or Sports and Recreational Training Arena provides a one-stop sports, lifestyle, and wellness center for your needs.
IMAGE SPARTA Philippines
Opened in June 2014, this indoor sports facility is home to the first FIFA 1-star, 7-a-side soccer pitch in the Philippines that accommodates not only soccer but also other sports like Ultimate Frisbee and Flag Football.
You can also get professional training for calisthenics in their Sparta Calisthenics Academy, the first world-class indoor calisthenics facility in the country. They offer two calisthenics programs: the Kalos program for bodybuilding training and the Sthenos program for strength development.
It's a jungle out there! But it's a jungle in here too every technique day! 😄🔥 Animal movements, new movements and functional exercises are automatic on this day!🦎🐊🐍#TeamKalos #TechniqueDay

Sparta Philippinesさんの投稿 2019年8月16日金曜日
Other studios include ELAN Ballet and Pilates Studio, ELORDE Boxing Gym, Maximus Athlete's Shop Cafe, Cardia Olympia Sports Performance and Recovery Clinic, and Gandiva Archery.
Address: The W Fifth Avenue, 5th Ave, Taguig, City
Contact: 02-655-3799 / 0977-763-4402
Business hours: Open 24/7
Website: Sparta PH
Facebook: Sparta Philippines
Instagram: @sparta_ph
Pretty Huge Obstacles 
Helping you live the Ninja Warrior in you is Asia's largest indoor obstacle course, Pretty Huge Obstacles. This training facility, which opened last February 2019, features over one hundred flexible course combinations from their major adult obstacle courses and kids obstacle zones.
Their facilities include Monkey bars and Gymnast Rings, 9-foot wall, Wave Wall, 100-meter elevated indoor race track, among many others—which are quite similar to what you see in Ninja Warrior TV series.
You may also enroll in their Yoga, Pilates, and High-Intensity Interval Training group classes.
Also read: Pretty Huge Obstacles: Asia's Largest Indoor Obstacle Course
Address: SM Aura Premier, Taguig, Metro Manila
Contact: 02-989-4843 / 0917-303-1111
Business hours: Open 24/7
Website: Pretty Huge Obstacles
Facebook: Pretty Huge Obstacles
Instagram: @prettyhugeobstacles 
Ninja Academy QC
Another indoor facility that will awaken your inner ninja is Ninja Academy. It is the country's first indoor parkour facility and the most complete facility in South East Asia.
IMAGE Ninja Academy
Established in 2014, Ninja Academy is a gym and sports venue where everyone can learn basic and advanced skills in different sports and combat styles—all while still having fun. 
They offer coach and group classes on parkour, gauntlet class, Kenjutsu or swordsmanship, martial arts, gymnastics, and even calisthenics.
Also read: Ninja Academy
Address: 2F Industria Mall, Circulo Verde, Calle Industria, Bagumbayan, Quezon City
Contact: 02-788-1496
Business hours: 10 a.m. to 9 p.m., Monday to Friday / 8 a.m. to 9 p.m., Saturday / 9 a.m. to 6 p.m., Sunday
Website: Ninja Academy PH
Facebook: Ninja Academy PH
Instagram: @ninjaacademyph
Fitness Army
Getting fit and active will be easier as Fitness Army, the first world-class Filipino gym franchise, offers not only strength training but also boot camp challenges for all fitness and sports enthusiasts.
IMAGE Fitness Army
Fitness Army is an 875 sqm training facility for those who want to be trained in obstacle course like a ninja.
ARMY DAILY | Check this #LittleSoldier in training. At Fitness Army, we teach our kids to be fit and healthy. #StartThemYoungCall us today #BGCbarracks Tel. 716-3928 or 09173450895 #JoinTheArmy

Fitness Armyさんの投稿 2019年8月2日金曜日
Address: 2/F The Commercial Bldg, The Fort Strip, 28th St., Bonifacio Global City, Fort Bonifacio, Taguig City
Contact: 0917-345-0895
Business hours: Open 24/7
Facebook: Fitness Army
Instagram: @fitnessarmyphilippines
Primal Ape Crossfit
Whether you are training for gymnastics, weightlifting, or calisthenics, Primal Ape CrossFit will help you be in your best shape and develop your body's mobility, strength, and power through a series of intensive training.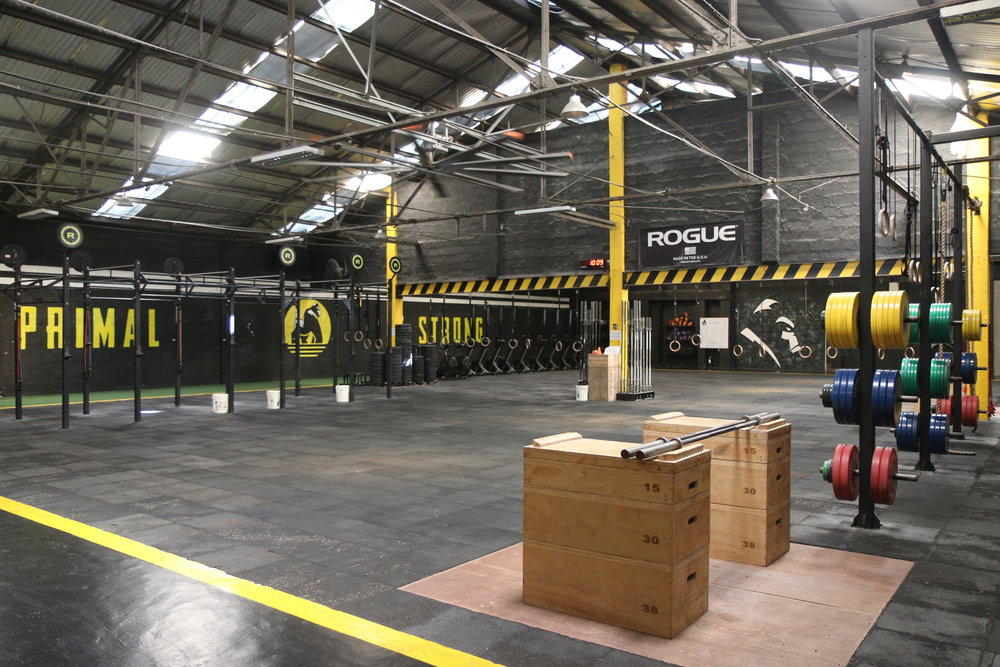 IMAGE Primal Ape CrossFit
Their facility features a complete set of Rogue Fitness, custom-made equipment safety, performance, and durability. They offer programs such as Primal Instinct or CrossFit basics, Primal Fit for conditioning and toning, Crossfit, and Primal Edge or weightlifting.
Address: 2135 Don Chino Roces Avenue, Makati City
Contact: 02-832-8069 / 0917-850-7273
Business hours: 6 a.m. to 9 p.m., Monday to Friday / 9 a.m. to 5 p.m., Saturday
Website: Primal Ape CrossFit
Facebook: Primal Ape CrossFit
Instagram: @weareprimalcf
Also read: LIST: 7 CrossFit Gyms in the Metro
Calibarzz
If you want to harness your flexibility and strength in an exciting way, Calibarzz is the perfect calisthenics facility for you.
This outdoor calisthenics gym park and community promotes fitness through the use of bars. They teach four basic bar workouts known in calisthenics training, namely The Scap Pulls, The Aussie Chin Ups, The Bar Push-ups, and the Knee Raises.
The best part is that their calisthenics workshop goes beyond training as you get to meet other fitness enthusiasts in their growing community.
Address: Madasalin Street, Sikatuna Arts District, Quezon City
Contact: 0917-510-0410
Business hours: 7 a.m. to 4 p.m., Monday to Saturday
Instagram: @calibarzz
Are you up for a full session of obstacle course and calisthenics training in one of these facilities? Share your thoughts in the comments below!
---
Written by Deneca Ordinanza
Featured image grabbed from SPARTA Philippines